The Office filmed its final scene this past weekend and as a gift, casting director Allison Jones gave Rainn Wilson one very cool gift.
Here's what he wrote on his Facebook page:
This is the original sign-in sheet for the first day of casting for The Office given to me by Allison Jones, our incredible casting agent. I was the very first person to audition for the series, 11/06/03. Notice all the amazing talent on the sheet, including the amazing #13! This is perhaps the greatest Office keepsake I have. So grateful for the best job I will ever have.
Take a look at the names on there. Adam Scott auditioned for Jim. So did Hamish Linklater. Alan Tudyk and Ben Falcone were both called in for Michael. And someone named Jenna Fischer auditioned for Pam. Wonder whatever happened to her?
Check it out below! Read more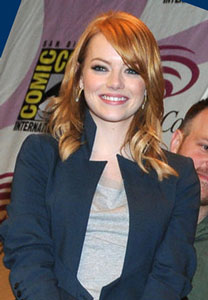 Emma Stone was at WonderCon this past weekend promoting her upcoming film, The Amazing Spider-Man – which looks freakin great, by the way. 
At one point, they took audience questions and someone asked her what advice she would give to actors; how she became so successful. So, I quickly whipped out my phone and recorded her answer.
"I have Allison Jones, the casting director, to thank for pretty much everything because she put me in Super Bad," she said.
She goes on to say that, "the only thing worked for me is staying true to myself and not giving up."
Check it out below! Read more
Happiness Isn't Everything is a SAG 1/2 multi-camera pilot for CBS.
Jason Biggs is attached.
Casting Director: Allison Jones
Casting Associate: Ben Harris
Casting Assistant: Peter Kousakis
ALLISON JONES CASTING
1438 N. GOWER ST.
MAILBOX #3
LOS ANGELES, CA 90028