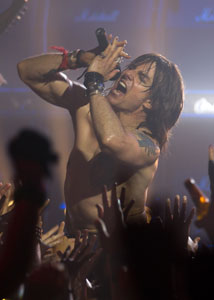 There are a lot of famous actors in the film adaptation of the Broadway musical hit Rock of Ages, but the one who steals the show is Tom Cruise.  Cruise completely owns another role as rock god Stacee Jaxx, even though many wouldn't initially think of Cruise as a good choice for the Axl Rose-like role.
But according to Adam Shankman, the film's director, getting Cruise involved was easier than he expected.  He explains, "I was thinking to myself, 'Wouldn't it be cool if we got one of the biggest movie stars in the world to play one of the biggest rock stars in the world?' And, as luck would have it, I ran into Tom Cruise, told him I was directing this movie, that it was a musical, and that I was going to offer him this part.  He said, 'Are you serious?'  I said I was.  Then I described Stacee to him and he laughed really hard.  The next thing I knew, he was in, and I was making a musical with Tom Cruise." Read more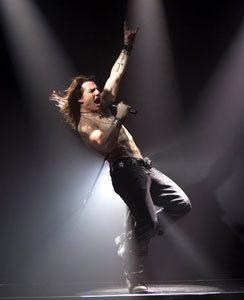 Rock of Ages: Based on the hit Broadway musical, Rock of Ages tells the story of small town girl Sherrie and city boy Drew, who meet on the Sunset Strip while pursuing their Hollywood dreams. Their rock 'n' roll romance is told through the heart-pounding hits of Def Leppard, Joan Jett, Journey, Foreigner, Bon Jovi, Night Ranger, REO Speedwagon, Pat Benatar, Twisted Sister, Poison, Whitesnake, and more.
Cast: Julianne Hough, Diego Boneta, Russell Brand, Paul Giamatti, Catherine Zeta-Jones, Malin Ackerman, Mary J. Blige, Bryan Cranston, Alec Baldwin, Tom Cruise
Director: Adam Shankman
In Theaters: June 1st, 2012 
Read more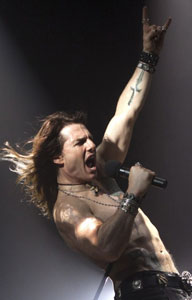 Tom Cruise will be seen in two very different movies in the next year, and both roles required enormous bravery and physical strength.  December will bring the next chapter in the Mission: Impossible series, entitled Mission: Impossible – Ghost Protocol. Cruise found himself filming action sequences at the top of the world's tallest building, among other stunts typical of the franchise.
While he was wrapping up that film, the action star found himself prepping for a very different role: that of rocker Stacee Jaxx in Adam Shankman's film adaptation of Rock of Ages, due out in June of 2012. 
"I was working on it when I was finishing 'Mission' and I was singing five hours a day and I was dancing five hours a day," Cruise said.  While the role may seem unexpected for the action star, he says that his physically demanding work on films like Mission: Impossible helped prepare him to step into Jaxx's leather boots.  "Adam said, 'Look, we're going to have a lot of fun,' and we really did…. I did six months preparing for the movie, and all my stunt training and all of those years doing that, it helped me with the choreography."  Read more