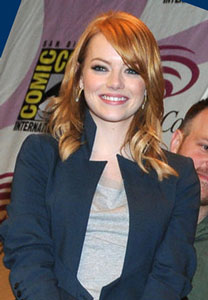 Emma Stone was at WonderCon this past weekend promoting her upcoming film, The Amazing Spider-Man – which looks freakin great, by the way. 
At one point, they took audience questions and someone asked her what advice she would give to actors; how she became so successful. So, I quickly whipped out my phone and recorded her answer.
"I have Allison Jones, the casting director, to thank for pretty much everything because she put me in Super Bad," she said.
She goes on to say that, "the only thing worked for me is staying true to myself and not giving up."
Check it out below! Read more
With a slew of interviews on her plate, and a busy schedule promoting three new films, Friends With Benefits, that just hit theaters as well as Crazy Stupid Love  (July 29th), and her most recent The Help (Aug. 10th), Emma Stone is one busy actress, who says she is holding "her fame at arm's length." 
Even if the star of Easy A had time to mull over her almost over-night success, it looks like she would rather not face her rising popularity in Hollywood just yet.  "I haven't really given myself time or space to examine all of this because I don't think it's a good idea to," she says. "You have to hold it lightly. You have to be like, 'This is gonna go away.' Because it will. After these movies come out, these questions will stop, and I'll be like, 'What happened?"
Instead of worrying over her popularity among the masses, Stone seems to be more concerned about growing as a performer, and a person, and starring in director Tate Taylor's The Help appears to be a stepping stone to her journey. 
Opening up to The L.A. Times, Stone says that playing the more serious role of her character Eugenia 'Skeeter' Phelan "made me feel like I don't need to be afraid anymore — afraid of relying on a joke," she admits. "My whole life, that's been the way I relate to people. 'Oh, let's hope I can make them laugh at some point, otherwise — I don't know.' I was always the ham. There's been an element of playing to my strengths. This was exciting, because it made me feel like I could be part of something that I wasn't necessarily comfortable doing before." Read more
In an interview with Elle that appears in the magazine's July issue, up-and-coming actress Emma Stone talked about developing into the person and actress she's become, her philosophy about fame and wanting to be believable in the roles she plays.
"You can't play a regular person and live only in circumstances where people are only talking about movies," explained Stone, whose career took off after she appeared in 2007 high school comedy Superbad and has continued with roles in Zombieland, Ghosts of Girlfriend Past and Easy A. The most important part of my job is feeling like I understand as much as I can about humans and human behavior."
"I like to look like a person," continued Stone, who went through years of auditions before getting her big break. "It drives me crazy when you see women in movies playing teachers, and they have biceps. It totally takes me out of the movie. I start thinking, Wow, that actress playing this part really looks great!"
Read more