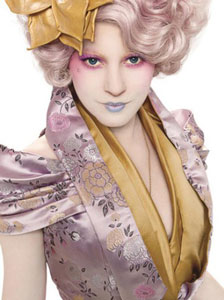 As she told New York Magazine during a recent interview, The Hunger Games actress Elizabeth Banks was so thrilled to be a part of the big-screen adaptation of the popular novel of the same name that feeling pressure to live up to the book, one of her personal favorites, never even entered her head.
"I was really excited to run around with a gun and chase bad guys," said the 37-year-old actress, who plays a pink-haired girl named Effie Trinket in the science fiction drama, which arrives in the theaters March 23. "If I could remove myself from the situation, I would be really excited by my portrayal of Effie."
Those who know Banks as Jack Donaghy's kidnapped wide on NBC comedy 30 Rock might be thrown for a loop when they see her in Hunger Games, but that's pretty much par for the course. Over the course of her 14-year career, Banks has appeared in everything from comedies like The 40-Year-Old Virgin and Zach and Miri Make a Porno to more serious fare such as Man on a Ledge and W.  Read more
Our Idiot Brother star Elizabeth Banks, who has plenty in common with the film's premise ("I'm sort of the bossiest sister and have a baby brother"), revealed that she was a victim of Twitter fraud. 
Someone stole the Slither actress' identity, but in a recent sit down with Esquire she shares how her Role Models director and friend, David Wain, managed to regain her Twitter handle after a run in with the emotional thief.
"I accidentally got on Twitter because there was a fake Elizabeth Banks, twittering, and David Wain, who's the director of Role Models and a good friend of mine, was staying at my house in L.A., twittering. I didn't know anything about Twitter at the time, but he was following me, thinking it was me. And this person tweeted, "Hanging out by my pool! Just chilling on Saturday!" And David Wain was actually hanging out by my pool, on Saturday, and I wasn't there. I was in New York or something. And so he was like, "Huh, I don't think you're Elizabeth Banks." And this person broke down, and said, "No I'm not Elizabeth Banks. I started this because I'm a fan and now I have all these followers and I don't know what to do." David called me and said, "Do you want me to broker the password away from this guy and get your identity back on Twitter?" And he did! So, yeah: I got Twitter identity theft."   Read more
Maternity leave?  Not for Elizabeth Banks.  The actress now has a five-month old son Felix with her husband Max Handelman, yet Banks admits to People that although she isn't doing such a great job of balancing motherhood and her career she has no plans on turning any roles down because she is a new parent. 
She tells People, "I'm not really a break-taker.  I'll just keep on going, and then we'll see. You do it. You push through just like any other working mom.  I don't want to say I take it day by day, but I pretty much take it month by month. My life is now in monthly increments."
Still, Banks does claim that she understands why new mothers do often take time away from their occupations for their children, explaining,  "The thing about motherhood is it's a full-time job and everything else gets piled onto it.  I don't think I ever really understood that until it came into my life. You put so much of your brain energy, and your emotional and psychological energy into, 'Where is he? What is he doing?' that it's almost hard to concentrate on anything else."  Read more