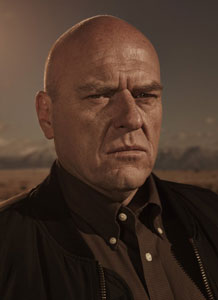 Though Dean Norris' Hank Schrader on Breaking Bad might be one of the least "evil" characters on the show in terms of the law, that might not be saying much considering the show's lead character is Bryan Cranston's Walter White, a meth-dealing high school chemistry teacher.  
He spoke to Rolling Stone about dealing with the constant evil the cultural phenomenon is seeped in and how real-life nice guy Cranston manages to turn on his dark side.
Norris admits that all of the dark material on the show does get to him.  He gives examples, pointing out, "Starting in the second season, when Hank was having PTSD, and very much so in the middle of Seasons Three through Four, when Hank got shot and he's depressed and mean to his wife. One day, I was mean to Betsy [Brandt, co-star who plays Hanks wife]. My wife goes, 'Oh, you better apologize to her!' [Laughs] I did. I said, 'I'm sorry if I was short with you.' You know the concept that if you wear a mask long enough, you become that thing? Bryan said, 'It's because you're living as Hank for 15 hours a day.'" Read more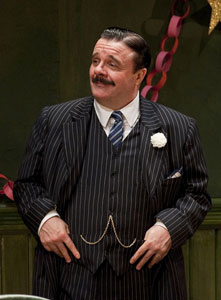 Tony-award winner Nathan Lane just finished his run in Eugene O'Neill's Iceman Cometh in Chicago where he played Theodore Hickman.
During the run of the show, he and actress Laurie Metcalf (who is currently starring as Mary Tyrone in O'Neill's Long Day's Journey into Night on London's West End) exchanged emails about the pressures of working with O'Neill's text, food before shows and pre-show preparation.
The emails, which were published by The New York Times (go read them all!) are a great read. Here is Lane's portion where he writes about his pre-show prep: Read more
Was this role something you lobbied for, or were you offered the part?
I was offered the role by the director John Hillcoat, and I had long been a fan of Cormac McCarthy's writing. I had not read 'The Road.' I had read everything up until then. I had always loved in particular his prose description of landscape and the inner thoughts and emotional kind of lives of his characters. The way he describes things — his prose feels like poetry. There are so many gems in that, and all his books — even books that are just barbaric like 'Blood Meridian,' which may be my favorite one. I mean it's different; it's like two sides of the same coin.
Was there any hesitation at all in accepting it?
Yeah, there was. First of all, just because I was shooting a movie at the time and promoting another one, you know. I'm leaving for days off, I was kind of stretched pretty thin. But when I read the story, I thought, well, being kind of tired, that's not wrong for the character [laughs]. But no, it was mainly just because I would regret not taking on the challenge. But once I said "Yes, thank you very much," then I was terrified. Not because of the physical ordeal, but more because it just has to be done right. And the director said we're going to shoot in real locations, and I said, "Great, it will be hard, but it needs to be to feel gritty, not to just be another post-apocalyptic special effects movie." And he goes, "Well, we don't have that kind of budget anyways, so that's great. It will be good, it will be gritty and real and has a chance to match the book for emotion." But then as soon as you say yes, then it's like, "Well, they all think that I can do it; they wouldn't offer me the role if they didn't. [But] I don't know that I can do it." You have to come to grips with that. It took me a while because I'm very dependent on the person I play the story with. Every single scene pretty much I'm with this boy. And I said to John, "I am worried — I don't know about you — about the boy." And he goes, "Yeah, I'm really worried." He said, "We can only go so far in matching the book as far as the look of it, the design, the locations." Even if I do my very, very best and everybody gets lucky each day and does a great job. If the boy isn't close to being a genius actor and really understands this story and is mature beyond his years somehow — if you don't find that kind of boy, we're limited, we can only reach a certain level as far as matching the intensity of the book. But they did find him. [Kodi] is so good and he is such a beautiful person, and I became very fond of him — and he of me I think. That connection, that strong connection we made even before shooting started, only got intensified, became more intense as a result of the difficult emotional things we had to do in the first week or so. It was just, OK, we can do anything. Once I got to know him and realized that, I thought, OK, we've got a chance now. But then you never know how they are going to put the movie together.