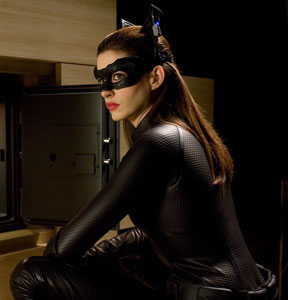 Despite Christopher Nolan's insistence to take a more realistic approach to his Batman films (well, as realistic as a man dressing as a bat to fight crime can be), it was inevitable that Batman's main love interest, Selina Kyle/Catwoman, would show up at some point.  She finally appears in The Dark Knight Rises, portrayed by Anne Hathaway.  Hathaway speaks about playing an iconic character who seems to exist on both sides of the hero/villain divide, working with Nolan and star Christian Bale, and what it was like taking on a role that is so different than what she is usually cast in.
Hathaway points out Kyle's undefined loyalty and moral code as one of the more intriguing things about the character, saying, "It's hard to reveal anything about Selina Kyle because she is intensely private and very mysterious.  She has her own code of ethics, which sometimes involves doing things that other people might consider questionable." Read more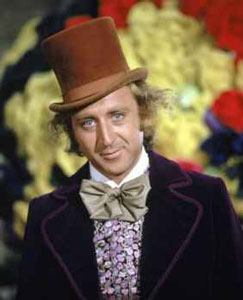 I love when stories about iconic films come out  that I didn't know before.  Case in point, this story from Letters of Note about Willy Wonka and the Chocolate Factory. 
Gene Wilder, who memorably played Wonka in the 1971 film, not only made several suggestions about how Wonka should act, but unlike most actors he also made several suggestions about what Wonka should wear.  Read more
I've said this before but I can't wait to see this!
In this behind the scenes look, you can finally see the costume that Reeve Carney will be wearing as Spider-Man. It also shows some fight scenes, director Julie Taymor talking about the show and Bono & the Edge talking about being bitten by a radioactive spider.
Robert Downey Jr. brings the legendary detective to life as he has never been portrayed before. Jude Law stars as Holmes' trusted colleague, Watson, a doctor and war veteran who is a formidable ally for Sherlock Holmes. Rachel McAdams stars as Irene Adler, the only woman ever to have bested Holmes and who has maintained a tempestuous relationship with the detective
Click below for the trailer
The winners of Carol Leifer's book, When You Lie About Your Age, The Terrorists Win are:
Elizabeth Kolshak and Melodie Tao – @MyMelodie (via Twitter)
Thanks to everyone for joining the email list! Such a great response.
Want a chance to win Carol Leifer's hilarious new book, When You Lie About Your Age, The Terrorists Win?
Sure you do!
I have 2 copies fresh from the publisher and I'll give them away randomly to two e-mail subscribers!
Sign up today!
Contest ends this Friday!
Ben Stiller has done some funny stuff at the Oscars the past couple years and this was another great bit.
Natalie Portman played it perfectly. Plus, she looked fantastic last night.
If you're like me, sometimes you don't know who to believe in this whole SAG mess.
There's the Membership First (the Allen's) who want a strike authorization and there is Unite For Strength who think our current leadership has screwed these talks six ways to Sunday.
One writer, Aaron Barnhart, stood outside of SAG headquarters before the emergency meeting this week, braved the picket lines and shouting to try and figure it all out.
Both sides were leafletting and holding handmade signs for board members as they walked the gauntlet between the parking garage and the SAG offices. (The MF leaflet is on the left, UFS on the right.) At times tempers flared. Two anti-strike leafletters, both women, complained of being the subject of "the most condescending remarks" throughout the morning. I stood between a former actor on "thirtysomething" and an agent who opposes a strike as they yelled insults at each other. Actor William Daniels told me to talk to the hand after he decided I wasn't asking friendly enough questions.