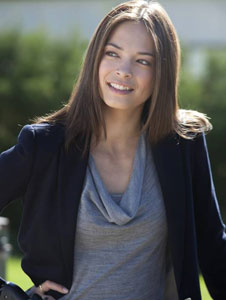 Fans of The CW's Beauty and the Beast are "rabid" and star Kristen Kreuk loves that about them.
I talked to Kristen at WonderCon right before she was to appear on the panel for the show and in the roundtable interview, she talks about how she got involved in Beauty and the Beast, if she ever reads the internet forums and keeping in touch with her Smallville friends. 
And as a little added bonus, there's also a couple minutes with Executive Producer Sherri Cooper-Landsman where she talks about Kristen and how great of an actress she is and how she does her own stunts.
Beauty and the Beast airs at 9pm on Thursdays on The CW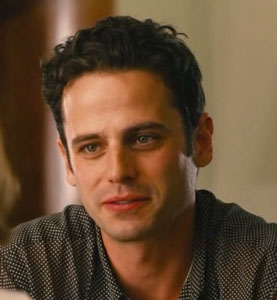 Luke Kirby has been performing since his teen years after he was accepted at this country's most respected conservatory, the National Theatre School of Canada. He graduated in May 2000 and after two auditions found himself working on two separate projects in major roles; the CBS/Alliance miniseries Haven and Director Lea Pool's feature, Lost and Delirious.
Soon after, Luke performed the role of "Morgan" in the Factory Theatre's production of Geometry in Venice in Toronto, a performance that garnered him a Best Actor nomination at the Dora Mavor Moore Awards. This was quickly followed by the role of "Patroclus" in Theatre for a New Audience's production of Triolus and Cressida directed by Sir Peter Hall in New York City. In 2006, he gave a critically acclaimed performance in The Women's Project's production of Jump/Cut. Other theatre credits include Judith Thompson's premiere of Habitat at Canadian Stage followed by Daniel Brook's premiere of The Good Life at the Tarragon Theatre (both in Toronto). His latest theatre venture was in NYC where he performed the lead role in Defender of the Faith (Irish Repertory Company). Read more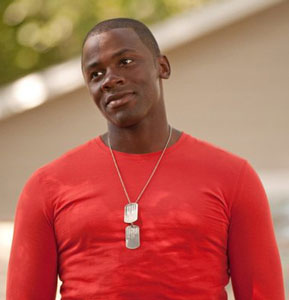 Derek Luke previously starred for Focus Features as real-life South African hero Patrick Chamusso in Catch a Fire. His performance brought him Satellite and Black Reel Award nominations, as well as the Breakthrough Award from the Hollywood Awards and the Star of Tomorrow Award from the Motion Picture Club.
The New Jersey native made his feature film debut in 2002 in the title role of Antwone Fisher,  written by the real-life Antwone Fisher  and directed by and starring Denzel Washington. He won the part after five auditions, and while working at the Sony Pictures gift shop. Up until that time,  his acting credits had consisted of small appearances in the television series Moesha and The King of Queens.
Mr. Luke's performance in Antwone Fisher earned him the Independent Spirit and Black Reel Awards for Best Actor. He was also honored by the National Board of Review, for Breakthrough Performance; and nominated for an MTV Movie Award for the portrayal. Read more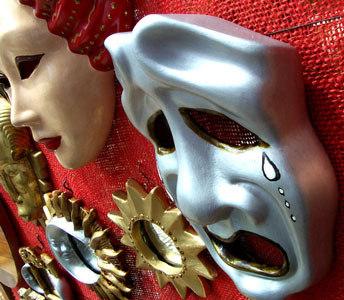 When jobless in a tough economic climate, sometimes the best plan is to go back to school.  After all, getting a degree that you could use toward getting a better job when the economy eventually turns around rather than dedicating all your time and energy searching for a job that isn't available at this time.  However, despite that often-shared advice, drama school applications in the UK have fallen by as much as 14.2% for the upcoming academic year.
Unfortunately, this isn't a sign that actors are forgoing training because they're getting more work: because of tuition hikes that go into effect for this year's class, it will cost approximately £9,000 (about $14,000 USD) a year to attend such institutions as the Central School of Speech and Drama and the Conservatoire of Dance and Drama's schools for three-year bachelor of arts degrees.  The schools are trying to combat the raised tuition price with additional scholarships and discounts. Read more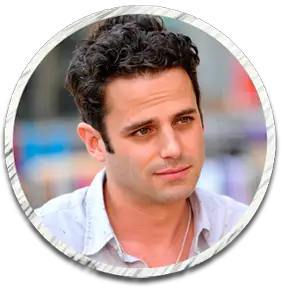 Actor Luke Kirby recently spoke with Interview Magazine about his recent  movie roles in both director Sarah Polley's Take This Waltz and the action thriller The Samaritan from David Weaver.  In Take This Waltz, Kirby plays the other man to Michelle Williams character in a story that follows a married woman who falls in love with her artist neighbor.  Seth Rogan and Sarah Silverman also star.
While Kirby shared that he was familiar with Polley after working with her on the movie Luck, landing the job wasn't easy.  "It wasn't that simple. I read the script and then she and I met for breakfast and had a really nice time catching up. I auditioned, and she made it incredibly comfortable for me, it was a very fun experience, which, auditioning is not generally the most fun that one can have in a day. Of course, when she asked me to come on board I was thrilled, and kind of taken aback, just because of how much I respect her as a director and also the cast that she had put together was so impressive. I felt so honored to be asked to be a part of it." Read more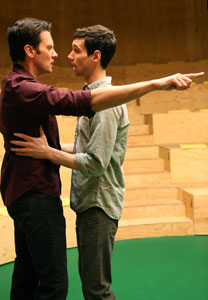 A play with the provocative title Cock is going to raise eyebrows (especially when the marquee outside the Duke on 42nd Street spells it out).  The provided plot description makes it even more appealing: "When John and his boyfriend take a break, the last thing he expects is to suddenly meet the woman of his dreams. Now he has a big choice to make."
Based on that description, it would seem like John (Cory Michael Smith) would be the central focus of the play's story, and in some regards he is.  But once the set-up behind John's unqiue predicament is established, boyfriend M (Jason Butler Harner), and girlfriend W (Amanda Quaid) take the lead by talking to and about John rather than with him, he sits or lies down in total frustration at not knowing what he truly wants.  It makes it even more difficult when M's father, F (Cotter Smith) arrives and begins to advise John from his perspective as both a concerned father and a supporter of gay rights.  That ultimatum — that John has to choose to be with a man or a woman — actually flies in the face of the whole idea of F's insistence that it is okay for him to be whoever he is, since John doesn't want to make a choice but finds himself forced to choose between the one(s) he loves on criteria that isn't as simple as whom he loves more.  Read more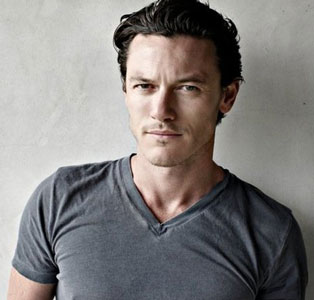 Luke Evans is a Welsh actor primed to turn heads among U.S. moviegoers and the film industry with his upcoming starring roles in notable studio films. Evans will next be seen in Paul W.S. Anderson's star-studded 3-D spectacle The Three Musketeers. Evans stars as Aramis, one of the disgraced musketeers taking on Cardinal Richelieu (Christoph Waltz) and The Duke of Buckingham (Orlando Bloom) in the hope of restoring their reputation as a force to be reckoned with. The film also stars Logan Lerman and Milla Jovovich.
Soon thereafter, Evans again graces multiplexes as the Greek god Zeus in Tarsem Singh's Immortals, a stylish and spectacular 3-D action adventure starring Mickey Rourke, Henry Cavill, Freida Pinto and Isabel Lucas.
Evans recently completed his second turn with director Mat Whitecross in the contemporary film noir Ashes, starring alongside Ray Winstone, Jim Sturgess, Lesley Manville and Jodie Whittaker. The actor has also completed production on No One Lives, directed by Ryûhei Kitamura. This horror film focuses on a ruthless gang of killers who are surprised by their victims' resistance. Next, Evans begins filming his role as Bard the Bowman in Peter Jackson's The Hobbit: An Unexpected Journey. Read more
Podcast: Play in new window | Download (Duration: 24:18 — 16.7MB)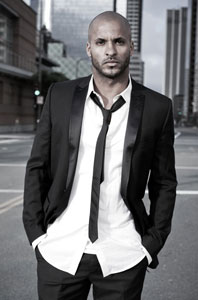 A big star in the UK, Ricky Whittle decided it was time to take a huge gamble with his career.
He had been working steadily back home where he started as a model than transitioned to acting. He nabbed a starring role on the hit soap, Hollyoaks, and was there from 2006-2011. But, as he told me, he soon realized that there was "a plateau."
"I could have happily have stayed where I was in the U.K.  I was doing very well.  I was working constantly," he said. "There's only so far you can go in the U.K." So, he packed up and moved to Bever-ly. Or, Santa Monica, to be exact.
When he got stateside, he didn't know anyone. He had a few meetings and by chance, met a manager and that's when things started rolling. He was quickly cast in the feature Austenland opposite Keri Russell, Jennifer Coolidge and Jane Seymour and soon after, was asked to join the cast of the VH1 series Single Ladies which will premiere this summer. 
I talked to Ricky about what it's like to come to LA after his years of success back home, the differences in shooting a show in the UK and the States and
For the full interview, click the audio link above or download it from iTunes
Follow Ricky on Twitter! Read more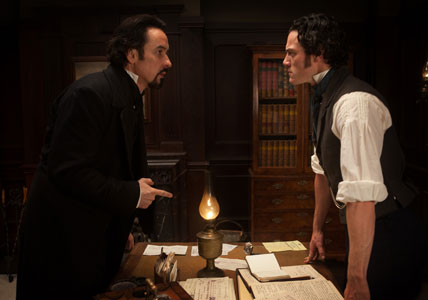 Here's a clip of the upcoming
John Cusack
film,
The Raven
. Cusack plays Edgar Allen Poe who joins forces with a Baltimore detective to hunt down a serial killer who's using Poe's own works as the basis in a string of brutal murders.
I haven't heard much about the film yet but ill definitely check it out.
The film, which comes out April 27th, also stars Alice Eve and Brendan Gleeson. Read more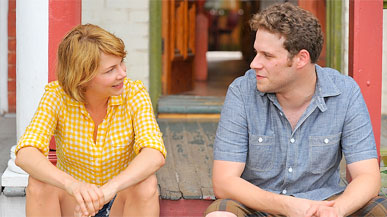 This June, if you're looking for an alternative to the summer bang 'em up films, Sarah Polley's Take This Waltz, might just do the trick. 
Take This Waltz: When Margot (Michelle Williams), 28, meets Daniel (Luke Kirby), their chemistry is intense and immediate. But Margot suppresses her sudden attraction; she is happily married to Lou (Seth Rogen), a cookbook writer. When she learns that Daniel lives across the street from them, the certainty about her domestic life shatters. She and Daniel steal moments throughout the steaming Toronto summer, their eroticism heightened by their restraint. Swelteringly hot, bright and colorful like a bowl of fruit, TAKE THIS WALTZ leads us, laughing, through the familiar, but uncharted question of what long-term relationships do to love, sex, and our images of ourselves.
Written & Directed by: Sarah Polley
Starring: Michelle Williams, Seth Rogen, Sarah Silverman, Luke Kirby
In Theaters: June 29th Read more