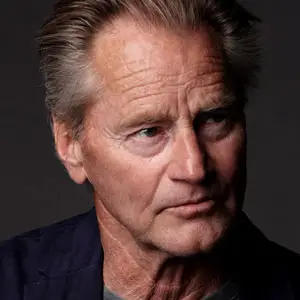 You really won't see Sam Shepard in a blockbuster movie (okay, he was in Stealth, but that's about it), so seeing Shepard's name in the credits of a film is probably a good indication that the movie is at least well-written.  That's because Shepard has always been as much of a writer as an actor and finds himself drawn to quality scripts. In a conversation with The Guardian, he talks about how he values the strength of a film script and why he primarily writes for theater these days.
Shepard admits that he chooses his roles based on how a character is written.  He explains, "I think it's based on the character. So many contemporary scripts are written by committee and they're pretty obviously written by committee. Within the first three to five pages, you can tell how many writers were on this sucker. If there's one writer, it's very distinct and usually they have a hold of something. The people I enjoy working with now are what they used to call 'auteurs': people who write their own material, then shoot it, and they're very rare. I mean, there's a handful of them." Read more
Podcast: Play in new window | Download (Duration: 19:16 — 13.3MB)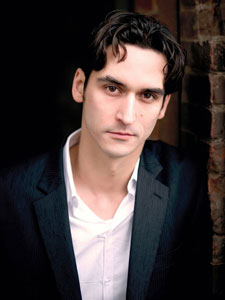 Sean MacLaughlin is traveling the country for the next year with his wife, baby and two dogs. When the "Von Trapp Family Singers" (as he called themselves) eventually stop at a city near you, that's probably because he's about to get on stage to play 'Peron' in the touring production of Evita.
Sean was last seen on Broadway as 'Raoul' in The Phantom of the Opera and he's from my neck of the woods – the Baltimore/DC/Virginia area. I love talking to people from my area and finding out how they got to where they are. Sean played it smart in his early career: before he packed everything up and moved to New York, he went to College at Virginia Tech and got a degree in communications. Then he moved to DC and did a bunch of theatre there because as he told me that he "was a firm believer in not moving to New York without getting experience."
But, before he tried his luck in New York something great happened before that. I'll let him tell the story in the interview below but basically, the success he's having now all comes down to a combination of planning, preparation and luck. We also talk about his audition for Evita and auditioning in general, touring and more!
Evita is currently playing in San Diego. For tickets, click here. Upcoming tour dates include San Jose, Las Vegas and Tempe, AZ. For more tour dates and ticket information, click here.
For the full interview, click the audio link above or download it from iTunes  Read more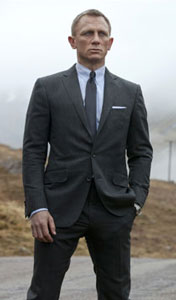 If you're as excited about the upcoming Bond film, Skyfall, as I am, then this 60 Minutes segment from Sunday will only add fuel to the fire.
Anderson Cooper traveled to London to talk with Producers Michael G. Wilson and Barbara Broccoli and star, Daniel Craig, about the enduring legacy of the Bond franchise. He also talks with Craig about playing the iconic character, why he didn't accept the role at first and performing his own stunts for the film.
Skyfall opens November 9th.
Check it out below! Read more
"Stand-up is fun, but you have to travel," Chris Rock says, explaining the appeal of his role in the Broadway play The Mother——With the Hat , a role that will allow him to spend time with his family. "I wanted to do something in New York."
Rock says he is not concerned by the 8 show a week schedule. "I do that many shows when I'm on tour, and I have to fly every day. Now I'll be able to take my kids to school, eat with them some days, even take them to an activity. And I'll be home in time to watch Letterman."
Rock found the premise of the show intriguing.  "It's a dark, dark, dark comedy about — about the human condition. Is that vague enough? I read a number of plays, but when I got to this one, I was like, 'Whoa.' This is going to shock the world. They made me read for the part. And after that, I had to sit with Stephen. Don't let anybody tell you, 'Oh, we begged him …' No, I had to jump through some hoops to get this thing."
Rock says he even enjoys the rehearsals. "It's an amazing process. You really take your time and break down the script. And you don't make a move without consulting the writer. When you're doing a movie, they hate the writer. I know, having written a movie or two. It's like, 'Thank you — goodbye.' "
To read more, go to: usatoday.com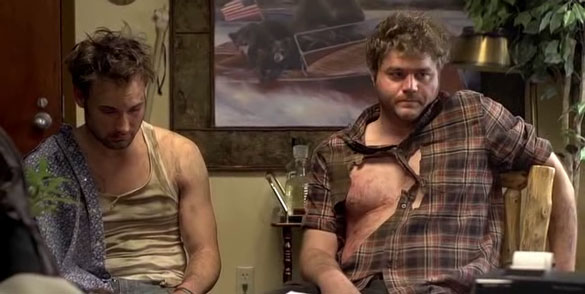 Awful Nice, the story of two estranged brothers who, after their father dies, have to travel to Branson, Missouri to sell his house, reminded me of a Duplass Brothers movie; raw and sometimes hilarious, with characters who are just shy of being sent to a mental institution.
After they ruin their dads funeral by getting in the most ridiculous fight ever, brothers Jim and Dave (James Pumphrey and Alex Rennie) hit the road to Branson, Missouri to renovate and sell the house they've just inherited.
Dave is a walking train wreck. Everything he touches turns to crap – hilariously so. And poor Jim has had to play straight man to this insanity all of his life. Their fights are epic and crazy. It feels like Rennie and Phumphrey are actually brothers the way they poke, jab and go at each other, both physically and even more so, mentally. Read more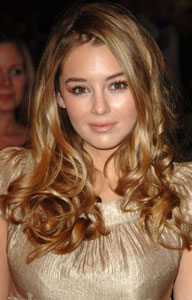 Keeley Hazell is wildly popular model in Britain. She's been a 'Page 3 Girl', appeared in men's magazines like Nuts and Zoo and is an icon to young guys everywhere. To most people, that would have been enough. But, a couple of years ago, she decided to pack up her life, move to LA and give it a go as an actress.
Starting from scratch after having the success like she did is pretty tough. Casting Directors here really didn't know who she was but that was fine because as she told me, "I always seem to put challenges on myself." She started taking classes at Lee Strasburg and now, things are starting to fall into place.
She's currently starring in the new film, Awful Nice. The film is about two estranged brothers, Jim and Dave (James Pumphrey and Alex Rennie) who, after their father dies, have to travel to Branson, Missouri to sell his house. The film, which also stars Christopher Meloni, has some truly hilarious moments and you should definitely check it out if you have a chance. 
I talked to Keeley about moving to Los Angeles, auditions, improv and Awful Nice.
Awful Nice is in theaters March 7th. Read more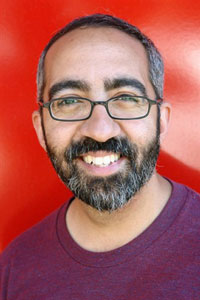 by John Henry Soto
 
So as some actors do, I was surfing through Craigslist for work. 
I know I know!!  But in the past I have managed to find some pretty good stuff on there. 
I ran into this ad where the guy was looking for talent to work with that has had some success in films. He was very clear about wanting to work with professionals only. I thought it was interesting. I've had a film at Cannes and have been nominated best actor for another so I thought I qualified. I replied to NAME REMOVED Business Management. 
I Googled the company name and didn't find anything out of the ordinary. Just a web page and Facebook page and a NYC address for his office. He contacted me right away and said he would like to meet with me. I thought cool, so we made an arrangement to meet in the city. He wanted to meet at fancy hotel lobby in the city and get a drink. For some reason I didn't think this was strange. I've done it before and it's not a bad environment for a meeting. Looking back, I should have requested a meeting in his office.
Mistake number one!  Read more

Acting is all about challenges, but how about this one: doing a one-person show that you have no previous knowledge of, with no direction, without a set and receiving the script seconds before your first, and only, performance. And during the performance, the audience decides whether or not you will drink a glass of water that has supposedly been poisoned.
But this isn't just a nightmare that plagues actors in their dreams, this is the actual scenario surrounding the play White Rabbit, Red Rabbit by Iranian playwright Nassim Soleimanpour, who says his work reflects the manipulation of society in an Iranian version of Animal Farm. As he said to Public Radio International, "We are always part of this manipulation system. We want to sit and complain that we are not slaves, but meanwhile, we'd rather stay in the cage. That's us. We have to accept it." The actor performing the piece is required to act out the parts of all the animals. Read more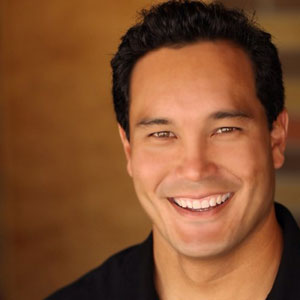 By Scott McMahon
BACKGROUND
For any actor wanting to work in television, the normal progression of things is to get your feet wet by becoming an extra or background actor.  These are the actors who fill in the background of a scene to make the whole experience seem more believable.  These are the actors with no lines.
Now, there are times when working as a background actor, you can get bumped up to a "Featured Extra", which means your beautiful mug is prominently featured on screen next to the actor who does have a speaking role.  Working a day as a Featured Actor will give you a little more screen time and a tiny bump in pay from what a standard background actor earns. Read more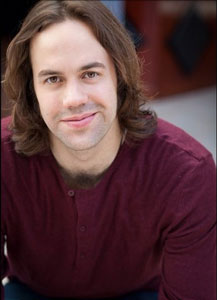 There's a tale as old as time that's currently traveling around the country and its star, Darick Pead, is loving every minute of it. 
Pead stars as the Beast in Disney's Beauty and The Beast and even though he's got to deal with the sweat-factor of the costume, the Utah native knows how lucky he is. He moved to New York and within a month, he booked the part of the Beast. "I got lucky and… yeah. It's crazy," he told me.
In the interview, I talked to him about the costume, why he made the leap to New York, his audition for the show and touring the country. 
Follow Darick on Twitter: @d_piddy
Disney's Beauty And The Beast is currently playing in San Diego. For tickets, click here. Next up is Costa Mesa, Modesto and Albuquerque. For tickets and more tour information, click here. Read more