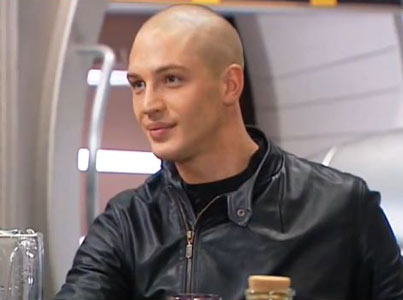 Here's the screen test Tom Hardy did for the 2002 film, Star Trek: Nemesis. In the clip, he and star Sir Patrick Stewart go mano-a-mano and even though he had little credits at the time, Hardy more than holds his own against the actor.
This has been out for a while but since Hardy is kicking some Batman butt in The Dark Knight Rises, it's made it's way back again as videos like this do. It's a little over 6 minutes long but it's pretty fun to watch.
At the time this was shot, he only had a couple credits on his resume; Black Hawk Down and 2 episodes of the HBO mini-series, Band of Brothers.
Check it out below! Read more
Tom Hardy is currently in production on George Miller's new postapocalyptic actioner, in which he takes on the role of Mad Max, opposite Charlize Theron. He will next be seen in the crime drama Lawless, which premiered at the 2012 Cannes Film Festival.
Hardy previously collaborated with director Christopher Nolan in the thought-provoking 2010 thriller Inception, alongside an international cast led by Leonardo DiCaprio. He recently also starred in the boxing drama Warrior, with Nick Nolte and Joel Edgerton, and the thriller Tinker Tailor Soldier Spy, with Gary Oldman.
Hailing from Great Britain, Hardy began his screen career when he was plucked straight from London's Drama Centre for a role in HBO's award-winning World War II miniseries Band of Brothers, executive produced by Tom Hanks and Steven Spielberg. He made his feature film debut in Ridley Scott's war drama Black Hawk Down, followed by the sci-fi adventure Star Trek: Nemesis. Read more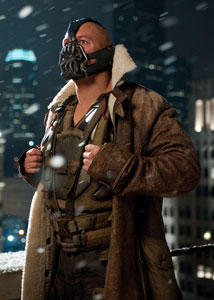 Bane might not rank among the "classic" Batman villains (the hulking back-breaker was introduced in the comics in 1993), but the character is a perfect fit for the Batman world created by Christopher Nolan in his Dark Knight trilogy.  To play the villain in The Dark Knight Rises, Nolan turned to Tom Hardy, who appeared in Nolan's previous film, Inception. 
Hardy explains that he leaped at the chance to work with Nolan again and goes into detail about how he played the character opposite Christian Bale's Batman.
Hardy admits he had no hesitation working with Nolan again, though Nolan initially approached Hardy thinking he would have one reservation.  Hardy explains, "Chris called me up and said there was a role I might be good for, but he wasn't sure I'd be interested because I'd have to wear a mask for several months.  He wouldn't tell me anything else about the character, except that he was a very bad guy.  I said, 'Let me get this straight: you want me to come and work with you, travel around the world, have a stunt team and all the weapons I could possibly want to play with, and all I have to do is wear a mask?'  He answered, 'Yeah, pretty much…'  And I said, 'I'm in!'"  In fact, Hardy says he felt the mask helped him get into character, adding, "I didn't feel limited by the mask. What's cool about it is, as soon as you put it on, you become the character." Read more
Tom Hardy is about to appear in a role that will most likely solidify him as a major star, Bane in The Dark Knight Rises.  While that role easily overshadows anything else Hardy has done, he still  has other projects to promote including Lawless, which also stars Shia LaBeouf, Jessica Chastain, Guy Pearce, and his Dark Knight Rises co-star Gary Oldman.  Hardy spoke to a number of media outlets on the red carpet for Lawless at the Cannes Film Festival about a variety of topics relating to his career.
In Lawless Hardy plays Forrest Bondurant, a Prohibition-era bootlegger whose actions speak louder than his few uttered words.  Hardy admits that playing a quiet character is difficult.  He explains, "These characters are difficult to play because I have a very busy head.  I have inside voices that I have learned to contain."
Finding those inside voices can be difficult, and Hardy confesses that it takes him some time to locate the character.  He says, "You sit and you dwell and you wait and you read and you think and you meditate.  It takes time to think and ponder, and the work is never done because it just continues. It's looking for evidence of things." Read more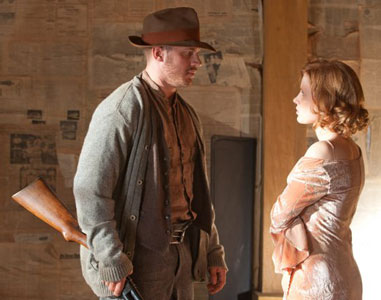 This. Looks. Good.
Lawless is the true story of the infamous Bondurant Brothers: bootlegging siblings who made a run for the American Dream in Prohibition-era Virginia. In this epic gangster tale, inspired by true-life tales of author Matt Bondurant's family in his novel "The Wettest County in the World", the loyalty of three brothers is put to the test against the backdrop of the nation's most notorious crime wave.
Director: John Hillcoat
Cast: Shia LaBeouf, Tom Hardy, Jessica Chastain, Jason Clarke, Guy Pearce, Gary Oldman, Mia Wasikowska, Dane DeHaan
Writers: Nick Cave, Matt Bondurant
In theaters: August 31st Read more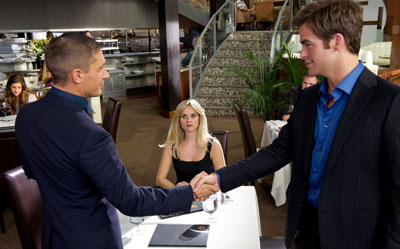 I saw This Means War last week and thought it was really good. It's mindless entertainment and is not going to win any awards but it made me laugh and I thought the action was great.
Starring Chris Pine and Tom Hardy as two of the CIA operatives who are inseparable partners and best friends – until they discover that they've fallen in love with the same woman (Reese Witherspoon). They decide to keep their friendship a secret from her as they each pull out all the stops and high-tech gadgetry to win their dream girl.
Check out the 6 clips below. The film opens this weekend. Read more
Tom Hardy has quickly become one of Hollywood's most sought after actors.
Hardy recently appeared in Lionsgate's drama Warrior, starring with recent-Oscar® nominee Nick Nolte and Joel Edgerton. Hardy portrayed Marine Tommy Conlon, who is haunted by a tragic past. He returns home for the first time in fourteen years to enlist the help of his father (Nolte) to train for Sparta, the biggest winner-takes-all event in mixed martial arts history. An ode to redemption and reconciliation, Warrior is also a moving testament to the enduring bonds of family.
Hardy stars in Tinker, Tailor, Soldier, Spy opposite Colin Firth and Gary Oldman, who was Oscar nominated for his work in the picture. Based on the classic novel, the international thriller is set at the height of the Cold War years of the mid-20th century centered around the British Secret Intelligence Service.
Hardy recently wrapped Warner Bros.' The Dark Knight Rises, directed by Christopher Nolan. Hardy plays the villainous Bane opposite Christian Bale, Anne Hathaway, Joseph Gordon-Levitt and Gary Oldman.
Hardy also recently wrapped RedWagon Film's The Wettest County, set in the Prohibition era, where three brothers find their bootlegging business under threat in Franklin County, Virgina. The Weinstein Co is distributing the film later this year.
Hardy is next set to start production on George Miller's new post-apocalyptic Mad Max movie, Fury Road, opposite Charlize Theron.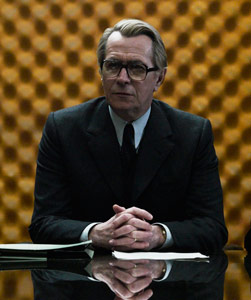 Here are 8 clips from Tinker, Tailor, Soldier, Spy. The movie stars a handful of the best British actor's working today; Gary Oldman, Colin Firth, Tom Hardy, John Hurt, Mark Strong, Toby Jones and Benedict Cumberbatch.
I think I'm embargoed on telling you what I thought of this so I please don't ask me to tell you how much I enjoyed it. Wait…oops!
The movie opens December 9th.  Read more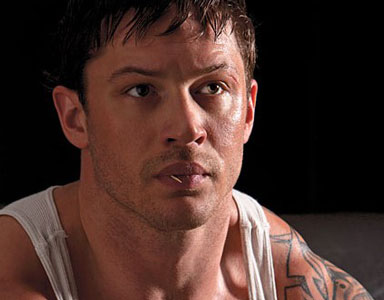 Warrior is a film that didn't do particularly well at the box office despite very positive reviews and the current popularity of Mixed Martial Arts.  Still, because of its critical acclaim there's definitely the potential of award season success that might lead to the film doing some better business down the road. 
In fact, at a screening at the Landmark Theater, director and co-writer Gavin O'Connor revealed an interesting tidbit about the film: despite Lionsgate wanting to cast stars for the lead roles to help the film's box office, O'Connor admits, "I didn't want to use movie stars for the two roles."
So how did O'Connor manage to cast non-American actors Tom Hardy and Joel Edgerton — who at the time of the film's production weren't nearly as popular as they are now — as Pittsburgh brothers Tommy and Brendan Conlon?  Read more
The Means War: The world's deadliest CIA operatives are inseparable partners and best friends until they fall for the same woman. Having once helped bring down entire enemy nations, they are now employing their incomparable skills and an endless array of high-tech gadgetry against their greatest nemesis ever – each other. courtesy of trailers.apple.com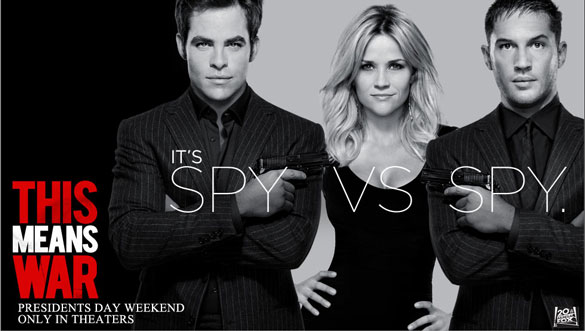 Director: McG
Cast: Reese Witherspoon, Chris Pine, Tom Hardy
In Theaters: February 17th, 2011 Read more