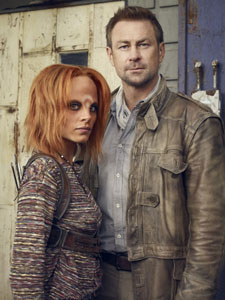 Defiance is one hugely ambitious show because for the first time ever, a TV show and video game will exist concurrently in a shared universe, influencing and impacting one anothers outcome. It all sounds pretty damn cool to me.
Defiance is set in the year 2046. It's a new Earth and with over thirty different Alien races, it's also a different Earth. Defiance is now what used to be St. Louis and when the mysterious Nolan (Grant Bowler) and Irisa (Stephanie Leonidas) settle in, things begin to happen that threaten the peacefulness the town has enjoyed for years.
Grant Bowler and Stephanie Leonidas took some time out of their schedule for a really cool Q&A where they talked about all aspects of the show; green screen and the special effects, the extensive makeup and all of the acting challenges they faced while shooting.
Defiance airs on Mondays at 9/8c on Syfy Read more
Podcast: Play in new window | Download (Duration: 15:16 — 10.6MB)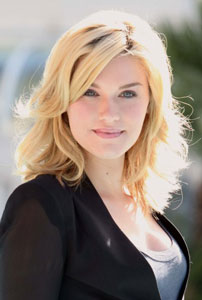 The SyFy series, Haven, based on the Steven King novella The Colorado Kid, follows FBI agent Audrey Parker as she arrives in the town of Haven, Maine. She's there to investigate a murder in the mysterious town but soon finds out that the small town is a refuge for people with supernatural abilities.
Emily Rose plays Audrey on the hit show. She's been on Brothers and Sisters, ER, Two and a Half Men and even worked on the video game, Uncharted.
I talked to Emily in a conference call where she talked about Haven, her acting goals and working with motion capture on Uncharted.
Haven airs on the Syfy Network Fridays 10/9c
For the full interview, click the audio link above or download it from iTunes
What keeps challenging you about the role of Audrey?
Emily Rose: I think just her mystery of herself and where she comes from. I constantly am challenged by her toughness and how she would handle trying to walk that fine line between trying to be a nurturer and helping people that are troubled, with also the tough skin and the defensiveness that she had to build up individually in order to last all these years without a family or a home or without knowing anything about her background. That's a constant challenge for me. Read more
Syfy's Warehouse 13 is in full swing on it's 3rd season and stars Saul Rubinek, Eddie McClintock and Allison Scagliotti got together for a press conference call and talked about keeping their characters exciting, how they survive in a show with a big cast and more.
It's clear from their bantering back and forth that they clearly like each other, which on a big ensemble show is quite a feat.
Check out the interview after the jump!

Warehouse 13 airs Mondays at 9/8c on Syfy.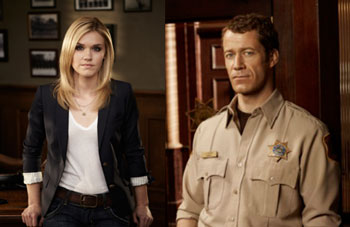 The SyFy Channel's Haven is off to a great start for its 4th season and stars Emily Rose and Colin Ferguson said in a recent conference call that we haven't even begun to see the craziness.
The interview is a tad long but if you're a fan of the show, you'll love it. Even if you're not, they delve into questions about their careers, acting, working in sci-fi and tons more.
Haven airs Fridays at 10:00 p.m. on Syfy. Read more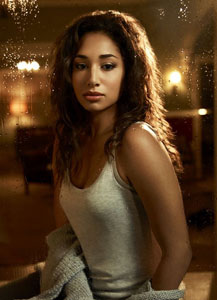 Now in its third season, SyFy's Being Human has shed comparisons to its British counterpart and become its own beast. And I mean that in the best way possible. Thanks to the writing and wonderful cast, the show just keeps getting better and better.
Meaghan Rath's Sally Malick has been on a unique journey this season. A former ghost, her character was brought back to life as a re-animated corpse and in a recent Q & A I did with her, she is enjoying the heck out of it. "I was really missing out on a lot of things that everyone else got to do, so it was really – it really helped me to get back into her because I was feeling just as excited as she was," she said.
In this interview, Meaghan talks about the new direction of her character and how she's approaching it acting wise, live-tweeting episodes and cast chemistry.
Follow Meaghan on Twitter
Being Human airs Mondays at 9:00 p.m. on Syfy  Read more
Podcast: Play in new window | Download (Duration: 26:01 — 17.9MB)
Christopher Heyerdahl had a great 2011.
He started it filming the last of the Twilight movies where he plays the vampire Marcus, one of the leaders of the Volturi coven. He then went off film season 2 of the SyFy hit, Sanctuary, where he starred as 2 characters (one has since been killed off). If that wasn't enough, during filming, he got word that he booked yet another part as 'The Swede' in AMC's Hell on Wheels.
Thanks to some creative scheduling, he would film Sanctuary in Vancouver, leave set and rush to the airport. At 6am the next day, he'd be sitting in hair and make-up in Calgary ready to film Hell on Wheels.
Just the normal life of a busy actor.
And, it was just announced that Heyerdahl would join the cast of True Blood for it's upcoming season. Looks like Christopher's 2012 might be as hectic as his last. 
I talked to Christopher about Hell on Wheels and how he got the part, working two jobs at once and more!
For the full interview (including Twilight questions), click the audio link above or download it from iTunes 
You had a great 2011 with Hell on Wheels, Sanctuary and Twilight. Has that been the best year career-wise, so far?
Christopher Heyerdahl: Well, yeah.  I guess it has been the best year so far in as much as I'm alive and well, and I'm working.  What other actor doesn't want' that?  It has been pretty intense. 
I mean, I started off the year doing Twilight. I got to go to New Orleans. It was a great way to start the year and then Sanctuary got renewed which is always a tenuous thing with a show that's privately funded and within maybe two months into doing Sanctuary, I got The Swede on Hell on Wheels. 
Chad Oakes and George Horie, Chad is with Hell and George is with Sanctuary.  The two of them got together and said, "We can make this work" because it was a crazy scheduling, scheduling that I think any producer just wouldn't normally not want to invite into their daily routine because I was getting on a plane pretty much every night after work, flying off to Calgary or vice versa, coming back to Vancouver in order to do each show.  It was crazy for them and that was a blast for me.  Read more
Podcast: Play in new window | Download (Duration: 24:46 — 17.0MB)
Sam Witwer, Sam Huntington and Meaghan Rath star as Aidan, Josh and Sally on Syfy's Being Human. The story of the vampire, werewolf and ghost roommates started it's second season last week and moves the series far and away from it's BBC counterpart.

Last year, I talked to them right before the series premiere, they were excited about the show and eager to see how audiences would respond to it. Well, they didn't have to worry too long. The show garnered great ratings and was quickly given a second season.
I talked to the Sam's and Meaghan about the new season, how their characters have grown and if there were any specific challenges they had to face in season 2.
Check out our previous interview with the cast here!
Follow Sam Huntington and Meaghan Rath on Twitter!
Being Human airs on Mondays at 9/8c on Syfy
For the full interview, click the audio link above or download it from iTunes
Podcast: Play in new window | Download (Duration: 18:44 — 12.9MB)
If you've ever wanted to see Ving Rhames beat the hell out of a Zombie with a sledgehammer, your wait is over.
This Saturday night, he's starring in the SyFy Original Movie, Zombie Apocalypse where yes, he kills many a Zombie. Rhames plays Henry, the "enforcer and protector" of a group of people trying to survive a zombie outbreak.
Rhames went to school at Julliard and in 1984, appeared in his first Broadway play, The Winter Boys. From there, got some supporting roles in shows like Miami Vice and The Equalizer and then made a huge splash in Quentin Tarintino's Pulp Fiction. He also won a Golden Globe winner for his work in the miniseries Don King: Only in America. He can also be seen in the upcoming Mission: Impossible – Ghost Protocol.
Ving talked to me about his preparation, the differences between an actor and a movie star, whether he'll do Broadway again and a whole lot more. I'd suggest you listen to the audio version of the interview. Lots of great stuff in there!
For the full interview, click the audio link above or download it from iTunes
Zombie Apocalypse premieres Saturday Oct. 29 at 9/8c
Ving Rhames: I like that title, Daily Actor. Interesting.
Thanks! I appreciate that coming from you. You went to Julliard. How has your preparation for roles changed from the time you graduated to now? Is it a lot easier for you?
Ving Rhames: No. My preparation is basically the same. It's even when I'm doing a play, which I haven't done in decades. But, I do kind of a – we call it a character analysis. I do a scene analysis, a script analysis. I go over what are my character's intentions in the movie? What are his actions? What are my overall intentions? What are my goals in the – my character's goals in the film? How do I get from Point A to Point B? You know, just basically what we call a Stanislavski moment-to-moment reality, what have you. So I use the same process in every film really.
In a film like this one where it's a lot of action or whatever – of course being in shape physically comes more into play.   Read more
Podcast: Play in new window | Download (Duration: 15:00 — 10.3MB)
Kate Mulgrew is probably best known to as Captain Janeway on Star Trek: Voyager, but did you also know that she's a true theater lover who starred in the Broadway revival of Equus? Along with that and her impressive TV work (Mrs. Columbo, Ryan's Hope, Mercy) she's also a sought after voice over artist that's been featured in cartoons and video games.
She's currently starring on SyFy's Warehouse 13 for a 4-episode guest arc and is a series-regular on Adult Swim's NTSF:SD:SUV::, a send-up of CSI/NCIS/24-type shows written by comedian Paul Scheer.
I talked to Kate in a conference call where she was absolutely wonderful. She discussed her work on Warehouse 13, the ending to Star Trek: Voyager, her career advice to actors and what playwright she would love to tackle in theater.
Warehouse 13 air on SyFy, Mondays at 9/8c
NTSF:SD:SUV:: airs on Adult Swim, Thursdays at 12:15 ET/PT
For the full interview, click onto the audio link above or download from iTunes
Going back – let's say if we went back to the beginning of your career; Shakespeare on stage, Ryan's Hope, of course Voyager, and now  the comedy and action sci-fi — I mean would that surprise you?
Kate Mulgrew: It would surprise me. I mean you're asking me, if I had looked into that crystal ball when I was 18 years old?
I saw myself as, of course, the next Sarah Bernhardt or the – preferably the next Eleonora Duse. I thought I was going to be a very, very strictly legit dramatic actress.
And the beauty of life is that we don't have a crystal ball. We'd all shoot ourselves I think if we did. It unfolded in a mysterious, unexpected, and in many ways a remarkable way. I think I've been blessed with, one could argue, three iconic roles.
I think Mary Ryan, to start a career playing an iconic role is a great blessing. And the fact that she developed into these other characters was a further enhancement. So I think I've had the career I was meant to have. I certainly loved to act every inch and step of the way.
And if I may say this for posterity, I'm having more fun now than I ever have before. You shed a lot of stuff at my age. And when you're younger the ambition I think is probably one of the key ingredients. And when you're older, the key ingredient is simply joy. So that's where I am right now.   Read more
Podcast: Play in new window | Download (Duration: 9:58 — 6.9MB)
When Jeri Ryan was in college, she had to decide between two majors: Theater and…. biomedical engineering.
That's not the usual choice facing most actors but thanks to her "incredibly impractical nature," she chose theater.
After graduation, she moved to LA and has been working steadily ever since; Star Trek: Voyager, Boston Public, Shark, Leverage and currently starring on ABC's Body of Proof.
But, that's not stopping her from guest starring on other shows. Tonight, you can catch her on SyFy's Warehouse 13 where she play's a woman whose fairy tale wedding is derailed when she's exposed to an artifact.
I talked to Jeri on a conference call where she talked about her decision to act, if she still has to audition for TV roles and her advice to actors.
Warehouse 13 airs on Mondays at 9pm on SyFy.
The season premiere of Body of Proof airs on ABC, September 20th at 10/9c
For the full interview, click the audio link above or download it from iTunes
I guess this is kind of like your first trip back into science fiction in a way, since Voyager. What's it been like to do that? What's it like to kind of return to that genre?
Jeri Ryan: Well, I mean I'd be eager to do a lot of stuff in that genre that you don't really get to do in typical drama or comedy which is one of the reasons you become an actor is to do as many different things as you can and live as many different lives as you can. And it's fun to do a role where you can really kind of suspend reality a bit. It's a good time.
What's next for you?
Jeri Ryan: Well right now I'm shooting Body of Proof. We just started shooting Season 2. And we actually are shooting our second episode today so. That's a full-time gig right now.