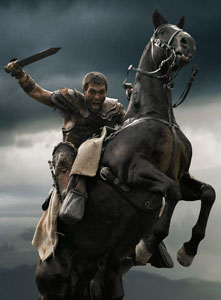 Sorry to tell all the Spartacus fans out there, but STARZ announced today that the upcoming season of Spartacus will be its last.
"The fans have been tremendously supportive of our show," says creator and executive producer, Steven S. DeKnight.  "We did not come to this decision lightly.  It was an extremely difficult and emotional decision for my partners and I.  Yet, in the end, the story was best served by rolling all of the remaining action and drama of Spartacus' journey into one stunningly epic season that will be extremely satisfying for everyone who's been along for the ride."
"Steven DeKnight, Rob Tapert, Josh Donen and Sam Raimi have made one of the most groundbreaking shows we have ever seen," says Starz CEO Chris Albrecht. "'Spartacus' is a landmark series for the network which has enthralled millions of viewers and fans around the world.  We are in agreement with our partners in the decision to conclude the story after 'War of the Damned,' as we believe it is the best way to maintain the integrity of the series and secure its legacy.  While everyone may know the fate of Spartacus, we believe this will be a spectacular season that will startle, amaze and honor the legions of fans." Read more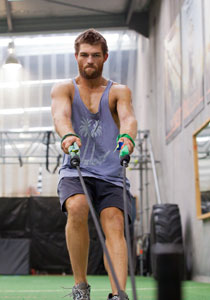 Each year, the cast and stunt performers of the Spartacus get together a month before shooting and begins their brutal weeks of boot camp.
They have to get themselves into Gladiator shape, prepare for the extensive action sequences and get camera ready for their, you know, nude scenes.
"Spartacus Boot Camps are famous now for pushing you to your absolute limits," says star Liam McIntyre. "This year they found a new level with military inspired training. I've never been so fit in my whole life. This boot camp will kick your ass. This year it kicked it twice."
"Meticulous choreographing is necessary to ensure the safety of the actors performing the stunts," says stunt coordinator Allan Poppleton, who has overseen each of the "Spartacus" boot camps. "For four weeks, we work the cast to the point of exhaustion, combining cross training elements- everything from cardio, basic gymnastics, foot and movement work, unarmed combat, body awareness, reactions, weaponry, and functional cross fit circuits." Read more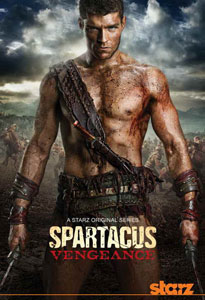 Are you ready to return to the arena?
Then you're in luck because Spartacus is back and this time, with a vengeance.
Spartacus: Vengeance picks up where Blood and Sand left off as the gladiator rebellion continues and they begin to strike fear into the heart of the Roman Empire.
Liam McIntyre takes over the lead role of Spartacus from Andy Whitfield who, before his untimely death, told the cast and crew that he wanted the show to continue. Whitfield even gave the thumbs up to McIntyre, saying that he wanted him to have the role. As McIntyre said in the conference call, "To know that the person who made it so wonderful was on your side, as it were, especially considering all the harrowing personal experience he had to survive at the time. That means more to an actor than you can possibly imagine."
I talked to the cast – McIntyre, Lucy Lawless, Viva Bianca and Peter Mensah – about the upcoming season, the costumes (or lack thereof) and acting in the mud.
Spartacus: Vengeance airs on Fridays at 10pm on Starz
Liam, you played a character that was obviously played by Andy Whitfield. I was wondering, how did you manage to carry on the character that Andy had built, but also leave your own mark as an actor?
Liam McIntyre: Well, I mean I'm very lucky in that I – the writing team is absolutely sensational, and that Starz is really supportive. So Starz early on said, you know, make the character your own, treat it as your own character. You know, that they didn't expect me to copy anything. I did watch all of Andy's amazing work. And so I don't know if any parts was osmosis or kind of like a kind of influenced me in any way. I can't be sure, but I mean hopefully because he was sensational.
But I mean realistically I just tried to be true to the character which, you know, essentially stays the same. Because the writing is the same and all of that lovely humanity and those difficult choices and all that. Then that struggle that Spartacus goes through, it's still there this season. So I didn't get the honor of being able to treat that with respect and truth. And hopefully you have a character that feels the same as the great character that Andy portrayed.  Read more
Podcast: Play in new window | Download (Duration: 14:43 — 10.1MB)
Well, this is really sad news.
Andy Whitfield, the former star of Spartacus: Blood and Sand, died of non-Hodgkin Lymphoma Sunday morning in Sydney Australia.
He was 39 years old. 
Whitfield was in peak physical form when, 18 months ago, he was diagnosed while preparing for the second season of the hit Starz series. Because of the diagnosis, the network was forced to replace him with Liam McIntyre.
I talked with Whitfield before the first season of Spartacus aired and he was absolutely wonderful. Laughing and cracking jokes, he was just so happy about the show, his work and life.
I re-posted the audio-link of the interview with him and cast-mate Lucy Lawless above. If you'd like to re-read the interview, click here.
RIP Andy.
Stephen Amell is one busy actor who is enjoying a vast array of parts on several different projects and showing off his impressive range of acting skills.
On "Vampire Diaries," Amell plays the evil Brady who temporarily scars Caroline during a creepy and vicious torture scene, and the actor obviously embraced the dark side of his character. While in "Justice for Natalee Holloway," the actor's portrayal of Joran Van Der Sloot it's less obvious what emotions lay below the surface of the man. Amell delivers a performance that plays up Van Der Sloot's handsome and charming boyishness but adds a sense of timidness to the mysterious man with the world reknowned reputation clouded in suspicion.  Unlike with his "Vampire Diaries" character, the viewer does not detect any judgement on the actor's part regarding Van Der Sloot's guilt or innocence.
Amell explains what it took for him to prepare for this role. " Well the practical side came first. I had to get the accent and I had to figure out his mannerisms. The next aspect was taken care of with the dialogue. But I have to say, this is the first time I've played someone who exists in reality and it was very exciting," he says. "Honestly, I didn't think too much about it going in, but we filmed a really big scene off the bat and it took a bit of a toll on me. I wouldn't say it was emotionally challenging, but if I played him right, by the end of the day I was in a funk. That being said, you don't want to judge the characters you play, so you're able to bring the truth, but I was very aware this character is a weak person. So where you normally look for strength, I look for weakness," the actor said.
Amell's name was on the short list to take over on "Spartacus", and though the part went to Liam McIntyre, he says he is okay with the producers decision." I was in the "Spartacus" casting process for about two months. I had four auditions and a great meeting with Steven DeKnight. Then myself, Aiden Turner and Liam McIntyre were flown to New Zealand and worked for three full days. Fitness assessment, screentest and character work. I think Liam will be spectacular, but it worked out because the Tuesday after I didn't get "Spartacus," I got a call to get on the plane to Georgia for "Vampire Diaries." I had auditioned three times before that. I definitely tried out for Mason Lockwood and Elijah. They liked me but didn't think I was the right fit for those roles. For Brady, I got on the plane not even knowing the part, but knowing it would be super awesome."
Read more
Podcast: Play in new window | Download (Duration: 14:43 — 10.1MB)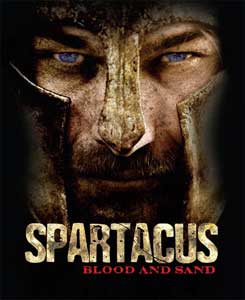 Spartacus: Blood and Sand is a retelling of the classic story of a Roman Gladiator who eventually rises up to lead a massive slave rebellion. But this is not your Dad's Spartacus. This is much cooler. Much, much cooler. I've seen the first 4 episodes and they rock.
In this exclusive interview, Andy Whitfield (Spartacus), Lucy Lawless (Lucretia) and Executive Producer Steven S. DeKnight talked to me
Spartacus: Blood and Sand premieres this Friday, January 22nd on Starz!
Side note: This was a much longer interview but about halfway during the call, I noticed my cat chewing the cord that I use to record the audio. I quickly replaced the cord but missed a lot of great questions. You can thank my cat for that. And if you listen to the audio of the call, you'll be able to hear her "meowing" in the background. Ah… the pleasures of working at home.
Let's pick up the action…
[My question was: How do you get mentally prepared for a long shoot like this?]
Andy:  stay present and go, what do I have to achieve today and collaborate with some of the most amazing people I've ever worked with.  It's achievable.  It does take its toll at the end.  Everyone needs a big rest, but even on the last day, everyone was there, the crew were there, and you could just feel how proud and how excited and how exhilarated everyone was.  You almost could feel like they could have two weeks off and start again.
Do you guys both still get nervous before a big scene?
Andy:  Lucy?
Lucy:  If I'm naked, yeah probably (laughter).  I don't know.  Now that there's such a relationship of trust between the actors and you've got directors that are really just fantastic –
Andy:  Yeah, I think, I mean I think that is true.  I think, you know, from what we have achieved – that gives you a lot of confidence.  But I also am conscious that there is always a necessary amount of fear just to have everything sharp.  You know, it's that thing, no pressure, no diamond.  And I think you just sort of get used to it and accept that it will always be there.
For example, if I had to audition for something tomorrow, I would be as nervous as I was before.  And I'd spent nine months doing the best training for acting I could possibly ever have.  And I think that's appropriate.  I think that you just accept that that's gonna be there.  And just trust it's gonna go away it'll go away the second you commit to what is there.
Podcast: Play in new window | Download (Duration: 8:05 — 3.7MB)
If you're a fan of Dollhouse, you've most likely seen Erin Cummings. She had a recurring role on that show this past season and also had a guest starring role on Cold Case.
If you're not familiar with her, get ready, because she's about to make a big splash in the upcoming Starz series, Spartacus: Blood and Sand. She plays Spartacus' wife, Sura, and she's going to surprise you.
Erin has some great things to say on training and getting for a huge part like this… and she also has something to say about actors who don't stick to the script. It's well worth the listen!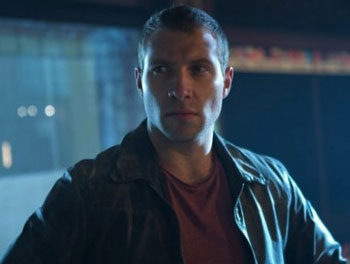 Jai Courtney had mixed emotions when he was cast as Bruce Willis' son in the newest installment of the Die Hard series, A Good Day to Die Hard. 
"I was like over the moon…and then doubt set in and I realized, 'Oh, God, it's Die Hard, man.  It's a huge iconic franchise.  What if I suck?'" he recalled in an interview with The Huffington Post.  "I think it's important—it certainly helped me—to take a deep breath and remember that they've shown some faith in me by casting me in the project.  And you obviously have something to offer—just rely on those instincts.  Go and get the job done and have fun while you're doing it."
The Australian actor got his first big break appearing on Spartacus, which he said, "gave me the opportunity to come out to the States for the first time.  And then I felt like it was a whole new chapter.  That show offered me a lot of experience and a bit of exposure and enough of a talking point to get in rooms." Read more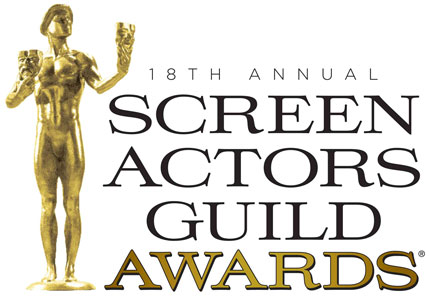 The nominations for the 18th Annual SAG Awards were announced this morning while I was patiently sitting in an airport waiting to board my flight to JFK.
Congrats to all the nominees!
But, I just have one WTF as I go through the list: Glee was nominated as in the Ensemble category? The cast is fine with Jane Lynch, Heather Morris and Matthew Morrison being the standouts but nominating the cast for best ensemble? Seriously?
Check out the nominations below!
Read more
Podcast: Play in new window | Download (Duration: 13:56 — 9.6MB)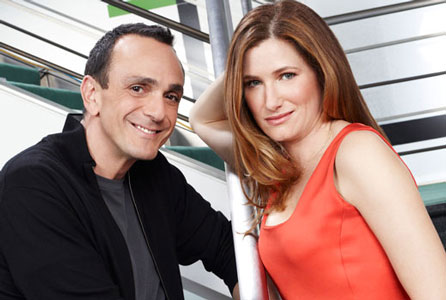 The great Hank Azaria and Kathryn Hahn are starring in NBC's new romantic comedy, Free Agents. Set in a public relations firm, the show is about two co-workers who try and redefine their relationship after hooking up with each other.  
Along with his film resume (The Smurfs most recently), Azaria can still be heard voicing several characters on the long-running animated series The Simpsons, but "Free Agents" is his first series since Huff.
Hahn has been doing some great work in supporting roles in movies (Our Idiot Brother and How Do You Know) but she might be best known for her role in NBC's Crossing Jordan.
I talked to both Hank and Kathryn in a conference call where they talked about why they came back to TV, working together and if Hank's role in The Birdcage was really based on his Grandmother.
Follow Hank on Twitter!
Free Agents airs on Wednesdays at 8:30/7:30c on NBC
For the full interview, click the audio link above or download it from iTunes
It's been a while since have done television. Well, Hank you still do the voice on The Simpsons but what brought you both back to television?
Hank Azaria: The script and the – John Enbom. We love to party down both Kathryn and I. And it was a tough decision for both of us because of the schedule. And we weren't really looking to do something like this right now but we just kind of couldn't ignore how good the material was and how fun the people seemed to be.
And it seemed like a really worthy good shot at the very least we would have a lot of fun doing and we have.   Read more