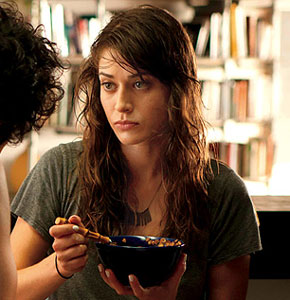 Lizzy Caplan is such a good actress that you might actually believe she's just like the roles she plays—a somewhat nerdy lawyer on New Girl, a druggie in the film Bachelorette.  But the comedienne is just adept at "finding some similarities between myself and the characters, even if it's the tiniest thing."
Caplan told Interview Magazine that "the True Blood character was probably the biggest departure for me, because I'm the opposite of like a vegan hippie chick.  I can't, I can't even.  But, in comedy roles I gravitate towards broken girls, and so I can definitely draw some real-life experiences."
In Caplan's new project, the television series Masters of Sex, the actress has taken on a role that is the complete opposite of her own personality.  "The show I'm doing next, Masters of Sex, is a drama and takes place in the '50s and that is very, very unlike me, how she behaves, there's a lot of space between her and me in real life," Caplan noted.  "It's about Masters and Johnson, the sex researchers in the '50s.  It's their story and their research, but their actual story, I'm very curious to see if people think that we are stretching the truth because the insane stuff in our show is true." Read more
Earlier this week a lawsuit was filed in Los Angeles Superior Court against Time Warner, HBO, Cinemax and the production company True Crime LLC by an actress claiming that she was bullied into appearing nude and performing simulated sex on an episode of the Cinemax series Femme Fatale as well as being sexually harassed and placed in a dangerous work environment.
The plaintiff, identified only as "Anne G," claims that she was not told that the role would require nudity or simulated sexual contact when she auditioned for it and was later hired for it.  While on-set in December 2011, the suit alleges that "she was blindsided with rewrite after rewrite which necessitated her character to simulate sexual intercourse and for her to appear nude but for pasties on her nipples and a sticker on her private parts," and that the set was not closed, as per union rules.  Executive director Steve Kriozere and assistant director Joe Schwartz are also singled out in the suit for saying "inappropriate sexual comments to her."  Ultimately the suit claims that when Anne G refused to do the scene she was threatened with a lawsuit for breach of contract. Read more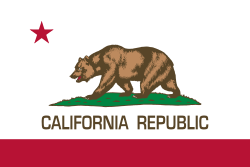 It should be a no-brainer, but there were no laws on the books in California that prevented convicted child molesters from working with children in the entertainment industry.  Back in April, former child actors Corey Feldman and Todd Bridges (who played Willis on Diff'rent Strokes) testified before the California legislature on the physical and sexual abuse they faced as child stars, and the various industry unions were united in their support for measures to prevent such abuse.
Finally, on Thursday, September 27, California Governor Jerry Brown signed AB 1660, a bill which bars registered sex offenders from working with child actors and requires background checks for behind-the-scenes personnel who work directly with children, ranging from managers to photographers.  Now these Hollywood personnel will be under the same strict regulations as those in many other positions that involve working with children. Read more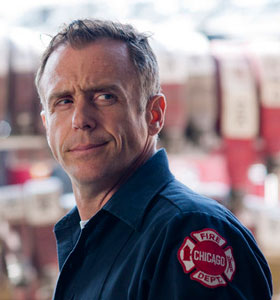 David Eigenberg knows all about being pigeonholed after becoming well-known for a specific role.  After all, he played Miranda's longtime love, Steve Brady, on Sex and the City.
"[When I first started in the business', my acting teacher used to always call me Steve.  He'd say, 'I don't know why I do that.'  It became my biggest role," Eigenberg noted in an interview with The Daily Herald.  "I love Sex and the City because it brought humor to sexual situations."
But now Eigenberg is ready to move past his earlier fame by starring in the new NBC drama series, Chicago Fire.  "I love this job," he said.  "It's everything for me.  It's physically demanding, it's emotionally demanding, and you get a lot of banter." Read more
These days it seems like indie actress Lizzy Caplan is popping up everywhere, from her new movie, Bachelorette, to a guest stint on New Girl.  The actress also has two upcoming projects: the film 3,2,1…Frankie Go Boom and the TV series, Masters of Sex.
Caplan admits she was drawn to Frankie because "I needed a job!  That was definitely part of it."  But the paycheck wasn't the only reason she wanted to do another indie.  She also added, "I read the script and really fell in love with it and really wanted to go after it because I thought it was so strange and yet so funny.  Just real laughs when reading a script are difficult to come by.  And I also thought it would be a very challenging character because even though for the second half of the movie she's pretty straight and sweet, those first early scenes, I knew would be something that would terrify me right before he yelled 'Action.'  And that's the kind of stuff I seek out." Read more
Though I love movies enough to spend my free time writing about them (though the comped tickets and free popcorn helps), I tend to find the drama surrounding who was "snubbed" by various award shows — particularly the Oscars — far more interesting than the award shows themselves. 
Still, though legendary Oscar-winner George C. Scott once called the ceremony " a goddamn meat parade," the Oscars are still very important to those who are nominated — and often those who are not.  One notable filmmaker speaking out is Steve McQueen (not the macho icon who himself was nominated for an Oscar), the British writer/director of Shame, who has a theory why his film's lead actor, Michael Fassbender, was not nominated for Best Actor. Read more
I recently got a chance to see Perfect Sense, and I was particularly fascinated by the film's premise: a virus causes humanity to gradually lose each one of its senses. 
Starring in it is Ewan McGregor, who plays a chef, and since that job particularly involves the use of the senses he is particularly affected by the troublesome state of the world. 
Opposite him is Eva Green, a woman who lives above the restaurant he works in and with whom he builds a relationship as the world crumbles around them.  McGregor talks about the role with New York Magazine, focusing on training to become a chef and filming sex scenes with Eva Green.
As it turns out, McGregor actually racked up some hours in the kitchen in preparation for the role, and it wasn't easy — especially when he was drafted to assist!  He says, "I worked with an old friend of mine, Guy Cowans. He has a place called Guy's in Glasgow, and he's also a movie-set caterer in Britain. He became the chef advisor for the movie, for all of the sequences in the kitchen. So I worked with him for about a week, observing, about two or three hours a night, and I actually ended up helping out. I spent a few nights doing service, when it got really chaotic. [Laughs.] I used to be a dishwasher and a waiter when I was 14, 15, 16, so I do have some experience with that, but it's fascinating to watch them keep the orders straight — what steak to cook for how long and all of that. It's really quite something to see. So I was taught how to make several dishes that we incorporated into the scenes. Guy orchestrated most of it; we wanted it to be realistic, for our movements to make sense, so it looked like we knew what we were doing."  Read more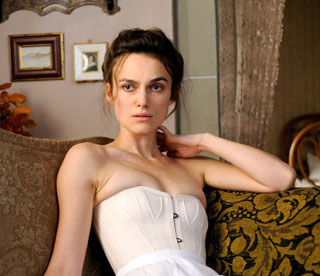 There are no pirates or Jane Austen romances to be found in A Dangerous Method (2011), a film about the relationship between Sigmund Freud and Carl Jung, the fathers of psychoanalysis. Jung has a romantic relationship with his patient Sabina Spielrein played by Keira Knightley, who is brought to the mental institution where Jung works.
When asked by Yahoo! if she had ever considered studying psychology, she said, "No … there are a lot of parallels in acting. You are trying to understand the world from a different point of view without judging it. Looking at it from a psychological point of view is something you do naturally as an actor anyway."
When Knightley's character is admitted to a mental institution she experiences hysteria and fits: "That's the tricky thing, when you are reading a script that says, 'has a hysterical fit, ravished by tics'. And you go, 'OK, what does that mean? And what do you mean a tic?' So really, a lot of the reading was based on trying to get descriptions of tics and trying to understand what that was."  Read more
American Horror Story is one of the most talked about series of this Fall.  From co-creaters Ryan Murphy and Brad Falchuk, the FX show boasts an all star cast line up, a seroiusly spine tingling story, and the likes of twenty-nine year old Alexandra Breckenridge, who plays the salacious, younger version of housekeeper Moira.
Pushing the envelope each week as her character persistently pursues Dylan McDermott's Ben, Breckenridge recently told NBC that she only knew a little about her alter-ego.  "Even when I got the audition, which was only a page, it was just a character that I've never played before.  It's this overt sexuality that I've never had the opportunity to explore as an actor, so that was what I was really excited about. And then I read the script and I about sh-t myself."
Breckenridge also says that the role she shares with actress Frances Conroy  hasn't been mapped out in terms of "behavioral continuity between the two faces" of Moira,  discussing how the two actresses share the same readings in the show.  "We are playing two completely different sides of the same character, so it was never really something that we felt we needed to discuss.  My character's intentions are completely different from her intentions, so, really, when we do a scene together, sometimes we have to basically go in and play the same scene, so she'll go in and read the scene and then I'll go in and read the scene. And it's mainly just a physicality – where we're standing and the position we're in and that's it."   Read more
According to a recent interview with Larry Crowne co-star Bryan Cranston, the actor wore "slightly less clothes" than one disgraced politician during filming for a sex scene with Julia Roberts, who plays his professor wife in the upcoming movie.
"I'm laying on top of her. You know what I'm wearing? Slightly less clothes than Anthony Weiner," the 55-year-old Breaking Bad actor told ReelzChannel's Steve Patterson. Of course, Weiner is the New York congressman who accidentally sent a picture of his erect penis (thankfully hidden by his underwear) to all of his Twitter followers late last month.
As Cranston told it, he wore nothing but a skin-colored pouch so that no actual genital contact was made between Cranston and Roberts during their steamy scene. "That was my wardrobe," he explained.
Larry Crowne also stars Tom Hanks as the titular character and tells the story of a middle-aged man who loses his job and decides to head back to community college, where he meets the woman played by Roberts.
Video after the jump.