Written by Sofia Gian
[For Sundance 2012, Daily Actor has actress Sofia Gian taking in the sights, sounds and films and writing it all down for us. Keep coming back for more Sundance!  - Lance]
I didn't see it coming is the best way I can describe my screening of Compliance. It's a story of the unexpected. What starts off innocently enough as relationship between the middle-aged fast food store manager Sandra and her young teenage employee turns into a psychological horror film, and takes the audience on an uncomfortable ride over the next two hours.
A busy Friday night at a generic fast food joint in just another mid-western town takes a turn to the perverse as cop-pretending prank caller seizes psychological control over the employees and makes them do things most of us would think of as unimaginable. Both the audience and I wanted to yell out at the characters on screen telling them to hang the phone up and make the mind-torture end, but it would not have made a difference.  Read more
When Emma Roberts arrived at director Wes Craven's home for her audition for "Scream 4", there were several people present, but no sign of Craven. That is when she learned her audition would be done via Skype.
"I get to his house and they told me it would be on Skype, which is so strange because his assistant was there, his casting director was there and he's on a laptop. I just went for it and I actually found out later that day that I got the movie and I was off to shoot two weeks later. It was the fastest job I've ever gotten," Roberts recalls.
There was one "small" problem when Roberts arrived on set, though.
"I'm really small compared to everyone else in the movie because I' m short, so I was literally running around in seven inch boots the whole movie, so I could be up to the right height to everyone else. I almost ate it a couple of times. There was a moment where I was running up some stairs late at night and I almost took a fall."
via wenn.com
Scream 4: Ten years have passed, and Sidney Prescott, who has put herself back together thanks in part to her writing, is visited by the Ghost face Killer.
Director: Wes Craven
Cast: Neve Campbell, David Arquette, Courteney Cox, Emma Roberts, Hayden Panettiere, Marielle Jaffe, Rory Culkin, Nico Tortorella, Erik Knudsen, Adam Brody, Alison Brie, Kristen Bell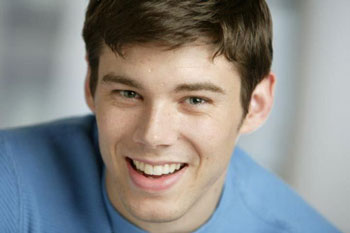 The Army or an acting career? That was the choice Brian J. Smith faced back in 2007 when he walked down to the military recruitment office in Manhattan after a string of bad luck in his personal and professional life.
"I was two months behind in the rent, I didn't have insurance and I'd just auditioned for [a role] and was told they went with somebody else," said the 32-year-old actor. "I figured, it's a sign! I went to the recruitment office on West 72nd Street and was going to show up the next morning at 8 for a physical."
However, fate stepped in and changed the entire course of his life. His agent called before he was supposed to complete his Army physical. Read more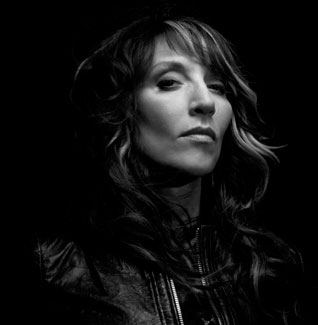 Sons of Anarchy is well into its sixth season and Katey Sagal's Gemma is getting more and more dangerous. But, as she said in a recent conference call, "I don't see her as evil at all.  I rather like her." I like Gemma too… but I'm damn afraid if her. I actually think she might be the most dangerous character in the whole show.
In this interview, Katey talks about Gemma and if she takes her home at night, how the violence on the show is "just another day at the office", music being her first love and more.
Sons of Anarchy airs on Tuesdays at 10 on FX Read more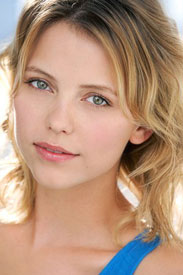 In The Secret Lives of Dorks, Riley Voelkel plays Carrie, a cheerleader who is actually… a good person!
The film is a throwback to those early 80's teen comedies where the nerdy Peyton (Gaelan Connell) is in deep teen-love with Carrie, the hot cheerleader. But, in a fun twist, Carrie plays matchmaker and sets out to help Peyton hook up with fellow dork Samantha (Vanessa Marano).
The film marked Riley's first starring role and she's terrific. It's no wonder why she was cast in a small role in the pilot of Aaron Sorkin's hit HBO show, The Newsroom. She was so good, Sorkin brought her back for the first season finale which then lead to her being a regular on season two.
She's smart, funny and you'll definitely enjoy this interview where we chat about her audition for Secret Lives, working on The Newsroom, an absolutely nightmare audition(!) and her advice to young actors.
The Secret Lives of Dorks is in theaters now or on VOD (click here to watch it)  Read more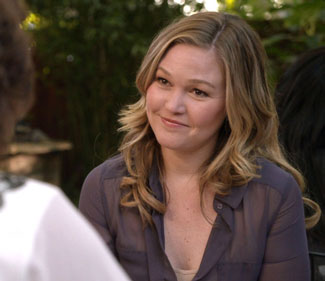 It's been over a decade since Julia Stiles made her name in starring in modern updates of Shakespeare's plays (10 Things I Hate About You, 2000′s Hamlet, O), and though she's certainly not as visible as in the early 2000s she's been working steadily as an actress ever since.  She's also branched into directing, having written and directed four shorts episodes of Paloma on the WIGS YouTube channel. 
In an interview with New York magazine, Stiles speaks about why she aspires to direct, what she thinks about recent female directors, and what she's learned about acting from working with David O. Russell. Read more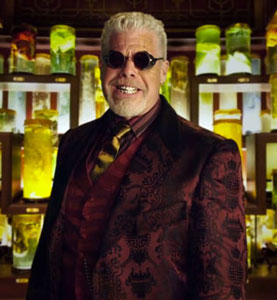 There are plenty of naysayers who seem to think Pacific Rim is some kind of Transformers ripoff, but they must not be paying attention.  First of all, Pacific Rim has a lot more in common with Godzilla movies and, more importantly, it is directed by visionary filmmaker Guillermo del Toro.  Naturally del Toro found a role in the movie for frequent collaborator Ron Perlman, whom del Toro has directed in four previous films (most notably the Hellboy movies).  Perlman spoke to The Los Angeles Times regarding his role in the film and his working relationship with del Toro.
Perlman admits he did not have much to do with the development of the character, to the point of saying, "I was probably as little involved in the creation of it as you can possibly imagine."   He later adds, "Hannibal Chau was completely [del Toro's] creation all the way down to the outer trappings, the kind of croupier adornments, the dark glasses, the hole in his left eye. All I had to do was kind of just show up and not trip over anything." Read more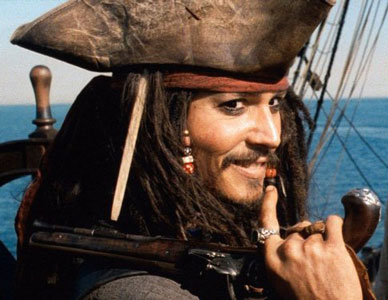 We hear so many stories about how self-centered and arrogant Hollywood stars can be (and I've met a fair share) that it's always nice to hear a story about an actor who actually does give back in a more substantial way than writing big checks to their favorite charities. 
Case in point: Johnny Depp visits sick children in the hospital dressed as his popular Captain Jack Sparrow character from the Pirates of the Caribbean movies. Read more
Podcast: Play in new window | Download (Duration: 20:31 — 14.1MB)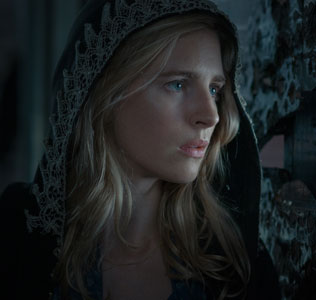 The East is a new thriller from writer/director Zal Batmanglij and writer/actress Brit Marling that has Brit as an undercover agent at a private intelligence firm. She infiltrates a group called, The East, who has been targeting companies that pollute the environment. But, the longer her character is with the group, the the more she begins to sympathize with what they are doing.
The film also stars Alexander Skarsgard, Ellen Page and our friend Shiloh Fernandez and it's a really good film. If you're looking for something that'll give your brain some food instead of mindless summer action, definitely check it out.
I've talked to Brit three times and Zal twice and they are just such nice and normal people. Even more so now with all of the success they've had. They're both incredibly smart and I love their films.
In the interview, we talk about writing the film and how they work together during that process, how Brit keeps acting notebooks for each project she's working on and how they got the great cast for the film.
The East is currently playing in Los Angeles and New York. It opens wide this weekend.
For the full interview, click the audio link above or download it from iTunes  Read more