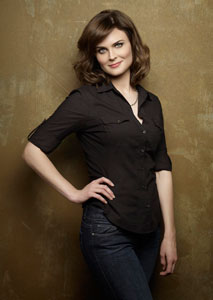 Bones just wrapped up its eighth season on a high note and star Emily Deschanel thinks one of the reasons they've lasted is because the show offers so many "different things for so many different people."
"But," she said in a recent conference call, "it may also be why we're not the number one television series on TV."
In this Q & A, Emily talks about the past season, how she balances starring on a hit show and motherhood and the growth of Brennan.
Do you find filming the emotional scenes challenging?
Emily Deschanel: It depends.  It really depends on what it is.  It depends on the emotion and the way the scene is written and the circumstances.  I find it challenging to switch tone like we do on our show.  It's definitely challenging to go from comedy to humor and lightness to sadness.  It really depends on the particular scene and what it is.  Sometimes emotion comes easily for me and sometimes it's more challenging whether it's because we are laughing and being light a moment before or for whatever reason it's not as—sorry.  My baby is pounding on the door right now.  Sorry.  What we were talking about? Read more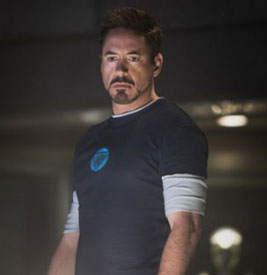 Though Robert Downey, Jr. is an acclaimed actor, in an interview with GQ he shrugs off the acclaim to point out how normal he thinks he really is what he calls a "ridiculous industry."
In particular, he enjoys the surprise people have at finding out that he isn't some kind of genius artist.  He explains, "Nothing pleases me more than when somebody who was awe-inspired to be working with me realizes I'm just another schmuck that they're bored of hanging out with on a set. I love that moment. I like it when that persistent illusion is smashed." Read more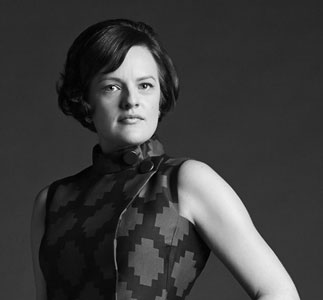 There's no way fans of Mad Men would have allowed Elisabeth Moss' character Peggy Olson to have been kicked off the show.  The creator of the AMC drama, Matt Weiner, would never have let that happen either.
"[Matt] called me right before episode eleven of season five came out and told me what was gonna happen, and my first question was 'That sounds awesome…am I coming back?  Am I going to be on the show?'" Moss recalled in an interview with Vulture.  "And he was actually a little bit offended, I think.  He was like, 'Of course you are.  How could you ask me that?'  And I was like, 'Well, you know, it's a logical question.'  And he assured me that, obviously, it was going to be fine.  And then he told me everything that was going to happen.  You know, great actors who are amazing on the show have left.  So I would never consider myself above that."
Moss has had to embody a very different character for her role on Jane Campion's Top of the Lake.  The actress enjoyed getting to play someone so opposite from Peggy.  "I fucking loved it," she admitted.  "It was so fun, I have to be honest.  It was SO fun.  Just, you know, in life you try not to glass people, you try not to scream and yell and fight.  And so it's really fun and cathartic to be able to do that, you know, and then not hurt anybody." Read more
Podcast: Play in new window | Download (Duration: 11:09 — 7.7MB)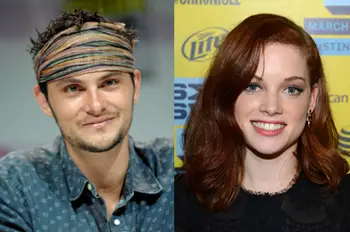 Here's another of our SXSW Evil Dead interviews, this time with stars Jane Levy and Shiloh Fernandez.
Evil Dead, directed by Fede Alvarez and produced by Sam Raimi and Bruce Campbell, is pretty damn good and you'll definitely have a fun time. A lot of that is because of Jane and our friend here at Daily Actor, Shiloh. If you're familiar with Jane from ABC's Suburgatory, she's a little different here. I don't think she'll scare the Holy Hell out of you on that show. And as usual, Shiloh is great. He plays a guy who's got tons of flaws and is basically forced to be the hero of the movie.
In the interview, we talk about the most challenging part of filming, taking on a cult classic and why, a lot of the time, Shiloh had to act opposite a tennis ball.
For the full interview, click the audio link above or download it from iTunes 
Evil Dead comes out this Friday! Read more
Podcast: Play in new window | Download (Duration: 10:22 — 7.2MB)
The Evil Dead is freaking awesome. I'm not even a fan of horror films but this one was great. I saw the premiere at SXSW and it's funny, the effects look absolutely real and the cast – you actually believe they've been friends forever.
Evil Dead was directed by Fede Alavarez and produced by Bruce Campbell and stars Jane Levy, Lou Taylor Pucci, Jessica Lucas, Elizabeth Blackmore and our friend, the always awesome Shiloh Fernandez.
At SXSW, I talked with Jessica Lucas about shooting the film in New Zealand, getting a zombie coach, the "uncomfortable, awful" makeup and one of her worst auditions ever.
Jessica's from Canada and she got her start there as a kid doing local theater and from there she got an agent and she's pretty much been working ever since. She's recently  appeared in the CW's new version of Melrose Place, Friends with Benefits and Psych but now, she's going to scare the pants off you in Evil Dead.
For the full interview, click the audio link above or download it from iTunes 
Evil Dead comes out this Friday! Read more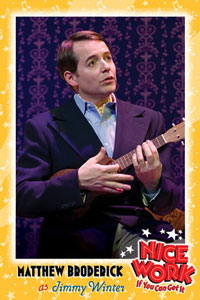 Did theatergoers learn nothing from Patti LuPone's recent freak-out onstage after an audience member got screamed at for videotaping?
Apparently not, as Matthew Broderick was yet another celebrity to abruptly stop a performance in order to ask someone to stop videotaping.  As reported by E! Online, the February 15th production of Broadway musical, Nice Work If You Can Get It, was halted when Broderick noticed someone recording.
Rather than take LuPone's approach and scream for the theatergoer to stop, 50-year-old Broderick broke character, and calmly asked the person to refrain from recording the show.
Guess it didn't take a diva fit for the person to stop.
Nice Work If You Can Get It is currently playing at The Imperial Theatre in New York.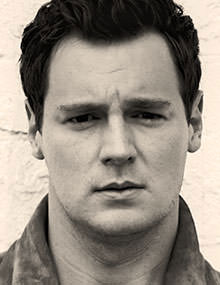 Actor Benjamin Walker has taken a step back from presidential roles — he starred as Andrew Jackson in Broadway's Bloody, Bloody Andrew Jackson and as Abraham Lincoln in Abraham Lincoln: Vampire Hunter — to star as Brick in the current Broadway production of Cat on a Hot Tin Roof.  In a short interview with The New York Times, Walker spoke about preparing himself physically for the role, whether he prefers film or theater, and reveals the craziest thing to happen to him while on stage.
Since Walker is playing a former quarterback, he had to make sure that he physically looked like a former football player.  He explains, "I'm working with a guy that kind of helps me as an actor, you know? We looked up quarterbacks in the '50s and tried to recreate their bodies on my body. So we just kind of approached it as actors who need to look a certain way." Read more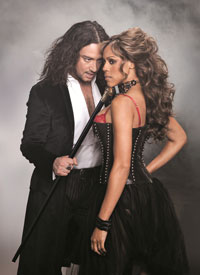 Jekyll & Hyde, the Frank Wildhorn musical that's now on tour across the country, has set it's first preview and opening night dates for its Broadway return.
Following the end of the tour, the show, starring Tony Award nominee Constantine Maroulis in the dual title role of 'Dr. Henry Jekyll' & 'Edward Hyde' and Grammy-nominated R&B superstar Deborah Cox as 'Lucy' and Teal Wicks as 'Emma Carew', will have a 13-week run at the Marquis Theatre.
Previews begin on Friday, April 5th and opening night will be on Thursday, April 18th.
And in other J&K news, the New York Times is reporting that producer Mike Medavoy is looking to get the film rights to the musical in hopes that it will be released in 2015.  Read more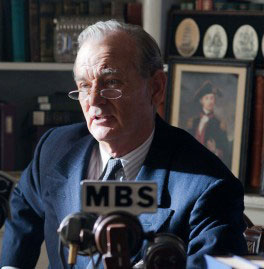 It's not like Bill Murray always imagined himself playing Franklin Roosevelt.
When he was originally offered the role in Hyde Park on the Hudson, he thought, "Can this guy be serious?"  But in an interview with The New York Times, Murray admitted, "I wouldn't have cast myself.  But this guy did, and about halfway through I went, 'Wow, he really was right.'  Not to compare myself, but certain personality things were similar, like the way he tried to leaven things and move attention around a room, get everyone their little slice of the sun."
This similarity was one Murray picked up during his days doing improv theater in Chicago, before he began his career on Saturday Night Live. The experience of improvising "pays off in your life when you're in an elevator and people are uncomfortable.  You can just say, 'That's a beautiful scarf.'  It's just thinking about making someone else feel comfortable.  You don't worry about yourself, because we're vibrating together.  If I can make yours just a little bit groovier, it'll affect me.  It comes back, somehow." Read more

Partners: SKIP IT
There are always a few shows that make TV viewers question who greenlit the production.  Partners is one of those comedies that has everyone asking how-the-heck-did-this-make-it-to-the-air?  Everything about the CBS sitcom is derivative—from the writing to the premise of an odd couple partnership.  We expected a lot more from the creators of Will and Grace than a cheesy retread of a gay/straight friendship show.
Ben and Kate: TUNE IN
This FOX sitcom about a free-spirited brother and his responsible sister doesn't exactly scream innovative, but the acting in this series provides a funny, oftentimes heartwarming take on sibling relationships.  The casting for Ben and Kate is spot on—from Lucy Punch (Dinner for Schmucks) as a hilarious British waitress who offers consistently bad advice to the utterly adorable Maggie Elizabeth Jones (We Bought a Zoo) who can deliver a punch line like even the funniest of adult actors. Read more