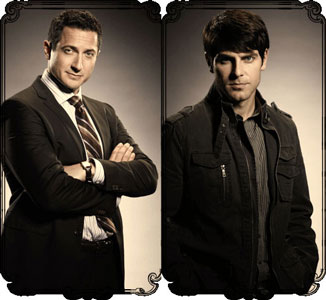 In NBC's new drama, Grimm, which is inspired by the classic Grimm's Fairy Tales, the show follows Portland homicide Detective Nick Burkhardt (David Giuntoli) and Captain Renard (Sasha Roiz). The two are charged with keeping balance between humanity and the mythological creatures that lurk here in our world.
In this Q & A, Guintoli and Roiz talk about auditioning for their roles, the acting challenges the show affords and how they've grown as actors.
Grimm airs on Fridays at 9/8c on NBC
Sasha, given where Captain Renard started as a character in the pilot, how have you been able to adapt and identify with her?
Sasha Roiz: Well we've developed quite a – the character's been developed quite a bit since the beginning. We've had a lot more freedom now that I think we've established the story of Grimm and the characters of Grimm and the world that we're living in.
And so now there's a little bit more freedom to get a little deeper. And so as you saw last week and especially in this week's episode, you'll get a real sense of who the character is and sort of the direction in which he's going. And it's been a lot of fun to, you know, from script to script and just get a little bit more insight into the pathology of Grimm. So it's definitely start to pick up the pace at this point. Read more
Richard Roeper tells it like it is in his review of Steven Soderbergh's, The Girlfriend Experience, and especially in his grilling of porn star Sasha Grey's performance.
I love it.

As for Ms. Grey: she is not a good actress. She photographs well. She does a decent enough job of hitting the on/off switch in her eyes when she's feigning interest in a man—and when she's tired of his narcissistic ramblings. (Like almost all johns in the movies, these guys have at least as much interest in talking about themselves as they have in the sexual act itself. Some don't even consummate with Chelsea. It's the old cliche about the man who pays a woman for her time so she can give him oral, but also because she HAS to listen to him go on and on about his problems at work, etc.

She doesn't have the girlfriend/wife option of saying, "Will you PLEASE just shut up!") But her line readings are flat, and a pivotal scene in which she has to display authentic emotion rings false, especially because it's shot mostly from a distance, as if Soderbergh knew Grey couldn't handle too many close-ups on her face. Faking an orgasm onscreen is one thing; conveying true heartbreak is something else.
The 20th Annual Screen Actors Guild Awards airs this Saturday and the lists of presenters is growing.

Already announced actors are Ben Affleck, Sasha Alexander, Don Cheadle, Morgan Freeman, Jennifer Garner, Clark Gregg, Tom Hanks, Jared Leto, Matthew McConaughey, Kevin Spacey, Kerry Washington, Forest Whitaker and Oprah Winfrey.
Today, the producers announced another round of A-Listers: Matt Damon, Robert DeNiro, Chiwetel Ejifor, SAG-AFTRA President Ken Howard, Mindy Kaling, Jennifer Lawrence, Julia Louis-Dreyfus, James Marsden, Ewan McGregor, Lupita Nyong'o, Sarah Paulson, Julia Roberts, Elisabeth Röhm, Meryl Streep, and Emma Thompson.
Below are mini-bios of all the actors mention above. Check them out! Read more
Gifted physical comedian and crimson-haired cutie Isla Fisher is having quite the summer. First she whooped it up in fellow Aussie Baz Lurhmann's over-the-top adrenaline-infused retelling of Fitzgerald's American Classic, The Great Gatsby. Now, she's steaming up the screen opposite an all-star cast including Michael Caine, Morgan Freeman, Woody Harrelson, and Jessie Eisenberg in Louis Leterrier's fun and fast paced magic caper Now You See Me.
Having acted on Australian television since she was a child, then attended the prestigious L'École Internationale de Théâtre Jacques Lecoq (try saying that five times) an acting and mime school in Paris, and of course, married A-list provocateur Sasha Baron Cohen in 2010– he is the father of their two adorable girls – it's hard to believe that this effervescent sparkplug ever struggled at the bottom of the Hollywood totem pole. But alas, even after taking America by storm with her hilarious breakthrough in 2005's Wedding Crashers, such was the case. Read more
Podcast: Play in new window | Download (Duration: 25:50 — 17.8MB)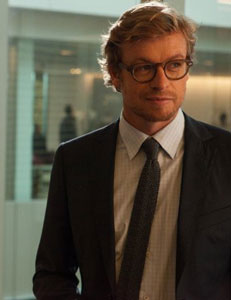 I Give It a Year had its US premiere at SXSW and the film, starring Rafe Spall, Rose Byrne, Anna Faris and Simon Baker, got a really nice reception from the audience. I was one of the people who saw it and I quite enjoyed it. Spall is one of my favorite actors right now and I loved seeing him as a lead. 
The film, written and directed by Dan Mazer, starts where most romantic comedies end and follows the first year of marriage between Spall's character Josh and Byrne's Nat. Things get a bit more complicated though when the two have to deal with Faris and Baker, who play two people that are possibly the ones Josh and Nat should actually be with.
The film feels more like an anti-romantic comedy, which is exactly what Mazer wanted. Mazer has worked with Sacha Baron Cohen on Bruno, Ali G and The Dictator and he brings that freshness and improv spirit to the film.
I talked to both Mazer and Simon Baker at SXSW in a roundtable interview where they were both in seemingly great moods. They were laughing the whole time and to get a true feel for the conversation you really should grab the audio version. The two talked about the improv in the movie, rehearsals and how Simon became attached.
For the full interview, click the audio link above or download it from iTunes  Read more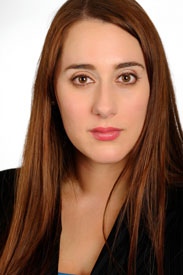 Written by Sasha Sinnott, Esq.
Hollywood is the epicenter of the entertainment industry.  Actors from around the world hope to relocate to the United States so that they can jump-start their careers.  However, many foreign actors do not sufficiently prepare themselves for the immigration process itself.  There are visa and green card options for entertainers who wish to work and live in the United States but the process must be handled with care so that potential issues can be avoided before they become an impediment to immigration. 
As an immigration attorney who works with actors and entertainers, I deal with entertainment professionals at all stages of the immigration process.  Actors will have different immigration options available to them depending on whether they are already in the United States and their level of experience in the entertainment field.
Experienced actors and entertainment professional may have more options than they realize.  For instance, their talent manager can sponsor them for an O-1 visa based on their already existing extraordinary ability.  This can be especially beneficial as actors who are sponsored by their talent managers on an O-1 status can legally work for more than one US employer.  It is also possible for actors to qualify for visas based on a specific job offer (this may be an O or P visa).  This will not require as robust of a resume but may limit the actor's ability to take on additional work while in the US on that specific visa.   Read more
I'm not into singing shows, so I admit I had to look up who Adam Lambert is when I started writing this story.  Lambert — who was the runner-up on American Idol in 2009 — criticized Les Misérables director Tom Hooper's decision to have the cast sing live during the production on his Twitter by saying, "Les Mis: Visually impressive w great Emotional performances. But the score suffered massively with great actors PRETENDING to be singers …it's an opera. Hollywoods movie musicals treat the singing as the last priority. (Dreamgirls was good)," among other (much more positive) comments. 
In particular, he praised Anne Hathaway, Aaron Tveit, Helena Bonham Carter, Sasha Baron Cohen, and Samantha Barks, but added, "I do think it was cool they were singing live- but with that cast, they should have studio recorded and sweetened the vocals" and "The industry will say 'these actors were so brave to attempt singing this score live'but why not cast actors who could actually sound good?" Read more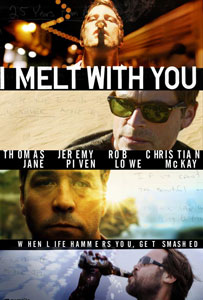 I Melt With You: Richard (Thomas Jane), Ron (Jeremy Piven), Jonathan (Rob Lowe) and Tim (Christian McKay) are old college friends that gather annually for a week in Big Sur to celebrate their friendship and catch-up on each other's lives. They seem like typical men in their forties – all with careers, families, and enormous responsibilities – but like most people there is a lot more beneath the surface. As the week progresses, they go down the rabbit hole of excess as mountains of drugs are consumed to a blaring rock 'n' roll soundtrack. Parties with much younger women spin out of control. Exhausted and run ragged, they bare their souls to one another revealing the disillusionment with their lives. As the truth emerges, the reunion takes a much darker turn when a promise from their past is brought to light. courtesy of trailers.apple.com
Director: Mark Pellington
Cast: Thomas Jane, Rob Lowe, Jeremy Piven, Christian McKay, Carla Gugino, Sasha Grey
In Theaters: December 9th, 2011 Read more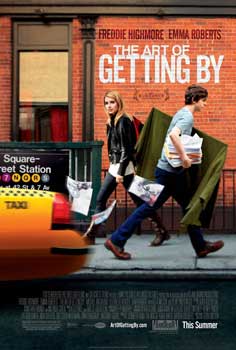 The Art of Getting By: Freddie Highmore is George, a lonely and fatalistic teen who's made it all the way to his senior year without ever having done a real day of work, who is befriended by Sally, a beautiful and complicated girl who recognizes in him a kindred spirit. from trailers.apple.com
Director: Gavin Wiesen
Cast: Freddie Highmore, Emma Roberts, Michael Angarano, Elizabeth Reaser, Sam Robards, Jarlath Conroy, Ann Dowd, Marcus Carl Franklin, Sasha Spielberg, Rita Wilson, Blair Underwood
In theaters: June 17th, 2011