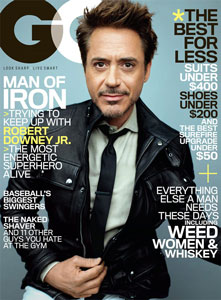 In his in-depth interview with Robert Downey, Jr. for GQ, correspondent Chris Heath ends with asking Downey if he aspires to win an Oscar.  Naturally, the twice-nominated Downey responds with the familiar "it doesn't really matter to me" answer we're used to hearing from actors. 
However, his reasons for that conclusion are a bit different from the norm — he explains he doesn't care much about it because he's convinced he'll eventually win one… and if not, he'll simply get awarded one after a long career of acclaimed performances! 
Check out the humorous exchange below: Read more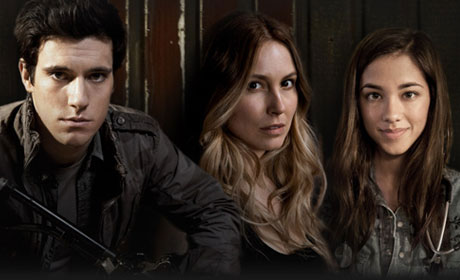 At WonderCon, I joined in on a couple of roundtable interviews with cast members Seychelle Gabriel, Sarah Carter and Drew Roy from TNT's Falling Skies.
Season 3 begins airing on June 9th and the stars were on hand to talk about the upcoming season, new aliens and more.
There's not a lot of actor-y (is that a word?) talk but if you're a fan of the show, you're sure to enjoy it.
Check out the interviews below! Read more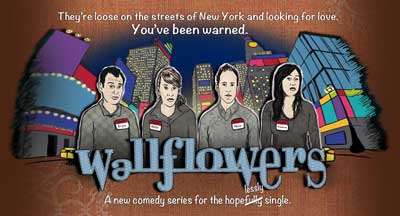 Wallflowers is a new web series about a group of NYC friends who, having trouble finding love, join a support group for the "hopelessy single."
Directed by Kieran Turner, it stars some really wonderful Broadway actors: Chad Kimball (Tony Nominated for best Performance in Broadway's Memphis), Sarah Saltzberg (creator /star of Broadway's hit musical The 25th Annual Putnam County Spelling Bee), Gideon Glick (Broadway's Spring Awakening & Spider Man: Turn Off The Dark), Gibson Frazier (Man of the Century), Angela Lin (Law and Order: SVU, The Big C, Broadway's Chinglish), Christianne Tisdale (30 Rock, Law and Order) and Marcia DeBonis (That's What She Said, The Truman Show, Whatever Works).
The series premiered April 3rd and will run weekly every Wednesday till May 8th. Five additional episodes will air later this year. 
Check out the first episode below and then go to Wallflowers.tv for more! Read more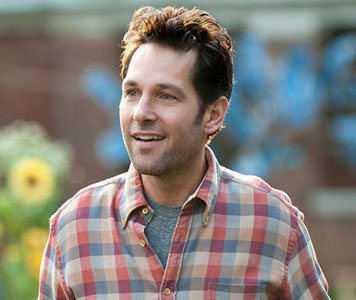 Paul Rudd most recently starred in Judd Apatow's This is 40, opposite Leslie Mann in a reprise of the roles they played for the filmmaker in the smash Knocked Up. He will soon be seen in David Wain's They Came Together, opposite Amy Poehler, and Adam McKay's Anchorman: The Legend Continues, again starring alongside Will Ferrell, Steve Carell, Christina Applegate, and David Koechner.
Mr. Rudd's many other films include Amy Heckerling's Clueless; Baz Luhrmann's Romeo + Juliet; Nicholas Hytner's The Object of My Affection; Lasse Hallström's The Cider House Rules; Jesse Peretz's The Château and Our Idiot Brother; Neil LaBute's The Shape of Things; Adam McKay's Anchorman: The Legend of Ron Burgundy; Judd Apatow's The 40-Year- Old Virgin; Katherine Dieckmann's Diggers; Robert Ben Garant's Reno 911!: Miami; Nicholas Stoller's Forgetting Sarah Marshall; John Hamburg's I Love You, Man; Jay Roach's Dinner for Schmucks; James L. Brooks' How Do You Know; Stephen Chbosky's The Perks of Being a Wallflower; and David Wain's Wet Hot American Summer, Role Models (which he co-wrote), Wanderlust and The Ten (both of which he produced).
He studied theater at the University of Kansas and the American Academy of Dramatic Arts. He made his West End stage debut in the London production of Eugene O'Neill's Long Day's Journey Into Night, starring opposite Jessica Lange and directed by Robin Phillips; and performed at the Westport Country Playhouse in A.R. Gurney's Ancestral Voices, with Paul Newman and Joanne Woodward. Read more
Podcast: Play in new window | Download (Duration: 10:54 — 7.5MB)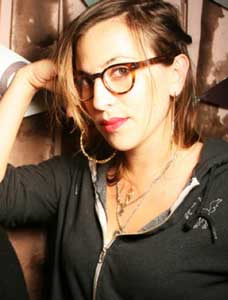 Sequin Raze tells the behind the scenes story of what happens between a producer on her last nerve (Ashley Williams) and runner-up (Anna Camp) in the final moments of a reality show.
The short, which screen to great reaction at SXSW, was directed by Sarah Gertrude Shapiro and paints a dark and depressing picture of life on-set of a reality show. The film is shot beautifully and I completely enjoyed it. Shapiro got great performances from Camp, Williams and co-star Francis Conroy and I'm definitely looking forward to her next project, whatever that might be.
I talked to her at SXSW and she was a bundle of energy, I loved it! In the interview, I asked her how she got the cast to work for free, getting the actors to see her vision and the future of Sequin Raze.
 For the full interview, click the audio link above or download it from iTunes  Read more
Podcast: Play in new window | Download (Duration: 13:30 — 9.3MB)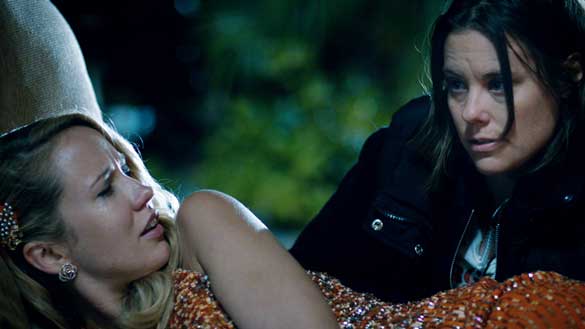 I love shorts. As actors, they are the greatest way to get people to notice your work and see what you are capable of doing. They're short, sweet and if they are good, they make a lasting impression on the audience.
Sequin Raze absolutely falls into this category. The short, directed expertly by Sarah Gertrude Shapiro, takes you behind the scenes of a Bachelor-type reality show where the runner-up (Anna Camp) has to make her final statements to the camera. A producer (Ashley Williams) is there to coax out something that the show can use. They need something good and juicy and Williams character won't stop till she get's it.
The film seems like the final 10 minutes of a really interesting movie; one where you wish you'd seen the whole film so you could spend more time with the characters. I saw it at SXSW and I know it's playing around other festivals, so if you get a chance to see it, definitely try and make it. 
I talked with the stars, Anna Camp (Pitch Perfect, True Blood) and Ashley Williams (How I Met Your Mother), while they were at SXSW about how they got involved in the project, their fascination with the actual Bachelor, auditions and their sobering advice to actors.
For the full interview, click the audio link above or download it from iTunes  Read more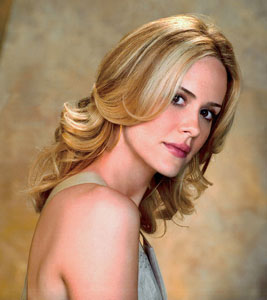 After facing a brutal season on American Horror Story: Asylum as tortured victim, Lana Winters, it makes sense that Sarah Paulson was ready for something a little different.  Now, she's starring on Broadway in Lanford Wilson's Pulitzer Prize-winning play, Talley's Folly. However, Paulson wasn't initially sold on the idea of returning to the stage.
"I was like, 'Oh, damn it.  I'm afraid.  I don't want to go to New York.  And doing a play is so hard.  I'm tired.  I'm scared.  I don't want to," Paulson said in an interview with Yahoo! News.  But her best friend, actress Amanda Peet, convinced her to take on the role in the drama set during World War II about a middle-age romance.
"You just have to do it," Peet responded after reading the entire script with Paulson.  "I said, 'Damn it.  I do, don't I?" Paulson answered. Read more

What did you think of the Oscars last night? I liked them – first of all, they were a trillion times better than last years show. I don't remember laughing as much as I did this year. I thought Seth MacFarlane was a fine host. Was he great? No. But I didn't expect him to be. I went in with low expectations and he definitely exceeded them.
Overall, I thought it was a fun night. Totally didn't expect Ang Lee to win Best Director for Life of Pi or Argo for Best Film but that's why we watch, isn't it? And Ben Affleck's speech for Argo was the best of the night. Daniel Day-Lewis' speech for Best Actor was right behind him though.
Below are the list of winners.  Read more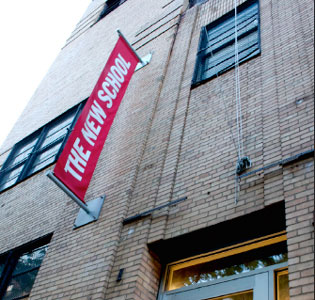 Manhattan's The New School has launched a new Bachelor of Fine Arts in Dramatic Arts program, which is an undergraduate version of its storied Masters of Fine Arts program.  The Wall Street Journal took a look at the auditions for the program and the realities of the job market these students will face upon graduation.
The program is overseen by Pippin Parker, the head of The New School's School for Drama.  His team has recruited almost 300 candidates from across the country to audition in New York City for acceptance in the program.
Parker's sister, actress Sarah Jessica Parker,is on the program's board of advisors and attend the auditions, too.  Of the program, she says, "I'm a small player in this, but the theoretical sounds extremely promising."  However, Sarah Jessica Parker is quick to point out that watching the auditions is an experience of mixed emotions, adding, "It's a mix of the feeling of great hope and agony.  Somehow the long exit out of the room always breaks my heart. I know a lot of young actors come to the city with an enormous desire to be famous and wealthy and to rise quickly. There's such an emphasis on celebrity, but it's the boneyard of culture." Read more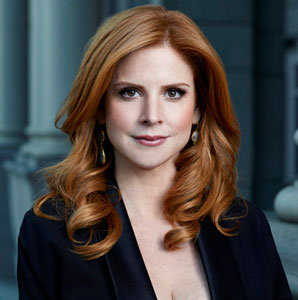 Suits wouldn't be the show that it is without Sarah Rafferty. Rafferty plays Donna Paulsen, the Executive Secretary and probably smartest person in the Pearson Hardman law firm, on the hit USA show.
A graduate of Yale Drama School, she also studied in London and said that she still uses what she learned overseas, mainly, the "courage" of making a strong choice. "I think whether you're working on the stage or in film or on TV, you know, that's what is required to kind of make things compelling. And it's risky too because you can get it wrong, you know. So it takes a certain amount of courage," she said.
In this interview, she talks about working on Suits, her co-star Gabriel Macht, studying in London and her advice to actors.
Suits airs on Thursdays at 10/9c on USA Read more