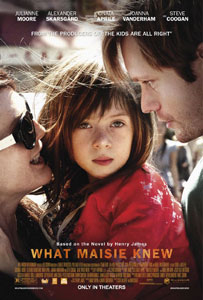 What Maisie Knew is a horrible title for a movie about families and what, ultimately, a family actually is.
Going into the film, I had no idea what the film was about but going from the title, I expected something about a murder and how a child witnessed it.
(Yes, I know this is a modern re-telling of a Henry James story. It's still a horrible title).
Boy was I wrong but in a pleasantly surprised way. And that's thanks to an incredible performance by Onata Aprile as Maisie.
Directed by Scott McGehee and David Siegel, Maisie (Aprile) is the child of two of the most self-centered people in the world. Played by Steve Coogan and Julianne Moore, they definitely win the prize for 'Year's Worst Parents.' In a constant state or arguments, Moore's aging rock star of a mom Susanna, finally decides enough is enough, and kicks him out. This sets off a custody battle where, eventually, Coogan's Beale wins, taking with him Maisie and the family nanny, Margo (Joanna Vanderham).
Both parents quickly marry; Beale woos the nanny with travel and her love of Maisie and Susanna to a local bartender, Lincoln (Alexander Skarsgard). Susanna's reasoning for the quickie marriage? "I married him for you," she tells Maisie. So he can watch her during the day. Which is a perfect reason to get married. Read more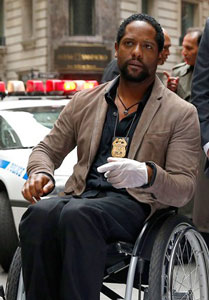 The television drama Ironside, which was about wheelchair-bound detective Robert T. Ironside, ran for eight seasons in the 1960s and 1970s and starred able bodied actor Raymond Burr.  NBC has decided to revive the series for the upcoming television series with one major change: Ironside will be played by an African American actor, Blair Underwood.  What hasn't changed?  Like Burr, Underwood is not disabled.  The decision to not cast a disabled actor in the role has made many disabled actors unhappy.
Kurt Yaeger, a one-legged actor on Sons of Anarchy is one of the loudest voices against the casting.  He points out, "This would be like being in the '50s and having a white guy do blackface, at this point.  You need to start having disabled people playing disabled characters. Period." Read more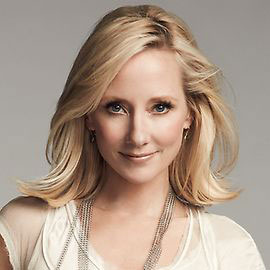 After almost choking to death on a sandwich, Anne Heche's Beth Harper claims she can talk to God in the new NBC comedy, Save Me. When she's revived, Beth thinks she can see the Big Guy and starts to make amends to everyone she's every shut out of her life… and it's a lot of people.
Also starring Madison Davenport (Shameless) as her horrified daughter, Michael Landes as her skeptical husband and Alexandra Breckenridge (American Horror Story) as her husband's ex-mistress, Beth eventually starts to win people over with her new optimistic views on life.
In this interview, Heche talks about her love of physical comedy, trying to quit acting when she was younger and how we all get "messages" from God.
Save Me airs on Thursdays at 8pm on NBC Read more
You want to learn how to become an actor? Join the club! Most everyone at one time or another has probably thought about becoming an actor.
They watch their favorite shows and movies and think, "I can do that!" They think it's easy and glamorous.
But what most people don't realize is that it's a lot of hard work. It's a huge amount of fun but yeah, it's work!
It takes a special kind of person to want to become an actor. They have to be determined, unafraid of rejection and willing to work hard to consistently get better at their chosen craft.
This isn't a site on how to become famous. This isn't about becoming a star because odds are, you won't. Hopefully you're here because you want to learn how to be the best actor you can be. Whether you're in Los Angeles or New York, Ohio or Colorado, you absolutely can make this happen.
One thing you should know from the start though is that being an actor is expensive. You'll need money for headshots, headshot reproduction and acting classes. Eventually, you'll need to market yourself with postcards and a website. You'll also need to add your material to casting websites such as Actors Access. It's definitely not cheap!
So, if you're looking for steps on how to get into acting, you've come to the right place.
For links and more information on how to become an actor, check out our actor resources page. (coming soon)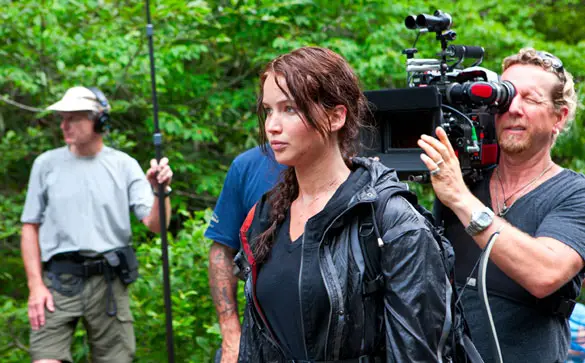 The Basics
Headshots
One of the first things you'll need is a headshot. This is not the place to skimp and be cheap because this is your calling card. If you submit an awful headshot, 99% of the time it'll be filed away in the trashcan. Having a headshot that isn't professional, it just automatically shows casting directors, directors and producers that you're not serious about acting.
Your headshot needs to be shot by a professional and needs to look like you. Seriously, I can't count how many times a casting director has told me that they've called in an actor for an audition and they either look 10 years older in person or their headshot was so photo-shopped that they had to do a double take. Your headshot must look like you, not what you want to look like. You should see my headshot… think I want to look like that?

What's the cost? For New York and LA, paying $400 to $500 for a headshot session is the norm. Obviously, if you live outside of these cities, you should pay less.
If you need to find headshot photographers near you, click on the link.

Resume
The next thing you'll need is an acting resume.
This isn't like a resume you'd give to someone when you're applying for a "normal" job. An acting resume is totally different. You can see examples here. (coming soon)
"I'm just starting out and have nothing to put on my resume!" I've heard that before and don't worry. Everyone starts somewhere. You can easily fix that! Audition for small roles at your local Community, Dinner theater or join the cast of a Church or School production. If you're in school then join the drama club. All of these things can be listed on your resume. You can even list any acting classes you've taken.
If there isn't a role for you in the upcoming show, ask if you can help out. Theaters always need a good, responsible volunteer. This will get you in with the theater community and will make it tons easier when you actually do audition. They'll already know you so it'll be easier for them to take a chance on you!
Click here for more information on an acting resume. And if you need it, here's an acting resume template. (both coming soon)

Learn Your Craft
Take a class! I'm sure there is some kind of acting class or acting program near you. I grew up in a small town and there were at least 5 acting classes within 20 minutes of where I lived.
If you're still in school, try and find a summer acting camp. Usually, these are all day workshops that take place Monday-Friday. You'll learn tons and walk away a much better actor. Plus, these are great places to meet people who are into the same things as you!

Go to college. There are a bunch of great schools you can choose for acting. You'll be immersed in all things acting so how can you not improve? You'll learn everything from movement, costumes, theater history, acting styles and techniques and best of all, you'll be performing constantly.
I went to college in Baltimore, Maryland and loved my time there. I met some wonderful teachers and made some great friends that I still keep in touch with to this day.
For a list of acting schools and colleges, click here. (coming soon)

Audition for Community Theater. Like I said in the resume section, auditioning for Community Theater is a wonderful way to get started. I did a handful of musicals for my local Community Theater when I was in high school and I loved every minute of it. Plus, I learned a lot in the process.
Start off as an ensemble member of a large cast (every town does Oklahoma or another huge production at least once a year). Again, by getting involved, you'll get to know the local theater companies and the people involved. The more they get to know you, they easier it'll be to nail a part in one of the upcoming shows – especially if you've started off with no experience.
Audition as much as you can. Audition even if you don't want the part. The more you audition, the better you'll be at it. Learn to love auditioning because chances are, that's all you be doing the first couple years once you have decided to become an actor.

Start Your Own Play Reading Group. Get a couple of friends together once every couple of weeks and read a play. Give yourself the lead role! The star of Beautiful Creatures, Alden Ehrenreich does exactly that. When I interviewed him, this is what he told me: "Just invite friends over to read a play. Like, me and my friends do that a lot and it just… it promotes that energy and that energy only builds, but you have to get the… you have to start the engine. You know?"
Don't know what to start off with? Try something from Christopher Durang or Martin McDonaugh. Or, how about something that's currently playing on Broadway?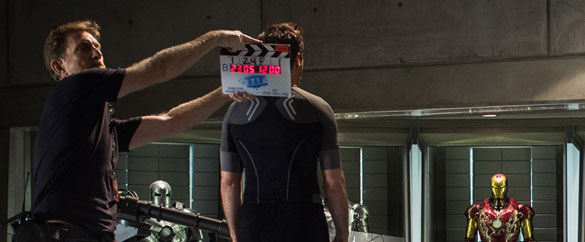 What Next?
Acting Agents and Managers. At this point, you might want to start looking for an agent. Do you have to have one? No, not at all. Especially if you're not a member of any of the acting unions (SAG-AFTRA or Equity).
Don't ever pay an agent or manager a fee for joining their agency or company. There are actor scams out there where you'll be asked to pay an "agency fee" when you sign up. Don't do it. Ever. The only time you should pay an agent or manager is after you've received payment for an acting job you've booked and already worked on.
Will you need a manager? Odds are you won't. You'll only need a manager when you have a career that actually needs to be managed. Typically, managers to 20% of what you've made on each job. That's a lot of money to give to someone when you're only working a couple times a year.
If you're in Los Angeles or New York City, check out our actor mailing labels. We have sets of casting director mailing labels and agent mailing labels updated monthly.
Auditions and Casting Calls. How do you find auditions and casting calls? If you're not in LA or NYC, check your local paper or their website. Google – auditions 'my city' – and I'm sure something will come up. Also, check out Actors Access or call your local SAG-AFTRA office. Most either have hotlines or audition information listed on their site. That's how I found out about the audition that got me my SAG card.
Also, take a look at our post, Top 11 Reputable Casting Websites.
Acting is a Business
You have to treat acting as a business because that's what it is, a business.
When you're called in for an audition, be prepared. Know your scene, monologue or your song. Come with your headshot and resume (stapled together!). Be professional. You might only have one shot with that casting director. Make it the best and show them you have the goods!
Casting directors, directors and anyone who can hire you want to know that you are the answer to their casting "problem". They need you and they want you to be great! They are rooting for you.

Keep up with what is happening in the entertainment industry.
Don't go into this blind. Nothing irritates me more than meeting an actor who doesn't watch TV or isn't up to date on what is going on in film, TV or theater. This is your job!
My favorites are The Hollywood Reporter and Variety for film and TV news. Backstage is good as well. And of course, Daily Actor (shameless plug) – we feature interviews with actors, articles where actors talk about the craft of acting. We also we have a huge actors resource page. (coming soon)

This Won't Happen Overnight
I did my first play in Elementary school, did the fall and summer productions in High School and then started to do shows at my local community theater. When I went to college, I moved onto Dinner Theater and found other theater companies to work with. While I was doing that, I auditioned for an industrial film, got the part and was lucky enough to get my SAG card. I've been acting for years and I've loved every minute of it.
Some people get lucky right off the bat. Some don't… it could take them years. But, if you work hard, it'll happen. If you're prepared, it'll happen.
Trust me.

Links and Resources Coming soon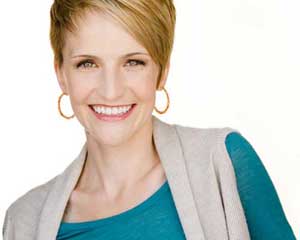 Written by Dallas Travers, CEC
What do you do if your longtime actor friend gets her big break before you do? You're happy for her, of course, but it might bring up major feelings of "compare and despair" for you at the same time.
Obviously, it's not always easy being friends or roommates or lovers with another actor. There's some ego involved. Sure. You're only human. And this industry has an undercurrent of competition flowing through it.
So how can you turn those debilitating feelings into ones that help you progress both in your relationships and in your career? I've got 3 suggestions for you. Read more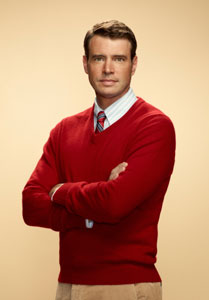 Scott Foley stars as Henry, one of three estranged siblings, in the new FOX summer series, The Goodwin Games. When he, his sister (Becki Newton) and brother (T.J. Miller) return home after their fathers death, they unexpectedly find themselves poised to inherit more than $20 million. Trouble is, they can only get the money if -  and only if – they can adhere to their late father's wishes.
The show is from the executive producers of How I Met Your Mother and Scott, who after graduating high school bought a one-way plane ticket to Los Angeles, said that even though he loved the script, he took the job "because I was available and it was there."
I met Scott briefly a long time ago and he's the most down to earth guy. And honest too based on his quote above. I talked to him in a conference call promoting the show and in the interview he talks about the cast, why he loves working in TV over film and theater and how he's been very "fortunate" in his career.

The Goodwin Games premieres tonight (Monday) at 8:30pm on FOX Read more
Zachary Levi (Chuck, Thor: The Dark World), will make his Broadway debut in First Date, a new romantic musical comedy.
Smash's Krysta Rodriguez (who also starred in The Addams Family on Broadway – I knew I recognized her from somewhere) will also star.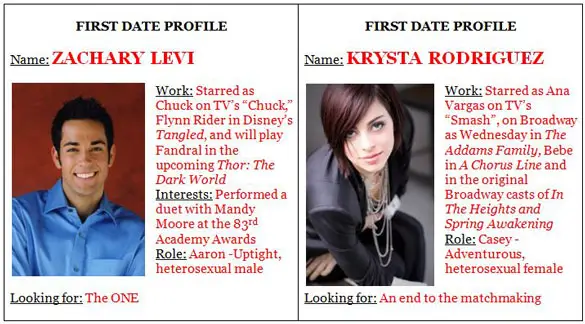 Read more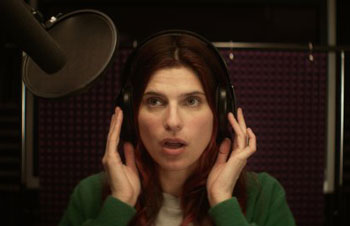 Lake Bell has worked steadily in film and television since appearing in her first major role as Alicia Silverstone's character's best friend in the short-lived NBC series Miss Match (which I do not remember ever existing, but apparently it did).  She has also branched out into writing and directing, but she still remains an actress.  She stars in the horror movie Black Rock alongside Katie Aselton, who co-wrote and directed the film.  Bell spoke to Interview magazine about the way the film was shot and how she feels about working with other directors now that she is a director herself. Read more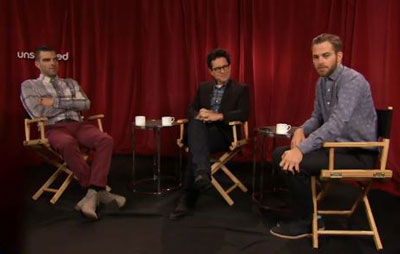 Chris Pine, Zachary Quinto and director J.J. Abrams got together at the offices of Moviefone to answer some mostly ridiculous fan questions about Star Trek Into Darkness.
Quinto was asked a weird question about if he's worn the Spock ears naked, Pine is asked what the toughest decision he's ever had to make in his career (this was a good one actually and he gave a good, thoughtful answer), and which ship would win in a fight, the Enterprise or Millennium Falcon.
Check out the videos below! Read more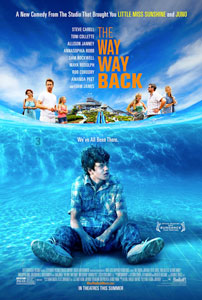 Synopsis: The Way, Way Back is the funny and poignant coming of age story of 14-year-old Duncan's (Liam James) summer vacation with his mother, Pam (Toni Collette), her overbearing boyfriend, Trent (Steve Carell), and his daughter, Steph (Zoe Levin).  Having a rough time fitting in, the introverted Duncan finds an unexpected friend in gregarious Owen (Sam Rockwell), manager of the Water Wizz water park. Through his funny, clandestine friendship with Owen, Duncan slowly opens up to and begins to finally find his place in the world – all during a summer he will never forget. 
Written & Directed by Nat Faxon & Jim Rash
Starring Steve Carell, Toni Collette, Allison Janney, AnnaSophia Robb, Sam Rockwell, Maya Rudolph and Liam James, Amanda Peet and Rob Corddry
In Theaters July 5th Read more