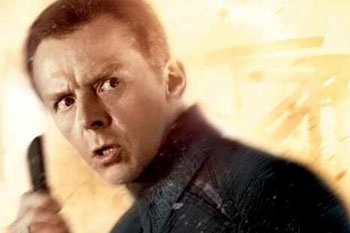 Though Star Trek's original Scotty, James Doohan, was among Star Trek fans' favorite actors on the original series, many of them were happy when comedic English actor Simon Pegg was cast as Scotty in the 2009 movie reboot of the series.  In an interview with Time, Pegg speaks about the challenge of taking on a role well established by another actor and what it feels like working with his Star Trek castmates again in Star Trek Into Darkness.
Because Pegg and the cast were playing characters beloved by millions and so tied to their original performers (Doohan performed as Scotty on the original Star Trek series, the animated series, seven films, and several video game adaptations and guest appearances), Pegg notes the difficulty of stepping into the role.  He explains, "We all had that tricky task of channeling our forbears without ever impersonating them. We had to look at what they had done before and build on it, and make our own version of it. But at the same time, respect choices they made and parlay that into what we did." Read more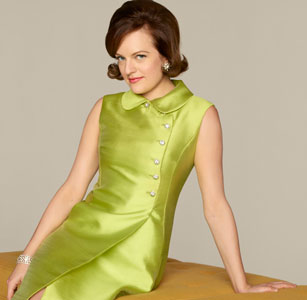 Elisabeth Moss has gotten to do some growing along with her character, Peggy Olson, as Mad Men has progressed over the years. 
In an interview with AMCTV.com, Moss said, "I've known Peggy for six years.  What's great about that is when I started out I was 23 and now I'm 29, so I've changed a lot in six years.  So the sort of melding and blending of you changing and you growing up and the character changing and melding and growing is not an opportunity that you always get…We've never made [Peggy] really different from season to season or been like, oh, now she's wearing pantsuits and bossing everyone around.  I think she's changed enormously in the past five seasons.  But it's also been realistic." Read more
Comedic actor/writer Simon Pegg might have to watch the jokes he writes now that he's become a popular supporting actor in big budget films like Mission: Impossible — Ghost Protocol.  Years ago, in an episode of his popular television series, Spaced, he once said, "As sure as day follows night, as sure as every odd numbered Star Trek movie is crap."
The problem?  Pegg appeared as Scotty in the 2009 Star Trek reboot… which was the eleventh Star Trek film.  Oops.
Though Pegg shouldn't feel too bad.  Not only is 2009′s Star Trek the most critically acclaimed and financially successful Star Trek film, but he didn't have to work too hard to get his role in the film. 
Pegg reveals to The National that he received his offer from director J. J. Abrams via e-mail.  The article reveals, "'Do you want to be Scotty?' was, according to Simon Pegg, the sole content of a message from JJ Abrams that saw him take the role of the USS Enterprise's famed engineer Montgomery Scott in the 2009 Star Trek reboot."  Read more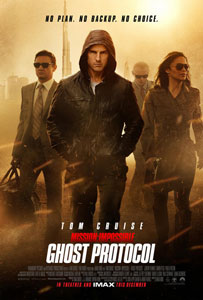 Mission: Impossible – Ghost Protocol: Blamed for the terrorist bombing of the Kremlin, IMF operative Ethan Hunt is disavowed along with the rest of the agency when the President initiates "Ghost Protocol". Left without any resources or backup, Ethan must find a way to clear his agency's name and prevent another attack. To complicate matters further, Ethan is forced to embark on this mission with a team of fellow IMF fugitives whose personal motives he does not fully know.
Starring: Tom Cruise, Jeremy Renner, Simon Pegg, Paula Patton, Ving Rhames, Josh Holloway, Tom Wilkinson
Directed by: Brad Bird
In Theaters: December 21, 2011
Read more
The Adventures of Tintin: Tintin and his friends discover directions to a sunken ship commanded by Capt. Haddock's ancestor and go off on a treasure hunt.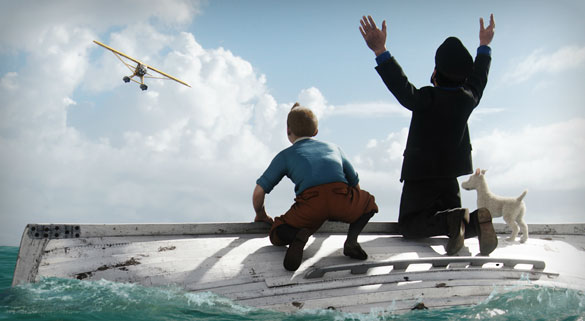 Director: Steven Spielberg
Cast: Jamie Bell, Andy Serkis, Daniel Craig, Simon Pegg, Nick Frost, Gad Elmaleh, Toby Jones, Mackenzie Crook
Writers: Edgar Wright, Steven Moffat, Joe Cornish
I think parts of this look great but whenever I see Tintin, his mouth is always open and it's hardly ever moving. I'm sure it's not close to being finished but the faces look weird to me. Like some creepy baby-doll face that doesn't move.
In theaters: December 23rd, 2011 Read more
Mission: Impossible – Ghost Protocol: The IMF is shut down when it's implicated in a global terrorist bombing plot. Ghost Protocol is initiated and Ethan Hunt and his rogue new team must go undercover to clear their organization's name. No help, no contact, off the grid. You have never seen a mission grittier and more intense than this.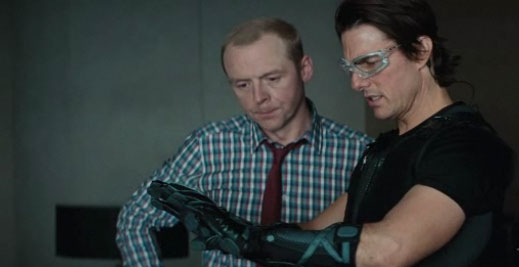 Director: Brad Bird
Cast: Tom Cruise, Simon Pegg, Ving Rhames, Jeremy Renner, Josh Holloway, Paula Patton
In Theaters: December 16, 2011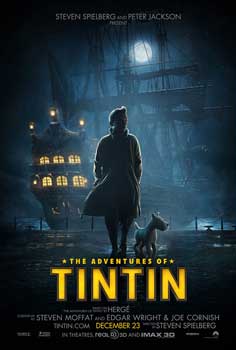 The Adventures of TinTin: Paramount Pictures and Columbia Pictures Present a 3D Motion Capture Film "The Adventures of Tintin: Secret of the Unicorn" directed by Steven Spielberg from a screenplay by Steven Moffat and Edgar Wright & Joe Cornish. Starring Jamie Bell ("Billy Elliot," "Defiance") as Tintin, the intrepid young reporter whose relentless pursuit of a good story thrusts him into a world of high adventure, and Daniel Craig ("Quantum of Solace," "Defiance") as the nefarious Red Rackham. from trailers.apple.com
Director: Steven Spielberg
Cast: Jamie Bell, Andy Serkis, Daniel Craig, Simon Pegg, Nick Frost, Gad Elmaleh, Toby Jones, Mackenzie Crook
Writers: Edgar Wright, Steven Moffat, Joe Cornish
In theaters: December 23rd, 2011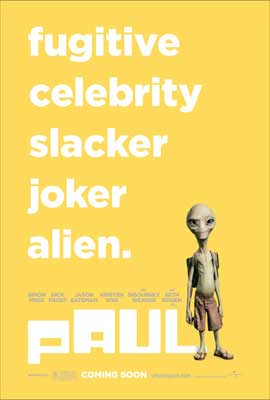 Paul: Simon Pegg and Nick Frost (Hot Fuzz, Shaun of the Dead) reunite for the comedy adventure Paul as two sci-fi geeks whose pilgrimage takes them to America's UFO heartland. While there, they accidentally meet an alien who brings them on an insane road trip that alters their universe forever. For the past 60 years, an alien named Paul (Seth Rogen) has been hanging out at a top-secret military base. For reasons unknown, the space-traveling smart ass decides to escape the compound and hop on the first vehicle out of town–a rented RV containing Earthlings Graeme Willy (Pegg) and Clive Gollings (Frost). Chased by federal agents and the fanatical father of a young woman that they accidentally kidnap, Graeme and Clive hatch a fumbling escape plan to return Paul to his mother ship. And as two nerds struggle to help, one little green man might just take his fellow outcasts from misfits to intergalactic heroes. from trailers.apple.com
Director: Greg Mottola

Cast: Simon Pegg, Nick Frost, Jason Bateman, Kristen Wiig, Bill Hader, Blythe Danner, John Carroll Lynch, Sigourney Weaver, Seth Rogen

Writers: Simon Pegg, Nick Frost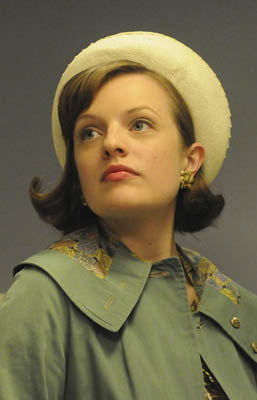 Elisabeth Moss was incredible in last weeks episode of Mad Men – just check out the video below. She and Jon Hamm work so well together that I didnt even miss the rest of the cast.
She talked with AMC about that episode, watching two drunk people fight and being directed by John Slattery.
Q: Speaking of clothes, you had to get undressed in front of the camera this season. Were you nervous?
A: No, because it's all an illusion. We're actually wearing more clothes than I would be wearing if I wasn't taking my clothes off….You don't have to be naked in front of everyone. You're wearing like two pairs of underwear and a tank top and a bra underneath, and everything is just pulled down to create the illusion that you're naked.
Q: Peggy's relationship with Don really comes to the fore in Episode 7. Have you ever had a boss like him?
A: No, in my line of work I kind of have a different boss every job. So I've never had a boss that I've worked with for many years, except for maybe Matt Weiner, and my relationship with him is all love. We have a great relationship, we're friends, we're coworkers, I adore him. I owe him everything….The Peggy-Don relationship is very specific. He never really thanks her when she does a good job, and he totally doesn't give her any recognition for the Glo Coat campaign.
Q: And she really calls him out on that in Episode 7…
A: Yeah, finally! [laughs]
A potential feud between British imports Simon Pegg and Ricky Gervais was stopped before it even started.
Here's where it started with Simon Pegg calling Ricky Gervais a "fat idiot."
Here's where it ended with Ricky Gervais agreeing with him.
We're hoping it starts up again…nothing like a good feud.