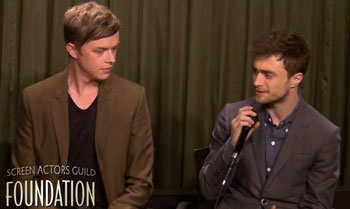 Daniel Radcliffe and Dane DeHaan star in the new film, Kill Your Darlings, the untold story of a murder that brought together a young Allen Ginsberg (Radcliffe), Jack Kerouac (Jack Huston), William Burroughs (Ben Foster) and Lucien Carr (DeHaan) at Columbia University in 1944.
The story is fascinating because it's absolutely true. These brilliant writers – who would create the Beat Generation of writers – were friends way before they were famous and how this murder shaped the rest of their lives.
The SAG Foundation interviewed Radcliffe and DeHaan about the film and how they became attached to it (Radcliffe actually auditioned for it), the research and rehearsal, how they got their SAG cards, their worst auditions and tons more.
Check it out below! Read more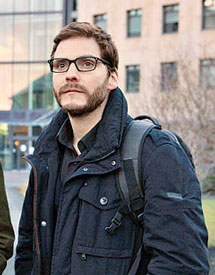 Daniel Brühl has broken through in 2013 as a rising star to watch in Hollywood. As a German actor, this is quite an impressive feat since it's harder for foreign actors to make a splash in the American film market.
Not only did Brühl impress audiences in Ron Howard's Rush as Formula One driver Niki Lauda, he is also taking on the challenge of playing Daniel Domscheit-Berg in The Fifth Estate opposite Benedict Cumberbatch.
In a recent interview with Moviefone, he talked about gaining exposure to U.S. audiences and how it's easier for German actors now than just a decade ago.
He shared, "I'm very glad that things have changed — thanks to people like Quentin [Tarantino]. That was the first experience for me, in Inglourious Basterds, and I heard that some of the American stars wanted to play certain parts in the movie, and Quentin said, 'No, no, no. I just wanted to make it different and give German actors the opportunity to play Germans.'" Read more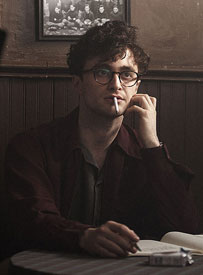 Daniel Radcliffe is proving that successful child actors can transition into successful adult actors by picking and choosing roles that appeal to him on a creative level. In his latest film, Kill Your Darlings, the 24-year-old actor demonstrates that his acting chops run much deeper than Harry Potter.
In the film, the British star is tackling the role of beat writer Allen Ginsberg and a tale of murder amongst the ranks of fellow writers like Jack Kerouac and William S. Burroughs at the end of World War II. Radcliffe first encountered the script written by John Krokidas in 2009. The young Yale grad also planned to direct the project.
It didn't scare Radcliffe that Krokidas was inexperienced in the feature film world. In fact, the Brit had great confidence in his abilities. Read more
Here's another video in the great New York Times series, In Performance. This time, we get Joe Manganiello as Stanley Kowalski. He's currently starring as Kowalski in the Yale Repertory Theater's revival of Tennessee Williams's 1947 drama, A Streetcar Named Desire.
In the scene below, Stanley talks to his wife Stella (Sarah Sokolovic) about how their life will return to normal once her sister, Blanche (Rene Augesen) finally leaves their New Orleans apartment. 
The play runs through October 12th.
Read more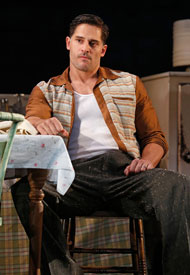 Every few months we run a story here at Daily Actor which I think sets a new low in lack of theater etiquette. There was that time someone in the balcony threw up onto the audience below.  There was that time that an audience member refused to stop using her phone so a nearby writer took it and threw it across the theater.  Then there was that time that the short-lived Breakfast at Tiffany's play had to ask audience members to stop taking photographs of star Emilia Clarke during her brief nude scene.  Often there is little the actors can do about this behavior except ignore it as they go on with the show.
But Magic Mike actor Joe Manganiello, who is currently starring in Yale Repertory Theatre's production of A Streetcar Named Desire, struck back at a rude audience member who took photos during the first act of the performance.  Read more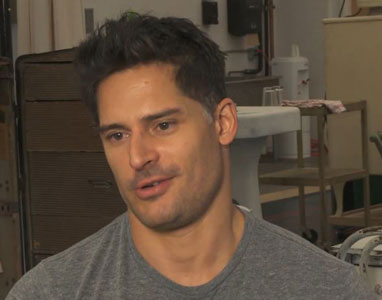 For True Blood fans, Joe Manganiello is known for his portrayal of Alcide Heveaux, the leader of a werewolf pack on the HBO show. The primal role was the big break in his career, but he's using his hiatus from the show to go back to where he started, the theatre.
The 36-year-old classically trained actor is spending part of his fall at New Haven's Yale Repertory Theatre playing Stanley Kowalski in A Streetcar Named Desire. He talked with The Courant about the iconic role and how his commanding physique got him cast without auditioning. Read more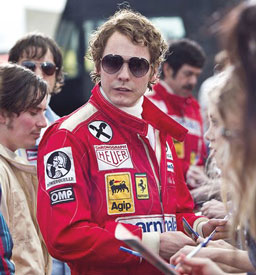 Daniel Bruhl is absolutely fantastic in the new Ron Howard film, Rush. The film is great and a lot of that can be credited to Bruhl who portrays Formula 1 superstar Niki Lauda.
To play Lauda, Bruhl says in the video that he read Lauda's biography, watched documentaries to get his body language right, worked with an accent coach and asked Lauda a "ton of questions." He says, "to play him was not that easy because we don't have that much in common. He's very different. It freaked me out at first."
In the video below, Brulh talks with Anne Thompson about the film, portraying Niki Lauda and more.
Check it out below! Read more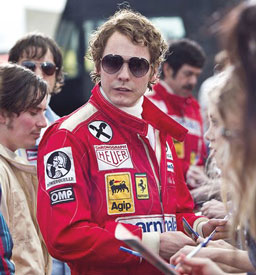 In the upcoming Ron Howard film, Rush, the casting of the role of  Formula One race car driver Niki Lauda was crucial. German investors had their heart set on a big American star to take on the role, but Howard went with his gut and cast the right actor for the role, Daniel Brühl.
The German actor was certain he wasn't going to be offered the film, so he went into the audition just for the experience of meeting the Oscar-winning director.
The 35-year-old actor said, "…my reaction was that it's impossible to play that guy because he's so different. I was quite restrained. But then I read the script and I was blown away because I think Peter Morgan is the best scriptwriter when it comes to stories based on real characters. And then I knew that Ron Howard was directing it, so I thought: 'OK, let's go to the audition and let's try it.' But I was quite relaxed, so maybe that was a good thing, because I thought they wouldn't offer it to me anyway." Read more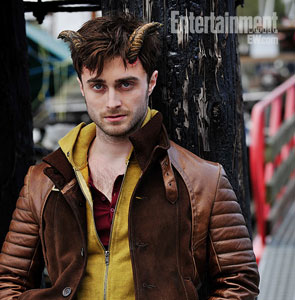 As a child actor in one of the most recognizable roles of the last decade, Daniel Radcliffe is boldly taking his career in new directions. With three films currently premiering at the Toronto International Film Festival, the 24-year-old actor is growing beyond his Harry Potter days.
In an interview with The Associated Press this weekend, Radcliffe talked about his acting strategy post-Potter.
He revealed, "Take chances. You have to make films based on your own instincts … I have to make the kind of films that I would want to see."
His recent role choices showcase his range and his willingness to go into dark places with his acting career. It's not about shedding his boy wizard image, it's about finding more interesting characters to play.
One of Radcliffe's TIFF entries includes the film Horns where the British actor plays a man suspected of murdering his girlfriend. He wakes up one day with a pair of horns growing out of his head. Read more
The New York Times has a fun on-going series called Anatomy of a Scene where they feature a director or actor narrating a scene from their upcoming film. This week, they had director Lee Daniels narrate a scene from his new film, Lee Daniels' The Butler.
In this clip, Cecil (Forest Whitaker) and his wife Gloria (Oprah Winfrey), are celebrating Cecil's new job at the White House. The scene also features David Oyelowo and Terrence Howard.
Check it out below. Read more