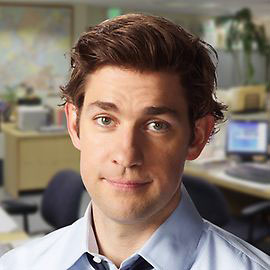 On May 16th, The Office will be closing its doors. After an eight-year run, Jim Pam, Dwight and the rest of the gang will be moving on to bigger and better things (hopefully). I've watched every episode of the long running series and I'll definitely be sad to see the show go.
Before getting the role of Jim, John Krasinski was like almost every other actor in New York. He'd work his job as a waiter during the week then run off to an audition when he could. He had booked a few things but "not anything that would allow me to claim that I was a working actor and didn't need another job," he said during a conference call. Booking The Office was like winning the lottery, "except with a winning lottery ticket you just get money, and with this you get a whole change of your life."
If you're a fan of the show, you'll love this interview. And honestly, even if you're not, there's some great stuff in here about what it's like to go from hustling for auditions to becoming a star on a major network show. In this interview, John and Executive Producer/Writer Greg Daniels talk about the end of The Office, John's audition, his past commercials and more. It's a long one but it's really great.
The Office airs on Thursdays at 9 on NBC – for only 2 more weeks! Read more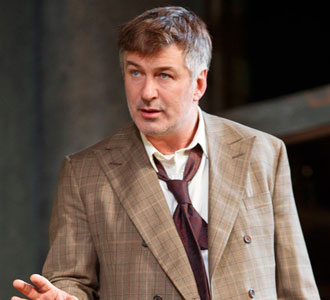 It was certainly an unexpected announcement that Orphans, starring Alec Baldwin, would be closing on Broadway on May 19, several weeks before its originally scheduled closing on June 30.  Baldwin took the opportunity to provide some explanation for the closing in one of his columns for The Huffington Post.  It's curious to see exactly what Baldwin — who has never been shy about saying his piece (for good or for bad) — blames for the play's early closing.
Baldwin compares the experience on Orphans to what he calls his last role in a "legit" Broadway play, A Streetcar Named Desire in 1992.  Baldwin points out that during that production any bad publicity having to do with arguments or fights was swept under the rug by the producers.  He writes, "Bad press about films or shows of any kind can negatively affect your chances. The opportunity to influence an audience through any kind of well-conceived or well-timed ad campaign is lost. First impressions do count. If 'trouble' is that first impression, it's difficult to swim out of that riptide." Read more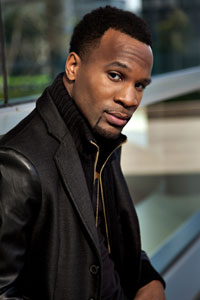 Johnny Ray Gill graduated from University of California, San Diego in 2010 with an MFA in Acting. While commuting back and forth to LA looking for work and a decent place to live, he auditioned for an episode of NBC's Harry's Law. The producers liked his work so much, that 1-episode role quickly turned into a 10-episode arc.
Since then, he hasn't stopped working. He's appeared on Bones, a couple of episodes of True Blood and now, he's starring in The Sundance Channel's new series, Rectify. The show is about a death row inmate named Daniel Holden (Aden Young), who has to put his life back together after DNA evidence reveals his innocence. Through flashbacks, Daniel relives his prison years and his friendship with another inmate, Kerwin Whitman, played by Johnny.
In this interview, Johnny talks about his education, Rectify and his advice to actors!
Rectify airs on Mondays at 10pm on The Sundance Channel Read more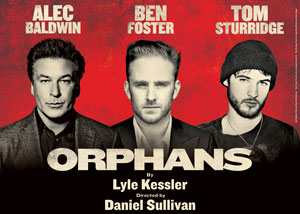 Holy crap, I didn't see this one coming.
The producers of the Tony Award-nominated play ORPHANS  have announced that the Broadway production will play its final performance on Sunday, May 19th.
The show has received several accolades including Tony Nominations for Best Leading Actor Tom Sturridge and Best Revival of a Play. Additionally Sturridge has been nominated for an Outer Critics Circle Award and a Drama League Award. Alec Baldwin has been nominated for a Drama League Award and the production was also nominated for Outstanding Revival of a Play by the Outer Critics Circle. Read more
Adam Driver doesn't do a lot of interviews so if you're a fan of Girls or Driver himself, you should check this out.
He talks with Gold Derby editor Daniel Montgomery about working on Girls, Lena Dunham, a bit about season 3, the Emmys and more.
via Gold Derby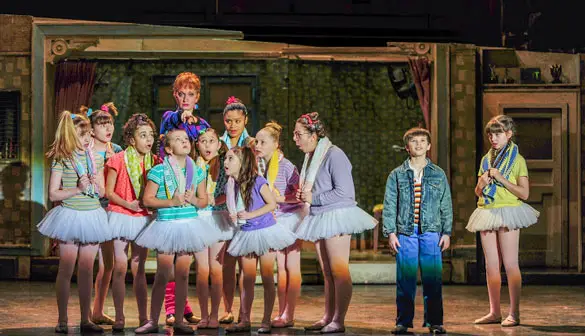 Up until last night, I'd never seen Billy Elliot the Musical.
I know. I'm such a bad theatre geek.
I'll also admit that I've never seen the movie either. That's two strikes against me, right?
But, there's no third strike because I thought the show, currently playing at the San Diego Civic Center, was great.
The story is set in the 80′s around a miners strike in Northern England. Young Billy Elliot (Mitchell Tobin in the performance I saw) is living with his striking father (Rich Hebert) and brother (Cullen R. Titmus) when he stumbles on an unknown talent after boxing class: ballet. As he struggles with the idea that boys aren't supposed to do ballet, the chance to audition for the Royal Ballet School in London appears and he's got to figure out what to do. With the prodding of his ballet teacher and the eventual of understanding of father and community, he makes the leap and heads to London. Read more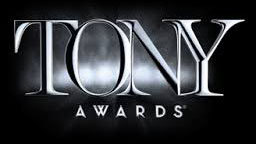 Sutton Foster and Jesse Tyler Ferguson announced the nominations for the 2013 Tony Awards this morning (way too early for us West Coasters) and with 13 nominations, the musical Kinky Boots is the one to beat.
Right behind it is Matilda the Musical with 12 nominations, Pippin received 10 and Rodgers + Hammerstein's Cinderella got 9.
Tom Hanks (Lucky Guy), Nathan Lane (The Nance) and Holland Taylor (Ann – read our review here) were among the Best Performance nominees.
Check them all out below and then watch Sutton Foster and Jesse Tyler Ferguson make the announcements here! Read more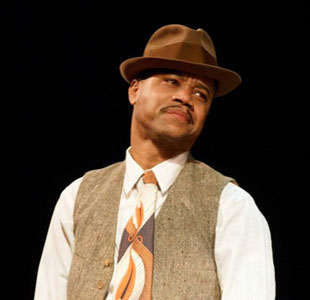 Cuba Gooding Jr. hasn't had the greatest success since winning his Oscar for Jerry Maguire.  Let's just say making Snow Dogs didn't do much for his career.  But now that Gooding is starring in The Trip to Bountiful on Broadway, he feels like things are finally back on track.
"There was so much expectation after I won the Oscar," he said in an interview with AP.  "And so many opinions that floated around, and the negativity about me and my choices.  And there were some missteps on my part—I was saying no to a lot of good directors that I shouldn't have.  Now that I'm at this creative place, I understand the path God put me on.  He put me where I'm supposed to be right now.  Now if there's anything to prove, it's that that first promise of my ability was correct and I'm ready to engage again." Read more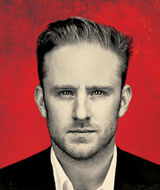 Harry Potter was actually Ben Foster's inspiration for doing a play on Broadway.  Well, technically it was Daniel Radcliffe who gave him the push to do Lyle Kessler's Orphans.
"I talked with Dan Radcliffe when we were doing Kill Your Darlings, and he had done Equus and so many plays, and I have so much respect for him—he's such a brave man—and he was like, 'Oh, you should do a play!'  'Well, I'd really like to, but it scares the shit out of me," Foster recounted in an interview with Vulture.  "You go do something that scares you and don't try to beat it."
The actor had an early connection to the play, but then joined the cast after the controversial firing of Shia LeBeouf.  "They called and asked me to participate in a reading of it months and months ago," Foster recalled.  "I had a few days to look it over, and I went in and read with Alec [Baldwin] and Dan Sullivan, the director.  We just sat around a table, reading the book.  And then it went another direction.  And that was that, and it made me sad.  The bizarre part was months went by, and I was sitting with my mom in LA, and she said, you know, 'It's a really good thing that play didn't work out—I think it would have been too hard on your heart.'  And I said, 'Yeah, I guess you're right.'  And the next day I got a phone call that said, 'Will you come to New York tomorrow and start rehearsing?'  So I said yes.  But my mom's worried." Read more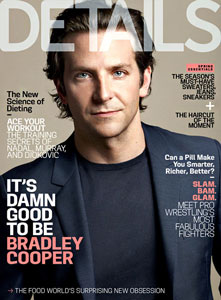 To me, 2012 in film marked a year in which a number of actors revealed to the world that they could really, well, act.  For example, prior to Silver Linings Playbook, Bradley Cooper was best known for his good looks and starring in comedies like The Hangover movies and Wedding Crashers and romantic comedies.  But Cooper proved his chops in Silver Linings Playbook and was even nominated for an Oscar.  He spoke about that experience, surprising people, and surrounding himself with people he can trust to Details magazine.
Cooper spoke at length about his Oscar nomination, saying, "That whole experience was fun and amazing, but I try not to get too carried away with that stuff. And maybe if you start feeling a little too big for your britches, hop on the Internet and take a look at some message boards for five seconds. It's not something I do often, but if you do, it'll take you right back down. Oh, my God. First of all, let's be honest: It's incredibly narcissistic to do that. And masochistic. You want to feel shitty about yourself? Boom—it's easy. To me, this business is the ultimate humbling experience. You're constantly dealing with rejection. My journey has not been people kissing my ass." Read more