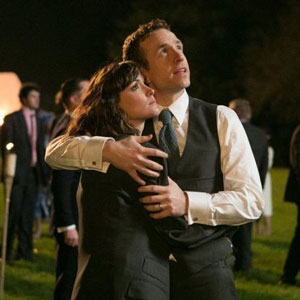 You'll see just about everything of actor Rafe Spall in the upcoming comedy I Give it a Year.  But as he reveals to Yahoo! Movies, his audition for the movie required the director to see Sprall below the belt — which Sprall's wife was more than happy to make happen.
Spall is shown naked in the film during a scene in which his character and his wife (played by Rose Byrne) accidentally show her parents bedroom photos taken during their wedding night.  In order to make sure Spall's part was right for, well, the part, he actually had to audition.  It began with Elize du Toit, Spall's wife and an actress in her own right, showing the film's director Dan Mazer a photograph of her husband's penis.  "Having to show your willy to people is a really strange thing," Spall points out. Read more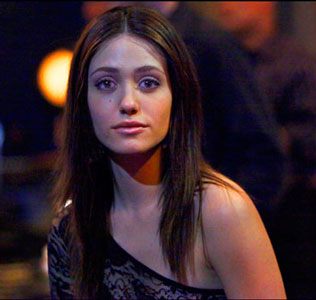 Emmy Rossum admits that she wishes her show, Showtime's Shameless, would get the same attention the network's other hit, Homeland, gets.
"They are a strong drama.  We were entered [in the Emmys] as a drama, because we're an hour long," she said in an interview with The Wall Street Journal.  "But we're not obviously hysterical enough to be a comedy.  Obviously I have no say in this, but it's been discussed that we're in a no-man's land.  But I don't think we have that envy, because we feel blessed to be making a show that people enjoy.  Recognition is always nice, but you can't play the game for that reason.  You'll always be underwhelmed."
Rossum gets some recognition that she's not always thrilled with—namely, the public viewing her as slutty because of her character Fiona's antics.  "People who watch the show think you must be like that character," she said.  "A lot of people probably think I'm a dirty ho, but I'm not.  The show has done only great things for me and my career." Read more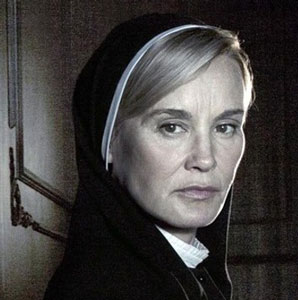 The sophomore season of FX's hit show, American Horror Story: Asylum has had a major turning point plot-wise and has seen its star, Jessica Lange, go from playing a take-no-crap nun to mental patient. Lange has been so good in the series that she was nominated for a Golden Globe and SAG Award and if you've seen her work on the show, you'll know that she absolutely deserves it.
The Oscar, Emmy and Golden Globe winning actress recently did a Q&A for the show and she mentioned how she loves creator Ryan Murphy's approach to the series. "I think what Ryan had in mind is this kind of Mercury Theatre, this idea of having a repertory company and moving them from one project to another, and there's something kind of great about that, watching these actors come in and create a different character." She said that she is really enjoying the chance its given her o create a new characters and that her time on the show has made her "a better actor."
In the interview, Lange talks about acting on the show, not knowing her character arc in advance and how she's surprised that young actors don't know film history.
American Horror Story: Asylum airs at 10pm on FX Read more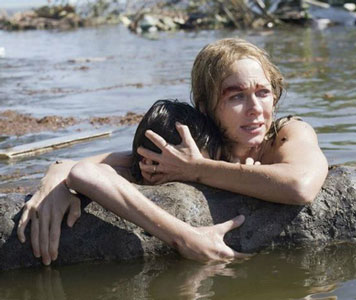 The Impossible, which comes out December 21st, is the true story of a family caught in the tragedy of the 2004 Thailand tsunami and stars, Naomi Watts, Ewan McGregor and Tom Holland. Directed by Juan Antonio Bayona, the film shows how devasting the disaster was to the country, it's people and in particular, this family.
The Hollywood Reporter brought the cast and director together to talk about the film andit's got some pretty interesting moments. McGregor and Watts' chat about working with the young actors who play their children (who are great, btw), the challenges of the water and how they did acting exercises during rehearsal to make their on-screen family seem absolutely real.
Check it out below!  Read more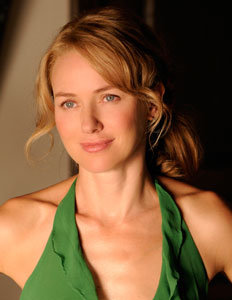 The 24th annual Palm Springs International Film Festival will present Naomi Watts with the Desert Palm Achievement Actress Award at its Awards Gala, which will be held on Saturday, January 5 at the Palm Springs Convention Center. 
The Festival runs January 3-14, 2013.
"We're delighted to pay tribute to Naomi Watts, one of the most gifted and versatile performers to grace the screen," said Palm Springs International Film Festival chairman Harold Matzner.  "The Impossible, the true story of the tsunami that stunned the world with its fury, is the vehicle for Ms. Watts to display the talent and sensitivity that cinema lovers have come to expect and appreciate from her.  It is our honor to present the 2013 Desert Palm Achievement Actress Award to Naomi Watts, for a performance worthy of an Oscar nomination." Read more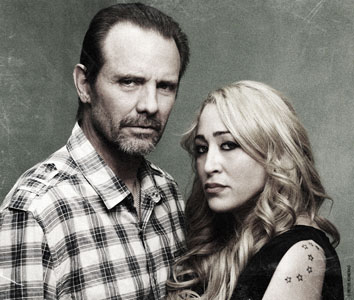 IMDb is a great place to surf.  It is such a wealth of knowledge and insight, you never know what you are going to find.  One night I was leapfrogging between movies-n-actor profiles, when I came across a photo of an actor that stopped me in my tracks.  The headshot literally floored me, it was unconventional in nature, yet carried such honesty and nakedness and texture and dimension, I had to find out who this photographer was and needed to meet him. 
The photographer's name was Peter Konerko.
Konerko works from his Dahlia Heights Studio in Eagle Rock  and has a great blog called authentic in which he interviews his clients and shares great stories and perspectives.
I met with Konerko to learn more about his insight in headshot photography and portraits. Read more
Kellan Lutz goes all out for his auditions, including the one he did half-naked for Tarzan.
"When I auditioned, I wore my Conan wig, because I was testing for Conan the Barbarian at the time," the Twilight star told Hollywood.com.  "So I had this wig that I made for that so I wore that and then I walked into the audition in my underwear."
It was only after the audition that someone told him the film was going to be animated.  So his prized abs were of no use for the project.  Lutz recalled, "They're like, 'No can you actually slim down so you can fit in the [performance capture] suit.'" Read more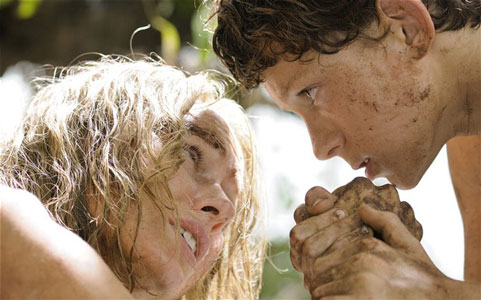 Director: Juan Antonio Bayona
Starring: Naomi Watts, Ewan McGregor
Synopsis: Maria, Henry and their three sons begin their winter vacation in Thailand, looking forward to a few days in tropical paradise. But on the morning of December 26th, as the family relaxes around the pool after their Christmas festivities the night before, a terrifying roar rises up from the center of the earth. As Maria freezes in fear, a huge wall of black water races across the hotel grounds toward her. The family finds themselves caught, with tens of thousands of strangers, in the mayhem of one of the worst natural catastrophes of our time. But the true-life terror is tempered by the unexpected displays of compassion, courage and simple kindness that Maria and her family encounter during the darkest hours of their lives.
In Theaters: December 21st  Read more
A few years ago a band called the Silver Brazilians released a song titled "Kate Winslet", which served as an ode to the beauty of the titular Titanic actress.  However, with lyrics like "Kate Winslet / You know you look so fine / When they talk about your weight girl / I wouldn't pay no mind / I'm no diplomat / but you look better fat / Kate Winslet," it does mention Winslet's often-discussed figure in a less-than-flattering way.
Winslet herself discusses her body with The Sun, explaining why she's so willing to do nude scenes despite not being supermodel slim.  She points out, "I look like the people that walk down the street. I don't have perfect boobs, I don't have zero cellulite — of course I don't — and I'm curvy. If that is something that makes women feel empowered in any way, that's great.  On a deeper, subconscious level, it's one of the reasons why I've allowed my stupid self to be so naked on screen.  It's partly because I do believe that it's right for the character and it's right for the story but it's also knowing that not many people do that, actually — and not just that, but I'm a normal person."  (Of course, I understand Winslet is trying to be endearing here, but I wish that more "people that walk down the street" actually did look like her and not like… well, the way they normally do). Read more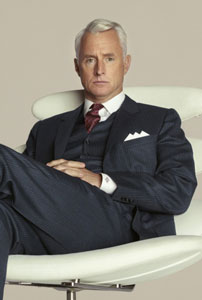 John Slattery is grateful his character wasn't killed off during this past season of AMC's Mad Men. 
He told Vulture that the cast is always prepared that they might be the ones to get the cut, like Jared Harris' Lane Pryce did.  He said, "I mean they wanted to cut characters and expenses and stuff, so there was some discussion of characters, and of course people send you links to sites where they predict it'll be you.  And yeah, it could be anybody.  I'm glad it wasn't me, but I'm sorry it was Jared.  I hope I stick around.  I mean, any time a character has to go it's because of story.  I'm sure when it's my turn, there'll be a reason for it."
Slattery also spoke about the last scene in which his character, Roger Sterling, appears nude.  "It's funny," he said. "I read that [script] and you think, Who wants to be naked in front of a camera?  Especially nowadays, when you know it'll be on someone's cell phone or around forever.  The fact that it was Roger who took the LSD to begin with was surprising, but it made sense, and the end made sense.  So as intimidating as it can be to do something like that, it made sense to the story, and Matt [Weiner, the creator] never makes a false step.  You know you're in good hands.  And sure enough, it worked.  It's a funny scene, but it actually makes sense in a storytelling way.  It's not gratuitous." Read more