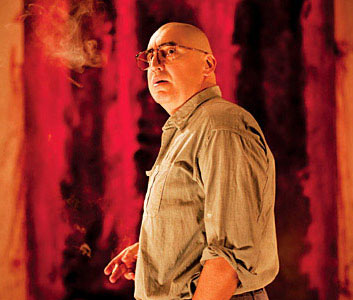 Alfred Molina has had a long and varied career of film, television, and stage roles ever since his first major appearance in the opening sequence of Raiders of the Lost Ark.  While Molina is currently starring as artist Mark Rothko in a production of Red (a role that he originated in London, followed by a Tony Award-winning production on Broadway) through September 9 at the Mark Taper Forum, he spoke about career advice he received from his father, who wasn't an actor.
"My only objective as an actor when I started was to stay employed. I come from a working-class immigrant family, and my father's advice to me was 'Pay your bills.'  My dad used to say, 'A real man isn't a guy who can punch anybody out; he's the man who pays his bills.' And I remember at the time thinking that was boring, but actually what he was talking about was the heart and soul of living your life — being a decent mensch. So I just stayed employed, and maybe that accounts for my longevity. I wasn't fussy." Read more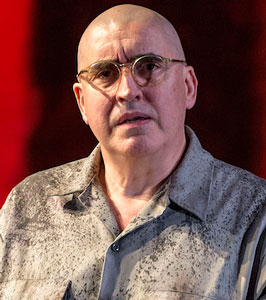 Alfred Molina stars in Red at the Mark Taper Forum through September 9, a role that he originated in London and again later in a Tony Award-winning production on Broadway.  Like the previous productions Molina stars as Mark Rothko, the eccentric real-life artist who was commissioned to paint works for New York's Four Seasons restaurant and felt conflicted about taking such a commercial job. 
Molina spoke to Southern California Public Radio about his portrayal of Rothko and what "disappearing into a role" really means to him.
Molina found himself intrigued with Mark Rothko before deciding to play him.  He points out, "Like so many interesting characters that one gets to play, he's full of contradictions. All the most interesting characters are, in the same way all the most interesting people in life are often paradoxical and seemingly contradictory … Theatrically, in terms of playing characters, that's where the really interesting grit is. It's in those areas where things get confused, things get conflicted and contradictory, that's where the most interesting part of character is in many ways because you have to resolve that for the audience and make all those contradictions equally valid. If the audience is agreeing with you one second and disagreeing with you the next, totally with you one moment and totally against you the next, then you're halfway to doing your job because that means — hopefully — they're going through the same sort of conflict that the character is." Read more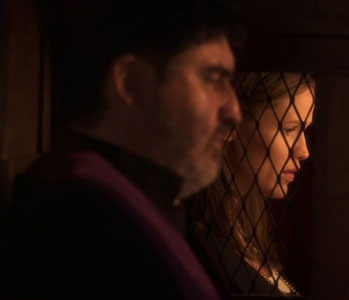 In this short film, Jennifer Garner plays Serena, a woman who makes a series of strange and shocking confessions to her priest, played by Alfred Molina.
Serena is the first of 10 short films planned for WIGS, and comes on the heels of the channel's first series, Jan.
WIGS is a digital channel producing high-end, original, scripted dramatic series and short films about the lives of women. Click here for their YouTube channel: youtube.com/wigs. Read more
Alfred Molina has made a career out of playing supporting movie roles, often as a "foreigner" of any country instead of his native England, though he's done quite well for himself since making his screen debut in the classic Raiders of the Lost Ark (playing a Latin American character, of course). 
Molina, who is of mixed Spanish-Italian heritage, harkens back to an era where nearly every "ethnic" character was played by some vaguely ethnic white man often in heavy make-up, with more success than others. 
Molina recalls his success in this area to New York magazine, explaining, "Nowadays if they're looking for an Asian character they'll use an Asian actor, but there was a time when that wasn't always the case and I think I said I've played so many different nationalities that I was in danger of, 'Oh, yeah, Freddy does that — he can do Cuban, he can do Hispanic, he can do Greek, he can do Irish.' I spent my life seemingly inhabiting one accent or another that wasn't my own."   Read more
Law & Order: LA lost a cast member last night and while I won't tell you who it was (you can read the interview below for that spoiler), I can say it was a major character.
Head-honcho Dick Wolf and Alfred Molina had a conference call the other day to discuss where the freshman series is heading. They also talked Molina's character, the decision to kill off that certain lead character and how Wolf broke the news to them. I can't imagine getting that call!
Check it out!
Mr. Wolf, when the season started you had talked about the way of getting both Alfred Molina and Terrence Howard on the show was to use them only every other week. Now that that's going to no longer be the case, can you just talk about logistically how things are working out?
Dick Wolf: Well I guess it's sort of, for the actors — and Fred should comment on this — to me it seems that…
Alfred Molina: You're doing fine Dick.
Dick Wolf: It's one of these things that it's more work but more predictable. I mean I think that, for me as I said earlier, "It's really a dream to have both of these guys on-screen every episode." It's – it was – I don't want to exaggerate too much, but it was a little like I had the feeling that we were all fighting with one hand tied behind our back a lot of episodes.
I think for the working style, as I said, "It's probably a little bit tougher but much more predictable in terms of, they each do one half of the show now every week, as opposed to having a week off." But the frustration of not having long enough off to go to Europe or something. As I said, "This is just more predictable I think."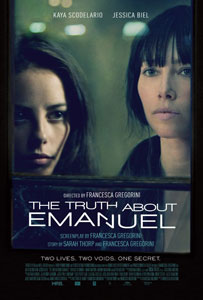 The Truth About Emanuel, writer/director's Francesca Gregorini sophomore effort, is a puzzling sort of film. Not in a bad way but also not in the best of ways either.
Emanuel (Kaya Scodelario from the U.K.'s Skins) is seventeen years old and thinks she's not supposed to be here, as in alive. She's walking around with the guilt of her mother dying while giving birth to her and she's carrying this notion that she's a "murderer." That's heavy stuff for a young girl to deal with and as the story begins, she's in full-on 'acting out' mode, Not in the rebellious sense, more of a shock value sense (like telling her step-mother about a recent sex dream.)
When the new neighbor, single mother Linda (Jessica Biel), says she's looking for a babysitter, Emanuel agrees to help out. Linda's a doting and protective mother who seems a bit off. She wears long flowing dresses and non-period clothes and always has a faraway look in her eyes. Read more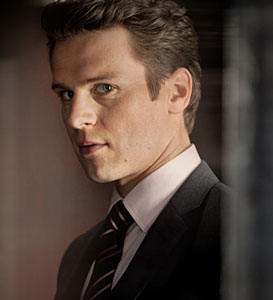 Can an actor be too gay?  Jonathan Groff courted a little controversy in the past regarding that question.
A Newsweek critic a few years ago deemed the actor too gay to be a convincing straight leading man.  "I feel the same away now as I did then," he said in an interview with The Los Angeles Times.  "Here's the deal—I go to my auditions and plug away and try and do my best.  People are going to say whatever they're going to say about your performance, and at the end of the day, you can't let that stuff affect you.  Everyone is entitled to his opinion, and it started a lot of good conversations probably.  All I can do is laugh and keep moving forward.  Sexuality is such an interesting thing.  Unless you're playing a very effeminate person, a stereotypical queen, it's hard to say what it means to play gay."
The Tony-nominated actor is getting to show off his acting chops in a Los Angeles production of Red and on Starz's series Boss.  Groff feels "that the best way to learn is to work with people who are better than you." Read more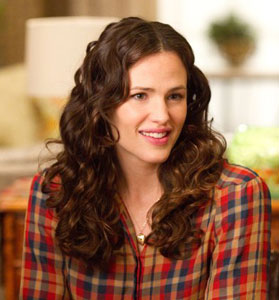 No one can deny that Jennifer Garner has had an incredible career. Leading up to her breakout role in "Alias," Garner had many memorable parts on network TV and movies such as "Dude, Where's My Car?" Since "Alias," Garner's film career has exploded with movies such as "13 Going on 30," "Juno," and "Valentine's Day." Moviefone recently chatted with Garner about her career, post-baby life, and her new film "The Odd Life of Timothy Green."
Over the course of her multifaceted career, Garner has played many different roles. A truly versatile actor, Garner has shown herself to be exceptionally capable of drama and comedy, alike. However, even with her amazing variety, Garner explained that there are many scenes that she has trouble remembering. "Almost everything I've ever done I've only seen once, and I almost never run across anything. One night I ran across an episode of 'Alias' and it was the weirdest thing. A lot of episodes maybe I saw but I was so busy at the time, I don't think I ever saw them all. Someday I want to go back and watch them. I felt like I was watching a different person. I didn't even know what I was talking about, I kind of remembered the outfit but I started speaking another language that I didn't remember learning and then I did a fight I didn't remember. It was crazy." Read more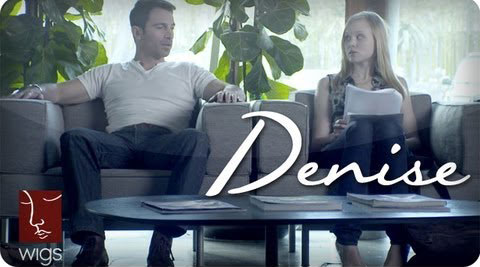 Newsroom stars Allison Pill and Chris Messina are the latest actors to appear in writer Neil LaBute's short story for the YouTube channel, WIGS. 
Joining the ranks of their acting peers such as Alfred Molina and Julia Stiles, the duo are featured in the clip Denise, a short about two actors who get a call back.  Seen in the clip is an irritated Pill in the title role who runs into Messina's character Brad, a guy who never called her back after a one night stand.   From there things veer off into some risque territory involving positions and a video!  "Positions I've never thought of. The promises we made to each other. that video," Pill whispers.
As confirmed by Yahoo, the Wigs channel comes from the efforts of partners Jon Avnet and Rodrigo Garcia, and features stories centered on women.  Avnet and Garcia's goal is to bring high-production value to the web with their short stories for HBO.  Watch the entertaining clip of Denise with both Pill and Messina below. Read more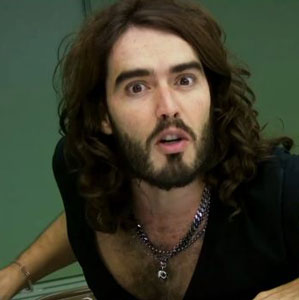 On the first day of rehearsal for the film, The Tempest, director Julie Taymor's retelling of Shakespeare's play (where the gender of the main character, Prospero, was changed from male to female), she asked Russell Brand to talk about his character, Trinculo.
What follows is a 4-minute riff of Brand talking – in character.
And check out the last bit where Alfred Molina sits there almost amazed on what he just saw. Read more