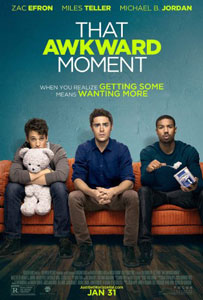 That awkward moment: when you tell your friends who hated That Awkward Moment that you enjoyed That Awkward Moment.
Look, let's get some things out of the way. This film certainly isn't great. It's got a lot of problems but thanks to the cast, you might be able to overlook it. I did.
The film, written and directed by Tom Gormican, stars Zac Efron, Miles Teller and Michael B. Jordan as three best friends who pledge not to get girlfriends after Jordan's Mikey finds out his wife has been shagging another guy.
And you know having the guys stay single ain't going to last long. Read more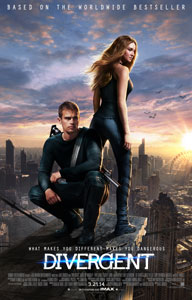 Divergent: In a future world where people are divided into distinct factions based on their personalities, Tris Prior is warned she is Divergent and will never fit into any one group. When she discovers a conspiracy to destroy all Divergents, she must find out what makes being Divergent so dangerous before it's too late
Director: Neil Burger
Writers: Evan Daugherty, Vanessa Taylor
Starring: Shailene Woodley, Theo James, Jai Courtney, Ray Stevenson, Zoe Kravitz, Miles Teller, Maggie Q, Tony Goldwyn, Ashley Judd, Kate Winslet Read more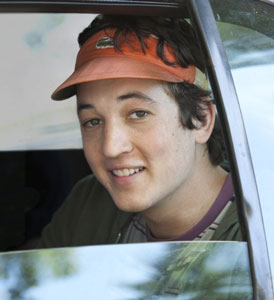 After starring in Project X and the new film, 21 And Over, Miles Teller has mastered the art of playing a party boy.  But Teller isn't paying attention to the role similarities.
"I didn't really give a shit about that.  As far as being an actor goes, I know I have range, so I wasn't really too worried about it," he said in an interview with The Huffington Post.  "Also, when I read the script, it was the funniest script I ever read.  I was excited to do it.  Project X, it was more of a cameo.  With this movie, I always wanted to do a rated-R comedy.  I just wanted to make something that would give people that experience."
Teller read the script, from Hangover writers Jon Lucas and Scott Moore, and was excited to be attached to the project.  "Dude, when I read that script, I thought I had never read something that was so close to my own voice."  Read more
Miles Teller is the first one to admit that he's not sure how he landed the much-coveted role in the indie The Spectacular Now.  The actor, who stars alongside Brie Larson and Shailene Woodley, recalls completely bombing his first audition.
"It was just not good.  It was right after Footloose got done, like the day after it wrapped," Teller recounted to Interview.  "I tried to play a character, as opposed to make it more mine.  It wasn't very good, it wasn't honest, and I was acting.  I asked for a second one, and the second one went a little better but they were still like, 'We've moved on with somebody else.'
"There were a lot of other actors attached to this before I was.  And then James [Ponsoldt, the director] got involved, and I never had to audition, we just met for beers and by the end of that, he was like, 'You're my guy and I'm gonna try and convince everybody else, hopefully we have this done in about a week.'  That's how I came on board.  Maybe it's good I didn't have to audition for James, because I probably would have sucked." Read more
Footloose actor Miles Teller, who plays Willard in Director Craig Brewer's just released remake, may not have seen the original 80's movie that previously starred Kevin Bacon, but Teller explains that playing the same role back in high school gave him an advantage.
"I had a whole run with it. I knew the story of 'Footloose,' not through some other actor performing it, but from the text. So I came into it with a strong foundation of what I wanted to do with the character. But now I was more physically right for the character. When I did it in high school, I was like 5′ 2″ and 115 lbs or something," he said.
Teller explains that while he may have had prior experience, the big screen production had its obvious differences. "Well, in high school, I was singing, because it's a musical, so that's different. And when I did it in high school, I was the little guy and Ren was my buddy who was, like, way bigger than me. And when I would be like, 'Hey man, you want to fight?' I'm sure it was more comedic because I was just this little bulldog with a mouth. But in this one, obviously my understanding of acting was a little more in-depth, so I guess that's what I brought to it, a better brain." Read more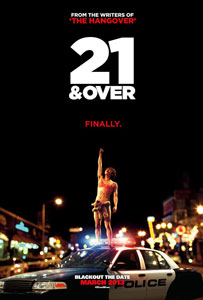 Ah, turning 21. The pressure to do something crazy memorable with your besties, getting completely obliterated and hopefully meeting some lovely ladies (or guys) in the process. It usually never happens in real life but dammit, filmmakers are going to make it happen for us on-screen.
We've seen this story played out dozens of times before in films and 21 & Over is just the latest installment. Yeah, there's nothing really new in the film but that doesn't mean it's not hilarious.
Miles Teller is Miller, a fast talking, always-has-a-plan guy who comes to the college town of his two best friends to celebrate the twenty-first birthday of Jeff Chang (Justin Chon). Chang's a straight-A student and on the eve of a huge med-school interview and he's feeling the pressure from his overbearing dad. But, when Miller and Casey (Skylar Astin) do a little arm twisting to go out for the infamous '1 beer', Chang gives in and the fun begins. Read more
Footlose star Kenny Wormald, says when he first heard that director Craig Brewer wanted to find someone who wasn't "already a celebrity" for the role of Ren McCormack, he "bee-lined" for the role. Not that Wormald's casting in the 1984 remake was a piece of cake by any means, as he described to Collider in a recent interview.
"I auditioned a lot because they wanted to make sure they made the right decision. Half-way through the casting process, they tested another actor who was already-established, so I got put on hold and I was like, "Damn, there it goes!" It didn't work out, for whatever reason, and they called me back in, which is when I danced for them. Once I danced for them, I saw a shift and got a little more confident. I was working with my acting coach, sometimes twice a day, right before the audition. I just wanted to really make sure that my dancing was up to par with what I could bring on the dance side of things. That's how it went down. And then, my final audition was with Julianne and Miles. They had already booked it, and I had to screen test at Paramount. It was down to two guys, and I had to go in there and dance a little bit with Julianne and do the scenes, and do the scenes with Miles, and then just pray for the phone call. And, I got it."  Read more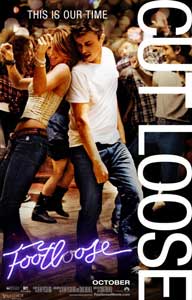 I hate remakes.
I especially hate remakes (or re-boots) of movies that had an impact on me when I was a kid. I remember watching the original Footloose on my parents VCR probably 1,000 times. I wanted to be as cool as Kevin Bacon. I wanted to have a friend as funny and loyal as Willard (the late Chris Penn) and a girlfriend as hot as Ariel (Lori Singer).
My only problem was that I didn't want to have anything to do with dancing. So, I sympathized with the good ole' Reverend. But that's my issue.
So, when I walked into the theater extremely skeptical. I did really like Director Craig Brewer – he directed Hustle n' Flow and the pilot to my favorite TV show ever, Terriers -  so, I was at least knew it wouldn't be awful.
But hell, guess what? I really liked it. I liked it a lot.
The film starts off with an homage to the original opening credits. Close-ups of dancing feet are shown as the original Kenny Loggins Footloose song blares. Kids are dancing in a field, having a great time. Then wouldn't you know it,4 of those kids get into their car and meet the business end of a truck, killing themselves and ruining the fun for everyone in the town of Bomont, Texas.
Turns out, like in the original, one of those kids was the son of the town's Reverend (Dennis Quaid) and he's not too happy about this.
Cut to three years later and the town council has outlawed loud music and dancing. When Ren (Kenny Wormald) arrives in town, thats all about to change.
You all know the rest of the story so I won't rehash it here but as the movie progressed I started to fall for it.
Damn you Craig Brewer!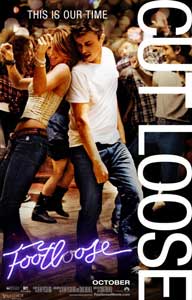 Footloose: Ren MacCormack is transplanted from Boston to the small southern town of Bomont where he experiences a heavy dose of culture shock. A few years prior, the community was rocked by a tragic accident that killed five teenagers after a night out and Bomont's local councilmen and the beloved Reverend Shaw Moore responded by implementing ordinances that prohibit loud music and dancing. Not one to bow to the status quo, Ren challenges the ban, revitalizing the town and falling in love with the minister's troubled daughter Ariel in the process.
Starring: Julianne Hough, Kenny Wormald, Dennis Quaid, Andie MacDowell, Miles Teller
Director: Craig Brewer
In Theaters: October 14th, 2011 Read more