Comic-Con: Kodi Smit-McPhee is Norman, the young boy who can see and talk to dead people in the wonderfully entertaining stop-motion animated film, ParaNorman.
I got a chance to talk with Kodi at Comic-Con where he talked about how he gets into character, whether its film or animation, perfecting his American accent (he's Australian) and seeing his voice in a stop-motion character.
What types of qualities were you interested in conveying through your voice for Norman?
Kodi Smit-McPhee: Right, it's always been a kind of dream for me to do a character and do a character voice as well. And I actually hadn't read the script while I was auditioning so I just auditioned these sides they gave me. I didn't know how big it was gonna be, if it was something just little, sent it off, and then found out I got the job.
And when I read the script and had a bit more of the character in my head, I started working on traits and stuff. And really I found out he's just like me, but I can't see ghosts. Or hear them. Read more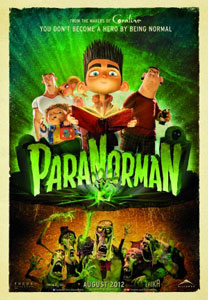 ParaNorman: The new 3D stop-motion comedy thriller from animation company LAIKA, reteaming the company with Focus Features after the groundbreaking Academy Award-nominated "Coraline." "ParaNorman" is, following "Coraline," the company's second stop-motion animated feature to be made in 3D. In "ParaNorman," a small town comes under siege by zombies. Who can it call? Only misunderstood local boy Norman (voiced by Kodi Smit-McPhee), who is able to speak with the dead. In addition to the zombies, he'll have to take on ghosts, witches and, worst, of all, grown-ups, to save his town from a centuries-old curse. But this young ghoul whisperer may find his paranormal activities pushed to their otherworldly limits.
Director: Sam Fell, Chris Butler
Cast: Kodi Smit-McPhee, Tucker Albrizzi, Casey Affleck, Anna Kendrick, Christopher Mintz-Plasse, Leslie Mann, Jeff Garlin, John Goodman, Elaine Stritch, Bernard Hill, Alex Borstein, Tempestt Bledsoe, Hannah Noyes
Click here for the screenplay to ParaNorman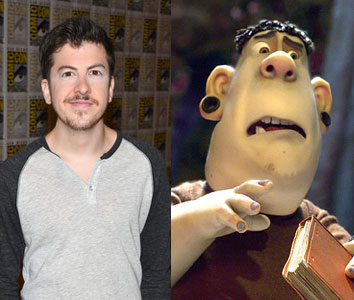 Comic-Con: The new stop-motion animated film ParaNorman is a one of those semi-rare films that any member of the family can watch and actually enjoy. Even with all of the zombies, the film is beautiful and it's also smart and thanks to the vocal talents of Christopher Mintz-Plasse (Kick Ass), funny. 
ParaNorman is about a young boy, Norman (voiced by Kodi Smit-McPhee), who can see dead people. He's relentlessly made fun of by the school bully Alvin (Mintz-Plasse) but when the small town they live in gets invaded by ghosts and zombies, Norman and Alvin have to work together to banish the ghouls. And in the end, Alvin takes all of the credit… of course.
Mintz-Plasse was at Comic-Con and talked with me and several other press about the voice-over process, how he got the part and what is what like to finally see the face of his character. Read more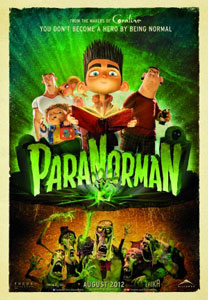 Norman (Kodi Smit-McPhee) is a normal, young boy. He loves to sit on the couch and watch TV with his Grandmother (Elaine Stritch), chat with people as he walks down the street in his small town and play with all of the dogs and cats as he passes them by.
There's only one problem. They're all dead.
Ok, so he might not be your typical young boy.
But that's ok, because when the town suddenly becomes overrun with ghosts, ghouls and zombies, Norman is the only one who can help. But from his disbelieving family and the school bullies, will Norman – ParaNorman – have enough confidence in himself to get rid of the horrors?
The film, from the stop-motion animation studio that gave us 2009's Coraline, is entertaining and the visuals are outstanding. It's got humor for young kids – not too young though, there is some creepy stuff going on in the film – and older and a lot of don't-blink-or-you'll miss-it moments that someone my age got a big kick out of. The film also has a solid (but not preachy) attitude about bullying and what it's like to be different. Read more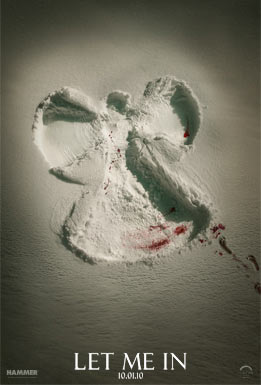 Want the screenplay to Let Me In?
Sure you do!
Director/Writer: Matt Reeves
Cast: Kodi Smit-McPhee, Chloe Moretz, Richard Jenkins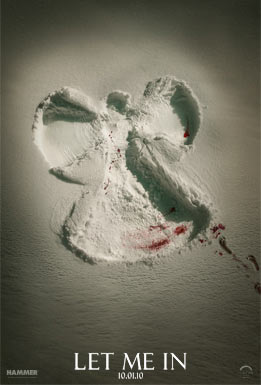 Let Me In
Director: Matt Reeves
Cast: Kodi Smit-McPhee, Chloe Moretz, Richard Jenkins
The Story: Owen, a lonely, awkward 12-year old boy (Kodi Smit-McPhee), who is on the radar of the school bullies, meets Abby (Chloë Grace Moretz), the new girl who moves into the apartment next door. Even though she immediately tells him, "I can't be your friend," the two quickly form a bond.  While Owen's days are a nightmare, his nights spent with Abby are a blessing… even though he is soon to find she's a vampire.
Meanwhile, a murder has caught the attention of a police officer (Elias Koteas). He begins to suspect a satanic cult may be the culprits when in actuality, its Abby's "father" (Richard Jenkins) trying to fresh blood to feed her.
The Actors: Kodi Smit-McPhee (The Road) and Chloe Moretz (Kick-Ass) are both wonderful. Their scenes together are touching, real and the heart of the film. These are two kids who have found what they are missing in each other.
And excellent as always, Richard Jenkins somehow makes us feel sympathetic for him despite the horrible violence commits.
Final Thoughts:  Even thought its billed as a horror movie, I'd classify it more as a drama with horror elements. Owen finds out that Abby is a vampire he doesn't care. She's more human to him that the bullies who torture him at school.
The only thing I didn't like about the film was the special effects. The CGI was just bad.
That being said, this is a great film.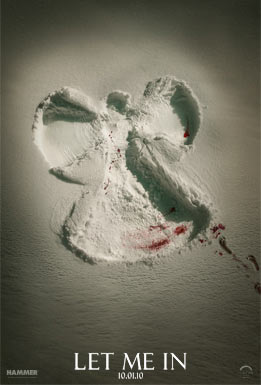 I saw about 10 minutes of this film at Comic-Con and it looked really, really good. I can't wait to see it! In the meantime, you can watch the Swedish version its based on, Let The Right One In, one Netflix streaming.
Let Me In: Chloe Moretz (Hit Girl from Kick-Ass) stars as Abby, a mysterious 12-year old girl, who moves next door to Owen (Kodi Smit-McPhee, The Road). Owen is a social outcast who is viciously bullied at school and in his loneliness, forms a profound bond with his new neighbor. Owen can't help noticing that Abby is like no one he has ever met before. As a string of grisly murders occupy the town, Owen has to confront the reality that this seemingly innocent girl is really a savage vampire.
Director: Matt Reeves
Cast: Kodi Smit-McPhee, Chloe Moretz, Richard Jenkins
Was this role something you lobbied for, or were you offered the part?
I was offered the role by the director John Hillcoat, and I had long been a fan of Cormac McCarthy's writing. I had not read 'The Road.' I had read everything up until then. I had always loved in particular his prose description of landscape and the inner thoughts and emotional kind of lives of his characters. The way he describes things — his prose feels like poetry. There are so many gems in that, and all his books — even books that are just barbaric like 'Blood Meridian,' which may be my favorite one. I mean it's different; it's like two sides of the same coin.
Was there any hesitation at all in accepting it?
Yeah, there was. First of all, just because I was shooting a movie at the time and promoting another one, you know. I'm leaving for days off, I was kind of stretched pretty thin. But when I read the story, I thought, well, being kind of tired, that's not wrong for the character [laughs]. But no, it was mainly just because I would regret not taking on the challenge. But once I said "Yes, thank you very much," then I was terrified. Not because of the physical ordeal, but more because it just has to be done right. And the director said we're going to shoot in real locations, and I said, "Great, it will be hard, but it needs to be to feel gritty, not to just be another post-apocalyptic special effects movie." And he goes, "Well, we don't have that kind of budget anyways, so that's great. It will be good, it will be gritty and real and has a chance to match the book for emotion." But then as soon as you say yes, then it's like, "Well, they all think that I can do it; they wouldn't offer me the role if they didn't. [But] I don't know that I can do it." You have to come to grips with that. It took me a while because I'm very dependent on the person I play the story with. Every single scene pretty much I'm with this boy. And I said to John, "I am worried — I don't know about you — about the boy." And he goes, "Yeah, I'm really worried." He said, "We can only go so far in matching the book as far as the look of it, the design, the locations." Even if I do my very, very best and everybody gets lucky each day and does a great job. If the boy isn't close to being a genius actor and really understands this story and is mature beyond his years somehow — if you don't find that kind of boy, we're limited, we can only reach a certain level as far as matching the intensity of the book. But they did find him. [Kodi] is so good and he is such a beautiful person, and I became very fond of him — and he of me I think. That connection, that strong connection we made even before shooting started, only got intensified, became more intense as a result of the difficult emotional things we had to do in the first week or so. It was just, OK, we can do anything. Once I got to know him and realized that, I thought, OK, we've got a chance now. But then you never know how they are going to put the movie together.
On his role in The Road:
"To be honest, I was afraid of the role to start with. I thought, 'Hmm, I don't know if I am up to the task.' But, that was the very reason I thought I should do it, try it. Because even if you screw up up, at least trying something different, something that places demands on you that you haven't dealt with as much or before, it's always good. Even if you screw it up, in trying to do a good job, you are going to learn something, and I did."
How his co-star helped him:
"It's a team sport, making movies. In this case, it's a story about a father and son. If the son (Kodi Smit-McPhee) wasn't a great actor and didn't have a great emotional range, I wouldn't have done a very good job, to be honest with you. I could have only gone so far. But, because he was so beautiful as a boy, such a wonderful person, but also such a talented actor, he helped me get to places that I didn't think I could get to."