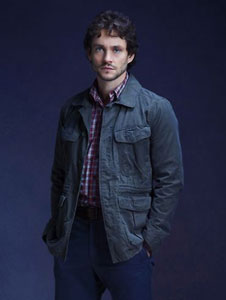 In case you were wondering, NBC's Hannibal is really good.
The show, from Bryan Fuller (Pushing Daisies), is based on characters from Thomas Harris's novels (Silence of the Lambs, Red Dragon) and gives it the prequel treatment. It tells the story of Will Graham (Hugh Dancy), a gifted criminal profiler who is on the hunt for a serial killer with the FBI. Graham's got a… unique way of thinking. That thinking gives him the ability to empathize with anyone – even psychopaths. But when the killer he's hunting is too twisted for even him, he enlists the help of Dr. Hannibal Lecter (Mads Mikkelsen), and the two form an unlikely partnership.
I saw Hugh Dancy when he was starring in Venus in Fur on Broadway and holy crap he was fantastic. He and Nina Arianda were on-stage for 90 minutes and they could have gone on for 90 more, that's how much I loved it. He's equally as good here as Will Graham. He's sedate and almost House-like in his portrayal and his version of the character absolutely works in this new world of Hannibal.
Dancy and Bryan Fuller held a conference call recently where they talked about the challenges of bringing Hannibal to TV, how Hugh deals with the dark subject matter, what led him to the role and the challenges of making the character his own.
Hannibal airs on Thursdays at 10pm on NBC Read more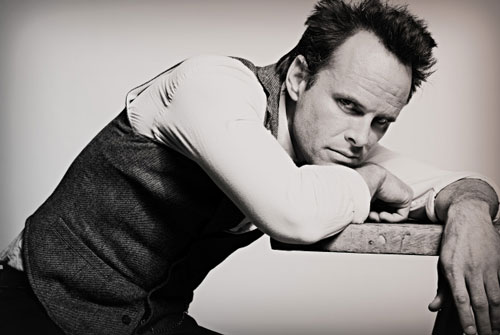 How great is Justified? The hit FX show has one of the best casts' on television and with Season 4, it just keeps gets better and better.
Starring Timothy Olyphant as Deputy U.S. Marshal Raylan Givens and Walton Goggins as Boyd Crowder, Justified is laying the groundwork for a memorable season finale. And I can't wait.
I've liked Goggins for a long time. The guy is such a good actor and watching his work on the show and in recent films like Django Unchained and Lincoln is always a treat. Plus, he's always been forthcoming about his life as an actor and how at times it's been difficult and that honesty is so refreshing.
Goggins recently participated in a conference call last week and as usual, getting to talk with him was a blast. In the interview below, he talks about working with the cast on Justified, acting and what he learned from Quentin Tarantino on Django Unchained.
Justified airs on Tuesdays at 10pm on FX Read more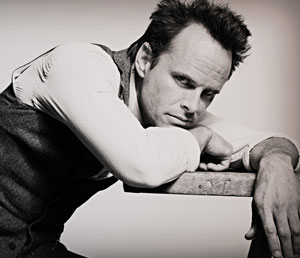 At the end of the day, Walton Goggins knows he's lucky.  He has a choice role on FX's Justified and has had the spare time to pop up in award-winning movies like Django Unchained and Lincoln.
"Yeah, I have good management and a lot of kind people on Justified who try to accommodate these other things," he said in an interview with HollywoodandFine.com.  "It's so nice to leave Harlan County and go into other worlds that come along.  To go into the world of Quentin Tarantino and Steven Spielberg is kind of mind-bending."
Goggins is certainly enjoying his time playing Boyd Crowder on Justified—a role that was supposed to be killed off in the first season.  "I love my day job with Boyd Crowder and the relationships on that show," the 41-year-old said.  "I'm very grateful for this season."  Read more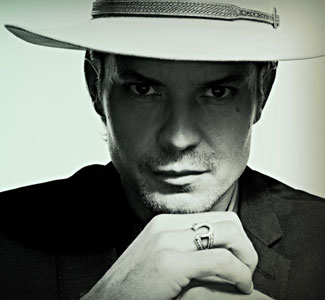 Timothy Olyphant is one of those actors who I love to watch. Whether he's playing a good guy or a bad guy, I just plain enjoy his work; you never really know what his characters are going to do and his choices are always interesting.
Olyphant is back for season 4 of FX's Justified where he plays Deputy US Marshall Raylan Givens and if you've watched the first couple episodes of the new season, you know that we're going to be in for a great ride.
In this recent conference call Q & A, Olyphant, who also serves as the co-executive producer on the show, talks about the season, working on the show and why Raylan doesn't have much of an accent.
Justified airs on Tuesdays at 10 on FX Read more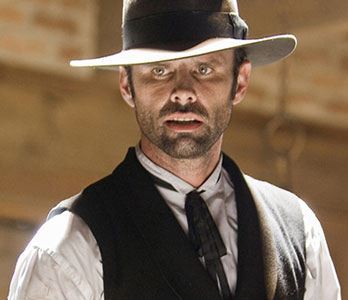 Walton Goggins is best known for playing bad guys, like Justified's Boyd Crowder and The Shield's Shane Vendrell, but the actor doesn't want everyone to think he's some sort of criminal.
"Well, hopefully I don't have to prove it, because I don't think I'm a terrible person.  So hopefully it just takes a couple of minutes talking to me to see that I'm not that guy," the actor said.
Goggins (with arguably one of the best names in show biz right now) is currently appearing in Quentin Tarantino's Django Unchained.  Although Goggins hadn't worked with the famous director before, he developed a method in order to get acquainted with Tarantino's set.
"Whenever you show up on a set where you haven't been from the beginning—at least myself—I'm kind of quiet," Goggins told Interview.  "I just watch the politics and how everything unfolds.  It's kind of like going to a new high school.  You want to see who everyone is before you introduce yourself, really, to kind of make friends.  I think any smart person does that in social situations.  So I just kind of watched, and listened." Read more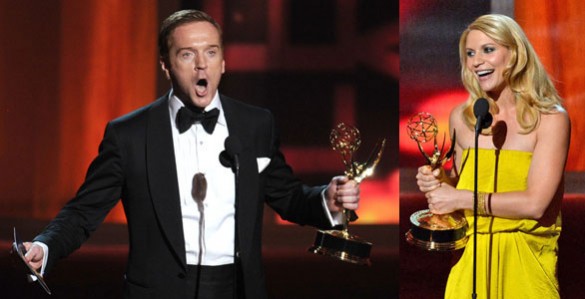 Outstanding Drama
Winner: "Homeland"

"Boardwalk Empire"

"Breaking Bad"
"Downton Abbey"

"Game of Thrones"

"Mad Men"
Outstanding Actress In A Drama
Winner: Claire Danes, "Homeland"

Kathy Bates, "Harry's Law"

Glenn Close, "Damages"

Michelle Dockery, "Downton Abbey"

Julianna Margulies, "The Good Wife"

Elisabeth Moss, "Mad Men"  Read more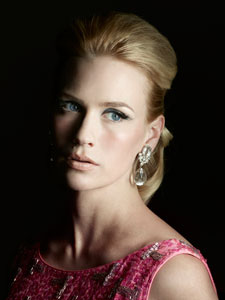 Betty Draper isn't often in the discussion when the topic turns to "favorite Mad Men character," but actress January Jones makes a pretty good case for why her character appears to be so cold-hearted on AMC's hit period drama, which returns for it fifth season this Sunday, March 25.
"I find myself defending her a lot more often, just because people are pretty hard on her lately," the 34-year-old said in a recent interview. "All of her actions are justified. Her husband's cheating on her, and then she finds out that he's not who he says he is. That probably warrants a divorce."
Viewers did witness Betty's ex-husband, advertising executive and series protagonist Don Draper, stray from his marital vows multiple times throughout the '60s drama's first four seasons, but what about that episode where she slaps her 12-year-old daughter? Read more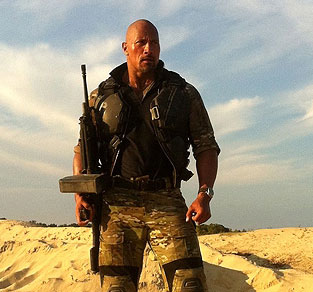 When you watch this, does Bruce Willis look like he's in a different movie?
G.I. Joe: Retaliation: The G.I. Joe team faces off against Zartan, his accomplices, and the world leaders he has under his influence.
Cast: Dwayne Johnson, Channing Tatum, Bruce Willis, Adrianne Palicki, D.J. Cotrona, Byung-hun Lee, Ray Park, RZA, Joseph Mazzello, Elodie Yung, and Walton Goggins
Director: Jon M. Chu
In Theaters: June 29th, 2012 Read more
Podcast: Play in new window | Download (Duration: 11:33 — 7.9MB)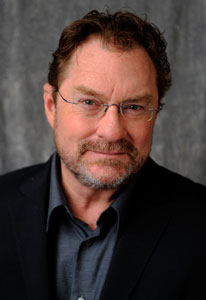 If someone asked you to name your Top 5 favorite character actors and Stephen Root isn't on that list, then something is wrong with you.
My keyboard would explode from typing too much if I started to list his credits, but from roles in films like O Brother, Where Art Thou?, Dodgeball, and of course, Office Space, he has never turned in a bad performance. As I told him in the interview, every time he's on screen he is just so interesting to watch.
In this week's episode of Fringe, Stephen and his wife, Romy Rosemont, guest star as a couple  who may have answers to the team's investigation of time loop anomalies.
I got a chance to talk to Stephen about working with his wife for the first time, choosing his roles, how his Shakespeare training helped him when he played a Klingon and more.
Fringe airs tonight at 9/8c on FOX
For the full interview, click the audio link above or download it from iTunes
I walked past you at Actorfest last weekend.
Stephen Root: Yes, I was happy to do that. It's always good to come and tell your horror stories to the younger actors and tell them not to do it unless they really love it.
I was going to ask you, I'm sure you said this there, but what's your advice to actors?
Stephen Root: That you shouldn't be doing it unless you have to do it, not to do it because you think it would be cool, or you think you're going to make a lot of money, but because this is an artistic expression of yourself that you have to do.
You have to be able to stick it out for a number of years. It's a hard thing. I think probably determination is the greatest thing and talent isn't. I've seen a lot of talented people go by the wayside who couldn't stick out the day-to-day. It's determination and guts and luck—have a lot more to do with it than anything else.  Read more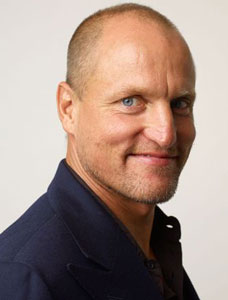 Woody Harrelson has gone from 1980s sitcom star in Cheers to 1990s Hollywood bad boy in films like Natural Born Killers and The People vs. Larry Flynt, to… well, what could you define Harrelson's career as now?  In 2009 alone he acted in a major blockbuster (Zombieland) and in a film that didn't do much business but was a critical favorite, earning him an Oscar Nomination for Best Supporting Actor (The Messenger). 
In fact, Harrelson's current career seems to be one of contradictions, with him re-teaming with The Messenger director Oren Moverman for Rampart, a film about corrupt Los Angeles police officer Dave Brown during the 1990s Rampart scandal.   And while Harrelson's career might not be following a typical trajectory, according to an interview with the The New York Times, that's fine by him.
The irony, of course, is that Harrelson is not exactly the biggest fan of law enforcement: he's had run-ins with the law over his advocacy for marijuana law reform (in fact he conducted this interview while in Amsterdam and sampling the local, well, stuff) and environmental causes, and his father was convicted for a contract killing of a federal judge.  Though one would imagine Harrelson would relish playing the part of a crooked cop, he admits he came out of it with a new respect for law enforcement, explaining, "It was hard for me to believe I could even play a cop.  I remember the first day on the set and getting a picture taken in the uniform and looking at that picture and not believing it, whereas Oren looked at it and said, 'Yes!'  It helped that I spent time riding with two really good L.A. cops and was able to see the humanity in what they do."   Read more