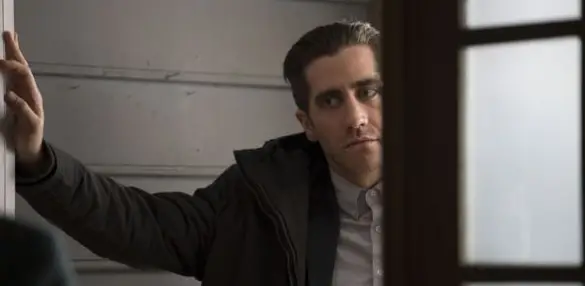 With the Oscars less than two weeks away, Hollywood is focused on will walk away with that statuette on March 2. In this strong acting year though, there were many snubs on the Oscar nominations list. Jake Gyllenhaal was one of those actors.
His work as Detective Loki in Prisoners was critically acclaimed by film reviewers, but somehow voters at the Academy missed honoring his stellar turn. The 33-year-old actor talked with HuffPost Entertainment about the slight.
He took it all in stride by explaining, "People have been really, really complimentary and very kind in talking about that character. At this point, I'm just happy to be able to keep working — to be able to do those things." Read more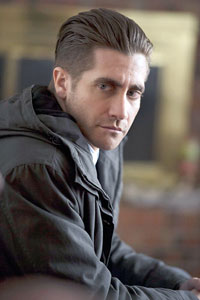 Jake Gyllenhaal is taking his career to the next level. After suffering a few setbacks with films like Prince of Persia, the 32-year-old actor is hitting a new stride with this year's Prisoners and the upcoming film Nightcrawler.
He talked with NPR about how he's changed up his career in some interesting ways.
Gyllenhaal shared, "I've sort of approached my work in a different way recently, in the past few years, which basically means I've spent, probably, about six or seven months preparing for each role…One role blends into the next role. I mean there's strange idiosyncrasies from roles that I play that I picked up that will never go away."
He points out how his 2013 role in Prisoners stuck with him in some unique ways. Read more
The Hollywood Reporter brought together possible Oscar contenders Jake Gyllenhaal (Prisoners), Forest Whitaker (Lee Daniels' The Butler), Matthew McConaughey (Dallas Buyers Club), Jared Leto (Dallas Buyers Club), Josh Brolin (Labor Day) and Michael B. Jordan (Fruitvale Station) in a fantastic roundtable interview you should definitely watch.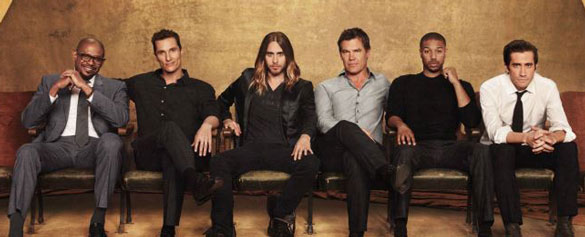 Some of the things they talk about:
* Who doesn't watch their own movies
* What types of fears they have when taking on a role
* Jared Leto talks about a really horrible audition for a Terrance Malick film
* Have they ever thought of quitting acting?
* The biggest lie's they've told directors
* Jake Gyllenhaal's awful audition for The Hobbit
….and a lot more! It's almost an hour long but I promise you you'll get so much from it.
Check it out below! Read more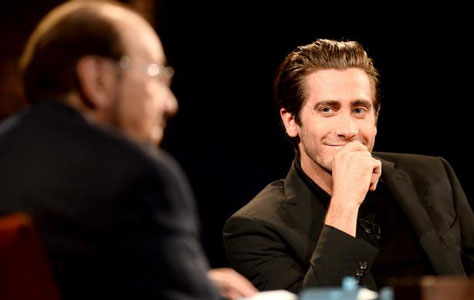 Jake Gyllenhaal will appear on Inside the Actors Studio this Thursday, September 19th. 
Gyllenhaal has won a BAFTA award and been nominated for an Academy Award, a Screen Actors Guild award and a Golden Globe award. Gyllenhaal has starred in such varied films as "Brokeback Mountain," "October Sky," "Donnie Darko," "End of Watch" and his upcoming movie "Prisoners."
In the episode, Gyllenhaal opens up about being raised in a Hollywood family and working with starlets like Anne Hathaway. James Lipton leaves no stone unturned as he asks Gyllenhaal everything from the personal details of his Bar Mitzvah, to his improvisational talents, to his relationship with "Brokeback Mountain" co-star Heath Ledger. Read more
After accepting her body image issues, actress Annie Funke has landed in the arms of Jake Gyllenhaal (well, as his costar) in the Off-Broadway production of If There Is I Haven't Found It Yet.
"He's told me a few times, 'When we go out there, whatever happens, we have each other's back in this,'" Funke told The New York Post.
The actress, who has long struggled with her weight, admitted to being bullied when she was younger.  "There's a pressure to be thin, in Hollywood and everywhere," Funke said.  "I've been on every fad diet and my weight goes up and down, and I spent so much of my life wishing I'd fit into a size ten.  But my journey's been the opposite.  The weight's actually been a blessing!"
After appearing as an understudy for Tracy Turnblad in Haispray, Funke lost more than 60 pounds.  "It was really interesting to try to find work in a new type," she said.  "In fact, it was a struggle, so I've since put some of the weight back on." Read more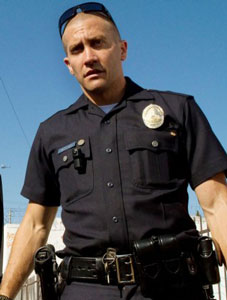 Jake Gyllenhaal took his role as a police officer in End of Watch extremely seriously, getting hands-on training and experience for his part.
Gyllenhaal shot his own scenes with a handheld camera every day for the first person point-of-view for the film.  "We went on ride-alongs for five months, two to three times a week with the LAPD and sheriff's department and Inglewood PD," the actor told Moviefone. 
"We would work with them from about 4 p.m. to about four or five in the morning.  Then we did tactical training about two or three times a week with live ammunition and training exercises, then fight training almost every morning with [director] Dave Ayer's best friend, who has a dojo, getting the crap beat out of us by 14 to 20-year-old kids," he said.  "That coupled with rehearsing on our time off and just spending time with [costar] Mike [Pena] out of work and getting to know each other." Read more
Jake Gyllenhaal is taking a step away from film projects to star in the stage production of Roundabout Theatre Company's, If There Is I Haven't Found It Yet. 
In the show, the actor plays a man named Uncle Terry, 'a heartbroken drifter with the mouth of a sailor.' "The intentions of Terry are very different from anything I've played before, especially his vicious side," Gyllenhaal noted.  "It intrigued me so much, and that was the sign.  I want to come home at the end of the day and be wiped out and feel I've torn my heart out from acting and feel fulfilled.  At this point I don't have the desire to do anything other than projects that make me feel this way."
"I wasn't really listening to myself about the kinds of projects I wanted to do," he told The New York Times.  "I had to figure out what kind of an actor I wanted to be and feel confident going for that." Read more
Jake Gyllenhaal, currently in previews for Roundabout Theatre Company's, If There Is I Haven't Found It Yet, says that versatility is what fuels his acting.
"Variation keeps me inspired," he told BroadwayWorld.com.  "I always like finding roles that are different from the one I played before.  And I love playing intentions in scenes differently every night on stage and in every take on a movie.  I always try and challenge myself and surprise my fans.  It makes it fun for everyone."
Although Gyllenhaal has a lot of experience, he is still deferential towards the director of each project he's involved with.  "The director is the leader, and I'm not sure that I would say it's about collaboration," he said.  "It's ultimately about trying to service his or her vision.  If I have an idea, I will always share it—I'm not shy.  I don't believe in a dictatorship, but in the end it's the director's decision as to what will be suitable to their production.  I like a director who has a clear and simple sense of what they want to say.  When dealing with something as complicated as family drama, it takes great intelligence to make things clear and simple for an audience." Read more
Anna Kendrick admits to being an animation geek.  So it's easy to see why the actress was so excited to get the part in the upcoming film, ParaNorman. 
In an interview with NBC, Kendrick said, "I genuinely love the art form.  And I think some of the best storytelling takes place in animation, because they have the luxury of the time to kind of workshop through it.  With film sometimes you just get what you got.  And you've got to edit it the best that you can.  And it seems like some of the best storytelling comes through that workshopping process of seeing how the storyboards are coming together and what it actually sounds like once you hear it out loud.  So I'm just happy to be a part of this."
ParaNorman tells the story of a young boy who has to save his town from supernatural forces.  Kendrick plays the boy's older sister.  "I'd always wanted to do an animated film, so I jumped at the opportunity," she said.  "This is my first one.  I was really nervous because I'm not great at ADR [Automated Dialog Replacement or looping], so I wasn't sure how this was going to be.  But, it was, actually really, really freeing.  In ADR, you're watching your own movie and trying to say your line.  In this, I just felt like it was a really safe space, and it was okay to make really ugly faces and really ugly body gestures.  To use all those things as tools was really helpful.  To not be self-conscious about the way you look on camera helps the intention to be really pure." Read more
New Girl actor Jake Johnson has had a major shift in his career after making his debut on the FOX sitcom as Nick Miller.  He also stars in the much-talked about indie film Safety Not Guaranteed, in which he takes on a dramatic role.
Johnson talked to NBC New York about the changes in his career.  He said, "It's been a crazy year, yeah.  Since it started, I shot the New Girl pilot, and then I forgot about the pilot because I viewed the pilot as an eight-day independent movie, that we were making a long short.  Then I was in Seattle for Safety Not Guaranteed—I knew I was going to do 21 Jump Street after, and so I thought, 'Well, I have my summer planned.  I'll go home for a while, relax a bit and figure out the fall and or winter.'  My wife came and visited me.  We were at the hotel, relaxing, and I actually checked 'Deadline Hollywood.'  I got on and it said 'New Girl has been picked up to series.'  I didn't get the call from the agents or anything, and then I thought, 'New Girl has been picked up to series?  Weird.'  Then I got a call and everyone called, and they said, 'You're going to Up Fronts in two weeks.'  That was the beginning of my life being different." Read more