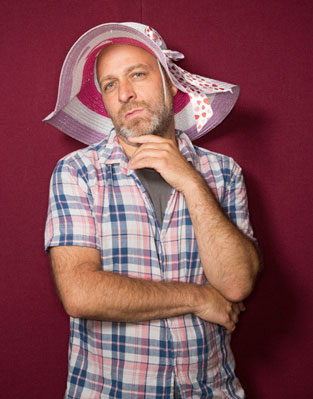 Archer had its fifth season premiere last night and if you were able to check it out, you were treated to some huge twists. I won't post any spoilers for those of you who haven't watched it yet, but if you're a fan of the show, I'm betting you'll love it.
Recently, H. Jon Benjamin, who voices the super-spy, and FX had a conference call to talk about the crazy upcoming season. Jon also talks about his voice-over work, acting, Bobs Burger's and the possibility of more Archer live shows!
Check out our Archer interviews from this summer's Comic-Con!
Archer airs on Mondays at 10pm on FX. Read more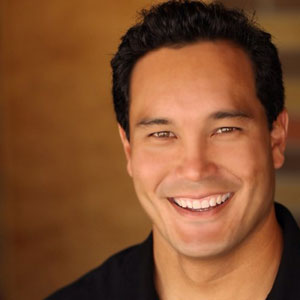 By Scott McMahon
BACKGROUND
For any actor wanting to work in television, the normal progression of things is to get your feet wet by becoming an extra or background actor.  These are the actors who fill in the background of a scene to make the whole experience seem more believable.  These are the actors with no lines.
Now, there are times when working as a background actor, you can get bumped up to a "Featured Extra", which means your beautiful mug is prominently featured on screen next to the actor who does have a speaking role.  Working a day as a Featured Actor will give you a little more screen time and a tiny bump in pay from what a standard background actor earns. Read more

Every year The Broadway League releases figures regarding the demographics of Broadway attendance, and though the stats don't usually fluctuate greatly from year to year there is always some interesting information to glean from the annual reports. Today The Broadway League released figures for the 2012-2013 season, which is mostly good news all around, except that everyone is paying more for tickets. Read more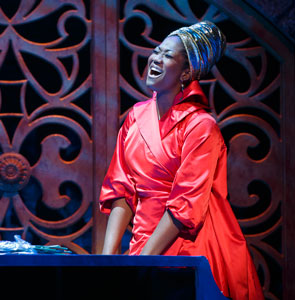 When artists say they will do what it takes to get the job, most actors are talking about being prepared in that audition room. For one Broadway star though, it meant leaving home, couch surfing and a bout of homelessness.
Amber Iman just made her Broadway debut playing legendary jazz singer Nina Simone in Soul Doctor. However, getting to the Great White Way wasn't that easy.
After graduating with a musical theater degree from Howard University, Iman dismissed moving to New York because fellow alumni who made the move before her "ended up working at Starbucks!" Read more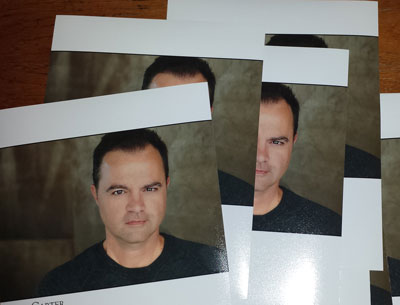 You found the perfect headshot photographer, had a terrific shoot and now you need to get them printed.
Where should you go with so many options available?
Most headshot photographers will have their "go to" printers. Sometimes that printer will give you a discount (which is always a good thing) and other times you're at the mercy of their pricing. Usually these places are fine and I've always stayed with the photographers choice (at least on the 1st printing), mostly because I'm a bit lazy and didn't want to deal with the hassle of getting the proofs and moving them elsewhere.
But when you do have a choice, where should you go? What are the best places to go for headshot printing?
Here are the best places to get your headshots, postcards and other acting materials printed.
FYI, I haven't used all of these headshot printers listed. The ones I haven't used were recommended by other actors and readers of Daily Actor.
Los Angeles
Argentum Photo Lab - 6550 Sunset Blvd., Hollywood, CA 90028 (323) 461-2775
This is my go to spot for all of my headshot needs. I've been going there for years and they always have a great, friendly group of people working behind the counter. I've also had great success in uploading my headshots or postcards and having them either re-touch or make copies for me. Every February, they have a 2-for-1 headshot printing special. We also have a special discount code for 20% off! Use 'ARG20′
Fotek Photo Lab – 7243 Santa Monica Bivd, West Hollywood, CA 90046 (323)512-0274
If you want truly personalized service, Fotek is the place. Jim, the owner, is honestly one of the nicest people you'll ever meet. You can't go wrong here because they do quality work.
ISGO Photo Lab – 257 S Lake St., Burbank CA 91502
I've used there services before when I first moved to LA. They did fine work and are still one of the best around.
Reproductions – 3499 Cahuenga Boulevard West, Los Angeles, CA 90068 (323)845.9595
Prints Charm'n – 1657 Sawtelle Blvd., Los Angeles, CA 90025 (310) 312 – 0904
11020 Ventura Blvd., Studio City, CA 91604 (818) 753 – 9055
New York City
Modernage – 555 Eighth Avenue, Suite 2003 NY, NY 10018 (212) 997-1800
Reproductions – 70 West 40th St., 3rd Fl., New York, NY 10018 646.502.3700
Most of the companies listed above have an option to upload a digital copy of your headshot and then you can get either proofs, retouching or actual prints of your picture. If you're like me (incredibly lazy) and don't feel like driving this is a Godsend. It's even better for people who live out of the Los Angeles/New York markets.
Like I said, there are dozens of places you can get your headshot printed but the above companies represent the ones that I know are the best; the best in quality, price and customer service.
If we're missing a company or one of your favorites aren't listed, please let me know!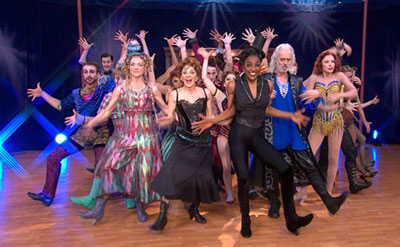 The cast of Pippin, including Patina Miller,
Andrea Martin and Terrence Mann, performed "Corner of the Sky" and "Magic to Do" on ABC's Good Morning, America, last week.
The revival was recently nominated for 10 Tony Awards including Best Revival of a Musical, Best Performance by an Actress in a Leading Role in a Musical (Miller), Best Performance by an Actor in a Featured Role in a Musical (Mann) and Best Performance by an Actress in a Featured Role in a Musical (Martin).
Pippin is now playing at the Music Box Theatre (239 West 45th Street).
Check it out below! Read more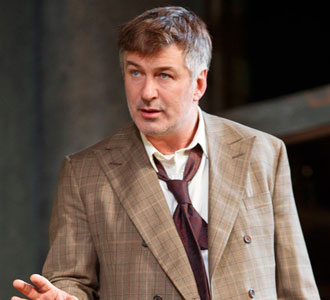 It was certainly an unexpected announcement that Orphans, starring Alec Baldwin, would be closing on Broadway on May 19, several weeks before its originally scheduled closing on June 30.  Baldwin took the opportunity to provide some explanation for the closing in one of his columns for The Huffington Post.  It's curious to see exactly what Baldwin — who has never been shy about saying his piece (for good or for bad) — blames for the play's early closing.
Baldwin compares the experience on Orphans to what he calls his last role in a "legit" Broadway play, A Streetcar Named Desire in 1992.  Baldwin points out that during that production any bad publicity having to do with arguments or fights was swept under the rug by the producers.  He writes, "Bad press about films or shows of any kind can negatively affect your chances. The opportunity to influence an audience through any kind of well-conceived or well-timed ad campaign is lost. First impressions do count. If 'trouble' is that first impression, it's difficult to swim out of that riptide." Read more
Jennifer Lawrence, Best Actress winner for Silver Linings Playbook

Oscar speech: "Thank you. You guys are just standing up because you feel bad that I fell and that's really embarrassing but thank you. This is nuts. Thank you to the Academy and thank you to the women this year. You were so magnificent and so inspiring and not just those of you in my category. And it's been so amazing getting to know you and you've been so nice and you've made this experience unforgettable. And thank you to the best producing team: Bruce, Donna, Jon and to my team at CAA and IDPR. And Bradley, and our entire cast: Chris, Jacki, Bob and our crew. My family. Happy birthday, Emmanuelle. Thank you so much. Thanks." Read more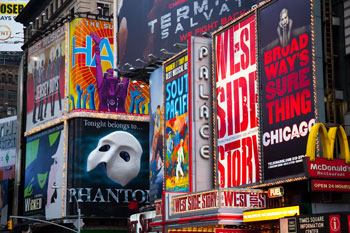 There is a lot of pretty good news for Broadway in the Broadway League's annual "Demographics of Broadway" report for the 2011-2012 season.
While attendance was slightly down versus the 2010-2011 season (12.33 million vs. 12.54 million), grosses were the highest ever in Broadway history, rising to $1.139 billion from last season's previous record of $1.08 billion.  Of course, this also means that unfortunately average ticket prices continued to rise, with this season's average ticket price rising to $92.37 from last season's previous record of $86.21. 
In addition, Broadway remains to grow as a tourist destination, with tourists making up 63.4% of the record 12.3 million people who attended Broadway shows this season (up from last season's 61.7%).  Of that, 18.4% were from visitors from other countries. Read more
It seems Olivia Wilde hasn't always been a pro at dressing sexy.  When the actress was just starting out in the industry, she was working as an assistant for casting director, Mali Finn.
Wilde saw Finn dismiss an actress after she came to an audition wearing skimpy clothes.  "I remember an actress coming in wearing a too-short dress," Wilde said at a Marie Claire "The Power of Presence" event, according to Starpulse. "After she left, Mali said, 'Why was she wearing that dress?  She's a joke, I'm not meeting with her ever again.'  And this girl was never heard from again."
"A few days later, I was going for an audition and I was wearing this huge cashmere turtleneck and pants, thinking I looked very 'executive.'  As I was walking out of the office, Mali said, 'Olivia, what are you wearing?'  I said I was going to a meeting, and she said, 'Oh!  You can't wear that!  You have to wear something tight and sexy.'" Read more