Podcast: Play in new window | Download (Duration: 16:54 — 11.6MB)
Josh Barrett and Marc Menchaca are two actors who are doing things right. They're not waiting for someone – their agents, managers, whoever – to call them. They took their careers into their own hands and made a really nice film called, This Is Where We Live.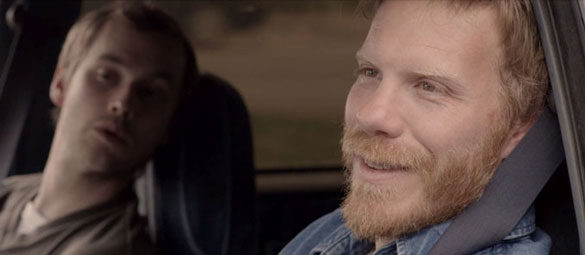 Josh and Marc met and became friends while they were filming HBO's Generation Kill in Africa. When that ended, they kept in touch, helping each and with auditions. But, with acting not the most secure business in the world, they both separately branched out and started writing and directing. Marc eventually wrote the script for This Is Where We Live, contacted Josh and the two decided to go all in and make the film. They would end up co-directing and Marc would be the star.
The film, which screened at SXSW, is set in Texas and has Marc playing Noah, a local handyman. He's hired by a family to build a wheelchair ramp for the families son, August (Tobias Segal), who has cerebral palsy. Noah and August form a bond and from that, lives are changed. The writing is great, the actors are pretty damn perfect and as directors, Marc and Josh definitely have a bright future. Check it out if you get a chance.
I talked to both Marc and Josh after SXSW ended about why they decided to grab the reigns of their careers as they put it and make the film. We also talked about how co-directing worked, directing the actors and their advice to others who want more out of their careers.
 For the full interview, click the audio link above or download it from iTunes  Read more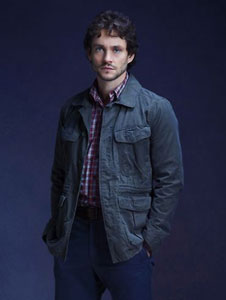 In case you were wondering, NBC's Hannibal is really good.
The show, from Bryan Fuller (Pushing Daisies), is based on characters from Thomas Harris's novels (Silence of the Lambs, Red Dragon) and gives it the prequel treatment. It tells the story of Will Graham (Hugh Dancy), a gifted criminal profiler who is on the hunt for a serial killer with the FBI. Graham's got a… unique way of thinking. That thinking gives him the ability to empathize with anyone – even psychopaths. But when the killer he's hunting is too twisted for even him, he enlists the help of Dr. Hannibal Lecter (Mads Mikkelsen), and the two form an unlikely partnership.
I saw Hugh Dancy when he was starring in Venus in Fur on Broadway and holy crap he was fantastic. He and Nina Arianda were on-stage for 90 minutes and they could have gone on for 90 more, that's how much I loved it. He's equally as good here as Will Graham. He's sedate and almost House-like in his portrayal and his version of the character absolutely works in this new world of Hannibal.
Dancy and Bryan Fuller held a conference call recently where they talked about the challenges of bringing Hannibal to TV, how Hugh deals with the dark subject matter, what led him to the role and the challenges of making the character his own.
Hannibal airs on Thursdays at 10pm on NBC Read more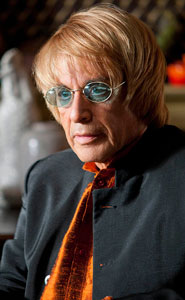 It's no secret that Al Pacino's best work in recent years has been on television.  While his recent films have been awful to mildly disappointing, he has won Emmys for his roles in Angels in America and You Don't Know Jack.  In his latest TV movie, Pacino takes on another controversial figure, Phil Spector, the famed music producer known for his "Wall of Sound" technique who was later convicted of murder.  Written and directed by Pacino's past collaborator David Mamet, Phil Spector features Pacino in perhaps the perfect role for the loud, aggressive latter-day Pacino.   He spoke to The New York Post about the role and what interested him about it.
During his murder trial, there was more talk about Spector's ridiculous hairpieces that he wore in court than the actual trial itself.  Pacino says that acting as Spector was so much based on the feeling he got while wearing the assortment of wigs.  He says, "You put one of those things on, you don't have to play anything. Let the wig act for you.  Every day was a good wig day for me." Read more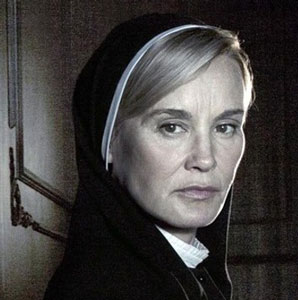 The sophomore season of FX's hit show, American Horror Story: Asylum has had a major turning point plot-wise and has seen its star, Jessica Lange, go from playing a take-no-crap nun to mental patient. Lange has been so good in the series that she was nominated for a Golden Globe and SAG Award and if you've seen her work on the show, you'll know that she absolutely deserves it.
The Oscar, Emmy and Golden Globe winning actress recently did a Q&A for the show and she mentioned how she loves creator Ryan Murphy's approach to the series. "I think what Ryan had in mind is this kind of Mercury Theatre, this idea of having a repertory company and moving them from one project to another, and there's something kind of great about that, watching these actors come in and create a different character." She said that she is really enjoying the chance its given her o create a new characters and that her time on the show has made her "a better actor."
In the interview, Lange talks about acting on the show, not knowing her character arc in advance and how she's surprised that young actors don't know film history.
American Horror Story: Asylum airs at 10pm on FX Read more
Jessica Chastain has just earned her second Oscar nomination for her role in the terrorist drama, Zero Dark Thirty.  The actress, previously nominated for her role in last year's The Help, became fully immersed in her role as a CIA agent in the film.
"I asked [screenwriter Mark Boal] a lot of questions about the CIA, about the woman, everything about the scenes…You don't think there are that many questions but there are thousands that come up," Chastain said in an interview with The Wall Street Journal.  "I read The Looming Tower by Lawrence Wright.  Michael Scheuer's book, Osama bin Laden, which I found to be fantastic.  I learned so much about him which I could never have learned from reading articles or following regular news.  Then I had to use my imagination to fill in the blanks of what I couldn't find in the research about this woman." Read more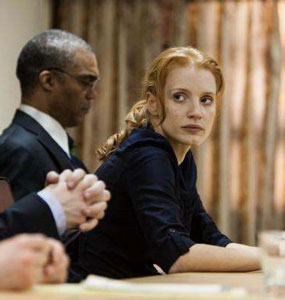 I don't think any actress has had the rapid career trajectory of Jessica Chastain — in 2010 she was a virtual unknown, and in a few weeks she will likely be nominated for an Oscar for the second consecutive year. She's already been nominated for many other awards for Zero Dark Thirty, in which she stars as a CIA operative named Maya who was instrumental in locating Osama bin Laden's hiding place. vulnerable
In a conversation with The Hollywood Reporter, Chastain spoke about the difficulties of playing an individual with such a stoic nature and whose real-life identity remains unknown.
The film opens with a scene in which a member of al-Qaida is waterboarded and abused in order to reveal information. Chastain's character is in the scene observing the interrogation. Read more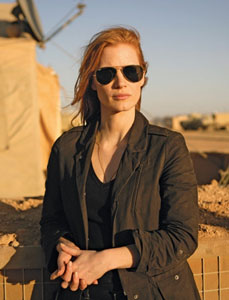 Even though Jessica Chastain is portraying a real person in the new film, Zero Dark Thirty, she didn't have the opportunity to meet her.
"I never met Maya, because she's an undercover CIA agent—it would not have been a good thing to do," Chastain told Movieline. "I had to approach [the role] like any other character I've played.  [When there were] questions that I couldn't answer through the research, I had to use my imagination, [director] Kathryn [Bigelow]'s imagination and Mark [Boal, the screenwriter] to create a character that went along the lines that respected the real woman."
The film centers around the CIA operative's search for Osama bin Laden in Iraq, but was filmed in Jordan and India.  While shooting, Chastain helped remain in the right frame of mind by focusing on her character.  "I had the props person print out all of the photographs of the terrorists and I hung them in my room at the hotel," she mentioned.  "So even when I'd come home from the set, they were always around me." Read more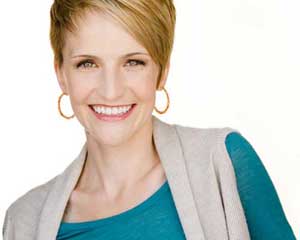 Written by Dallas Travers, CEC
We've all done it or heard about it: the mass mailing. But something is essentially wrong with that statement. Why would you market yourself, your art, your career to the "masses"? That's setting yourself up to be the needle in the haystack for someone to find. 
So instead, you decide who you want to work with and ask them to collaborate by reaching out through creative marketing. Why wait for them to approach you? You can be strategic about the kind of work you want to do and with whom right now. 
Move away from marketing to the masses and instead market to one person. One person you want to touch with your work. One person you know will become a fan. Sound insane? It's not. It's the smartest marketing move you'll ever make.
When you move away from looking inward and focus on connecting to just one specific person, it will create a HUGE shift in how you market. It will take the burden off you and place it instead onto who you want to move with your work: your "Marketing Magnet". You attract them… like a magnet. Get it? Read more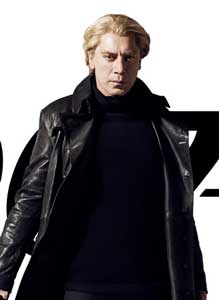 It's true Javier Bardem makes a killer villain, pun intended. Just check out his past Oscar-winning role in No Country for Old Men. In the new James Bond film, Skyfall, Bardem brings his acting chops to a role that has some surprisingly funny moments.
Bardem told Moviefone the cast didn't realize they were providing some comedic relief alongside the gun fights and explosions. "The thing is, the material is there, the lines are there, but things have to happen on the set and that's why Sam Mendes is who he is," Bardem said. "He [put] the actors on the right track and we worked the same scenes from different angles and colors and options…We really messed it up to a point where I thought many times that we were like an independent, small-budget movie by the way we were working so close to the joy of performing." Read more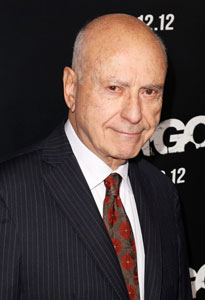 Alan Arkin knows more than most about how bizarre Hollywood can be.  The Oscar-winner has been in the business for decades, which made him uniquely able to effectively play movie producer Lester Siegel in the new film Argo.
"The people involved with it don't find [Hollywood] absurd," he said in an interview with Moviefone.  "I was just reading it as business as usual.  That's the way things are.  [Hollywood's] crazy, but I don't think any crazier than what goes on in politics or a lot of other businesses."
Argo is based on a true story about a decoy film production that was arranged to help rescue kidnap victims during the Iranian Hostage Crisis.  Several of the characters were based on real people.  Arkin thought his character was "and then I found out it was a composite of about three or four different people, which made it very, very hard to play.  Playing four people at the same time is not an easy job."  Arkin was not told which people his character was drawn from, so "I just used my imagination," he said. Read more