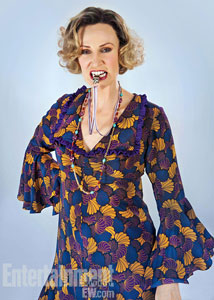 Though Jane Lynch has already admitted that she is scared about making her Broadway musical debut as Miss Hannigan in Annie this Wednesday, she confessed to The New York Post that she secretly always wanted to do the role.
She points out, "I used to have a list of things I wanted to do and Miss Hannigan was one of them." 
However, Lynch had never seen a production of the musical until this January and she has never seen the 1982 movie adaptation.  So when she talks about what made her always want to the role, she reveals that it was a result of her love for the 1977 original cast album, which featured Dorothy Loudon as Miss Hannigan.  She clarifies, "I know the soundtrack of course — every breath of it!  And I don't know if I ever had the cojones to say that I wanted to play this role on Broadway, but I've always wanted to do musicals." Read more
The current production of Annie on Broadway made a surprise announcement late last month that will surely lead to sellout audiences –  Glee star Jane Lynch will star as Miss Hannigan in an eight-week run from Thursday, May 16 through Sunday, July 14.  In an appearance on Gwissues, Lynch spoke about her brief flirtation with Broadway several years ago and being terrified about making her Broadway debut.
Lynch actually pointed out an interesting history between her and the actress she will be replacing, Katie Finneran.  She explains, "You know, I did Nora Ephron's Love, Loss and What I Wore a couple years ago and that was a reading where you're sitting on your butt the whole time, you know, reading from a script. I'm playing Miss Hannigan in Annie, taking over for Katie Finneran. Huge shoes to fill. She's an amazing, amazing actress. And ironically I took over for her on Love, Loss and What I Wore, too. So, I'm kind of following Katie Finneran around on Broadway." Read more
Jane Lynch will make her Broadway debut as Miss Hannigan in Annie. 
She's a veteran of Chicago's Steppenwolf Theatre Company and The Second City and will play the part for eight weeks only, from Thursday, May 16 through Sunday, July 14.
Lynch, who is currently starring on Glee, seems perfect for the part. It might actually make me curious to see the show with her in it.
"Some may say I know a thing or two about playing intimidating authority figures," Lynch said.  "So I am excited and honored to be making my Broadway debut with the wonderful Annie company at the Palace Theatre and joining the pantheon of women who have taken on the great and irresistible role of wicked Miss Hannigan."  Read more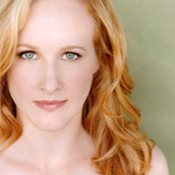 Although she's a Tony Award winning actress, Katie Finneran has had to work tremendously hard on her portrayal of Miss Hannigan in the new Broadway revival of Annie.
"The hardest thing in musical comedy is to be economical with my performance, to avoid being over-the-top for the sake of it," Finneran told The New York Times.  "I'm feeling more pressure about Annie than anything else I've done."
The director, James Lapine, and Finneran had many discussions about the best way to depict the orphanage manager as more than just a joke.  "James basically told me, 'Trust the story, and remember the subtlety we've worked on,'" the 41-year-old said.  "The show makes some sudden leaps in mood, but then again, it's based on a cartoon.  I think there's a chance here for me to show a subtler side of her, and a subtler side of myself to audiences—at least for those who think all I do is play silly dames." Read more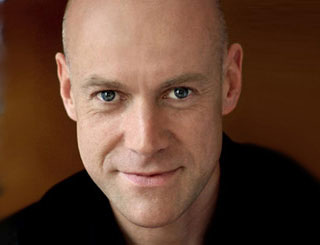 Anthony Warlow, who is being hailed as 'Australia's preeminent musical theatre and opera star' will make his Broadway debut as billionaire Daddy Warbucks in the new production of Annie. 
Warlow is currently playing Daddy Warbucks in the Australian production at Melbourne's Regent Theatre. 
"I'm having a great time playing Oliver Warbucks here in the Australian production and have always loved Broadway and New York City," Warlow said, "so I am delighted to finally make my Broadway debut at the great Palace Theatre and in the exciting new production of this wonderful musical.  I look forward to working with the talented James Lapine and his fantastic cast and creative team."
Warlow made his music debut with the Australian Opera at the age of 19 in Benjamin Britten's A Midsummer Night's Dream. Being awarded the Joan Sutherland Scholarship enabled him to further his career in opera, with roles in The Magic Flute, La Bohème, Tosca, Otello, The Tales of Hoffman (with Dame Joan Sutherland), Romeo and Juliet and Don Giovanni. Read more
Two-time Tony Award® winner Katie Finneran (Promises, Promises, Noises Off) will star as Miss Hannigan in the new production of Annie. 
"Miss Hannigan is one of the great musical comedy roles and I cannot wait to play her, in all of her deliciously evil glory," Finneran said.  "I played Hannigan in my parents' living room when I was eight years old and the chance to play her in this new Broadway production is a dream come true."
Eleven-year-old Lilla Crawford (Billy Elliot) will star as Annie, with Emily Rosenfeld as Molly, the littlest orphan; Tyrah Skye Odoms as Kate, the next-to-littlest orphan; Junah Jang as Tessie, the cry-baby orphan; Georgi James as Pepper, the toughest orphan; Madi Rae DiPietro as July, the quietest orphan and Taylor Richardson as Duffy, the biggest orphan.  Jaidyn Young will be the standby for the roles of Annie, Pepper, Duffy and July.  Richardson will understudy the role of Annie. Read more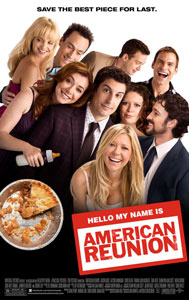 Here's a new red-band trailer, 5 clips and a featurette for American Reunion, which opens this weekend.
I loved the first one film – the 2nd, not so much. But, I think the cast works great together and they're like an old comfortable shoe that I can't wait to try on again.
American Reunion: It was summer 1999 when four small-town Michigan boys began a quest to lose their virginity. In the years that have passed, Jim and Michelle married while Kevin and Vicky said goodbye. Oz and Heather grew apart, but Finch still longs for Stifler's mom. Now these lifelong friends have come home as adults to reminisce about — and get inspired by — the hormonal teens they once were.
Director: Jon Hurwitz & Hayden Schlossberg
Cast: Jason Biggs, Alyson Hannigan, Chris Klein, Thomas Ian Nicholas, Tara Reid, Seann William Scott
In Theaters This Weekend Read more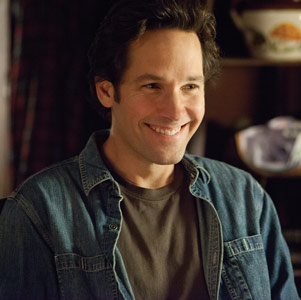 Paul Rudd recently completed production on This Is 40, in which he stars opposite Leslie Mann.  The film is an original comedy written, directed and produced by Judd Apatow that expands upon the story of Pete (Rudd) and Debbie (Mann), from Knocked Up, as we see firsthand how they are dealing with their current state of life.  Knocked Up grossed more than $300 million worldwide and won the People's Choice Award for Favorite Comedy Movie.  It was also nominated for a Critics' Choice Movie Award for Best Comedy Movie and was named one of AFI's top-ten Movies of the Year.  Universal Pictures will release This Is 40 on December 21, 2012.
Rudd was last seen in Jesse Peretz's Our Idiot Brother, opposite Elizabeth Banks, Zooey Deschanel, Emily Mortimer and Rashida Jones.  This film marks Rudd's second collaboration with Peretz having previously worked with him on The Château.  Our Idiot Brother premiered at the 2011 Sundance Film Festival and was released by The Weinstein Company. Read more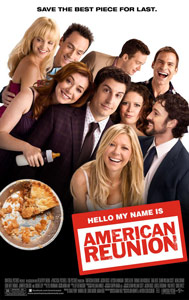 American Reunion: It was summer 1999 when four small-town Michigan boys began a quest to lose their virginity. In the years that have passed, Jim and Michelle married while Kevin and Vicky said goodbye. Oz and Heather grew apart, but Finch still longs for Stifler's mom. Now these lifelong friends have come home as adults to reminisce about — and get inspired by — the hormonal teens they once were.
Cast: Jason Biggs, Seann William Scott, Eugene Levy, Jennifer Coolidge, Mena Suvari, Chris Klein, Tara Reid, Thomas Ian Nicholas, Alyson Hannigan, Katrina Bowden, Shannon Elizabeth, Dania Ramirez, Natasha Lyonne
Directors: Jon Hurwitz and Hayden Schlossberg
In Theaters: April 6, 2012
Read more
Podcast: Play in new window | Download (Duration: 17:49 — 12.2MB)
John Cho is back in familiar territory as Harold in the hilarious A Very Harold and Kumar 3D Christmas. Set six years after Guantanamo Bay, we find that Harold and Kumar are no longer friends. Harold is working on Wall Street and married to his dream girl, Maria (Paula Garces) while Kumar (Kal Penn) has dropped out of Medical School and has just been told that his ex-girlfriend, Vanessa, is pregnant.
When a mysterious package addressed to Harold arrives at Kumar's door, the two are reluctantly reunited and unknowingly, begin yet another adventure.
I was laughing non-stop the whole time and with the 3D, you'll have things hurtling towards you that you'll thank yourself is only on the screen. You'll see Harold and Kumar in Claymation and even better, NPH himself. That's right, Neil Patrick Harris is back and this time he's doing an appropriately crude dance number. You'll love every minute of it.
The past couple of years, John has been on a roll. He played Sulu in Star Trek reboot (and its upcoming sequel), headlined ABC's Flash Forward and will next be seen in American Reunion (back again as MILF Guy #2) and Total Recall.
John in person is absolutely funny and doesn't seem at all like what he usually plays on screen – ok, maybe with the exception of MILF Guy #2. I got a chance to talk to him about the film, NPH, his worst audition and how he "stumbled into multiple franchises."
For the full interview, click the audio link above or download it from iTunes
Because you're so invested in these characters, now, do you have input like in the script or like what you think you're character should do?  How does that work?
John Cho: I remember discussing just throwing the ball around.  I might be misremembering this but…
You can make it up, that's fine. 
John Cho: [laughs] I might have mentioned to the writers something like, "Where do we go after Guantanamo Bay? What is the next step?" And we were all not sure whether we could keep doing that particular thing and so I was glad when the Christmas concept came through because it seemed in a way a radical move.  It was a departure and a good one, and a lot of things had happened between the second and the third one, in other people's lives and in our lives, and so it seemed appropriate to advance the ages of the characters and alter their life situations.  Read more