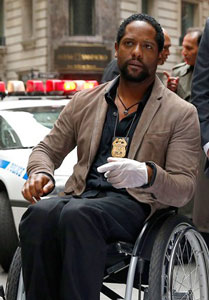 The television drama Ironside, which was about wheelchair-bound detective Robert T. Ironside, ran for eight seasons in the 1960s and 1970s and starred able bodied actor Raymond Burr.  NBC has decided to revive the series for the upcoming television series with one major change: Ironside will be played by an African American actor, Blair Underwood.  What hasn't changed?  Like Burr, Underwood is not disabled.  The decision to not cast a disabled actor in the role has made many disabled actors unhappy.
Kurt Yaeger, a one-legged actor on Sons of Anarchy is one of the loudest voices against the casting.  He points out, "This would be like being in the '50s and having a white guy do blackface, at this point.  You need to start having disabled people playing disabled characters. Period." Read more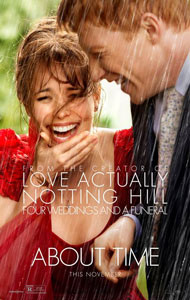 About Time: At the age of 21, Tim Lake (Domhnall Gleeson) discovers he can travel in time… 
The night after another unsatisfactory New Year party, Tim's father (Bill Nighy) tells his son that the men in his family have always had the ability to travel through time.  Tim can't change history, but he can change what happens and has happened in his own life—so he decides to make his world a better place…by getting a girlfriend.  Sadly, that turns out not to be as easy as you might think.
Moving from the Cornwall coast to London to train as a lawyer, Tim finally meets the beautiful but insecure Mary (Rachel McAdams).  They fall in love, then an unfortunate time-travel incident means he's never met her at all.  So they meet for the first time again—and again—but finally, after a lot of cunning time-traveling, he wins her heart.
About Time is a comedy about love and time travel, which discovers that, in the end, making the most of life may not need time travel at all.
Cast: Domhnall Gleeson, Rachel McAdams, Bill Nighy, Tom Hollander, Margot Robbie
Written and Directed by: Richard Curtis 
In Theaters: November 1, 2013 (Limited Engagements), November 8, 2013 (Wide) Read more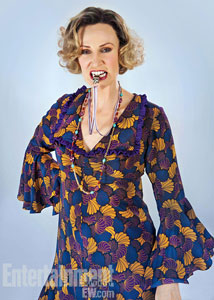 Though Jane Lynch has already admitted that she is scared about making her Broadway musical debut as Miss Hannigan in Annie this Wednesday, she confessed to The New York Post that she secretly always wanted to do the role.
She points out, "I used to have a list of things I wanted to do and Miss Hannigan was one of them." 
However, Lynch had never seen a production of the musical until this January and she has never seen the 1982 movie adaptation.  So when she talks about what made her always want to the role, she reveals that it was a result of her love for the 1977 original cast album, which featured Dorothy Loudon as Miss Hannigan.  She clarifies, "I know the soundtrack of course — every breath of it!  And I don't know if I ever had the cojones to say that I wanted to play this role on Broadway, but I've always wanted to do musicals." Read more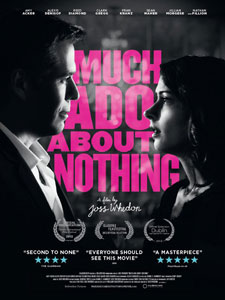 For all of you Joss Whedon lovers (and who isn't?), here is the full WonderCon panel for his new film, Much Ado About Nothing.
I'm not a huge Shakespeare fan but what Joss' done, at least judging from all of the clips they showed this past weekend, I'm definitely going to catch it. He's set it in modern day, is funny (very funny) and it looks like it's going to be assessable to a mass audience.
The arena was packed with fans and everyone on the panel was loving it. The panel featured Whedon, Clark Gregg, Romy Rosemont, Tom Lenk, Riki Lindhome, Jillian Morgese (who was basically an extra in The Avengers, met Joss and the rest is history) and a few more of the cast members.
The video is shaky and a bit grainy because I took it with my phone so sorry in advance. 
Check it out below!  Read more
The current production of Annie on Broadway made a surprise announcement late last month that will surely lead to sellout audiences –  Glee star Jane Lynch will star as Miss Hannigan in an eight-week run from Thursday, May 16 through Sunday, July 14.  In an appearance on Gwissues, Lynch spoke about her brief flirtation with Broadway several years ago and being terrified about making her Broadway debut.
Lynch actually pointed out an interesting history between her and the actress she will be replacing, Katie Finneran.  She explains, "You know, I did Nora Ephron's Love, Loss and What I Wore a couple years ago and that was a reading where you're sitting on your butt the whole time, you know, reading from a script. I'm playing Miss Hannigan in Annie, taking over for Katie Finneran. Huge shoes to fill. She's an amazing, amazing actress. And ironically I took over for her on Love, Loss and What I Wore, too. So, I'm kind of following Katie Finneran around on Broadway." Read more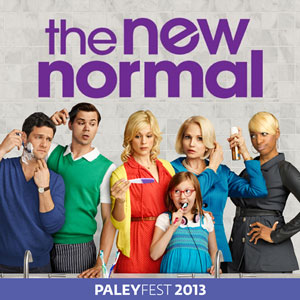 Ryan Murphy believes television can change the world. So, with the three shows he has on the air now (Glee, American Horror Story, The New Normal), Murphy is working to change people's perceptions about the status quo.
At the PaleyFest in Beverly Hills, television fans can gather to celebrate some of the best shows over the past year.  On Wednesday, the cast and creative team behind The New Normal gathered at the Saban Theater to discuss why the show means so much to modern audiences.
"People feel that they know gay couples more than ever," Murphy said, citing shows like The New Normal and Modern Family.  "If you know someone and you know what their struggle is, you're less likely to have prejudice against them.  [Gay rights] is the biggest civil rights movement of our time and the reason we've had the quick leap forward is because of television."
Murphy admitted that the show is loosely based on his own experience adopting a baby via surrogate with his partner, David.  Along with co-creator, Ali Adler, the two worked to create a show that would encompass "all our 'new normals'," Adler said.  "We wanted to address what's happening now." Read more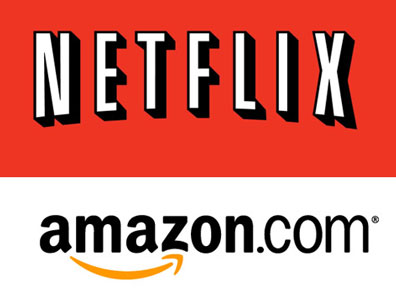 It's almost impossible to recall a time when there wasn't television channels that numbered into the thousands, but for many people who grew up with cable television the idea of having less than a dozen channels is a concept as foreign as a rotary phone.
But that generation will probably also recall that early stabs at internet video were shaky.  Slower internet speeds made video quality and resolution size major issues.  But now that a huge number of homes have cable modems or faster connections — many of which are provided by the television cable companies themselves alongside cable TV service — streaming digital quality have made those problems a distant memory.
So now that the internet can easily be used to stream movies and episodes of television series, many companies are skipping the middleman of television and going directly online with their content.  These not only benefit the consumer — more choices! — but also actors and creators — more work! Read more
Jane Lynch will make her Broadway debut as Miss Hannigan in Annie. 
She's a veteran of Chicago's Steppenwolf Theatre Company and The Second City and will play the part for eight weeks only, from Thursday, May 16 through Sunday, July 14.
Lynch, who is currently starring on Glee, seems perfect for the part. It might actually make me curious to see the show with her in it.
"Some may say I know a thing or two about playing intimidating authority figures," Lynch said.  "So I am excited and honored to be making my Broadway debut with the wonderful Annie company at the Palace Theatre and joining the pantheon of women who have taken on the great and irresistible role of wicked Miss Hannigan."  Read more
Even up until a few years ago Jane Lynch was mainly known as one of the most talented improvises in Christopher Guest's mockumentaries.  More recently Lynch's career has really taken off with her starring role on television's Glee.  Now Lynch finds herself in demand, especially as a voice actor in animated films. 
In the last two years alone she has lent her expressive voice to a Toy Story short, the Disney video game film Wreck-It Ralph, and Escape from Planet Earth.  In an interview with The Huffington Post, Lynch talks about this new aspect of her career and why she won't be watching the Oscars this year. Read more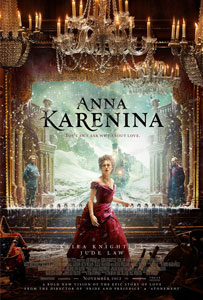 Anna Karenina: The third collaboration of Academy Award nominee Keira Knightley with acclaimed director Joe Wright, following the award-winning boxoffice successes "Pride & Prejudice" and "Atonement," is a bold, theatrical new vision of the epic story of love, adapted from Leo Tolstoy's timeless novel by Academy Award winner Tom Stoppard ("Shakespeare in Love"). The story powerfully explores the capacity for love that surges through the human heart. As Anna (Ms. Knightley) questions her happiness and marriage, change comes to all around her.
Director: Joe Wright
Cast: Keira Knightley, Jude Law, Aaron Taylor-Johnson, Kelly Macdonald, Matthew Macfadyen, Ruth Wilson, Domhnall Gleeson, Alicia Vikander, Olivia Williams, Emily Watson
Click here for the script to Anna Karenina