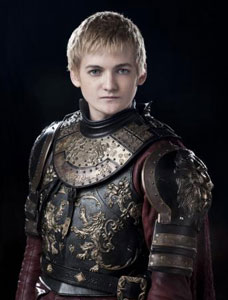 When an actor reaches any type of success in the entertainment industry, they are usually plotting their next big step. For Game of Thrones star Jack Gleeson, his post-show move is not what you would expect.
When the HBO series ends, the 21-year-old actor is hanging up his acting career.
He shared why he is making such a decision, "It was always a recreation beforehand, but when I started doing Game of Thrones perhaps the reality was made too real for me. The lifestyle that comes with being an actor in a successful TV show isn't something I gravitate towards."
While that may seem unusual to many people, sometimes a young actor like Gleeson just needs to see what else is out there in life. The show has been rumored to run up to eight seasons if the cable channel keeps renewing the series. Currently, the show has three seasons under its belt with Season 4 heading to television in 2014. Read more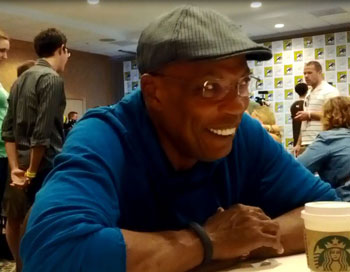 Director Paris Barclay is one of the most popular directors working in Television today. If he's not directing some of the best episodes of Sons of Anarchy, he's behind the lens on Glee, or shows like Smash, In Treatment and the pilot of Last Resort.
Having met Sons creator/showrunner Kurt Sutter while they were both working on The Shield, he's now the go-to-director for all of Sons important episodes. Seriously, check it out on IMDB. Every huge pivotal episode was directed Barclay.
I talked to him at Comic-Con and he was one of the coolest interviews I did that day. I'd love a chance to work with him. In the roundtable, he talks about his working relationship with Sutter, directing emotional scenes and why Glee is harder to direct than Sons of Anarchy.
For the full interview, check out the video below.
Sons of Anarchy premieres on Tuesday, September 10th at 10pm Read more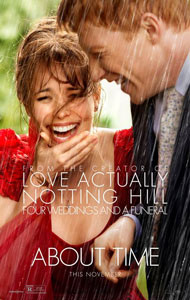 About Time: At the age of 21, Tim Lake (Domhnall Gleeson) discovers he can travel in time… 
The night after another unsatisfactory New Year party, Tim's father (Bill Nighy) tells his son that the men in his family have always had the ability to travel through time.  Tim can't change history, but he can change what happens and has happened in his own life—so he decides to make his world a better place…by getting a girlfriend.  Sadly, that turns out not to be as easy as you might think.
Moving from the Cornwall coast to London to train as a lawyer, Tim finally meets the beautiful but insecure Mary (Rachel McAdams).  They fall in love, then an unfortunate time-travel incident means he's never met her at all.  So they meet for the first time again—and again—but finally, after a lot of cunning time-traveling, he wins her heart.
About Time is a comedy about love and time travel, which discovers that, in the end, making the most of life may not need time travel at all.
Cast: Domhnall Gleeson, Rachel McAdams, Bill Nighy, Tom Hollander, Margot Robbie
Written and Directed by: Richard Curtis 
In Theaters: November 1, 2013 (Limited Engagements), November 8, 2013 (Wide) Read more
Brendan Gleeson recently reprised his role as Alastor "Mad-Eye" Moody in Harry Potter and the Deathly Hallows: Part 1. He first played the character in Harry Potter and the Goblet of Fire. Gleeson can now be seen in John Michael McDonagh's comedic thriller The Guard, opposite Don Cheadle, and Simon Wincer's horseracing drama The Cup. He co-stars in the forthcoming action-thriller Safe House, opposite Denzel Washington and Ryan Reynolds.
Gleeson received Golden Globe, BAFTA Award and British Independent Film Award nominations for his performance in Martin McDonagh's comedic thriller In Bruges. He also won an Emmy Award® and received a Golden Globe nomination for his portrayal of Winston Churchill in the 2009 HBO movie Into the Storm.
Gleeson made his feature film debut in Jim Sheridan's The Field, followed by small roles in such films as Mike Newell's Into the West and Ron Howard's Far and Away. He first gained attention for his performance in Mel Gibson's Best Picture winner Braveheart. Next, he appeared in Michael Collins and The Butcher Boy and starred in the independent film Angela Mooney, executive produced by John Boorman. Read more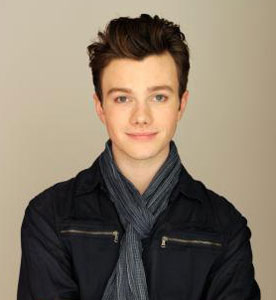 Actor Chris Colfer is famous for playing openly gay high school student, Kurt Hummel, on FOX's Glee.  But it turns out the 21-year-old is not just good at belting out show tunes.  Colfer's new film, Struck by Lightning, just premiered at the Tribeca Film Festival.  He not only stars in the movie, but he also wrote the script about a teenager who starts a literary magazine to impress Northwestern University, and then blackmails his classmates in order to get submissions.
In an interview with NPR, Colfer admitted that he does share some similarities with his character.  He said, "When I was in high school, we had this thing called the senior project where one senior was selected every year to have their own show…All the seniors before me always just did an SNL-like format with a bunch of skits and gags and songs, and I was the only student that ever was like, 'Nope, I'm going to write a show, and we're going to do a full production.'" Read more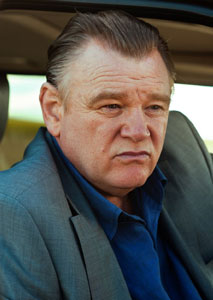 Brendan Gleeson is currently receiving raves and accolades, including a British Independent Film Award nomination, for John Michael McDonagh's The Guard, in which he stars opposite Don Cheadle. He also received Golden Globe, BAFTA and British Independent Film Award nominations for his performance in Martin McDonagh's In Bruges, in which he starred opposite Colin Farrell. Gleeson won an Emmy and received a Golden Globe Award nomination for his portrayal of Winston Churchill in the 2009 HBO movie Into the Storm.
Gleeson's upcoming projects include Robert Redford's The Company You Keep, with Shia LaBeouf and Julie Christie; The Raven, a fictionalized account of the final days of Edgar Allan Poe's life; and Aardman Animations' The Pirates! Band of Misfits. He can currently be seen in the period drama Albert Nobbs, starring Glenn Close.
Gleeson is perhaps most recognized now as the brilliant and eccentric Alastor "Mad-Eye" Moody, the role he first played in Harry Potter and the Goblet of Fire, and reprised in Harry Potter and the Order of the Phoenix and in the penultimate movie of the blockbuster series, Harry Potter and the Deathly Hallows: Part 1.  Read more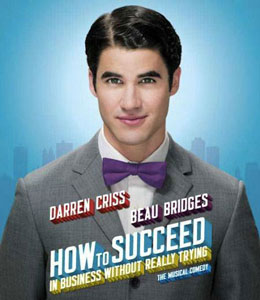 Glee fans won't have to worry about missing Blaine for too long. 
Despite Darren Criss' stint taking over Daniel Radcliffe's role in Broadway's How to Succeed in Business Without Really Trying, the actor will return to the set of the FOX series by the end of January. 
In an interview with E!Online, Criss says, "I'll be gone for maybe one or two episodes.  There's a lot going on on that show.  You won't even notice!"
After accepting the part in which he'll make his Broadway debut, Criss assumed Glee creator Ryan Murphy would probably choose to cut the part of Blaine (fan favorite boyfriend of Kurt Hummel.)  "I thought that before I was going to leave, they might write Blaine out just to make things easier on everybody."
Instead Criss was given a great deal of screen time in the anticipated upcoming Michael Jackson tribute episode.  "Right before I left, Blaine had a lot of really cool things to do…When you see that episode, I shot all my stuff in four days.  It was quick!"  Read more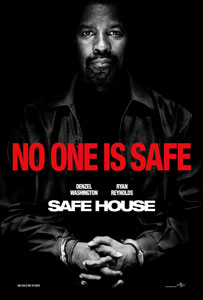 Safe House: Matt Weston is a rookie CIA operative frustrated with his lackluster post running a safe house in Cape Town, South Africa. All that changes when his first "guest" is Tobin Frost, a renegade intelligence officer who had been on the run for almost a decade. When mercenaries attack the house, Weston and Frost make a narrow escape and together must find out who they can trust.
Starring: Denzel Washington, Ryan Reynolds, Brendan Gleeson, Sam Shepard, Vera Farmiga
Directed by: Daniel Espinosa

In Theaters: February 10, 2012
Read more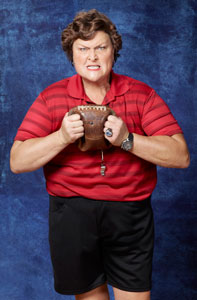 A 15-time world arm wrestling champion and former juvenile detention center worker, Glee's Dot-Marie Jones isn't your average primetime comedy actress. However, the actress is enjoying a change of pace with Fox's hit musical series, on which she plays a touch-girl football coach who also enjoys belting out a tune every once in a while.
"Over the last 20 years, I've played every tough-chick role imaginable," she told USA Today during a recent interview. "And to still get to play that big, tough chick and a character with such heart and vulnerability is fantastic for me. It lets people see that I do have a range outside of the big tough chick."
Jones was originally cast as a transgender in Glee showrunner Ryan Murphy's 2008 pilot, Pretty/Handsome. However, that show didn't get picked up by FX, but Murphy eventually found a place for Jones on Glee, as coach Shannon Beiste.
"He says, 'Well, can you sing?' I said, 'I'm no Mariah Carey, but I can carry a tune.' Two months later, I got a call with Ryan wanting to know what his schedule was like," recalled Jones, who also appears in And They're Off, which arrived in theaters last week. "When I signed my contract, it didn't even have a character name — just two quotation marks. I said, 'I don't care. I know I'll do it.'"   Read more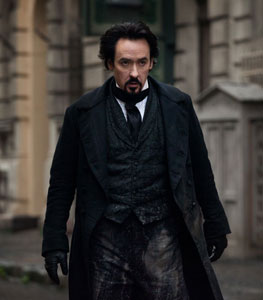 The Raven: In this gritty thriller, Edgar Allan Poe (John Cusack, Being John Malkovich) joins forces with a young Baltimore detective (Luke Evans, Immortals) to hunt down a mad serial killer who's using Poe's own works as the basis in a string of brutal murders.
When a mother and daughter are found brutally murdered in 19th century Baltimore, Detective Emmett Fields (Luke Evans) makes a startling discovery: the crime resembles a fictional murder described in gory detail in the local newspaper—part of a collection of stories penned by struggling writer and social pariah Edgar Allan Poe. But even as Poe is questioned by police, another grisly murder occurs, also inspired by a popular Poe story.
Realizing a serial killer is on the loose using Poe's writings as the backdrop for his bloody rampage, Fields enlists the author's help in stopping the attacks. But when it appears someone close to Poe may become the murderer's next victim, the stakes become even higher and the inventor of the detective story calls on his own powers of deduction to try to solve the case before it's too late.
Director: James McTeigue
Cast: John Cusack, Luke Evans, Alice Eve, Brendan Gleeson, Oliver Jackson-Cohen
In Theaters: March 9th, 2012
Read more