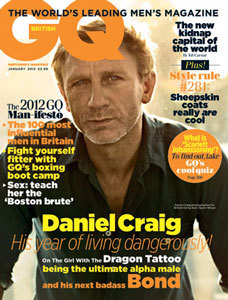 While discussing the topic of privacy, and keeping his personal life away from the spotlight, Daniel Craig told GQ of Britain that once you open the door to your life beyond the cameras and the red carpet, there is no going back.
"I think there's a lot to be said for keeping your own counsel.  You can't buy it back. You can't buy your privacy back. 'Ooh, I want to be alone. 'F–k you. We've been in your living room. We were at your birth. You filmed it for us and showed us the placenta, and now you want some privacy?'"
The star of The Adventures of Tintin and director David Fincher's The Girl With the Dragon Tattoo, Craig then went on to use the Kardashians as a prime example of airing your dirty laundry in Tinseltown.  "Look at the Kardashians, they're worth millions.  I don't think they were that badly off [financially] to begin with but now look at them. You see that and you think, 'What, you mean all I have to do is behave like a f–king idiot on television and then you'll pay me millions?'"
Podcast: Play in new window | Download (Duration: 24:24 — 16.8MB)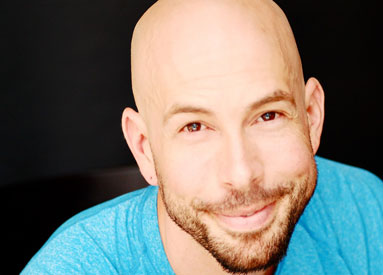 Priscilla, Queen of the Desert is touring the country and one of the stars of the show, Wade McCollum, told me that's he's "having a blast."
The "rhythm"of touring did take a while to get used to but Wade, who plays Tick/Mitzi in the show, has definitely adapted to life on the road. The audiences have also helped. "They're always so crazy enthusiastic," he said. Part of that is, I'm sure, the musical numbers and the outrageous costumes. He told me that some of his costume changes are as quick as 30 seconds. As someone who can spend that amount of time putting on his pants, I'm in awe.
In the interview, Wade and I talk about the touring life, being a New York actor and, in my favorite part of the conversation, auditions. At one point, he said that "a healthy amount of so what" is needed when you audition and I couldn't agree more. It's really wonderful advice and I have no doubt you'll agree!
Check out Wade's website at www.wadesong.com and on season 2 of the Broadway themed webseries, Submissions Only (www.submissionsonly.com).
Priscilla, Queen of the Desert is currently playing in San Diego. Click here for tickets.
Next up: Costa Mesa, San Jose and Sacramento. Check out the tour site for more details.
For the full interview, click the audio link above or download it from iTunes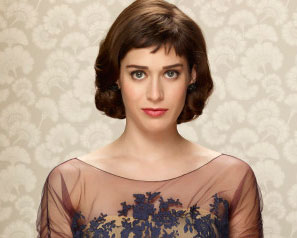 With the long-running series Dexter coming to a close, Showtime was looking for a new series to capture TV audiences on Sunday nights. The network's freshman drama Masters of Sex is looking to fill that void.
The show stars Lizzy Caplan as Virginia Johnson, the sex researcher who worked with Williams Masters. Together, the duo helped create new ways of thinking about sexuality.
With her co-star Michael Sheen, the 31-year-old actress has to reenact some of the sex research that made Masters and Johnson revolutionaries in their field. Caplan revealed how she had to let her guard down with him. Read more
Comic-Con: Wilfred, the hilarious FX show, is down in the ratings this year. What's wrong with you…? Why aren't you watching?
I have no idea why you aren't because the show, starring Elijah Wood, Jason Gann, Fiona Gubelmann and Dorian Brown, is a bright spot for summertime television. Both dark and funny, the story of a man (Wood) who can talk to his neighbors dog (Gann), is always a highlight for me.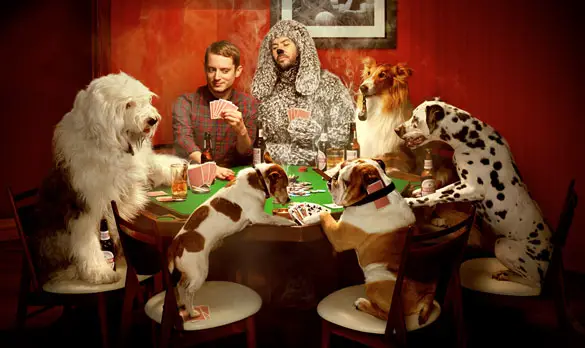 I talked to new showrunners Eli Jorne and Reed Agnew at Comic-Con in a roundtable interview about taking over the reigns of the show, if they're always working and thinking about the show even on hiatus and the future of Ryan and Wilfred.
FYI, this was from two separate interviews where everyone at the table asked basically the same questions. I combined them and made it into one complete post.
Wilfred airs on Thursdays at 10 on FX Read more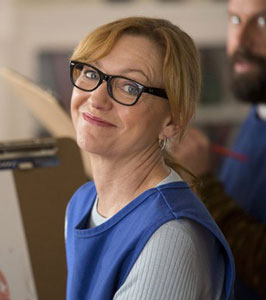 Broadway's Vanya and Sonia and Masha and Spike might have recently won this year's Best Play Tony Award and extended its engagement until August 30, but the producers had to find a replacement for one of its main cast members, Sigourney Weaver, who is departing to work on other projects.  Weaver had been a member of the cast since its October Off-Broadway premiere alongside David Hyde Pierce, Billy Magnussen, Kristine Nielsen, Genevieve Angelson and Shalita Grant, so the  actress in Weaver's role would very much be the new kid in town.  Fortunately, comedic actress Julie White agreed to take the role for the play's final four weeks, and she spoke to The New York Post about that experience.
White makes it clear that stepping into an acclaimed production isn't easy.  She says, "It's like jumping on a speeding train.  The fear, of course, is that you're going to take a bad step and be run over."  Read more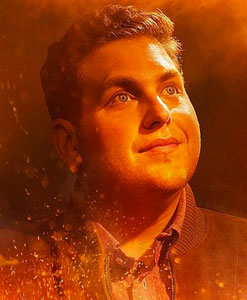 It's official: Jonah Hill is a serious actor.  Sure, he might be co-starring in This Is The End and is likely returning for a sequel for 21 Jump Street, but in an interview with Rolling Stone Hill refuses to speak about his more famous filthy comedies and only wants to speak about his transition from comedian to serious actor in films like Moneyball and The Wolf of Wall Street.
Want proof?
When asked about how he managed to shed so many pounds from his once-chubby frame? He answers, "My workout routine is of little relevance."
When asked about passing gas? He answers, "I'm not answering that dumb question! I'm not that kind of person! Being in a funny movie doesn't make me have to answer dumb questions. It has nothing to do with who I am." Read more
Millions of people probably know Paul Bettany best for being the witty English voice of Iron Man's virtual assistant, Jarvis.  While that's not completely a shame (those gigs probably land Bettany quite a bit of well-deserved money), viewers who haven't seen more of Bettany's work are missing out on a wonderful actor — particularly now, when Bettany claims he feels re-energized.  In an interview with The Guardian, Bettany talks about his recent role in the movie Blood and what rekindled his love for acting.
Blood follows a harrowing arc for his character, and Bettany points out that one of the difficulties of being an actor is having to portray a character's breakdown when the movie is shot out of sequence.  He says, "Directors always say, 'Oh, we'll shoot it in sequence,' but it turns out to be an incredibly costly way of working, because it involves moving lots of trucks. Consequently, you have to shoot all the scenes that take place in one location, then move on to the next. But for all that, I was quite fastidious about the part. I tracked the character's state very carefully in the script, as though it were a graph. I mean, that's my fucking job, I suppose. I'm making it sound very technical and sophisticated." Read more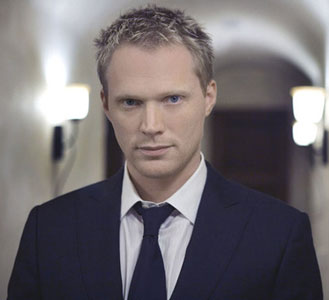 Paul Bettany gave a remarkably candid interview with The Guardian while working on Christopher Nolan's Interstellar.  Though he didn't say much about Nolan's next film (and knowing how secretive Nolan is about his projects that's not surprising), he did talk about what he looks for in a director — and what he thinks modern directors have lost.  He also singles out one director who he had a very difficult time working with.
Surprisingly, Bettany confessed that he has never seen Dogville, the critically acclaimed 2003 Lars von Trier movie that Bettany stars.  He told the interview that he had "a really terrible time making it" and revealed that he didn't get along with von Trier's style.  He explains, "As an actor, I have questions. I want to know what I'm doing. And he simply wouldn't talk to me. You're not allowed to talk about the film and there is no rehearsal. The whole experience was diametrically opposed to what I thought it would be. Let me be clear: I love Lars's films. He's a precociously brilliant director. But he has no interest in what the actors think. He just stands there and says [mimics Danish accent]: 'Louder! Louder! Do it louder!' That's the extent of your collaboration. You know what it's like? It's like he's Jackson Pollock and you're on the sidelines, mixing his colours. It is entirely his gig." Read more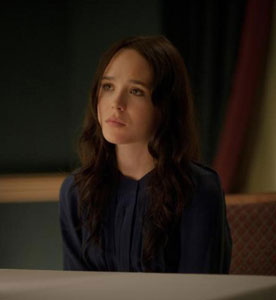 Despite reaching super fame after starring in the movie Juno, Ellen Page doesn't feel that people are hounding her to be in their films.
"No, no, I don't think so," she said about filmmakers clambering for her participation.  "You know, especially because careers go in ebbs and flows, absolutely."
Although she doesn't feel like a sought-after actress, she does acknowledge how lucky she's been.  "I feel super fortunate," she said in an interview with Huffington Post.  "I feel like every project I've gotten to do, I've been passionate about and I'm interested in.  And to be an actor, to work, firstly, is a gift—let alone to be able to choose what you want to do.  I feel very happy with the choices that are in front of me and the choices that I get to make." Read more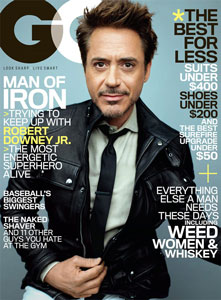 In his in-depth interview with Robert Downey, Jr. for GQ, correspondent Chris Heath ends with asking Downey if he aspires to win an Oscar.  Naturally, the twice-nominated Downey responds with the familiar "it doesn't really matter to me" answer we're used to hearing from actors. 
However, his reasons for that conclusion are a bit different from the norm — he explains he doesn't care much about it because he's convinced he'll eventually win one… and if not, he'll simply get awarded one after a long career of acclaimed performances! 
Check out the humorous exchange below: Read more