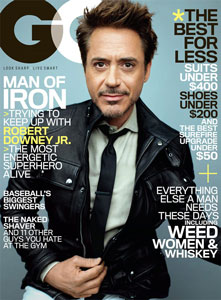 In his in-depth interview with Robert Downey, Jr. for GQ, correspondent Chris Heath ends with asking Downey if he aspires to win an Oscar.  Naturally, the twice-nominated Downey responds with the familiar "it doesn't really matter to me" answer we're used to hearing from actors. 
However, his reasons for that conclusion are a bit different from the norm — he explains he doesn't care much about it because he's convinced he'll eventually win one… and if not, he'll simply get awarded one after a long career of acclaimed performances! 
Check out the humorous exchange below: Read more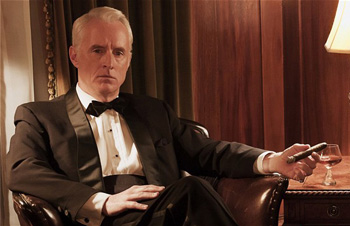 In last Sunday's sixth season premiere, John Slattery faced one of his biggest challenges so far while playing Mad Men's Roger Sterling.  Roger had to break down over the death of his shoe-shine guy.
"I've been in more scenes where it says, 'He sobs'…and sobs is a scary word, right?" he said in an interview with Vulture.  "Weeps is okay.  He gets emotional, fine.  Sobs, and you go, Oh shit, man, I've gotta sob?  How am I going to sob?  Who sobs?  You see that word in a script, and when you go to bed, you're just thinking, Why do I have to sob?  Do I have to sob this week?  No, I don't sob until a week from Monday.  Then somebody tells you have to shoot it earlier.  'No we don't.'  'Yeah we do.' 'No. We don't shoot that scene until next Monday because I'm emotionally inching my way up on the sobbing and I'm telling you it's next fucking Monday!'  I don't even know what the question was." Read more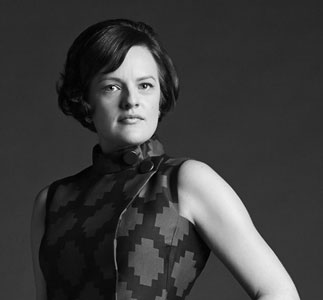 There's no way fans of Mad Men would have allowed Elisabeth Moss' character Peggy Olson to have been kicked off the show.  The creator of the AMC drama, Matt Weiner, would never have let that happen either.
"[Matt] called me right before episode eleven of season five came out and told me what was gonna happen, and my first question was 'That sounds awesome…am I coming back?  Am I going to be on the show?'" Moss recalled in an interview with Vulture.  "And he was actually a little bit offended, I think.  He was like, 'Of course you are.  How could you ask me that?'  And I was like, 'Well, you know, it's a logical question.'  And he assured me that, obviously, it was going to be fine.  And then he told me everything that was going to happen.  You know, great actors who are amazing on the show have left.  So I would never consider myself above that."
Moss has had to embody a very different character for her role on Jane Campion's Top of the Lake.  The actress enjoyed getting to play someone so opposite from Peggy.  "I fucking loved it," she admitted.  "It was so fun, I have to be honest.  It was SO fun.  Just, you know, in life you try not to glass people, you try not to scream and yell and fight.  And so it's really fun and cathartic to be able to do that, you know, and then not hurt anybody." Read more
Podcast: Play in new window | Download (Duration: 11:44 — 8.1MB)
Here's the last of our Evil Dead SXSW interviews… but I did save the best for last.
I give you Bruce Campbell.
I talked with Bruce and Rob Tapert, who are both producers on the new Evil Dead, at SXSW and as you might think, it was a real thrill. He's smart, quick and one of the funniest people I've ever talked to.
Bruce was in the original Evil Dead trilogy that was directed by Sam Raimi but this time, he's on the other side of the camera. He played a huge part in getting this new version to the screen and even though he was filming Burn Notice in Miami at the time, he would still keep tabs on what was happening as the cast and crew were filming in New Zealand.
In the interview, they talk about how they cast the at the actors, including Shiloh Fernandez, Lou Taylor Pucci and Jane Levy, how the script is "everything" and why they shot in New Zealand.
For the full interview, click the audio link above or download it from iTunes 
Evil Dead comes out this Friday! Read more
Podcast: Play in new window | Download (Duration: 11:09 — 7.7MB)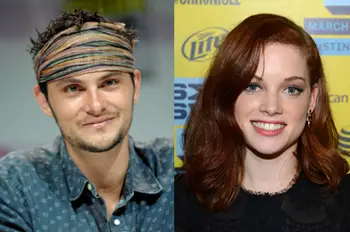 Here's another of our SXSW Evil Dead interviews, this time with stars Jane Levy and Shiloh Fernandez.
Evil Dead, directed by Fede Alvarez and produced by Sam Raimi and Bruce Campbell, is pretty damn good and you'll definitely have a fun time. A lot of that is because of Jane and our friend here at Daily Actor, Shiloh. If you're familiar with Jane from ABC's Suburgatory, she's a little different here. I don't think she'll scare the Holy Hell out of you on that show. And as usual, Shiloh is great. He plays a guy who's got tons of flaws and is basically forced to be the hero of the movie.
In the interview, we talk about the most challenging part of filming, taking on a cult classic and why, a lot of the time, Shiloh had to act opposite a tennis ball.
For the full interview, click the audio link above or download it from iTunes 
Evil Dead comes out this Friday! Read more
I know it's not a very well-kept secret, but isn't it sort of fascinating that actors often treat each other like they're in middle school?  Not only do they have arguments over e-mail, but as in the case of Shia LaBeouf and the behind-the-scenes saga of his exit from his intended Broadway debut Orphans, LaBeouf has no issue with posting these e-mails on Twitter to prove… something.
Alec Baldwin, who LaBeouf was supposed to co-star with, responded to LaBeouf's Twitter comment that, "The theater belongs not to the great but to the brash," by pointing out that LaBeouf has never done theater and shouldn't comment on it (he also compared LaBeouf to a "celebrity chef" rather than a real chef.)  Seemingly in response, LaBeouf has posted another set of e-mails revealing that Baldwin and LaBeouf didn't even get off on the right foot.
These e-mails, most of which are from February 10, reveal an e-mail conversation between Baldwin and LaBeouf, with Baldwin telling LaBeouf, "We start Monday [February 11th]. But I'm so fucking tired."  LaBeouf responds, "im a hustler i don't get tired im 26 chief."  Read more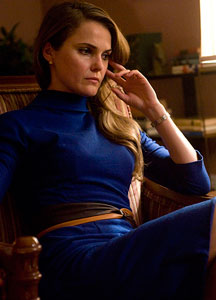 Keri Russell was ready to take on a more risqué role than Felicity.  In her new project, FX's The Americans, Russell portrays a KGB agent posing as part of a happy American couple.  Her character is first seen in a more compromising position than Felicity ever would have been caught in.
Russell's first scene in the pilot episode shows her performing oral sex on a person she needs information from.  After reading the script, Russell recalled, "I was like, Blow job in the hotel room: What?  And also, Who are they gonna get to have big boobs?  Because it's not gonna be me!  I'm like a boy!  Luckily, I was nursing a baby.  Sweet.  Sweeeeet.  No, I love that the character is incredibly sexual, but not in an emotional way.  She's devoted to the cause.  She'll do whatever it takes.  And when it has to be intimate, she's so shut off from it."
Russell also did plenty of research for the role of a Russian superspy.  "I was reading about all kinds of spy work," she said in an interview with Vulture.  "The CIA call sexual traps like the one you saw in the pilot 'honey traps,' which I love.  They're the most successful ploy.  They work every time.  Or almost every time." Read more
Sean Penn is a polarizing figure in the film industry not only because of his political opinions, but also because of his opinions on the industry as a whole.  In an interview with Esquire, Penn reveals quite a bit about his opinions on Hollywood and what he feels are the causes of the decline of quality in Hollywood productions. 
Penn reveals that he has little ego about his acting ability — which has brought him two Oscars — when he says, "In my teens, I fell in love with the movies. And so when I got involved in the movies, I was a genius in terms of how the movies that were made in the generation that inspired me got made — but now the financing wasn't there to do 'em anymore. Trauma. I'm caught in a business that I'm in love with the idea of — the whole process that's possible. Only now they're not making movies — they're representing them." Read more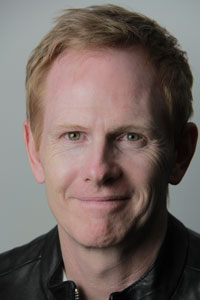 Written by David Patrick Green
Actors ask me all the time how to do this or how to do that. I'm happy to tell them, but the fact that they are asking is what concerns me.
Sure, you might say. You've done it and they haven't so they need your help.
Yes, and no.
Yes, I've done it, but no, they don't need my help.
What they need is a little self-reliance, a little planning and/or as my mother used to say…a little gumption (not to be confused with Forrest Gump). Gumption (I believe…she never told me) is a combination of confidence, motivation and determination wrapped up in some WWII terminology like SNAFU (look it up). Maybe it will make a comeback (come on, everyone…use the word 'gumption' at least once today). Maybe it's because we live in a 'coddle your kids' culture where everything is provided and there's little left to learn on one's own, but unbeknownst to many of us, we all have it within ourselves to figure out how to do things we don't know how to do. Yes, just like birds can fly and wildebeests can stand, people can 'figure stuff out'. It's called instinct or common sense. I hesitate to say common sense because most of what passes as common sense is actually politically correct BS, so let's break it down even further to primordial instinct. Read more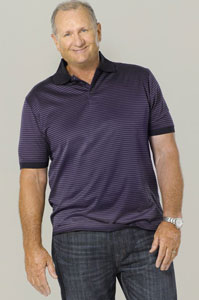 Speaking with Rolling Stone, Modern Family co-star Ed O'Neill reveals where he might have been headed if he didn't get into acting… and it's a bit surprising.
It turns out O'Neill wasn't always the lovable guy we know him as today.  While talking about his youth, he reveals "I was drinking too much and fighting almost every night.  I liked speed, too. Man, I liked speed."  After earning a rep around the neighborhood, O'Neill's friends in the mafia in Youngstown, Ohio almost made him an offer he couldn't refuse.  He explains, "They said, 'You're a tough guy, we trust you, we could find some things for you to do, light work, collecting money.'  But I knew how that was going to end.  It was going to end badly."
O'Neill went on to star on television shows like Married… with Children and L.A. Dragnet before his current success as one of the leads on the ABC comedy Modern Family.  Though O'Neill was game for the series from the get-go, he was initially passed over for the part because the producers wanted former Coach star Craig T. Nelson.  Read more