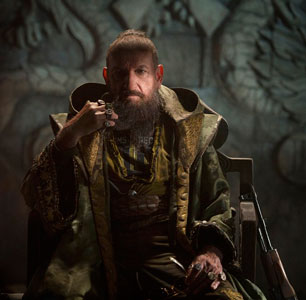 Without spoiling much, Ben Kingsley absolutely steals the show in Iron Man 3.  He plays the Mandarin, a terrorist who controls the television airwaves in order to broadcast his vicious acts.  However, there is so much more to the Mandarin than his mysterious yet oddly-accented warnings to the Western world, and much of that comes from the really effective performance of Kingsley. 
He spoke to GQ about playing such an offbeat character opposite Robert Downey, Jr. as the superheroic Iron Man. Read more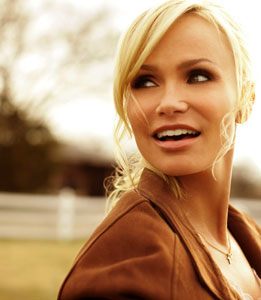 Recently, Broadway star Kristin Chenoweth starred in a PBS special, Kristin Chenoweth: The Dames of Broadway . . . All of 'em!!!, in which she performed a number of classic songs made famous by some of Broadway's greatest actresses.  She spoke to The New York Post about meeting one of her musical idols, Julie Andrews, the roles she still wants to play, and the scary circumstances around her painful accident last year.
Chenoweth recalls advice she got from Julie Andrews, who actually suggested that she shouldn't give every performance her all.  She explains, "She came to see Steel Pier [Chenoweth's 1997 Broadway debut] and they said, 'Julie Andrews is coming backstage to meet you!' I definitely wasn't the star of that show, but I had a big aria where I sang a high E and held it . . . and held it . . . and held it . . . for 15 counts. And Julie greeted me, hugged me and said, 'This is a major gift, and you cannot give those notes away.' I looked at her funny. 'But I'm doing this show!' 'Yes,' she said. 'But you must be selective.' Sometimes, when I'm about to do an encore, I want to do something really all-out but then I remember: Be selective. That's a great little piece of advice about life, too." Read more
Everyone involved with the ABC drama Nashville is quick to point out that the show could not be possible without two very fearless leaders: show creator Callie Khouri and the man behind the music, T-Bone Burnett.
At the PaleyFest panel on Saturday, March 9, Khouri and the cast came onstage at the Saban Theater in Beverly Hills to sing the show's praises.  Much of the cast described their eagerness to come onboard once they heard Khouri was behind the show—several mentioned their love of her film, Thelma and Louise.  Burnett is actually Khouri's husband—he's the much acclaimed musical genius behind the show's country setting (his previous projects include O, Brother Where Art Thou?, Crazy Heart, and The Hunger Games.)
"There was instant credit by attaching T-Bone's name," said Charles Esten, who plays Deacon Claybourne. "He has this ferocious dedication…and he gives us a stable ground to fly from." Read more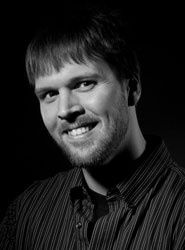 Written by Brian Cunningham
In 2010, my partner and I began work on a script called "Overtime."  It started as a pet project…something for us to do on the side while we made our living shooting and editing commercial video at a Louisville, Kentucky production company.
Nearly three years later, that project has grown to something neither Matt nor myself could have ever imagined at the start. "Overtime," a hit-man vs. zombie-aliens action/comedy starring TNA IMPACT Wrestling's Al Snow, was released on Blu-ray and DVD on January 1, 2013, and it's now available on Netflix and Amazon as well as at Barnes & Noble and Walmart.
This was our first feature film, and we made a lot of mistakes along the journey of producing it, promoting it, and finally finding distribution. Our smartest move, however, was to insist on sticking to our shoestring budget of $2,700, a figure that barely covered the cost of makeup effects and food for our amazing cast and crew. We often get asked the question, "how the hell did you pull off a movie for under three grand?" At the time we were making "Overtime," we weren't even thinking of how we were going to pull it off…we just did whatever needed to be done.  In hindsight, however, there were some decisions we made that really helped the movie find success.   Read more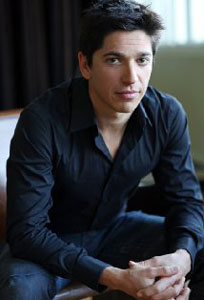 Yan England didn't expect to go to the Academy Awards when he made his short film "Henry." The 21-minute film is nominated in the live action short category with filmmakers such as actress Bryce Dallas Howard, whose film "When You Find Me," is executive produced by her father Ron Howard.
When England gained acceptance for his short film for Academy consideration, 125 films from around the world were in the running. The list of candidates then moved from 125 to a short list of 11 until the top five and England's first Academy Award nomination were announced earlier this year. For the actor-filmmaker it has been a wild experience.
"We worked on it for a year, different people, at different stages. It (the film's budget) came from my own pocket. I worked with really strong, talented professionals here in Canada. They all worked for free, for the passion of cinema. They've given me their talent, and they've put all of their talent into the film. It was a great honor to tell them "Henry" made it to the final 5. Was it expected? Not at all. Is it surreal? Totally." said England. Read more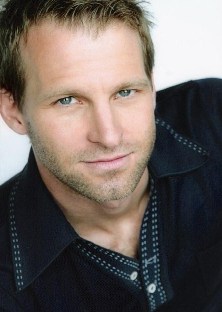 Written by Anthony Meindl
In her book, 5 Steps To A Quantum Life, Natalie Reid discusses how we all have binding agreements that we've created for ourselves that keep us from actually getting what we want in life. They're tied to the past and keep us operating in our lives from blame, anger, being the victim, and not letting go of the past.
I consider these agreements to be hidden because generally we act out of them unconsciously.
Consciously, you want a girlfriend or a new car or a role on a TV show or a fantastic agent. But unconsciously, your hidden agreements with yourself keep you from experiencing those things you want.
It's up to each of us to discover what put that agreement into place and then break it.
Agreements served us at some point in our life. They were created to protect us and keep us safe, as a defense mechanism. ("I'm never going to do that again. That person hurt me!") But as we progress in life, we outgrow their need but the agreements continue to operate without us knowing and they become saboteurs. Read more
Podcast: Play in new window | Download (Duration: 23:36 — 16.3MB)
Twilight: Breaking Dawn Part 2 opens in theaters this weekend, and by all accounts, this film is the best of the bunch.
I talked with Maggie Grace and Mia Maestro, who star in the film as part of the Denali Clan, and they both told me that they can't wait for the fans to see it. "It's a much more grownup film," Maggie told me. "It stands out from the others in terms of theme. It's more about community and the community banding together."
They also talked about much they loved working with Director Bill Condon. "He's a fantastic actor's director," Maggie told me.  With Mia adding that "he even added a special surprise at the end for fans. It's a really moving gesture that he gave all the actors and all the fans and he gave to the saga."
I really enjoyed talking to these two; they were so warm and nice. We talked about Twilight, working with Michael Sheen and those hand-painted contacts they had to wear during filming. We also talked about acting; Maggie tells a great story about watching Liam Neeson on Inside the Actors Studio and we end the interview with a one of the best conversations I've had about auditioning.
Check it out below and don't forget to catch Twilight: Breaking Dawn Part 2! 
For the full interview, click the audio link above or download it from iTunes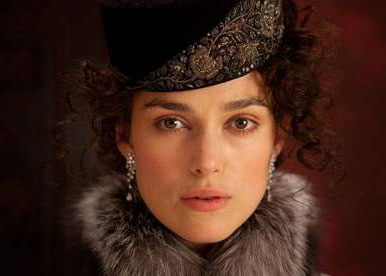 Keira Knightley, star of the new adaptation of Tolstoy's Anna Karenina, knew she wanted to be an actress from an early age.
"I've been acting since I was six," Knightley said in an interview with NY Daily News.  "My mum was an actor and a writer.  My dad was an actor.  It was a very intoxicating thing growing up around creatives like them.  My mum would be off acting somewhere, so I'd be backstage with my dad, doing homework, and he'd be onstage.  I always wanted to be part of that."
The actress broke through with her role in 2002's Bend It Like Beckham when she was 16.  She had already finished high school, and wanted to take tests to go to college.  "I was trying to balance school and work and found that I couldn't handle it," Knightley said.  "I had to admit defeat.  And I hate admitting defeat.  But I knew that the space for you in this business only comes around once.  You have to jump in when it's offered." Read more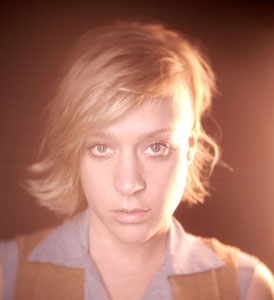 When Ryan Murphy was looking for an actress to play a nymphomaniac who gets her legs amputated by crazy Doctor for season 2 of American Horror Story: Asylum, Chloe Sevigny was at the top of his list.
Academy Award nominated Sevigny is perfect in the part of Shelly, one of inmates at Briarcliff Manor, and she said in a recent conference call that Murphy called her up, spoke for an hour about the part and character and after watching a handful of season 1 episodes, she was "hooked right away and that's when I signed on." She then went on to say "Thank God," she didn't have to audition "because I'd never gotten the role auditioning, I'm terrible at it."
In this Q&A, she talks about her character and how more craziness is yet to come, working with James Cromwell and her approach to acting.
American Horror Story: Asylum airs on Wednesdays at 10pm on FX. Read more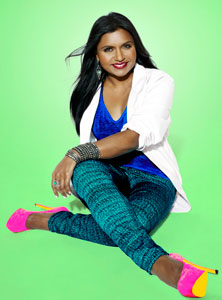 Mindy Kaling's new FOX comedy, The Mindy Project, about a OB/GYN who is "navigating the tricky waters of both her personal and professional life", just got a welcomed full season pickup. Kaling, I think, is someone who has an original comedic voice so the pickup is pretty great news. The cast, featuring Chris Messina and Stephen Tobolowsky, is fantastic and the series has so much potential that it's good to see that FOX is giving it a shot. After all, The Office didn't catch fire until its second season.

Mindy got her start in 2003when she co-wrote the play, Matt & Ben. The play became a huge hit off-Broadway and was named one of Time Magazine's "Top Ten Theatrical Events of The Year". Following that, she appeared in an episode of Larry David's Curb Your Enthusiasm and the film, The 40-Year-Old Virgin with Steve Carell. Soon after, she landed the combo punch of writer/actor in The Office, the show she left to create, The Mindy Project.
Mindy recently joined in on a conference call where she talked about her many hats (star, executive producer, writer and creator), what a typical day is like for her and how she misses live theater.
The Mindy Project airs on Tuesdays on FOX  Read more