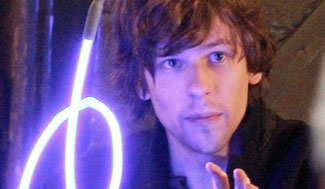 Jesse Eisenberg is one of those actors who actually admits to having stage fright.  Luckily, his role in the new film, Now You See Me, helped him get over his fear.
"I was doing a play in New York, Asuncion, and I had a lot of stage fright and anxiety about performing in it," he said in an interview with Moviefone.  "When I read the script, the character they wanted me to play was the most confident, almost arrogant, stage performer, and I thought, 'Oh, this will be a great opportunity to live out all the things I was denying myself in the play.'  I got to perform on stage and feel great about it instead of feeling nervous about it, and so I fully embraced that part of the character." Read more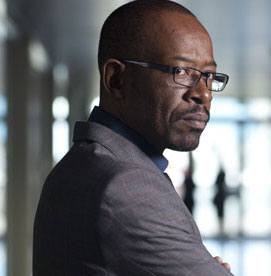 British actor Lennie James could teach a master class on accents, after sounding like an authentic American in shows like Jericho and Hung.
"You don't always want the character's voice to be too much like your own," he told Slate.com.  "When I'm playing an American, I don't play Lennie with an American accent.  They're American characters who look like me, but they have different voices.  For Tony [Gates, his role in BBC's Line of Duty] the voice was closer to mine, but I still tried to be aware of certain things that he would say in a way that I wouldn't."
James admits he doesn't really choose projects depending on the country they're representing.  "I've worked in the theater, television, and films.  A five-hour TV series is certainly more time than a character I'd be playing in a film.  We did four months on Line of Duty from beginning to end, and that would be a long theater run.  Also, a BBC hour is longer than an American television hour." Read more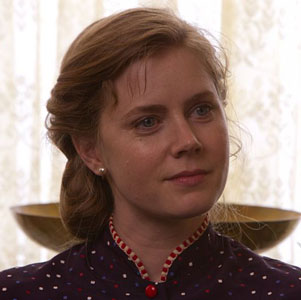 I've always been impressed by Amy Adams because there aren't many actresses who can star is cheery family films (Enchanted, The Muppets) and heavy dramas (Doubt, The Fighter) and be apt at both.  For example, in September alone she stars in two very different films, the father-daughter comedy/drama Trouble with the Curve and the controversial drama The Master written and directed by visionary Paul Thomas Anderson. 
In The Master, Adams plays Mary Sue Dodd, the wife of Philip Seymour Hoffman's Lancaster Dodd, a charismatic man who creates his own religious movement.  Adams spoke to New York about shooting the film and why Dodd is the scariest character she's ever played. Read more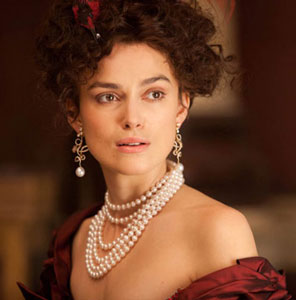 It might surprise you that Keira Knightley, who just won the role of the female lead in Paramount's new Jack Ryan film (opposite Chris Pine), used to suffer from anxiety while filming.
In other words, she had some serious stage fright.
To get rid of it, she started to do more work of the characters she played. That, and also acting on stage. She recently starred in The Children's Hour with Elizabeth Moss. 
The actress told Daily Mail that, "It's easier for me now, and even if I do freeze I know how to deal with it."
Audiences will get to see how convincing Oscar-nominee Knightley is when Anna Karenina is released November 16.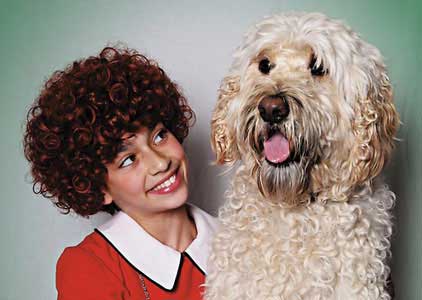 "Never work with children or animals," one said early film comedian W.C. Fields.  As far as the current Australian version of the musical Annie is concerned, the second part of that quote might have something to it. 
The Sydney Morning Herald reports that during opening night of the latest production of Annie at the Lyric Theatre in Sydney, the dog playing Annie's loyal companion Sandy — Coogee, a one-year-old groodle — didn't cooperate as planned. 
The problem?  Stage fright!
"As soon as he saw the audience and heard them, he looked really uncomfortable and nervous," says production assistant Fritha Truscott. "He had his tail between his legs and he looked scared. We didn't want to put him through that night after night."   Read more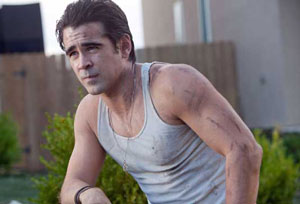 Fright Night's newest villain Colin Farrell, who plays the vampire next door in the 80′s reboot that opens in theaters Aug. 19th, appears to have undergone quite a transformation that has nothing to do with fake teeth and blood capsules.   The thirty-five year old recently discussed his acting career with USA Today where he lets fans see a more calm, cooler, simple and healthier side than his former self.
During the interview the once bad boy turned family man, who still hasn't lost his fire, talked about how he would deal with his fame if it ever became too much to handle.  "Walk the (expletive) away from it. You don't want to be photographed by the paparazzi? Say no to the $120 million film. Eventually they'll stay away from you. But you won't have the other things the $120 million film brings into your life: the good seats at the sports event, the backstage pass to the concert, the nice reclining chair on the airplane."  Not something you typically here these days with most actors.  Farrell, like most celebrities that haven't, appears to have wrapped his head around the good and the bad of being a Hollywood icon.  Read more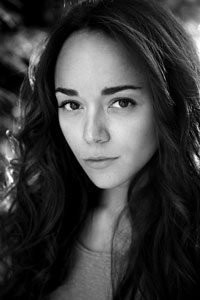 Ashley Madekwe is thrilled to be playing the iconic role of Tituba in WGN America's new series, Salem. However, don't expect the Tituba you know from The Crucible to emerge, it's new spin on the well-known character.
Daily Actor was able to sit-down with the actress in a roundtable discussion to talk about the new series and what the audience should expect.
So what was the first thing that drew you to Salem?
Ashley Madekwe: Well, I've been obsessed with the role of Tituba since forever. It's one of the first show I saw when I was at drama school. The girls in the year above were doing The Crucible and I was obsessed with it. So I've always kind of had an eye out for anything that's slightly witchy. And when I heard about Salem I thought… I was like, "Oh, is that just gonna be white girls in the woods? It there gonna be a part for me in that?" and there was. I loved it. First time I read the script I was really freaked out by it. It's super spooky. It really jumps off the page. Read more
Podcast: Play in new window | Download (Duration: 19:16 — 13.3MB)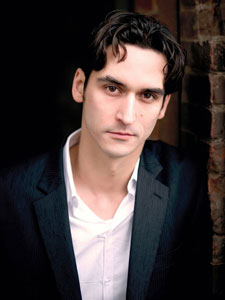 Sean MacLaughlin is traveling the country for the next year with his wife, baby and two dogs. When the "Von Trapp Family Singers" (as he called themselves) eventually stop at a city near you, that's probably because he's about to get on stage to play 'Peron' in the touring production of Evita.
Sean was last seen on Broadway as 'Raoul' in The Phantom of the Opera and he's from my neck of the woods – the Baltimore/DC/Virginia area. I love talking to people from my area and finding out how they got to where they are. Sean played it smart in his early career: before he packed everything up and moved to New York, he went to College at Virginia Tech and got a degree in communications. Then he moved to DC and did a bunch of theatre there because as he told me that he "was a firm believer in not moving to New York without getting experience."
But, before he tried his luck in New York something great happened before that. I'll let him tell the story in the interview below but basically, the success he's having now all comes down to a combination of planning, preparation and luck. We also talk about his audition for Evita and auditioning in general, touring and more!
Evita is currently playing in San Diego. For tickets, click here. Upcoming tour dates include San Jose, Las Vegas and Tempe, AZ. For more tour dates and ticket information, click here.
For the full interview, click the audio link above or download it from iTunes  Read more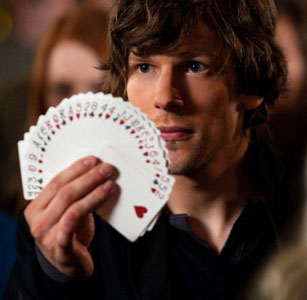 Jesse Eisenberg got his inspiration for acting from a clown—who just happened to be his mom.  She worked as a professional clown at children's parties when Eisenberg was growing up in Queens.
"My mom would get up so early to practice [her clowning] and it probably seemed to other people like she was doing something silly, but she taught me the dedication need to do something creative," he explained in an interview with The Guardian.
Eisenberg started acting as a way to become less shy.  "I was terrified of everything as a kid and that's partly why I started in plays, because you're operating then within a world with a set framework," he said.  In fact, the actor says he's "happiest rehearsing a play—I wish we didn't then have to show it to an audience but I understand an audience has to be there in order for the play to survive." Read more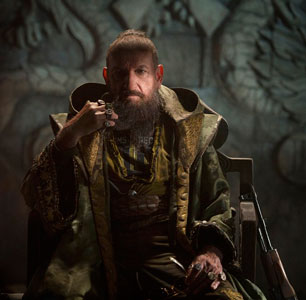 Without spoiling much, Ben Kingsley absolutely steals the show in Iron Man 3.  He plays the Mandarin, a terrorist who controls the television airwaves in order to broadcast his vicious acts.  However, there is so much more to the Mandarin than his mysterious yet oddly-accented warnings to the Western world, and much of that comes from the really effective performance of Kingsley. 
He spoke to GQ about playing such an offbeat character opposite Robert Downey, Jr. as the superheroic Iron Man. Read more