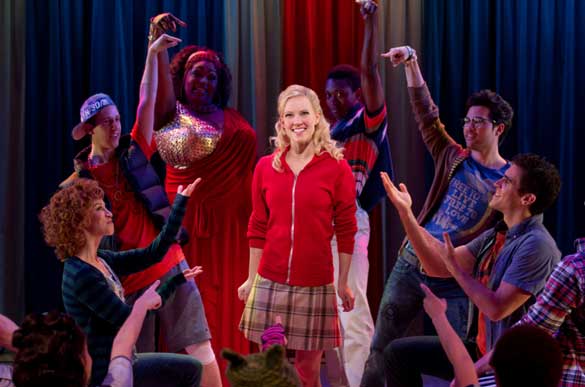 The producers of the new Douglas Carter Beane musical, Lysistrata Jones, have announced that its last performance will be Sunday.
When it closes, the show that put a modern-day spin to a Aristophanes' Greek classic, will have played 34 previews and 30 performances at the Walter Kerr Theatre.
It was announced that last week, while most other shows – notably Spider-Man: Turn Off The Dark – were raking in the holiday dough, Jones earned just $326,500 over nine performances.
I hate anytime a show closes early, particularly an original musical. But, as I said in my review, the show just wasn't good. Even after the fantastic performance Patti Murin gives, it couldn't save the show for me.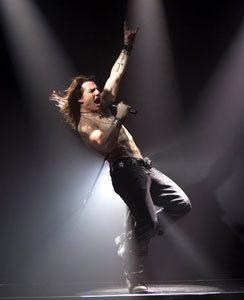 Rock of Ages: Based on the hit Broadway musical, Rock of Ages tells the story of small town girl Sherrie and city boy Drew, who meet on the Sunset Strip while pursuing their Hollywood dreams. Their rock 'n' roll romance is told through the heart-pounding hits of Def Leppard, Joan Jett, Journey, Foreigner, Bon Jovi, Night Ranger, REO Speedwagon, Pat Benatar, Twisted Sister, Poison, Whitesnake, and more.
Cast: Julianne Hough, Diego Boneta, Russell Brand, Paul Giamatti, Catherine Zeta-Jones, Malin Ackerman, Mary J. Blige, Bryan Cranston, Alec Baldwin, Tom Cruise
Director: Adam Shankman
In Theaters: June 1st, 2012 
Read more
Podcast: Play in new window | Download (Duration: 13:12 — 9.1MB)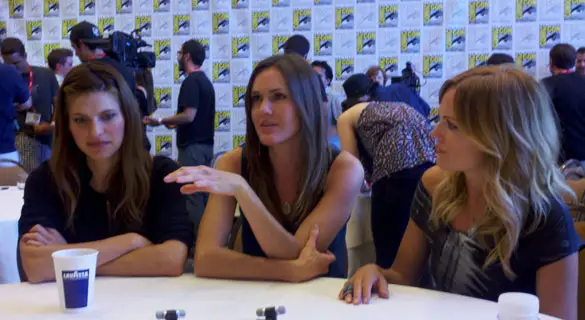 Here's the last of the Children's Hospital interviews I did at this year's Comic-Con.
I talked with Malin Akerman, Lake Bell and Erinn Hayes and I kept this my last because it was incredibly hard to transcribe! The back and forth banter was quick, funny and writing it down just didn't capture the spontaneity of the interview.
I'd listen to the audio portion if you want to get the full feel of the interview. There was a lot of things I couldn't include here because most of it would look ridiculous in print.
From talking about having each other's children, their outrage at Rob Corddry for not inviting them to go to Brazil to film a 10-second-scene and having their characters die and come back to life, the conversation was definitely a highlight.
Children's Hospital airs on Adult Swim at midnight on Thursdays. 

For the full interview, click onto the audio link above or download from iTunes.
Children's Hospital is not the kind of show where you go, "What is my arc?"
Lake Bell: None, there's no logic.
Is that a challenge as an actor or is it more freeing?
Erinn Hayes: It was awesome.  All you have to do is show up and be like, "what am I going to do today?"  You don't have to think about it or like do a whole lot of prep other than, like, what's going to make this the funniest for this particular episode.  Read more
Eclipse actress Bryce Dallas Howard recently spoke about her latest role as the dark, and evil Hilly Holbrook  in Tate Taylor's The Help, starring Emma Stone and Viola Davis. 
During the interview, Howard also revealed what draws her to those complex character roles (The Village, Manderlay), and shared what ultimately made her follow in her famous father's foot steps.
Appearing in a handful of pivotal roles, she said that she's not a "serious person", compared to the likes of some of her on screen alter egos.  She's actually "playful", but adds that "I take characters very seriously and the work very seriously. I have a lot of fun with it and really enjoy myself. But I've seen on set sometimes people who will come there and not necessary have their lines fully memorized and be kind of winging it and they often bring such a natural playfulness and spontaneity and it's kind of electric. They play characters that are very close to themselves so they're very natural. That's definitely their approach and it works in their favor. For myself, part of the joy for me is creating someone different or going into a world I didn't know about that is unfamiliar. It's a difference in approach."
Podcast: Play in new window | Download (Duration: 20:21 — 14.0MB)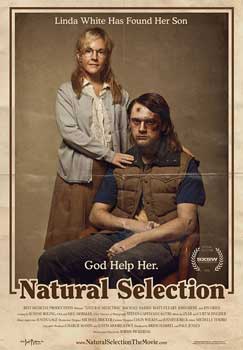 At SXSW, the amazingly wonderful Natural Selection swept the awards.
Seriously, it won everything. It won the Grand Jury prize, Best Screenplay, Best Editing, Best Score/Music and the stars of the film (Rachael Harris and Matt O'Leary) won for Breakthrough Performances.
I can't say enough good things about this movie and it deserves all the praise it's getting.
Before I saw the film, I sat down and talked with its stars, Rachael Harris and Matt O'Leary, and writer/director Robbie Pickering. We had a great conversation but unfortunately my recorders didn't catch a lot of what Rachael said due to all the noise in the Driskill hotel. So, if you download the podcast, just be aware of that.
We talked about Matt's audition, Rachael's improv mastery (my words not hers) and how the film Step Brothers can lead to break-ups.
Matt, how did you get involved in the film?
Matt O' Leary: Well, it was just an audition process back in LA, they, through the agent whatever, I went out and I kind of, I started to spread my wings a little bit with comedy, and this is, it's a dark comedy. And I really like the character. And I kinda want to create something new. I was playing a video game and I heard like some voice and I started creating this thing and I went in.
I walked in and I decided  I'm just gonna go all out. And I really like improving and to improv somebody's writing, its gotta be annoying but I was hoping that he wouldn't have a problem with it. And we actually, we bounced back and forth very well in the room.
Since you have once or two scenes to pick from and they're making a judgment for the entire span of the character, they were worried that I was a little too angry, so when I went back in, I kind of just, I kinda change it up a little bit. And that's where really the improv kinda kicked in, and I started to fall in love with the comedy of the story because really I haven't been a part of any comedy, Spy Kids is a little different.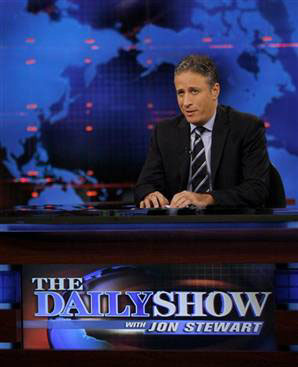 Hulu users are missing their daily dose of Jon Stewart and now the video site is offering big money to bring him back.
The internet television service will be paying Viacom between $40 and $50 million for the rights to air The Daily Show With Jon Stewart and The Colbert Report on its site. Both shows were available on Hulu until March of last year.
The new deal between Hulu and Viacom was announced last night.  Episodes of Comedy Central's perennially popular talk shows will be posted on Hulu the day after they air. Additionally, Viacom will provide Hulu with shows like Tosh.0 and Jersey Shore, on a 21 day delay.
Prior to 2 weeks ago, I had never seen Andrew Garfield in anything. Now, having seen his work in Never Let Me Go and The Social Network, I'm on the bandwagon. The guy is just plain great.
David Fincher thinks so as well. He told the LA Times that he had met with Garfield about playing Mark Zuckerberg in The Social Network (he was introduced to him by the director of Never Let Me Go, Mark Romanek).  "I met with him and thought, 'He's great, he's obviously a very skilled actor and kind of an amazing presence. He has such incredible emotional access to his kind of core humanity that I was like, 'Why would we waste an actor like this on the part of the guy [who seems like he has] Asperger's? I'm trying to cast somebody who doesn't have this access.' And that's Andrew's greatest strength, that's his real musculature," Fincher said.
Fincher gave him the part of Eduardo Saverin and he is perfect in the role.
While preparing, Garfield didn't meet the real-life Eduardo. "It didn't feel imperative because Aaron Sorkin wrote this incredibly detailed and idiosyncratic script in which he managed to flesh out a bunch of real people in all of their facets, so it was all there on the page. But in terms of doing some kind of mimicry performance, it didn't feel necessary or important," he said.
"Jesse might have had a slightly different deal because people are more aware of Mark Zuckerberg's physicality, his mannerisms. No one knows who Eduardo Saverin is, and I don't either. Of course, the fact he's a real-life human being, breathing on this Earth somewhere, creates a whole new dimension to my approach because you feel a greater sense of responsibility. But not that much greater because [for] any character you feel a sense of responsibility as if they were a real person."
For the whole article, click here.
Podcast: Play in new window | Download (Duration: 10:02 — 7.0MB)
With all the craziness that happens on Adult Swim's Childrens Hospital, it was good to talk to the more normal people in the cast, Lake Bell and Erinn Hayes.
Ok, they were as nutty as their cast members and I loved it!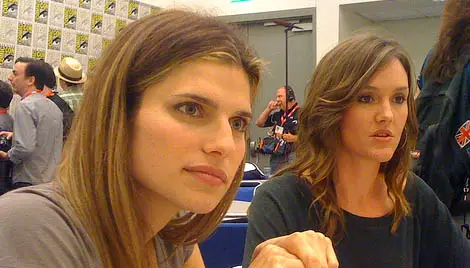 Lake plays 'Dr. Cat Black' and Erinn is 'Dr. Lola Spratt' and they're both terrifically funny in the show.
Lake is also currently starring in HBO's How To Make It In America and Erinn was in the short-lived series, Worst Week.
This was a round-table interview at Comic-Con and here we talk about working with the actual children of Childrens Hospital, moving a web-series to TV and more!
For the full interview, click onto the audio link above or download from iTunes.
With all of the debauchery that goes on on set and the kids are, of course, background and there's lot of adult humor happening, I'm sure.

Erinn:  I feel like I have made at least 50 children's ears bleed–not even for the scripted stuff–it's just really the hanging out on set together…if you look, there's really not even an extra. There's like…four children in the whole first season.  In the second season, we actually had a little bit of money, Adult Swim was very nice, and we got a little bit of a budget, and, uh, there were some children extras and we'd just be fuckin' around in between…
Lake:  Don't say that word! You can't use that word in front of kids.
Erinn: …in between scenes and then we would look and go, "Oh my God you guys there are kids! There are kids right over there…"
Lake:  But there's something about children who are on the Childrens Hospital set, where I feel, like, it's OK. Their parents have subjected them to this…so… I'm like, "Ah, fuck it, have a cigarette…" Anyway…whatever, so…
Erinn: [LAUGHTER] Yeah, make yourself feel better…
Podcast: Play in new window | Download (Duration: 16:20 — 11.3MB)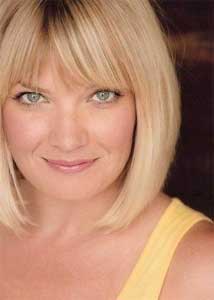 The Tony Nominations just came out and one of the funniest shows of the season, Lend Me A Tenor, was nominated for Best Revival of a Play.
I saw the show when I was in New York and it was hands down the best show I saw that week – and I saw some great shows!  The moment the lights went down to the curtain call (one of the most inspired curtain calls I've ever seen), I never stopped laughing. Lend Me A Tenor does not disappoint.
One of the reasons the show is so good is because of Mary Catherine Garrison. She plays Maggie, Max's (Justin Bartha) love interest in a show that is over-flowing with talent. Directed by Stanley Tucci, is also stars Tony Shalhoub, Anthony LaPaglia, Jan Maxwell and Brooke Adams, Mary Catherine shines in the role as the"virginal" damsel.
She's got such a great story on how she got her first Broadway role working with Nathan Lane. Whether you want to work in theater or not, this interview is priceless on how she got her start.
As always, I recommend listening to the interview if you have the time.
So, as the curtain comes up you're the very first person we see on stage. What was that feeling on opening night?
Mary Catherine Garrison: Every time I start a new show I think "This is my last chance to run away, to never be heard from or seen again." So, I had that feeling like I always do. But it's also neat—I'm trying to think of how many shows I've been on stage when they start—and it feels like an honor, but it also feels like a lot of pressure to get the ball rolling and make sure your energy is up there where it needs to be. Especially for something like this.
The cast is obviously amazing. You get a chance to run around and have fun with them night after night.
Oh, my God, it's so stimulating. This is one of the best jobs I've ever had hands down, because everybody's so good at their job and so creative. They never stop working. Tony Shalhoub is a maniac. He works on his bits. He's still working on stuff. When he's not onstage, he's backstage running through things, trying to figure out certain jokes. And just the other night I was backstage with Justin and Tony and I lost some laughs that I had since the beginning, and we talked it. We were whispering. We practiced different versions of what it could be, and we figured it out and I got it back. Everyone's so generous, and there are no crazy egos in this cast. It's really stimulating and fun. I just feel really, really lucky to be a part of it. Everybody says stuff like that, but I actually really mean it. [LAUGHTER]
And Justin Bartha, this is his first Broadway show and it looks like he's been doing this for years.
That's what I've been saying, you'd never know this was his supposed debut. He did do plays in high school, but obviously that was a few years ago. He's just blown me away. I love being on stage with him. I love watching him. I love watching him and Tony. I literally stand backstage and watch some of their scenes every single night. I think they're so delicious together. And he's just game, he's a pleasure.
Podcast: Play in new window | Download (Duration: 8:05 — 3.7MB)
If you're a fan of Dollhouse, you've most likely seen Erin Cummings. She had a recurring role on that show this past season and also had a guest starring role on Cold Case.
If you're not familiar with her, get ready, because she's about to make a big splash in the upcoming Starz series, Spartacus: Blood and Sand. She plays Spartacus' wife, Sura, and she's going to surprise you.
Erin has some great things to say on training and getting for a huge part like this… and she also has something to say about actors who don't stick to the script. It's well worth the listen!