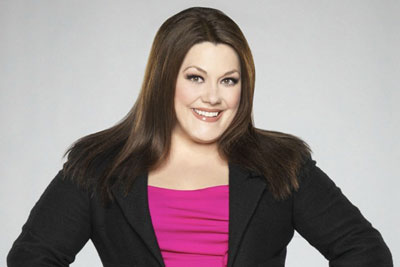 Lifetimes' Drop Dead Diva dropped dead last season, with the network unexpectedly canceling the show. But as we all know, you can't keep a diva down for long and because of popular demand, Lifetime resurrected the show. 
Back with a 13-episode order, the show picked up where it left off and no one could be happier than the star, Brooke Elliott. "When you literally come back from the dead, whether we're talking about, you know Deb, who comes back as Jane, or our show coming back for Season 5, you really kind of make the most of it, and I think that's what we're doing," she said. "We don't take it for granted. I think everyone is working 110% this season. It feels good."
Brooke received a 2010 Gracie Award for Female Rising Star in a Comedy Series and has been nominated for a 2011 PRISM Award for Best Performance in a Comedy Series, both for her work on the show. She's also starred on Broadway in The Pirate Queen, an original musical from the writers of Les Miserables, and in Taboo, the musical composed by Boy George and produced by Rosie O'Donnell. She's toured nationally with Beauty and the Beast and was in the original cast of the first national tour of Wicked.
I talked to Brooke and Executive Producer Josh Berman in a recent conference call about the new season, what they had to sacrifice – shooting wise – and literally coming back from the dead.
Drop Dead Diva airs on Sundays at 9pm on Lifetime Read more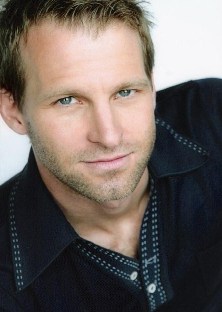 Written by Anthony Meindl
Negative thoughts never serve you.
Ever.
They continue to keep you locked in the prison of the left brain's neural grooves that give you zero access to anything more than additional negative thoughts. Eeeeek.
When that feedback loop happens, you must cut the circuitry in order to access anything else.
How you do that is simple.
1). Stop the thought. Just stop it. The only reason why it feels so pervasive is because it's the thought you most often think of yourself. But just because we think these things doesn't make them true.
2). Drop the thought. Just drop it. It doesn't serve you (except to keep you stuck). So just drop it. You can do that by mentally affirming a new statement of truth or if you're having a particularly hard time, get physical. (Yes! Olivia Newton John sang about it in the 80′s!) Go for a walk. Get out of your normal routine. Stop what you're doing and engage your body. Just recalibrate by doing anything else rather than perpetuating that negative thought. Read more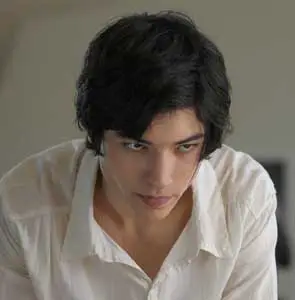 Dropping out of high school at sixteen to star in movies, We Need to Talk about Kevin actor Ezra Miller didn't take the most conventional route to fame and fortune.
However, as the 19-year-old explained in a recent interview with Moviefone, he's learned everything he needs to without doing math homework or science projects.
"I dropped out of high school on the suspicion that I could learn everything that I wanted to learn in my craft outside of an educational institution," he explained. "My suspicion was proven quite right through this unfairly fantastic education, being able to collaborate and draw from these incredible actors. It's the high-school-dropout education of a lifetime."
Who's his favorite teacher so far? That would be Andy Garcia, who encouraged the young actor to be unique in his work. "He explained, 'You have a slate that you can paint on, you can draw on it, you can make it into something. Once you've done that scene and you have it on a solid slate, you have to break it and start over,'" Miller recalled. "He was trying to communicate with me that I can't, especially in art, try to recreate something that's already been done. You will have a truer and better result if you work from an internal place and start anew, rather than replicate or mimic something that you once did."  Read more
In the next two months, Emma Stone will appear in a whopping three films: Friends with Benefits (July 22), Crazy Stupid Love (July 29) and The Help (August 12). It's hard to believe that she only got her start at age 18 with Superbad in 2007.
To get to where she is today, Emma dropped out of High School and made the move to Los Angeles.
She told Vanity Fair, "I did Superbad in what would've been my senior year… I was playing a senior, and had I graduated I would've missed that opportunity, and had I missed that opportunity I wouldn't be here right now."
That doesn't mean things were easy for her. In fact, she said that she hit "rock bottom" after auditioning for Claire on NBC's Heroes. "I could hear that, in the other room, a girl had just gone in and they were saying, 'You are our pick … On a scale of 1 to 10 you're an 11." That's when Hayden Panettiere, who played the part, walked out of the room. "I went home and just had this meltdown," she says.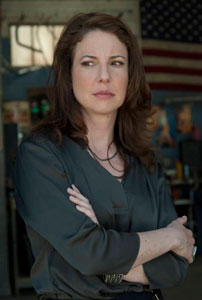 Robin Weigert plays Ally Lowen on the hit FX show, Sons of Anarchy. As the club's lawyer, she knows the illegal dealings but never denies helping them out and this season, she's doing that a lot.
Weigert, probably best known from her role as Calamity Jane on HBO's Deadwood, earned a Master of Fine Arts degree from New York University's Tisch School of the Arts. After graduating, she stayed in New York working in theatre (Broadway's The Seagull) until moving to Los Angeles.
I talked to Robin in a recent conference call where she talked about her role on Sons, Kurt Sutter's writing, building a backstory for her character and her new film, Concussion.
Sons of Anarchy airs on Tuesdays at 10pm on FX Read more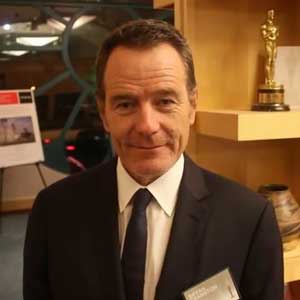 We've posted some of Bryan Cranston's advice to actors before and it was, as expected, pure gold. Now, we've got some more awesomeness to chew on in the video below.
Taken from last years Academy Awards new member reception, he drops some more awesome advice: "Know what your job is," he says. "I was trying to go into auditions trying to get a job." he says. "An actor is simply trying to create a compelling interesting character and that serves the text. You present in the environment where your audition happens and then you walk away. Everything else is out of your control."
Check out the video for the rest of his comments. You'll be glad you did.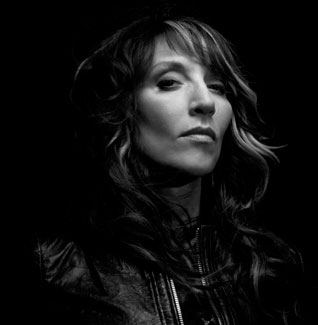 Sons of Anarchy is well into its sixth season and Katey Sagal's Gemma is getting more and more dangerous. But, as she said in a recent conference call, "I don't see her as evil at all.  I rather like her." I like Gemma too… but I'm damn afraid if her. I actually think she might be the most dangerous character in the whole show.
In this interview, Katey talks about Gemma and if she takes her home at night, how the violence on the show is "just another day at the office", music being her first love and more.
Sons of Anarchy airs on Tuesdays at 10 on FX Read more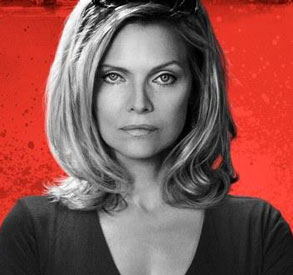 I don't often write things like this on Daily Actor, but I recently got to see Michelle Pfeiffer in person at a press conference for The Family, a new mafia comedy film she stars in alongside Robert De Niro, and she is a remarkably beautiful woman.  Normally I'd focus on her talent as a three-time Oscar-nominated actress over her long film career of great performances, but… well, she's beautiful.
Okay, I'm supposed to actually write about the movie.  I just had to get that out of my system.
In The Family, Pfeiffer stars as Maggie Blake, a former mob wife now in witness protection that will stop at nothing to protect her family from vengeful mobsters whom her husband (played by De Niro) ratted on.  Pfeiffer points out that actually being a parent helped her play such a protective parent.  She explains, "It's something that you automatically draw on.  That degree that you would go to in order to protect your family, and how complicated families and long relationships can be — you innately understand that." Read more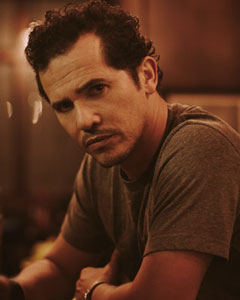 We've all heard stories of how an actor went out of his or her way with a characterization in order to land a role that he or she really wanted.  Most of the time it requires dedication and courage. Sometimes it involves props.  Sometimes it even requires spending $15,000 on a fat suit.
Wait, what?
Colombian-born actor John Leguizamo has long wanted to star in a biopic about Colombian drug lord Pablo Escobar, and it seemed like he wouldn't get a chance even though Brad Furman, who is directing a biopic of Escobar titled King of Cocaine, thought Leguizamo was perfect for the part.  Relativity, which is producing the film, didn't think Leguizamo had enough international appeal.  Even after the studio's choice Oscar Issac dropped out of the film, Furman was told that Leguizamo would not be considered. Read more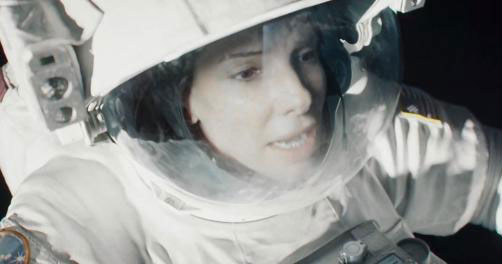 The Venice Film Festival has brought forth a few fall films that are already generating Oscar hype. One of those movies is the Alfonso Cuarón-directed film Gravity starring George Clooney and Sandra Bullock.
The storyline involves two astronauts who are left adrift after surviving a space shuttle accident. While Clooney is seen in about a third of the film, it is Bullock who carries the rest of the movie by herself.
The 49-year-old actress didn't seem daunted by the script nor having to carry most of the movie by herself. Read more