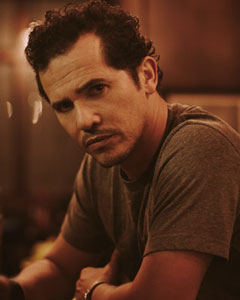 We've all heard stories of how an actor went out of his or her way with a characterization in order to land a role that he or she really wanted.  Most of the time it requires dedication and courage. Sometimes it involves props.  Sometimes it even requires spending $15,000 on a fat suit.
Wait, what?
Colombian-born actor John Leguizamo has long wanted to star in a biopic about Colombian drug lord Pablo Escobar, and it seemed like he wouldn't get a chance even though Brad Furman, who is directing a biopic of Escobar titled King of Cocaine, thought Leguizamo was perfect for the part.  Relativity, which is producing the film, didn't think Leguizamo had enough international appeal.  Even after the studio's choice Oscar Issac dropped out of the film, Furman was told that Leguizamo would not be considered. Read more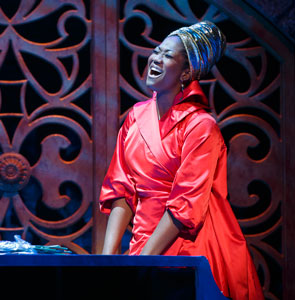 When artists say they will do what it takes to get the job, most actors are talking about being prepared in that audition room. For one Broadway star though, it meant leaving home, couch surfing and a bout of homelessness.
Amber Iman just made her Broadway debut playing legendary jazz singer Nina Simone in Soul Doctor. However, getting to the Great White Way wasn't that easy.
After graduating with a musical theater degree from Howard University, Iman dismissed moving to New York because fellow alumni who made the move before her "ended up working at Starbucks!" Read more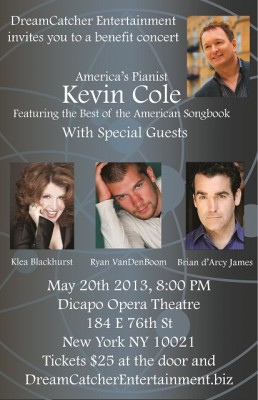 One thing you can always give Broadway performers is that they're almost always willing to support their fellow performers. 
May 20th will see a headline benefit performance in New York City by Kevin Cole, known as America's Pianist, who has played in symphonies across the country and in solo concerts and is well-known for his renditions of the Gershwin songbook.  He will be joined by three special guests from Broadway: Brian d'Arcy James (Shrek; Next to Normal; TV's Smash), Klea Blackhurst (Everything the Traffic Will Allow), and Ryan VanDenBoom (Annie).
Read more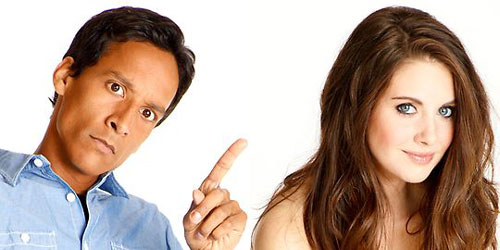 Community stars Alison Brie and Danny Pudi are clearly great friends. In a recent conference call, the two were finishing each other sentences, making each other laugh and talking about how much they love working together. It was a fun conversation to be part of.
I love the show and am so happy it came back so another season. It's been a bit hit and miss but I think the recent episodes show that it's coming back to what it was when Dan Harmon was the head guy.
In this interview, the two talk about the current season, the new show-runner, working on the Dreamatorium episode and more!
Community airs Thursdays at 8/7c on NBC Read more
Though Ethan Hawke could have had a solid career by coasting on his fame from starring in films like Reality Bites in the 1990s, Hawke is making a return to the familiar New York stage in an extremely intimate setting.  He stars as a troubled rock star in Clive, which he also directed, at the Acorn Theater.  He spoke to The New York Times about his decision to return to the stage and why theater means more to him than acting in film.
Hawke has dyed his usually dark hair silver and has spiked it up to help him get into character.  Of the change, he says, "I don't know how to explain it exactly.  I didn't want to feel like me when I did this role.  I'm trying to do that old-school, third-person thing by unlocking something as utterly superficial as my hair. I was shooting for a Bowie thing, but then I saw a picture of him after I did it, and he didn't really do his hair like this."
Though Clive is a modern adaptation of Baal, a play by German playwright Bertolt Brecht, Hawke believes that with his collaborators he has created something original.  He says, "I've spent my whole life aping the theater work of others, learning on the way, but I feel like I'm stumbling on something that is original with this group of people.  You haven't seen a play like this before, and I don't know exactly how it is going to work, but I do know it's what I want to do with my life." Read more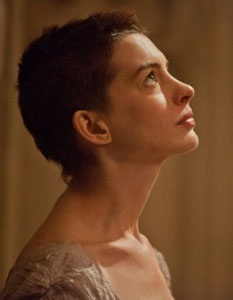 There are many memorable songs in Les Misérables, but perhaps none are as beloved as "I Dreamed a Dream," which is sung by Fantine.  Over the last few decades it has been recorded by everyone from Neil Diamond to Aretha Franklin, and turned middle-aged Scottish singer Susan Boyle into a household name with a single television performance.  So it's hard to blame Anne Hathaway, who plays Fantine in the film adaptation, for feeling nervous when she had to perform "I Dreamed a Dream" for the film — especially since all of the vocals for the movie were recorded live with only a piano accompaniment coming through her earpiece. Read more
Don Draper isn't a very happy place right now (er, 1966) – his upstart advertising agency is struggling, another man is raising his children and even a saucy rendition of "Zou Bisou Bisou" from his beautiful young wife puts him on edge. Still, actor Jon Hamm  enjoys the character he plays on AMC's Mad Men all the same.
"I have an affinity for him," Hamm recently told Reuters. "I think he is complicated. He is often wrong, he is often spiteful, he is often mean. But I think we all know people like that, and I think he is coming from a place of pain and working through that… He is worth getting to know."
Mad Men's fifth season began in late March after a drawn-out, 17-month hiatus. Hamm, a budding film star thanks to the show, had plenty to do in the meantime, but he's certainly glad to be back on the set of television's most critically-acclaimed drama, which centers around fictional 1960s New York City ad firm Sterling Cooper Draper Pryce. Read more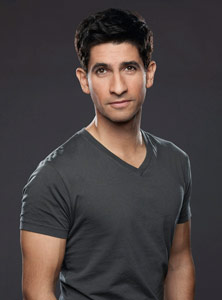 "There's an awful lot of truth to it, there really is," Raza Jaffrey recently told The Wall Street Journal about the new musical series Smash. 
Jaffrey, who plays Katherine McPhee's very likeable on screen boyfriend, Dev Sundaram,  has plenty of experience when it comes to both Broadway and his latest role in the TV series that follows the glam, glitz, and the downfalls of working in theater.  "I did Bombay Dreams on stage in London, a year's worth of auditions and workshops for that, there's an awful lot of similarities to when a musical is starting. They've done a great job making that stuff accurate." 
And since Broadway is at the core of Smash's storyline, it has to be believable.  "When I first got the script, a year or more ago, a lot of people in the industry were cynical, "Would this show be too niche?" "How would you draw out a story about a small set of people in the entertainment community?" "In the Broadway community?" It's a small group. I think "Smash" is obviously an ode to New York and an ode to Broadway, but it is about bigger things and human relationships. Everyone knows what it's like to strive for things and want things." Read more
Now that the screen version of the blockbuster musical Les Miserables has finally finished the casting process, actress Amanda Seyfried is psyched to talk about her new role.  In an interview with Access Hollywood, Seyfried said, "It's like a dream.  I can't even believe I'm playing Cosette!"
Although Seyfried reached mainstream audiences singing in Mamma Mia, she recognizes that some critics might think she's not suitable for the challenging role.  She said, "I trained for four months before I got [the role.]  It's classical music, it's completely a different animal [than pop music.]  It's really hard.  You can't just take any pop star and turn them into a classical singer.  Luckily, I had that foundation as a teenager.  I studied opera.  I'm not the greatest singer, but I'm trying!"
It's true that Seyfried has a special connection the musical, which will also star Hugh Jackman, Russell Crowe, Anne Hathaway and Helena Bonham Carter.  "This is my all-time favorite musical, hand down.  I fell in love with it when I was 11 and first saw it.  I know every lyric, I know every song.  I was Eponine from 11 to 15 in my head.  When I was 15, I got into classical music and I was playing Cosette in recitals." Read more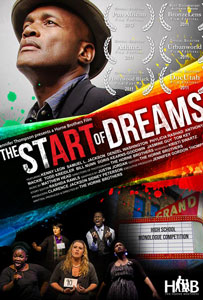 The Start of Dreams is the story of award-winning director Kenny Leon bringing aspiring teenage actors to a Broadway stage in an intense monologue competition. In a new age where Arts Education is considered expendable in such a declining economy, Leon is determined to use his celebrity and influence to expose kids across the country to the wonderful world of theater. 'The Start of Dreams' is packed with Hollywood's elite weighing in on this important art form and what it means to humanity.
Director: The Horne Brothers
Cast: Kenny Leon, Samuel L. Jackson, Denzel Washington, Viola Davis, Anthony Mackie, Phylicia Rashad, Jasmine Guy, Doris Kearns Goodwin
In Theaters Now Read more