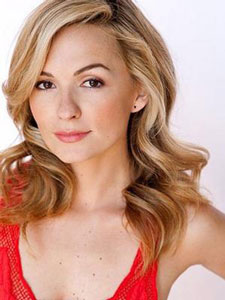 One of the most iconic series from HBO's slate of shows over the years has been Sex and the City. When the CW decided to do a prequel to the popular Sarah Jessica Parker show, some fans were concerned over who would play Carrie, Miranda, Charlotte, and Samantha in The Carrie Diaries.
While the provocative role of Samantha Jones wouldn't come into play until Season 2, Lindsey Gort was prepared to step into character after being a longtime fan of the series.
The 29-year-old Arizona native said, "I was living with three other girls [in New York City], and we would watch Sex and the City every week obsessively. I always considered myself more of a Samantha. I've never been afraid to speak my mind."
Getting the role wasn't that easy though. Gort was in the running for the part, but the producers originally wanted a recognizable name. Read more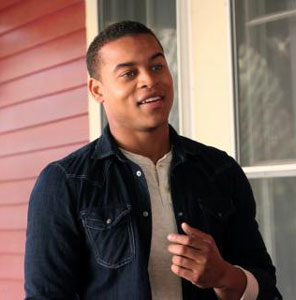 Acting might have saved Robert Ri'chard's life. 
The Vampire Diaries actor noted, "When I was a kid there was a local acting studio down from my house.  I grew up in a rough neighborhood, and the studio was a place where kids could go and get out of the gang-type stuff.  I went there and it was the only thing I wanted to do.  I shook hands with an acting coach there, Ms. D., and that was the start of my new life.  She was a mentor and a powerful person in my life."
Although he's appeared in projects like Coach Carter and The Feast of All Saints, Ri'chard is still committed to reaching his full potential.  "The number one thing is training," he told The Washington Times.  "I trained six or seven days a week for five years.  There is also a difference in wanting to be an actor and wanting to be famous; that's different in pursuing a career in theater.  You have to know what you want to do.  You can look at Kim Kardashian; she's a notable personality, but that's different than being an actor." Read more
Stephen Amell is one busy actor who is enjoying a vast array of parts on several different projects and showing off his impressive range of acting skills.
On "Vampire Diaries," Amell plays the evil Brady who temporarily scars Caroline during a creepy and vicious torture scene, and the actor obviously embraced the dark side of his character. While in "Justice for Natalee Holloway," the actor's portrayal of Joran Van Der Sloot it's less obvious what emotions lay below the surface of the man. Amell delivers a performance that plays up Van Der Sloot's handsome and charming boyishness but adds a sense of timidness to the mysterious man with the world reknowned reputation clouded in suspicion.  Unlike with his "Vampire Diaries" character, the viewer does not detect any judgement on the actor's part regarding Van Der Sloot's guilt or innocence.
Amell explains what it took for him to prepare for this role. " Well the practical side came first. I had to get the accent and I had to figure out his mannerisms. The next aspect was taken care of with the dialogue. But I have to say, this is the first time I've played someone who exists in reality and it was very exciting," he says. "Honestly, I didn't think too much about it going in, but we filmed a really big scene off the bat and it took a bit of a toll on me. I wouldn't say it was emotionally challenging, but if I played him right, by the end of the day I was in a funk. That being said, you don't want to judge the characters you play, so you're able to bring the truth, but I was very aware this character is a weak person. So where you normally look for strength, I look for weakness," the actor said.
Amell's name was on the short list to take over on "Spartacus", and though the part went to Liam McIntyre, he says he is okay with the producers decision." I was in the "Spartacus" casting process for about two months. I had four auditions and a great meeting with Steven DeKnight. Then myself, Aiden Turner and Liam McIntyre were flown to New Zealand and worked for three full days. Fitness assessment, screentest and character work. I think Liam will be spectacular, but it worked out because the Tuesday after I didn't get "Spartacus," I got a call to get on the plane to Georgia for "Vampire Diaries." I had auditioned three times before that. I definitely tried out for Mason Lockwood and Elijah. They liked me but didn't think I was the right fit for those roles. For Brady, I got on the plane not even knowing the part, but knowing it would be super awesome."
Read more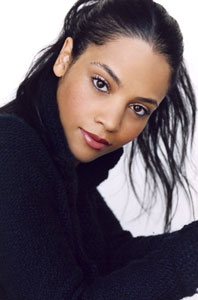 Ageism and Hollywood is a tale as old as time. However, what happens if the actor gets older, but the characters they play stay the same age? That's exactly what is happening with Bianca Lawson's career.
The 34-year-old has been in the business since she was a teen. Many viewers will remember her from her role as Megan Jones in Saved by the Bell: The New Class. She began that show in 1993 at the age of 14.
Since then, she has moved on to other TV and film roles like Buffy the Vampire Slayer, Dawson's Creek, Save the Last Dance, Vampire Diaries and currently, Teen Wolf. While Lawson has had a few birthdays since then, her characters have not.
We've seen older actors play teens on the big and small screen before. Gabrielle Cateris was 29 years old when she first appeared on 90210 and as Uproxx.com pointed out, "Stockard Channing was 34 when she played 18-year-old Rizzo in Grease." Read more
Anne Hathaway was honored with an Academy Award® nomination for Best Actress for her performance in Jonathan Demme's critically acclaimed drama Rachel Getting Married. For her work in the film, Hathaway also earned Golden Globe, Independent Spirit Award and Screen Actors Guild (SAG) Award® nominations, and also won the National Board of Review, Chicago Film Critics Association, and Critics' Choice Awards for Best Actress. She more recently received another Golden Globe nomination, for Best Actress in a Motion Picture – Comedy or Musical, for her role in Edward Zwick's Love and Other Drugs, opposite Jake Gyllenhaal.
Later this year, Hathaway stars as Fantine in Tom Hooper's much-anticipated feature film adaptation of the beloved musical Les Misérables, opening in December.
Hathaway made an auspicious feature film debut with a starring role in Garry Marshall's 2001 hit comedy The Princess Diaries, and reprised her role in The Princess Diaries 2: Royal Engagement. Her early film credits also include Douglas McGrath's screen rendition of Charles Dickens' Nicholas Nickleby and the title role in Ella Enchanted. Read more
Paul Giamatti is an award-winning actor with a diverse roster of finely etched, critically acclaimed performances.
Giamatti won his first Golden Globe Award as well as Emmy and Screen Actors Guild (SAG) Awards® for Best Actor for his portrayal of President John Adams in HBO's seven-part Emmy Award-winning 2008 miniseries John Adams, directed by Tom Hooper.  He won his second Golden Globe Award for the portrayal of Barney Panofsky in Richard J. Lewis' Barney's Version, based on the best-selling novel, alongside Dustin Hoffman, Rosamund Pike and Minnie Driver.  He recently received a SAG Award® as well as Golden Globe and Emmy Award nominations for his portrayal of Ben Bernanke in Curtis Hanson's HBO film Too Big to Fail, opposite William Hurt and Billy Crudup.  His other critically acclaimed HBO movies include Winchell, opposite Stanley Tucci, and Jane Anderson's If These Walls Could Talk 2. Read more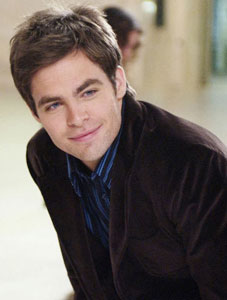 Chris Pine has emerged as one of Hollywood's hottest young actors. Chris was most recently seen in the Twentieth Century Fox feature film Unstoppable directed by Tony Scott and costarring Denzel Washington. Chris has completed production on the drama Welcome to People costarring Michelle Pfeiffer, Elizabeth Banks and Olivia Wilde.
In 2009, Pine starred as James T. Kirk in Paramount's box-office smash-hit feature film Star Trek for director J. J. Abrams. The film chronicles the early days of Kirk and his fellow USS Enterprise crew members. He will reprise that role in two upcoming sequels of the franchise.
Pine's additional feature credits include the Paramount Vantage film Carriers, the educational animated feature Quantum Quest: A Cassini Space Odyssey, Bottle Shock for writer/director Randall Miller, the independent feature Small Town Saturday Night for writer/director Ryan Craig, Joe Carnahan's gritty ensemble drama Smokin' Aces for Working Title Films and Universal Pictures, Blind Dating costarring Eddie Kaye Thomas and Jane Seymour, the Fox/New Regency romantic comedy Just My Luck opposite Lindsay Lohan and The Princess Diaries 2: Royal Engagement opposite Anne Hathaway.
On the stage, Pine was most recently seen starring in Martin McDonagh's The Lieutenant of Inishmore at the Mark Taper Forum in Los Angeles. In Bob Verini's review for Variety, he called Pine's performance "spookily, spectacularly good" and went on to remark that "Inishmore audiences are present at the launch of what promises to be a truly remarkable stage career." In March, 2011 Chris was awarded "Best Lead Performance" by the LA Drama Critics Circle for his performance.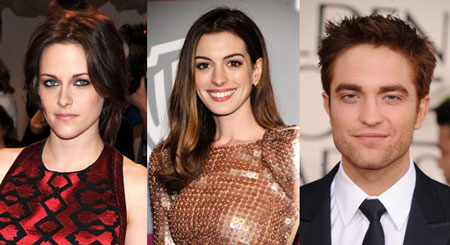 Delivering their annual list of Hollywood's Best Actors for the Buck, Forbes has revealed who came out on top in Tinseltown this year. 
Based on the performers three major releases in the last five years, the news giant named Twilight actress Kristen Stewart at No. 1.  The twenty-one year old actress, who plays Bella Swan in the Stephenie Meyer vampire adaption, earns $55.83 for every $1 she is paid. 
The Princess Diaries star Anne Hathaway came in at No. 2, she averaged a return of $45.67.
Surprisingly Hathaway beat out Robert Pattinson, the other star of Meyer's multi-million dollar story.  Pattinson's additional films outside of the Twilight franchise, as pointed out by Forbes, didn't fare well at the box office, causing the actor to score only $39.43 for every dollar he was paid.  Read more
Lea Michele's extraordinary voice is showcased each week in her starring role on FOX's Glee but is the songbird ready to trade in her signature solos for non-singing film roles? 
Despite the fact that she sings in the new film, New Year's Eve, Michele says she is ready to explore other opportunities in Hollywood.  In an interview with E! Online, Michele says, "I just felt that it was a perfect part for me to play for my first film.  To really transition from Glee…And from now on I might start to try to look into other things without singing to give my voice a break."
The part, a backup singer for Bon Jovi, was written specifically with her in mind.  Michele read the script without the mindset of finding another role to display her vocal talents, and she had no idea the part had been written for her.  She says, "I didn't really intend on doing a film where I sang.  I sing so much on my show that I sort of felt like maybe I would start looking into things that didn't involve me singing, but when I read the script, the songs were already in there—they didn't add them for me."  Read more
For six seasons, she played the beautiful yet complicated Jen Lindley on Dawson's Creek. Flash forward t0 2011 and this teenager is now a woman in her thirties with many award nominations, including an Oscar nod for her turn as a lonely, trapped wife in Brokeback Mountain.
Now, after playing these deeply depressing characters, she is beginning to embrace her "new life," which can only come from growing up and understanding who she is. It doesn't hurt that she was chosen to play iconic sexpot/actress, Marilyn Monroe in the film My Week With Marilyn. But what hides underneath this willowy, Mia  Farrow-esque actress? "I think Nabokov once said that genius is finding the invisible link between things.  And that's how I choose to see life. Everything's connected, and everything has meaning if you look for it." 
The idea of playing such an iconic figure was daunting. "As soon as I finished the script, I knew that I wanted to do it, and then I spent six months trying to talk myself out of it," she says. "But I always knew that I never really had a choice. I've started to believe that you get the piece of material that you were ready for."
She's also intrigued by Monroe's way of being both an adult and a little girl, a dichotomy hard to genuinely find in this world. "I've always thought of her as that woman-child, not an icon, which is probably why I let myself approach the role."  Read more