Whether he was tiptoeing around the Oval Office as the President's personal aide on The West Wing or breaking out antiquated hip-hop moves as co-owner of a psychic detective agency on Psych, Dulé Hill has always been about the dance.
"At the root of it, I'm a dancer," the 36-year-old told New York magazine in a recent interview promoting his appearance in upcoming Broadway production Stick Fly. "My plan was to be a corporate lawyer, but that changed when I realized how much more studying I was going to have to do."
While studying at Seton Hall University, he was cast in off-Broadway musical Bring in 'da Noise, Bring in 'da Funk, which represented a fork in the road for the young actor. "We had a Wednesday matinee, and I had a midterm that day," he said. "I went to the teacher and said, 'I'll take the test early.' He said, 'You have to decide, do you want to get a degree or be in show business?'"
Stick Fly, produced by Alicia Keys, opened at Broadway's Cort Theatre last night and is about two brothers (one of which is played by Hill) who both bring new girlfriends to a family reunion on Martha's Vineyard. "No matter how perfect your family, there are always things that aren't getting said, that ride beneath the surface," according to Hill.  Read more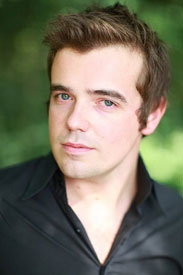 I'm a huge fan of the Harry Potter series, including all of the books and films so when I first heard of the show, Potted Potter – The Unauthorized Harry Experience, I was immediately interested in checking it out. The show takes all seven of the Harry Potter books and condenses them into a seventy minute and from everyone I've talked with, the show is absolutely hilarious.
It's played all over the world and had a summer-long run off-Broadway and now, it's touring America. Created by two-time Olivier Award-nominated actors Daniel Clarkson and Jefferson Turner, the two have since gone onto other projects but have left the show in very capable hands with actors James Percy and Delme Thomas. 
I talked with James recently and he's got quite an interesting story. First of all, he's got a law degree from the University of Liverpool. How many actors have a law degree? Not many but it's good to know because if (when?) I get into some trouble, he's going to be the first guy I call. He's also a stand-up comic and is youngest actor to ever play the role of Wilbur Turnblad in Hairspray.
James, who plays the role of Harry in the show, talked to me about the improv in the show, auditions, why he got a law degree and touring America.
Check out James' website and follow him on Twitter!
Potted Potter is currently in San Diego. For tickets and information, click here. Upcoming shows include Irvine, San Luis Obispo, Pittsburgh and Houston. For more info and tickets, click here. Read more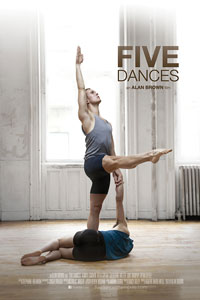 Remember when you were young and you could spend 10/15 hours at a time working on something you loved? It was all-encompassing, all passion. It meant everything that you were the best or that what you were working on was the best you could do. Everything else fell by the wayside.
Those feelings of youth came rushing back to me as I watched Five Dances, Writer/Director Alan Brown's story of a young dancer trying to make it in New York City.
Brown, working choreographer Jonah Bokaer, cast five dancers for the lead roles and while you can tell they are a bit green on the acting front, it actually works well for the film, especially for Ryan Steele, who as Chip, has his first film role here.
Chip is just off the bus from Kansas. The place he was staying has just kicked him out and he's secretly sleeping on the floor of the dance company he's just joined. Through the next several weeks, Chip deals with the struggles of a young artist: competition, hours of hard work and the value of friendship. Read more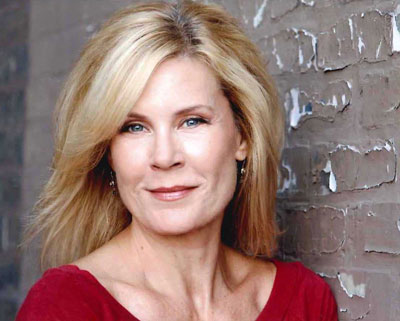 Hollis Resnick is currently touring the country as Mother Superior in the big crowd pleasing new musical, Sister Act.  The show, with a score from Alan Menken/Glenn Slater and Directed by Jerry Zaks, follows the same story line of the Whoopi Goldberg film of the same name except for one major difference, it's now set in the 70′s.
Deloris Van Cartier (Ta'rea Campbell), now a disco diva, witnesses a murder and is put in protective custody in the one place cops are sure she won't be found – a convent.  She's disguised as a nun and finds herself quickly at odds with the uptight Mother Superior (Resnick). She starts to use her disco ways and singing voice to inspire the choir and breathe new life into the church, but in doing so blows her cover. 
Hollis, a big name in the Chicago theater scene, is no stranger to National Tours. You may have seen her in Les Miz, Dirty Rotten Scoundrels or even Thoroughly Modern Millie. When I talked to her about life on the road, she gave me a bit of advice for anyone who is looking to travel with a theater company: Pack light.
In the interview, we talk about the show, her life on the road, why she went back on tour and how she got the part.
Sister Act is currently playing in San Diego till August 4th (click here for tickets). Next up is Costa Mesa, CA. For more information, check out the Sister Act tour website. And, take a look at Hollis' website, hollisresnik.com. Read more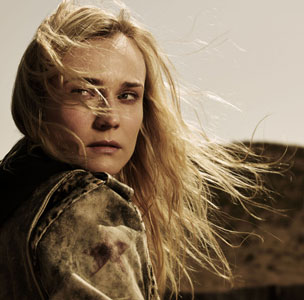 The Bridge, which premieres tonight on FX, stars Diane Kruger as Sonya Cross, an El Paso Detective with Asperger's Syndrome. When an American Judge is found dead along the border, her character teams up with her Mexican counterpart (Demian Bechir as Marco Ruiz) in the search of a possible serial killer.
Kruger, who starred in Quentin Tarantino's Inglourious Basterds and was most recently seen in The Host, was born in a small town in Germany and originally "dreamt of becoming a ballet dancer," and that "being an actor never even seemed a possibility." She eventually moved to Paris and went to drama school there and finally became known to audiences when she landed the part of Helen of Troy in Troy (opposite Brad Pitt). "My reality is, to be honest, it's bigger than I would have ever dared to dream," she said.
In this interview, she talks about playing a character with Asperger's, the research she did for her character and how cable TV is has the best roles available to women.
The Bridge airs at 10pm on Wednesdays on FX Read more
The Tony Awards, the best of all the awards shows in my opinion, crowned their winners last night and Kinky Boots was the clear winner with 6 total awards. The new show by Cyndi Lauper and Harvey Fierstein won Best Musical, Best Original Score and Best Performance by an Actor in a Leading Role in a Musical for Billy Porter, among others.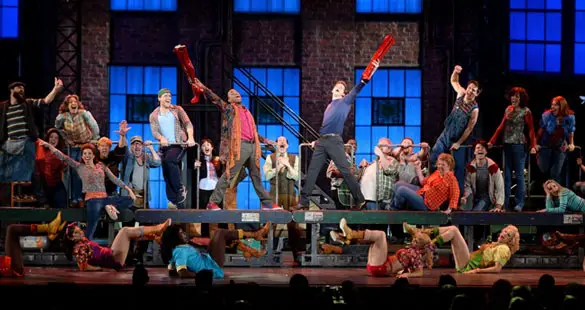 The big shocker of the night was Tom Hanks not winning Best Actor in a Leading Role in a Play. That went to Tracy Letts. I saw Who's Afraid of Virginia Woolf last December and while I'm not a fan of Edward Albee, I have to say, the actors in the show were outstanding and I didn't think Letts winning was a long-shot at all.
The actual show started off with a bang. Neil Patrick Harris' opening number was freakin' gold as was two other numbers he did during the show. Aside from Annie with Jane Lynch, the numbers with the kids (Matilda, Christmas Story) I could have done without. And how bad was Bring It On? No wonder it closed early.
The musical number I thought killed was Kinky Boots. How great did that look? I haven't seen the show yet, but one thing I loved was that the chorus look like normal people. They weren't your typical showgirls, guys… all buffed-up dancers. They looked like me and you (I suppose). Stark Sands and Billy Porter rocked the number.
Below is the list of winner. Check it out! Read more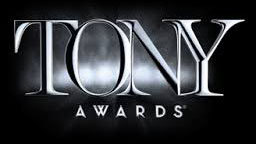 Sutton Foster and Jesse Tyler Ferguson announced the nominations for the 2013 Tony Awards this morning (way too early for us West Coasters) and with 13 nominations, the musical Kinky Boots is the one to beat.
Right behind it is Matilda the Musical with 12 nominations, Pippin received 10 and Rodgers + Hammerstein's Cinderella got 9.
Tom Hanks (Lucky Guy), Nathan Lane (The Nance) and Holland Taylor (Ann – read our review here) were among the Best Performance nominees.
Check them all out below and then watch Sutton Foster and Jesse Tyler Ferguson make the announcements here! Read more
Podcast: Play in new window | Download (Duration: 13:13 — 9.1MB)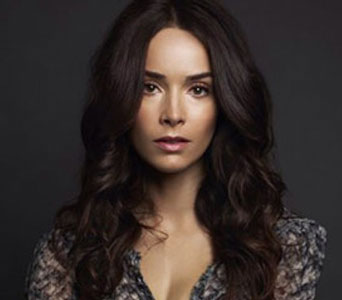 When Abigail Spencer shows up on your screen, you know those moments will be interesting. She was one of the best parts about Chasing Mavericks and she made the opening segment of Oz, the Great and Powerful that much better. 
Abigail was discovered by casting director of All My Children, Judy Blye Wilson, when she was – get this – sitting in the audience of the Regis and Kathy Lee. Wilson tracked her down, had her audition for a role on the soap and she ended up doing a little more than 20 episodes. But before you get all, "What the heck?," she already had the chops. She went to Carnegie Mellon University for acting, spent her teen years doing theater and her mentor growing up was none other than Broadway great Ann Reinking.
I talked to Abigail at SXSW where she was promoting her film, Kilimanjaro. In that film, Brian Geraghty plays Doug, a guy kind of floating through life. After his girlfriend moves out, Doug decides to embark on a more meaningful life and starts planning to climb the famous Mount Kilimanjaro. Abigail plays a woman who comes into his life and shows him that being spontaneous isn't a bad thing.
In this interview, we talk about how she got her start – including the Regis and Kathy Lee story, giving back to young actors, working with good people and her advice to actors.
Follow Abigail on Twitter and be sure to check her out in the new Sundance Channel series, Rectify. Premieres April 22nd!
For the full interview, click the audio link above or download it from iTunes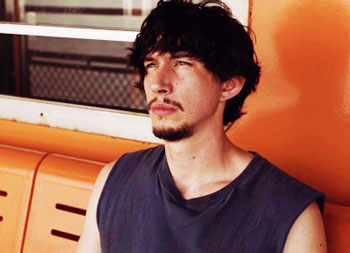 Adam Driver, who plays the lead hipster on HBO's Girls, is not one of those actors who enjoys watching himself onscreen.
"I can't help but watch something and nitpick all the mistakes and then replay them over in my head for months afterward, and not only drive myself crazy, but everyone I'm around crazy, too," he said to Interview magazine.  "I almost feel like an egotistical prick.  I think it's a thing I have to get over, but for now I keep noticing all the problems that I want to fix.  And I know what it feels like to play it, so I'm not so interested to see what it looks like."
Driver has been particularly analytical about his performance as Adam on the show.  "I saw the pilot for Girls about six months before it aired," he remembered.  "I watched it with Lena [Dunham, creator/writer/star of the show] on her laptop in her apartment and I was like, 'No…I can't do this.'  I kept replaying it in my mind, overanalyzing things in a way that I didn't think was helpful.  So I said, 'If this is going to continue to go forward, I don't really want to know how it's being translated, what shots actually make it in there.'" Read more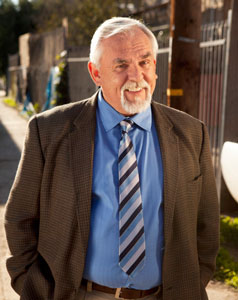 John Ratzenberger has starred on one of the most iconic TV shows ever, Cheers, and has been in every Pixar movie that's ever been made. How's that for a resume? I mean, what else do you need to know?
Not one to rest on his laurels, Ratzenberger has been working on various projects in recent years, from Dancing with the Stars to his reality show, Made in America. Now, he's starring in FX's new comedy, Legit. The show stars Jim Jefferies as an edgy, foul-mouthed, stand-up comedian from Australia. He's living in LA and struggling to make his life and career more 'legit.' Ratzenberger plays Jefferies father and as he said in a conference call, he loves "every minute of it."
In the interview below, he talks about coming back to series TV, working with the cast and his 18-year association with Pixar.
Legit airs on Thursdays at 10:30pm on FX Read more