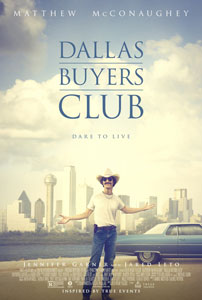 Dallas Buyers Club is a 2013 American biographical drama film directed by Jean-Marc Vallée and starring Matthew McConaughey, Jared Leto, Jennifer Garner and Steve Zahn. The film is based on the true-life tale of Ron Woodroof, an AIDS patient who began smuggling unapproved pharmaceutical drugs into Texas when he found them effective at improving his symptoms. The film has been critically acclaimed and received several awards and nominations, including two Golden Globe Award wins for McConaughey and Leto. Read more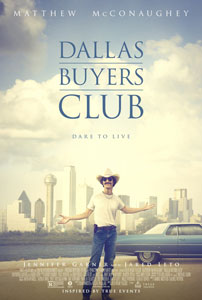 One of the things about having an incredibly interesting story to draw on for a biopic is that sometimes the filmmakers feel the need to squeeze every single detail into that film.
That's what's happened with Dallas Buyers Club, the story of Ron Woodruff (Matthew McConaughey), a good ole boy from Texas. It's 1985 and Woodruff, an electrician and rodeo cowboy, is living the life; drinking and drugs with his buddies and one-night stands with random women. And when he's not having all of that fun, he's nailing hookers.
All of that comes crashing to a halt when he's diagnosed with AIDS and is told that he's got 30 days to live.
Screw that. Woodruff takes his life into his own hands and looks for some kind, any kind, of treatment. He goes into Mexico to find drugs that aren't approved by the FDA. With the help of a ex-pat Doctor (Griffin Dunne), he finds medication to help him survive. Always trying to wheel and deal, he comes up with the idea to form a 'club' where he would sell memberships to people so they could get access to these meds. He smuggles the illegal medication over the border and begins looking for ways to sell the stuff. Read more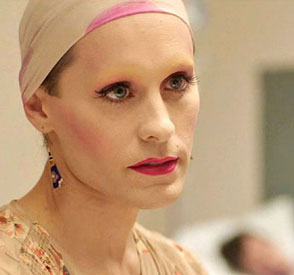 Jared Leto is making waves for his transgender performance as Rayon in the fall film offering Dallas Buyers Club. Much has been made about his transformation into the character and the fact that he stayed in the role for the entire 25-day shoot.
One of the highlights of the film is how naturally his friendship develops with fellow AIDS-sufferer and homophobe Ron Woodroof played by Matthew McConaughey. Leto talked with Moviefone about how that relationship developed so fluidly.
He said, "We both had a great sense of our characters and what we were doing there; the circumstances, the situation, the story. So it was actually, I think, really beneficial that we didn't really know each other and we didn't spend any time rehearsing." Read more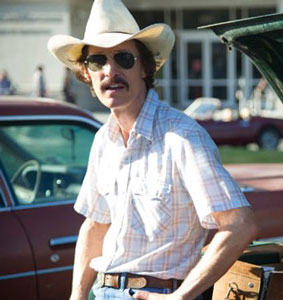 There was a time when I would point to Matthew McConaughey's first movie role — David Wooderson in Dazed and Confused — as his best role in an inconsistent career overshadowed by performances in silly romantic comedies.  But over the past two years McConaughey has constantly challenged himself as an actor in films like Killer Joe, Bernie, Mud, and now Dallas Buyers Club. 
In Dallas Buyers Club, McConaughey portrays Ron Woodroof, a real-life Texas man who was diagnosed with HIV and defied the government by creating an organization that imported life-saving drugs from other countries, keeping himself and dozens of others alive in an era when life expectancy for those with HIV was brief.  McConaughey spoke about his transformation (both physically and mentally) into Woodroof and what he thinks of the awards buzz his performance is generating. Read more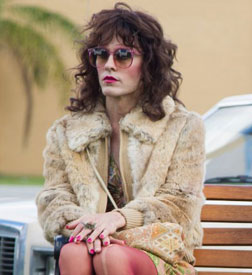 The media has been talking all year about Matthew McConaughey's weight loss for the upcoming film Dallas Buyers Club, but fans of Jared Leto might not even recognize the actor in the movie. Leto plays a transsexual who is suffering from both a drug addiction and AIDS.
The actor lost almost 30 pounds to play the role and weighed only 116 lbs. when he stepped on set. He talked to The New York Times about how his physical appearance affected his acting choices.
The 41-year-old actor said, "It's a great tool. It changes the way you walk and talk and think and feel, the way people treat you, the choices you make."
Playing the character Rayon involved transforming from a man to a woman who wears makeup, heels, a wig and a dress. Leto focused in on the emotional side of the story as well by talking to transgender people about their lives. Read more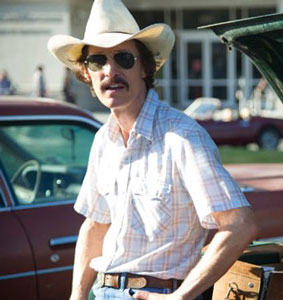 Forget diet and exercise.  The real secret to weight loss is… Tom Hanks.  Well, at least according to fellow actor Matthew McConaughey.
McConaughey had to lose a sizable amount of his normal bulk — forty pounds — in order to portray Ron Woodroof, an HIV-positive man, in Dallas Buyers Club.  So, McConaughey put in a call to Hanks as an expert.  He explains, "I actually called Tom and had a great conversation with him about what he learned about losing weight for Philadelphia and Cast Away. And I consulted a nutritionist about the best way to do this." Read more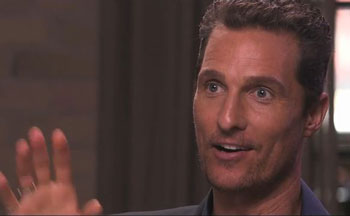 Here's a couple videos featuring Matthew McConaughey and Jared Leto talking about their new film, Dallas Buyers Club. I am really looking forward to this. McConaughey is on a spectacular roll the past couple of years and this will only add to it.
In the first video, McConaughey, Leto and Director Jean-Marc Vallee talk about why they wanted to make a movie based on the life of AIDS activist Ron Woodruff. McConaughey calls it a "bull ride" and how getting Woodruff's diary was the key for him. Leto, who plays a transgender person, says he talked to several transgendered people and how the whole process became really "special."
In the second video, McConaughey talks about his weight loss for the role and how hard it was to get the film made, Leto talks about the stereotypes of taking on a transgender role. Jennifer Garner also makes a brief appearance in the video as well.
Check them out below! Read more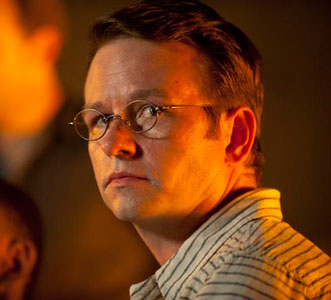 Dallas Roberts, who plays Milton, on AMC's The Walking Dead wasn't really sure what to expect when he joined the series.
"The show has chosen to deal with this rabid fandom by being super secretive with its information, so the part I auditioned for was Milton, but his name wasn't Milton on the sides," he said in an interview with Vulture.  "The scene had him talking to some woman who…I don't remember what her name was.  It just was a fake scene written to audition people for a sort of nerdy scientist-y kind of guy.  It never appeared in any scripts.
"The description probably said, 'bookish, uncomfortable around people, more in love with his books and instruments than people,' but auditions don't tend to be a forthcoming place in terms of information about the show.  You just kind of put your spin on it and cross your fingers." Read more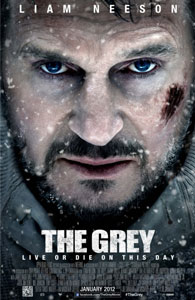 The Grey: A group of oil-rig roughnecks are left stranded on the sub-arctic tundra after their plane experiences a complete mechanical failure and crashes into the remote Alaskan wilderness. The survivors, battling mortal injuries, biting cold and ravenous hunger, are relentlessly hunted and pursued by a vicious pack of rogue wolves.
Starring: Liam Neeson, Dallas Roberts, James Badge Dale, Dermot Mulroney and Frank Grillo
Directed by: Joe Carnahan
In Theaters: January 27, 2012
Read more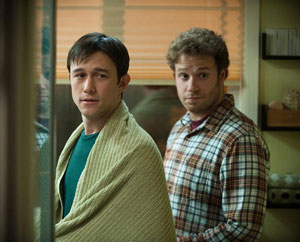 I haven't seen this yet, but from everyone I've talked to who's seen it, 50/50 is going to make you cry. Or at the very least, make you form mysterious water droplets from your eyes. If that happens and you want to look cool, just do what I do and say you were yawning. Works every time.
Starring Joseph Gordon-Levitt, Seth Rogen, Anna Kendrick, Bryce Dallas Howard and Anjelica Huston, the film is inspired by the friendship of Rogan and screenwriter Will Reiser. 
Take a look at the clips and if you see me in the theater with misty eyes, I was just yawning.
It comes out September 30th.