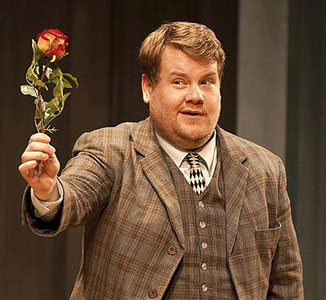 One Man, Two Guv'nors, the play starring Tony Award winner James Corden, is closing after the departure of Corden, who is so integral to the show that producers would have a tough time carrying on without him.  Though a star in his native England, One Man, Two Guv'nors has exposed him to American audiences, many whom might be wondering where they'll see Corden next. 
As Corden tells The New York Times, he has plenty on his plate in both his professional and personal lives to keep him busy.
There's no rest for Corden after One Man, Two Guv'nors ends its run on September 2.  He explains, "When I get home next month, I host a TV show, which only takes two weeks, and then I get married.  So all my dreams are coming true. Some people would say, 'You can't do all those things.' I don't know why. They don't really give an answer. I think they're probably wrong." Read more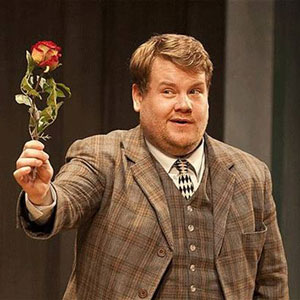 Though it was a big hit across the pond, One Man Two Guvnors still seemed to come out of nowhere to become a critical hit on Broadway.  Much of that praise centers on James Corden, who stars in the show, who spoke to the Los Angeles Times about how he feels about being Broadway's latest funnyman after several years as a struggling actor.
For one thing, Corden can't believe his own success.  He points out, "I'm from the smallest town outside London.  This really shouldn't be happening to anyone from my town."
Surprisingly, despite the rave reviews for Corden (he has been nominated for a Tony Award), he doesn't see himself as a comedian.  He says, "I don't consider myself a comedian.  I consider myself an actor who presently is in a comedy. Comedy is clearly something I enjoy hugely, but by the same token, there are other things I feel I'm capable of and would like to do." Read more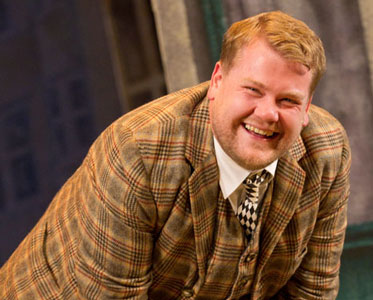 After opening at the National Theatre, a national tour, and opening at a West End Theatre, there seemingly wasn't any place left in England for One Man, Two Guvnors to go to.  So the successful comedy starring James Corden has now crossed the Atlantic for a run on Broadway. 
Corden spoke to the Associated Press about what is so challenging about his part in the play and why he looks forward to coming back to Broadway.
At first, one might aspect the most difficult aspect of the role for Corden is the physicality.  He says, "physically, it's the hardest thing I've ever done. My character's onstage for just two minutes and I have to throw myself backwards over a couch. It's full-on." 
However, One Man, Two Guvnors is not an ordinary performance: Corden has to riff off a number of audience plants and improv when audience members are pulled on stage.  Read more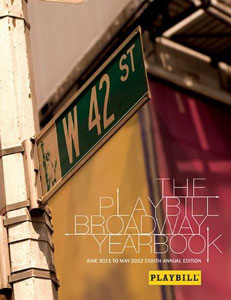 The annual Playbill Broadway Yearbook is out and like every year, I'm glued to it.
Covering all 72 shows that have appeared on Broadway from June 1st, 2011 through May 31st of this year, this edition is chock full of features, pictures and memorabilia that any Broadway lover will eat up.
You get every single Playbill for each show that opened (and some that quickly closed) throughout the year, complete with cast bio's & headshots and show synopses.
This years shows include Clybourne Park, Hugh Jackman Back on Broadway, Newsies, Once, One Man, Two Guvnors and old favorites like The Book of Mormon, Wicked and Mamma Mia! When I get to New York, I try and see as many shows as I can, so I particularly like to check out the shows I missed that I really wanted to see, which this year were The Columnist, Death of a Salesman and Follies. Read more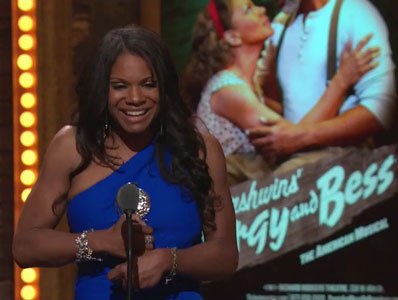 Here are all of the acting award speeches and speeches from the Best Play and Musical's from last night's Tony Awards.
They were all incredibly heartfelt but my favorites were from Steve Kazee, Audra McDonald and James Corden. If you didn't watch the show last night and don't have a lot of time on your hands, at least watch those 3.
You can also see Hugh Jackman get his Special Tony Award and Mike Nichols receive his much deserved award for Best Direction of a Play for Death of a Salesman.
Check them all out below! Read more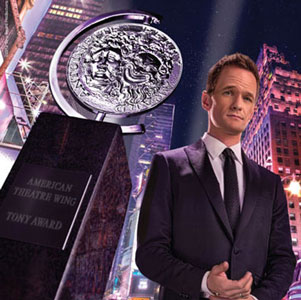 My favorite of all the award shows, the Tony Awards, are coming up this Sunday on CBS at 8:00 – 11:00 p.m. Delayed on the West Coast…. Thanks CBS!

Hosted by Neil Patrick Harris, the show will have appearances by Ellen Barkin, Candice Bergen, Jessica Chastain, Sheryl Crow, Nick Jonas, Angela Lansbury, James Marsden, Jim Parsons, Mandy Patinkin, Tyler Perry, Bernadette Peters, Christopher Plummer, Paul Rudd, Amanda Seyfried, Trey Parker and Matt Stone among others. 
As for the performances, the absolute best part of the show, they are as follows: Read more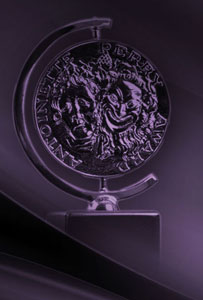 First of all, congratulations to all the 2012 Tony Award nominees!
The Tony Awards are my absolute favorite of all the award shows so getting up this morning to see who had been nominated was the very first thing I did. What, you didn't think I'd actually get up at 5:30am LA time, did you?
Since I didn't make my regular April trek to New York to see the shows, I can only rely on what I saw this past December, my love of the actors in the shows and all the buzz surrounding them. Will I know what the hell I'm talking about?
Absolutely not.
And with that, let's begin! Read more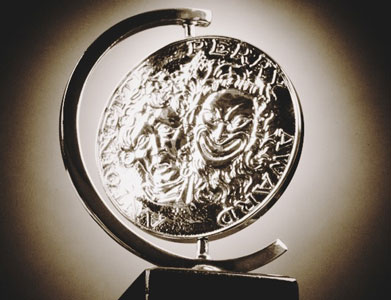 Best Play
Clybourne Park
Author: Bruce Norris
Producers: Jujamcyn Theaters, Jane Bergère, Roger Berlind/Quintet Productions, Eric Falkenstein/Dan Frishwasser, Ruth Hendel/Harris Karma Productions, JTG Theatricals, Daryl Roth, Jon B. Platt, Center Theatre Group, Lincoln Center Theater, Playwrights Horizons
Other Desert Cities
Author: Jon Robin Baitz
Producers: Lincoln Center Theater, André Bishop, Bernard Gersten, Bob Boyett
Peter and the Starcatcher
Author: Rick Elice
Producers: Nancy Nagel Gibbs, Greg Schaffert, Eva Price, Tom Smedes, Disney Theatrical Productions, Suzan & Ken Wirth/DeBartolo Miggs, Catherine Schreiber/Daveed Frazier & Mark Thompson, Jack Lane, Jane Dubin, Allan S. Gordon/Adam S. Gordon, Baer & Casserly/Nathan Vernon, Rich Affanato/Peter Stern, Brunish & Trinchero/Laura Little Productions, Larry Hirschhorn/Hummel & Greene, Jamie deRoy & Probo Prods./Radio Mouse Ent., Hugh Hysell/Freedberg & Dale, New York Theatre Workshop
Venus in Fur
Author: David Ives
Producers: Manhattan Theatre Club, Lynne Meadow, Barry Grove, Jon B. Platt, Scott Landis, Classic Stage Company Read more