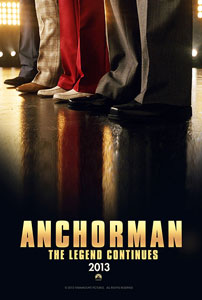 Here's a new teaser trailer for Anchorman 2: The Legend Continues!
Starring Will Ferrell, David Koechner, Paul Rudd and Steve Carell, it's pretty much the same as the first teaser trailer but who cares, right? It's still funny and it's just making me wish it were already December.
In theaters on December 20th! Read more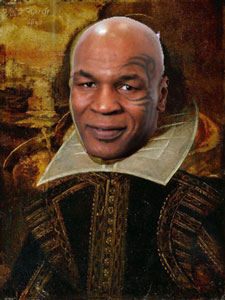 While he never garnered great reviews, Mike Tyson just completed a three-month tour of one-man show Undisputed Truth across the United States.  Snicker all you want, but Tyson has built up with a noteworthy acting resume over the last few years, with scene-stealing cameos as himself in The Hangover and The Hangover Part II and a featured role in an episode of Law & Order: Special Victims Unit.  However, Tyson is adamant that he plans on continuing his acting career, and even has a specific Shakespeare role he would like to tackle some day.
He revealed his knowledge of the Bard to reporters a few days before his show ended its run in Chicago by asking, "Wouldn't Shakespeare be awesome?  That black guy … could you imagine me in Othello?"
Tyson later backpedaled a bit on whether he was prepared to play the Moor of Venice, but also confesses that he believes he can do it, saying, "Anything you give me time to prepare, I can do.  I don't think I am ready for that yet, but I would like to try." Read more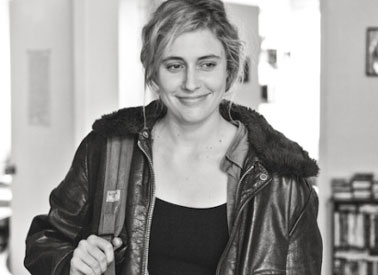 It seems like Greta Gerwig has been promoting Frances Ha forever — it premiered back in September 2012 at the Telluride Film Festival and finally is being released to theaters later this month — but everywhere Gerwig and co-writer/director Noah Baumbach have gone with the film they've been welcomed with rave reviews.  In an interview with Time, Gerwig talks about co-writing the film and how her earliest years acting in "mumblecore" films prepared her for her current work.
Gerwig has written or co-written a few of the films she has starred in, including Frances Ha.  When asked what it's like to write her own scripts, she says, "It's hard to think about yourself playing it, if you're trying to write more than one part, so I kind of didn't think about playing it [while writing]. I actually thought maybe I didn't want to play the part for a while, because I was scared. Also, I wanted it to be clear that I co-wrote it. And I thought if I acted in it, maybe people would think I was improvising it or something, and got a writing credit just as a token. But my agents were, like, 'That's insane. That's a totally weird way to go about things.'" Read more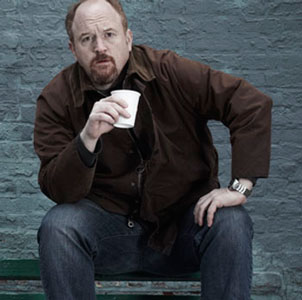 For most actors, getting cast in a Woody Allen movie is something to be crossed off one's bucket list.  However, when the cast list for Allen's next film — which would eventually be titled Blue Jasmine — was revealed, two unlikely names were on the list: comedians Andrew Dice Clay and Louis C.K.  Louis C.K. spoke to The New York Times about being cast in the film and initially losing the role he read for to Clay.
Louis C.K. actually initially approached Woody Allen for the role of Jack Dall on his own show, Louie.  Though Allen turned it down (which led to the offbeat casting of David Lynch), Louis C.K. later heard from Allen when Allen began casting Blue Jasmine.
However, the initial read did not go the way Louis C.K. hoped it would have.  He explains, "It just came out of nowhere. I got this e-mail: Woody Allen wants you to come in for something. I've been waiting for that e-mail my whole life. I'm not going to pretend I'm above that. I went into his office and read for a part that Andrew Dice Clay ended up getting. Woody said: 'I know you can act. I just don't know if this is the kind of guy that you are. This is a very mean guy, and you're not a mean guy.'  And I read it, and I was like, yeah, I'm not getting the part. I can be working class. I can't hit my wife. So I'll talk the way I would say these things and I won't get the part, but I'll leave with my head up high. And that's precisely what happened. But I was very emotional, because I had just met Woody and he was very kind to me." Read more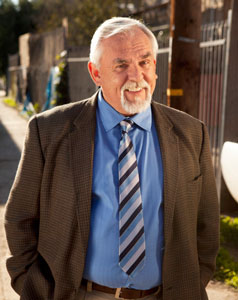 John Ratzenberger has starred on one of the most iconic TV shows ever, Cheers, and has been in every Pixar movie that's ever been made. How's that for a resume? I mean, what else do you need to know?
Not one to rest on his laurels, Ratzenberger has been working on various projects in recent years, from Dancing with the Stars to his reality show, Made in America. Now, he's starring in FX's new comedy, Legit. The show stars Jim Jefferies as an edgy, foul-mouthed, stand-up comedian from Australia. He's living in LA and struggling to make his life and career more 'legit.' Ratzenberger plays Jefferies father and as he said in a conference call, he loves "every minute of it."
In the interview below, he talks about coming back to series TV, working with the cast and his 18-year association with Pixar.
Legit airs on Thursdays at 10:30pm on FX Read more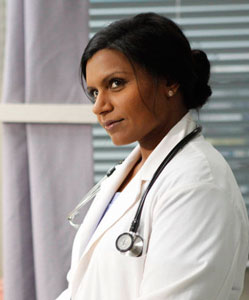 Mindy Kaling is the first one to admit that she doesn't really know how to handle her success.
"I don't know how to process enjoyment, it's like a personality defect," she said in an interview with The Guardian.  But it looks like she'll have to learn how, considering what a hit her show, The Mindy Project, has turned out to be.  Although the comedy didn't have stellar ratings when it started, it's already been picked up for a second season on FOX. 
Kaling works as the writer, producer, director, and star of the show—but she's not letting her achievements go to her head.  "I get the sense that when you revel in something you make yourself vulnerable to attack or criticism," she said.  "Sitting back in an overstuffed leather chair and saying, 'Life is great!'  That's kind of gross.  I just keep my head down." Read more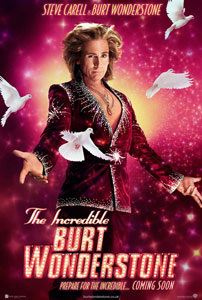 Though I like Steve Carell from his roles in Anchorman, The 40 Year Old Virgin, and, of course, The Office, I really don't think any of his recent films have really shown him at his comedic best.  However, from the looks of The Incredible Burt Wonderstone we may have another Carell winner coming soon.  The comedian spoke to Collider about the movie during filming, mainly speaking about how he varies his performances in multiple takes and the importance of casting the movie right.
Like other comedians, Carell tries to have fun when he goes through multiple takes of a scene by giving a varied performance in each.  He explains, "It's nice to be able to try different things with each take and to find things that work and don't work. You never know. You never know until you put it in front of an audience. But it's nice to have options when you're shooting it. You try to look at it, even incrementally, performance-wise and you try things that might be a little more broad or a little more grounded. Once they're editing and finding the exact tone of the movie, you have those options." Read more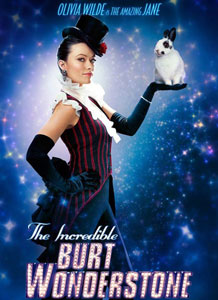 Olivia Wilde lived out multiple dreams of hers while working on The Incredible Burt Wonderstone.  She was thrilled to become part of the cast as Steve Carrell's magician's assistant.
"I read the script a while ago and really loved it.  I did go after it—I was really interested," she said in an interview with Collider.com.  "Not only because of the cast, which is obviously extraordinary, and contains many of my idols, and not only because Don Scardino [the director] was involved—I'm a huge 30 Rock fan.  I just think he's a master of tone.  I thought it was a really great role for me.  It was something I hadn't done before.  There was a certain challenge to it for me as well.
"I went after it, I auditioned, I was up against some real heavy hitters and I was totally shocked when I got the role, because it's a comedic role and I was going up against some real comedians.  I sort of thought I didn't have a chance in hell, but it was so fun to just audition for it; I just thought I'd go for it and take a chance.  Then to get to read with Steve Carrell was really amazing.  One of the best auditioning experiences I've ever had." Read more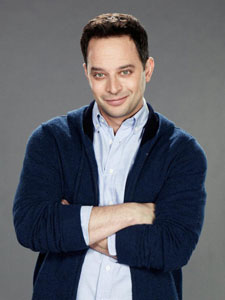 Comedian Nick Kroll is living the dream.  With his own Comedy Central series, Kroll Show, and his role on FX's The League, Kroll is quick to acknowledge how lucky he is.
"I think my goal was just to do comedy, honestly.  It still is.  Whatever form that took or takes, it doesn't matter," he said in an interview with The Huffington Post.  "Whether it was sketch or stand up back then or doing video or TV or movie or even a bit on another show today—whatever it is—it just comes down to doing comedy.  Really, I just love doing comedy.  Any form it takes is great, as long as I can keep doing it, you know?  If I can do my show and The League while also getting to do other bits, that's awesome.  I think my friends would agree.  I'd say 90 or nearly 100 percent of the people I know would do it for free.  I just really love comedy.  We all do."
Kroll is enjoying getting to work on two different types of programs.  "The similarities are that there is room for organic material in both," he said.  "Obviously, The League is done in outline form.  We get a 12-page outline—which is always tight—but we have room for improvisation and finding organic moments.  There's an element of that to Kroll Show." Read more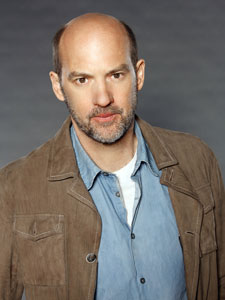 Anthony Edwards is back in his comfort zone, returning to television on ABC's Zero Hour, after breaking onto the scene with ER.
"I understand how a day on a set is supposed to go and it makes perfect sense," Edwards said in an interview with The Associated Press.  "It's my playground.  A question from my 12-year-old?  That's when it gets tough.  Raising kids is hard."
Even if Edwards thinks parenting is difficult, he might be one of the coolest dads out there.  After spending eight years on ER, he bought a plane and took his family on a 310-day trip around the world, including to exotic locations like Africa, India, and Southeast Asia.  "I've always been able to pay for what I needed and always done what I've wanted," the 50-year-old said.  "It got crazy when it was, yeah, we can buy a plane and go around the world, but that wasn't the goal.  That was no more excessive than when I was 20 and I could buy a $150 pair of boots because I wanted them.  It feels extravagant in the same way." Read more