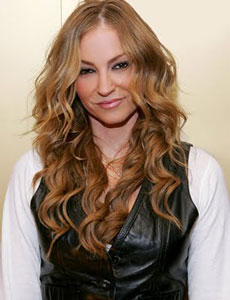 Drea de Matteo returned to FX's Sons of Anarchy as Wendy, Jax's (Charlie Hunnam) newly clean and sober ex-wife. The reason for the return is that she wants to be a part of their son's life but in order to do that, she had to get passed Jax's wife, Tara (Maggie Siff).
Drea is probably best known for playing Adriana on The Sopranos, a role which got her an Emmy for Outstanding Supporting Actress in a Drama Series but after taking time off to raise her kids, she's back. Not only reprising her SOA role but also in the new Lifetime movie (and backdoor pilot), Stalkers.
She recently had a conference call where she talked about returning to SOA, Stalkers, her time on The Sopranos and the difference between cable and basic cable (hint: She can't say the F word).
Sons of Anarchy airs on Tuesdays at 10pm on FX  Read more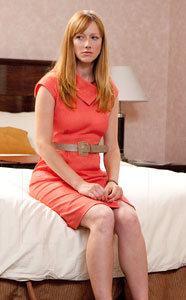 Judy Greer consistently captivates both critics and audiences with her engaging performances. She is one of the most prolific actresses of her time, appearing in 80 roles to date across film and television.
Greer can most recently be seen in Alexander Payne's "The Descendants" opposite George Clooney.  The Academy Award®-nominated film centers around attorney Matt King (Clooney), who learns, after his wife suffers a boating accident and winds up in a coma, that she'd been having an affair with local real estate broker Brian Speer (Matthew Lillard). When Matt and his daughters travel to the neighboring island of Kauai to confront Speer, they also meet the broker's affable wife, a role "indelibly etched" by Greer, according to Todd McCarthy of The Hollywood Reporter.  Greer has received critical acclaim for her supporting role in the film, garnering solo nominations from both the Satellite Awards and the Denver Film Critics Society, in addition to being nominated as part of the ensemble cast for a Gotham Award, a Screen Actors Guild Award and a Broadcast Film Critics Association Critics Choice Award.
Following "Jeff, Who Lives at Home," Greer will be seen in screenwriter Robbie Fox's "Playing the Field," for director Gabriele Muccino, opposite Gerard Butler, Jessica Biel, Uma Thurman, Dennis Quaid and Catherine Zeta Jones.  In the comedy, which follows former professional athlete George (Butler) after he agrees to coach his son's soccer team, only to find himself fending off the romantic advances of his players' mothers, Greer stars as recent divorcee Barb, one of George's' many pursuers.  FilmDistrict will release the film December 25, 2012. Read more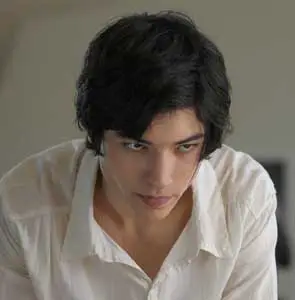 Dropping out of high school at sixteen to star in movies, We Need to Talk about Kevin actor Ezra Miller didn't take the most conventional route to fame and fortune.
However, as the 19-year-old explained in a recent interview with Moviefone, he's learned everything he needs to without doing math homework or science projects.
"I dropped out of high school on the suspicion that I could learn everything that I wanted to learn in my craft outside of an educational institution," he explained. "My suspicion was proven quite right through this unfairly fantastic education, being able to collaborate and draw from these incredible actors. It's the high-school-dropout education of a lifetime."
Who's his favorite teacher so far? That would be Andy Garcia, who encouraged the young actor to be unique in his work. "He explained, 'You have a slate that you can paint on, you can draw on it, you can make it into something. Once you've done that scene and you have it on a solid slate, you have to break it and start over,'" Miller recalled. "He was trying to communicate with me that I can't, especially in art, try to recreate something that's already been done. You will have a truer and better result if you work from an internal place and start anew, rather than replicate or mimic something that you once did."  Read more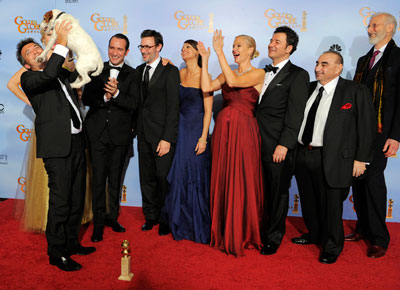 The Golden Globes are usually the best awards show to watch, mostly because the people in the audience are drinking up a storm. This one though didn't seem as fun as years past. 
There were some good moments – George Clooney's acceptance speech was a highlight as was Morgan Freeman's award for lifetime achievement. 
I also didn't think Ricky Gervais was as funny as last year. Maybe he held back a bit because of all of the controversy he got?
The Artist took took home the Best Motion Picture Comedy or Musical award while star Jean Dujardin got the statue for best acting.
The Descendants won for Best Motion Picture Drama and it's star, George Clooney,  for best acting.
In TV, Modern Family won for Best Television Series Comedy or Musical while and Homeland got the drama award.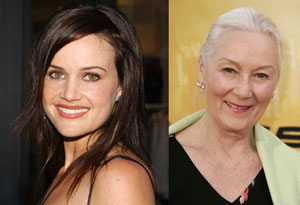 Carla Gugino, Rosemary Harris (Aunt May in Spider-Man) and Jim Dale are set to star in the Broadway premiere of Athol Fugard's The Road To Mecca.
The show will begin previews on December 16th and opens January 17th, 2012 at the American Airlines Theatre.
Gugino made her Broadway debut in Roundabout's 2004 revival of Arthur Miller's After The Fall.
And good news, if there's any trouble in the production with Harris, Spider-Man will swing from the FoxWoods Theatre and save the day.
About the show: "Set in the region of South Africa known as the Karoo, The Road to Mecca tells the story of an elderly woman who has spent the years since her husband's death transforming her home into an intricate and dazzling work of art.  The reclusive Miss Helen (Rosemary Harris) has become depressed and appears increasingly unable to care for herself.  Pastor Marius Byleveld, who embodies the village's conservative values, is determined to get Miss Helen into an old-age home.  Her friend Elsa (Carla Gugino), a young teacher from Cape Town who is deeply suspicious of the patriarchal traditions Byleveld represents, is just as determined that Miss Helen remain free."
The press release is below.
Podcast: Play in new window | Download (Duration: 15:35 — 10.7MB)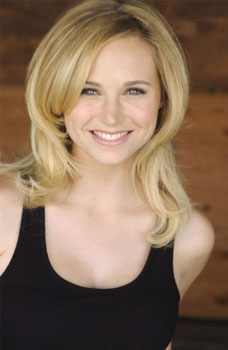 Fiona Gubelmann has been making her mark as a guest star in such shows as Californication, The Paul Reiser Show and The Closer. The new FX show, Wilfred is her first starring role and when she got the part, she told me that she "fell on the floor. It was one of the most incredible moments in my life."
Wilfred is about a depressed  man (Elijah Wood) who suddenly perceives his neighbor's dog Wilfred (Jason Gann) as an obnoxious Australian guy dressed up in a dog suit. Fiona plays Jenna, Wilfred's owner and possible future love interest.
I talk to Fiona in a conference call where she talked about the show, how she got the part and her audition process and that fateful call from her agent.
For the full interview, click the audio link above or download it from iTunes
Wilfred airs on Thursdays at 10 on FX.
How did you get involved with Wilfred? What the audition process was like?
Fiona Gubelmann: I got involved through my agents.  They actually sent me the audition appointment.  So it was just a regular audition and the night before my audition, when I first read the script, I just absolutely fell in love with it.  I thought it was so—it was just hilarious.  And I didn't quite get the whole guy in the dog suit thing so I went online and watched some of the Australian version of the show, and then I was like, "Oh my God, this is amazing!"
So I went back and reread the script and then the next day went in and had my first audition, and over the period of about three and a half weeks I kept going back and auditioning and eventually did a chemistry test between me, Elijah, and Jason and then tested for the part and was extremely lucky and I booked the show. Read more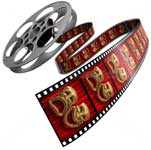 Here's a list of cable shows that are currently casting. From Nick to Disney and HBO to Showtime. If you want a complete list of everything that's being cast, click here for a list in both LA and New York!
Big Time Rush – Nick
Bucket and Skinners's Epic Adventures – Nick
Californication – Showtime
Chemistry – HBO
Death Valley – MTV
Entourage – HBO
Femme Fatales – HBO
Read more
TV Shows That Are Currently Casting
Being Human
Blue Bloods
Blue Mountain State
Bold & The Beautiful, The
Burn Notice
Californication
Closer, The
Covert Affairs
Dark Blue
Days of Our Lives
Desperate Housewives
Dexter
Drop Dead Diva
Eagleheart
Enlightened
Entourage
Facing Kate
Friends with Benefits
Fringe
Gates, The
General Hopsital
Glades, The
Good Guys, The
Greek
Hot in Cleveland
House, MD
Huge
ICarly
I'm In The Band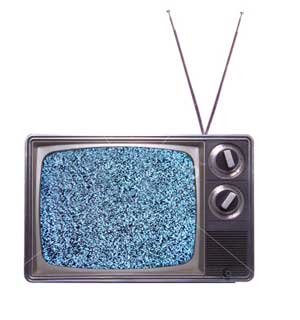 All My Children
Big Love
Bold & The Beautiful, The
Burn Notice
Breaking Bad
Californication
Closer, The
Entourage
Eureka
Friday Night Lights
Glee
Good Guys
Hannah Montana
Haven
Hawthorne
Hot in Cleveland
Huge
Hung
In Plain Sight
League, The
Leverage
Mad men
Make it Or Break It
Melissa & Joey
Memphis Beat
Men of A Certain Age
My Boys
Nurse Jackie
Parks and Recreation
Party Down
Pretty Little Liars
Psych
Rizzoli & Isles
Scoundrels
Secret Life of the American Teenager
Sons of Anarchy
Terriers
True Blood
True Jackson VP
United States of Tara
Walking Dead, The
Warehouse 13
Warren the Ape
Weeds
Wizards of Waverly Place
Workaholics
Drama Series: "Mad Men," AMC.
Comedy Series: "30 Rock," NBC.
Actor, Drama Series: Bryan Cranston, "Breaking Bad," AMC.
Actress, Drama Series: Glenn Close, "Damages," FX Networks.
Actor, Comedy Series: Alec Baldwin, "30 Rock," NBC.
Actress, Comedy Series: Toni Collette, "United States of Tara," Showtime.
Supporting Actor, Drama Series: Michael Emerson, "Lost," ABC.
Supporting Actress, Drama Series: Cherry Jones, "24," Fox.
Supporting Actor, Comedy Series: Jon Cryer, "Two and a Half Men," CBS.
Supporting Actress, Comedy Series: Kristin Chenoweth, "Pushing Daisies," ABC.
Miniseries: "Little Dorrit" PBS.
Made-for-TV Movie: "Grey Gardens," HBO.
Actor, Miniseries or Movie: Brendan Gleeson, "Into the Storm," HBO.
Actress, Miniseries or Movie: Jessica Lange, "Grey Gardens," HBO.
Supporting Actor, Miniseries or Movie: Ken Howard, "Grey Gardens," HBO.