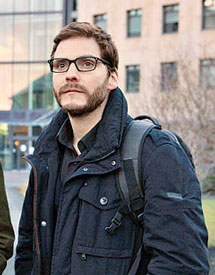 Daniel Brühl has broken through in 2013 as a rising star to watch in Hollywood. As a German actor, this is quite an impressive feat since it's harder for foreign actors to make a splash in the American film market.
Not only did Brühl impress audiences in Ron Howard's Rush as Formula One driver Niki Lauda, he is also taking on the challenge of playing Daniel Domscheit-Berg in The Fifth Estate opposite Benedict Cumberbatch.
In a recent interview with Moviefone, he talked about gaining exposure to U.S. audiences and how it's easier for German actors now than just a decade ago.
He shared, "I'm very glad that things have changed — thanks to people like Quentin [Tarantino]. That was the first experience for me, in Inglourious Basterds, and I heard that some of the American stars wanted to play certain parts in the movie, and Quentin said, 'No, no, no. I just wanted to make it different and give German actors the opportunity to play Germans.'" Read more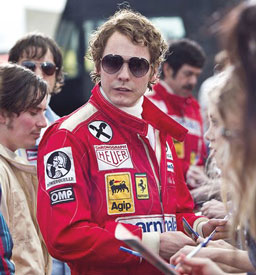 Daniel Bruhl is absolutely fantastic in the new Ron Howard film, Rush. The film is great and a lot of that can be credited to Bruhl who portrays Formula 1 superstar Niki Lauda.
To play Lauda, Bruhl says in the video that he read Lauda's biography, watched documentaries to get his body language right, worked with an accent coach and asked Lauda a "ton of questions." He says, "to play him was not that easy because we don't have that much in common. He's very different. It freaked me out at first."
In the video below, Brulh talks with Anne Thompson about the film, portraying Niki Lauda and more.
Check it out below! Read more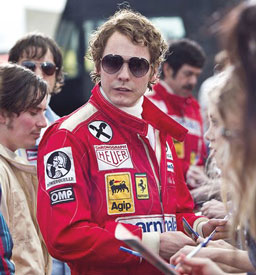 In the upcoming Ron Howard film, Rush, the casting of the role of  Formula One race car driver Niki Lauda was crucial. German investors had their heart set on a big American star to take on the role, but Howard went with his gut and cast the right actor for the role, Daniel Brühl.
The German actor was certain he wasn't going to be offered the film, so he went into the audition just for the experience of meeting the Oscar-winning director.
The 35-year-old actor said, "…my reaction was that it's impossible to play that guy because he's so different. I was quite restrained. But then I read the script and I was blown away because I think Peter Morgan is the best scriptwriter when it comes to stories based on real characters. And then I knew that Ron Howard was directing it, so I thought: 'OK, let's go to the audition and let's try it.' But I was quite relaxed, so maybe that was a good thing, because I thought they wouldn't offer it to me anyway." Read more
From Movieline:
It's not going to be apparent to anyone who goes to see Inglourious Basterds, but you actually speak fluent English. Why don't you do more American films?
Actually, it makes sense for me to stay in Europe, as I very much consider myself a European actor — also, I'm half-Spanish, and over the last few years I've tried to get into the Spanish cinema. So I stay here because the offers that I get for bigger parts came from Europe, not the U.S, but I'm always open to the idea. In the case of Inglourious Basterds, it just made total sense to be in it. I found it to be a very good idea of Quentin's to choose German and French actors to play these European parts. As I said, though, I'm open to any good project, no matter where it comes from.
Was Quentin already familiar with you and your work?
Well, I was very happy to know that he enjoyed Good Bye Lenin! so much. I think it's one of his favorite German movies of the past few years, and he said that to him, it was the kind of movie that's started a renaissance of new German cinema. He was also in the jury at Cannes when we showed The Edukators in competition, which I think he also liked. I think he was very clear on certain parts. It had never happened to me before that I got a call on the same day as the audition of the director offering me the part, so I was very thankful that he didn't let me wait and make me too nervous.
Read more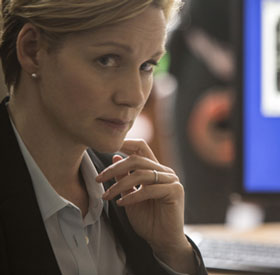 Laura Linney is currently in theaters in The Fifth Estate about WikiLeaks founder Julian Assange and his rise to power as a free-speech activist. The story raises many complicated issues about information and how it should be distributed even when it affects global security.
The Big C actress talked to Moviefone about her role in the Bill Condon-directed film and why she initially took on the project.
"Bill called and asked if I would do it and I said yes. He said, 'Well, read it first.' I said, 'I don't need to.' Because I'll work with Bill Condon on anything he wants me to do. Really, that's the entire reason I did the movie, was just to be around Bill. And the fact that it was about this very complicated issue is always fun to play and jump into a little bit," she said.
Even though the film stars Daniel Brühl and Benedict Cumberbatch, she never worked with them during the shoot. Read more