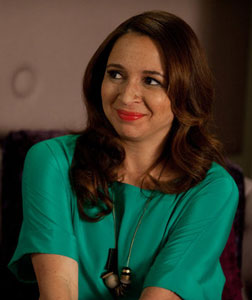 In a recent interview with Terry Gross on NPR's Fresh Air, comedienne Maya Rudolph opened up about how hectic her life was during her Saturday Night Live days and her grossest scene in last year's box-office smash wedding comedy Bridesmaids.
"Before I had children, everything about my life was devoted to Saturday Night Live," she said about NBC's trademark sketch show, which she returned to co-host in February after leaving as a regular cast member in 2007. "You're there sometimes on Tuesday nights until 6 or 8 in the morning. You're exhausted, you're loopy and you've had three shows in a row, and you haven't done any of your laundry, and you have no food in the fridge."
If Rudolph made it out with all of her wits intact, it was thanks to the tight-knit SNL cast, which included comedic luminaries like Tina Fey, Fred Armisen, Amy Poehler and Andy Samberg over the course of her time there. "I came from the co-ed touchy feely group," remembered Rudolph. "You help look out for each other and talk to each other about what's going on in your life elsewhere. You just experience everything together." Read more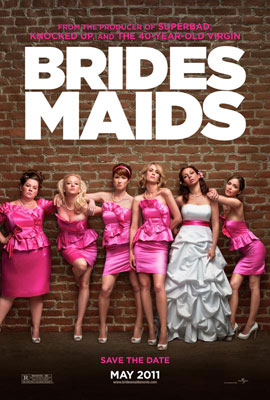 Want the screenplay to Bridesmaids?
Sure you do!
Bridesmaids: Kristen Wiig leads the cast as Annie, a maid of honor whose life unravels as she leads her best friend, Lillian (Maya Rudolph), and a group of colorful bridesmaids (Rose Byrne, Melissa McCarthy, Wendi McLendon-Covey and Ellie Kemper) on a wild ride down the road to matrimony. Annie's life is a mess. But when she finds out her lifetime best friend is engaged, she simply must serve as Lillian's maid of honor. Though lovelorn and broke, Annie bluffs her way through the expensive and bizarre rituals. from trailers.apple.com

Director: Paul Feig
Cast: Kristen Wiig, Maya Rudolph, Rose Byrne, Wendi Mclendon-Covey, Ellie Kemper, Melissa McCarthy, Chris O'Dowd, Matt Lucas, Jill Clayburgh, Rebel Wilson, Michael Hitchcock
Writers: Kristen Wiig, Annie Mumolo  Read more
This may be the funniest thing you'll see all day… maybe all week.
Here's 3 minutes of hilarious outtakes from Bridesmaids featuring Jon Hamm, Kristen Wiig, Melissa McCarthy, Ellie Kemper, Wendi McLendon-Covey and a very inquisitive little kid.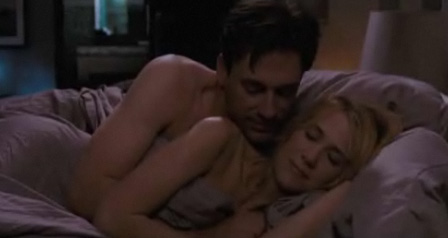 I loved the movie and after watching this, it'll make you want to see it again. Clips after the jump!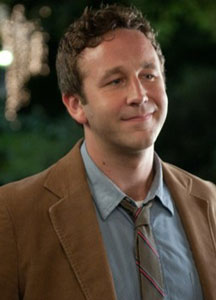 The new comedy hit "Bridesmaids" won over audiences this weekend, and one particular newcomer has women audibly ogling aloud in theaters and declaring their love via Twitter.
Chris O'Dowd, a 31-year-old Irish actor who lives in London, plays Officer Rhodes. He is still adjusting to the movie's success saying, "I'm overjoyed that it's doing so well, it's a hell of a ride!"
Dowd says it was a long improv session with "Saturday Night Live" star Kristen Wiig that helped him land the role. "Kristen was there with Judd and  Paul. We sat down and read this script, then we did a half an hour of improv… it went really well. Kristen is so easy to work with and she's just an amazing improviser."
Dowd first approached the character with an American accent, but it was his native Irish tongue that helped close the deal. "I went in and did it with an American accent, like I do in most auditions. It went fine, but the director knew some of my work, so he asked me to do it with my accent and it worked out better," he says. "I think they went for it in the end because they liked the idea of it being – it was never going to be formulaic – keeping any kind of normal structure away from it by putting this accent which is somewhat askew with the rest of the story, interested them."
Read more
Paul Feig, director of the hit  comedy, Bridesmaids, recently talked with Speakeasy about working with the predominately female cast and how he was open to on-set improvisation.
On directing Kristen Wiig, he said that she "actually came into this wanting to play it very grounded to the point where I felt like I wanted to showcase her comedy a little bit more. Because the first draft they wrote of the script was really a good draft, but it had her a little more reactive – she had very funny people around her and was very kind of grounded in her journey. And it was like, I want both because I've seen her in movies and she's always fantastic. But I've seen her movies where she's not funny at all, she plays it pretty straight, and I'm always kind of like oh shoot, I want to see Kristen be funny too."
Feig says he wants his actors to be open to improvising if it feels right for the character. "I'm a big believer that if you have very real characters and actors playing the characters in a very real way where they are the person and they're not commenting on the person, then you can put them in the craziest situations," he said. "Because then it's just like for you and I, suddenly if a spaceship came down and we got sucked into an alien spaceship, you and I would react the way that we react to things around here. And the problem is when you do things and these people are acting like crazy people, and you're like okay, what reality am I in? But if people are reacting in a believable way you can kind of take an audience anywhere."
Until now she was best known for her role as Erin Hannon on "The Office," but Ellie Kemper is acquiring a fan base from her role as a newlywed with bedroom issues in the film Bridesmaids.
Now that she has experience on both a television show and a movie set, the actress says she can report each set is enjoyable in their own way. "I definitely like both. With the movie there was so much more time to do the scenes and explore different ways of doing them. But with TV I love having routine and working on "The Office." Unfortunately there isn't as much time on a TV set."
Kemper says it was fun to work with all her female co-stars, especially Melissa McCarthy and Kristen Wiig, and there was alot of improvisation happening on set. "We had this great script but they really encouraged us to improvise on the day itself. They asked to email them any ideas and jokes for our characters. Scenes would go on and on and I would keep forgetting that I was in a scene. At the Brazilian restaurant everyone had a chance to improvise over two days of shooting. Paul [Feig, the Director] would say, "OK, keep going."
via wsj.com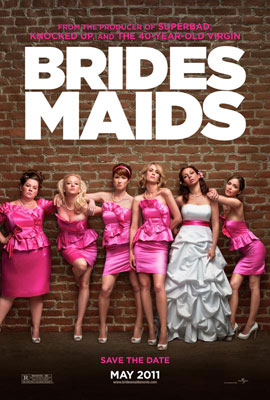 There's been a lot of talk that Bridesmaids was the female version of The Hangover. Well, that's just not true. There are similarities, but you just can't compare them.
What the film is though, is a total Judd Apatow movie. Apatow, the producer, is known for his raunchy comedies with tons of laughs and even more heart and Bridesmaids delivers just that.
Kristen Wiig (in her first leading role) is Annie, a baker who recently lost her dream of owning her own bakery in the recession. Her new job at a jewelry store stinks, her boyfriend/F-buddy (Jon Hamm) is a douche, and her roommates are… just plain odd. The only thing she enjoy's is hanging out with her best friend, Lil (Maya Rudolph). When Lil gets engaged and asks Annie to  her to be maid of honor, she is more than ready to plan something memorable for her and the rest of the bridesmaids, played by Melissa McCarthy (Mike & Molly), Ellie Kemper (The Office) and Wendi McLendon-Covey (Reno 911!). One glitch: Lil's newest "friend" Helen, Rose Byrne (Damages and the upcoming X-Men: First Class), wants nothing more than to unseat Annie as maid of honor.
The movie is about friendships and relationships and each character has the chance to add their own bit of realism to their part.
Everyone in the film is great, particularly McCarthy, who plays the sister to the groom. Blunt and gross, she's the funniest of the group by a mile and it's great to see her break out of the characters she's been playing on TV for the past few years. Also great was Hamm who plays a fantastic douchebag; I'd love to see him play more characters like this.
Someone I'd never seen or heard of before, Chris O'Dowd (I know, I know, he's on the BBC's The IT Crowd) plays Wiig's potential love interest and the guy is just fantastic in the role. I'll definitely keep an eye out on him and Netflix some of his work.
As much as I liked the film, there are some things that I took issue with. First, it's about a half hour too long (it's running time is about 2 hours). Also, it felt like some of the scenes went on a bit longer than they should have. I know a lot of the film was improved and it had some of those meandering moments you occasionally get with improved scenes. Finally, I wish that Ellie Kemper and Wendi McClendon-Covey had more screen time. They're both great comedic actresses and the parts they were in were funny, I just think they were under-used.
The women in the audience clapped at the end, so guys, be prepared to see it this weekend. But that's a good thing.
Most people recognize Melissa McCarthy from her role as the loveably daffy chef Sookie on the hit CW show Gilmore Girls. McCarthy's star is on the rise and her fan base is steadily growing over her charming new hit sitcom Mike & Molly. And there is little doubt McCarthy could achieve star status after audiences see her in the new film Bridesmaids. The 40-year-old actress loves her delightfully weird Bridesmaids character Megan, she is frustrated by the of lack interesting women's roles available on Tv and film, and is overjoyed by audiences response to her show Mike & Molly.
McCarthy was thrilled to receive a call from Bridesmaids co-writer Annie Mumolo requesting she read for producer Judd Apatow, as the actress is a fan of Apatow's work.
"Back in 2006 I had done the table read for the first draft of the movie. Now in that one I played a completely different person. I played a bridesmaid who just kept crying all the time, who kept getting overwhelmed. Totally different character, a much smaller part. And in this party I didn't think there was a spot for me. So when they called with this one, strangely, I think Megan is exactly in my wheelhouse. Those are the women at least at Groundlings that I spent 10 years just enjoying so much portraying. So Annie Mumolo called me and said 'We want you to come in for this, can you come in and read for Judd Apatow and Paul Feig?'
McCarthy has no regrets that she is 40 years old and just now hitting her stride. With several projects in the works, from her hit sitcom to co- writing a comedy with Mumolo to Feig creating a romantic comedy for her,  the actress could not be more excited.
"I'm 40, I feel 22. Maybe there's more pressure on women where their main thing is their beguiling beauty. But I'm always like 'Oh, can I wear a weird wig and maybe black out my front teeth?'
To read more, go to: ew.com
I've heard a ton of great things about Bridesmaids – like it's the female version of The Hangover – and I can't wait to see it! I love me some Kristen Wiig.

Starring Wiig, Rose Byrne, Chris O'Dowd, Maya Rudolph and Ellie Kemper, it's about a maid of honor whose life unravels as she leads her best friend and a group of bridesmaids on a wild ride down the road to matrimony.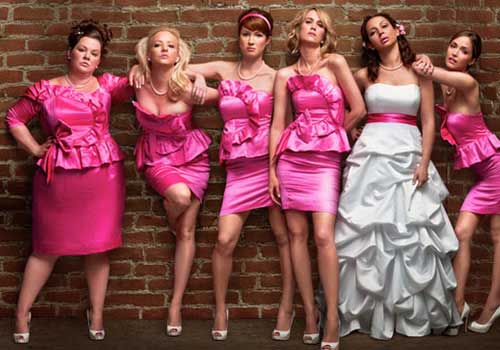 Check out these 7 clips from the movie!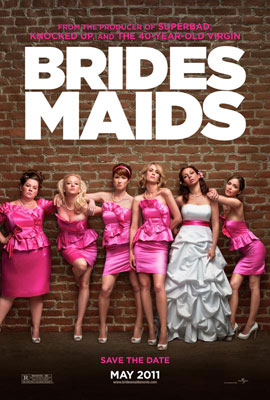 Bridesmaids: Kristen Wiig leads the cast as Annie, a maid of honor whose life unravels as she leads her best friend, Lillian (Maya Rudolph), and a group of colorful bridesmaids (Rose Byrne, Melissa McCarthy, Wendi McLendon-Covey and Ellie Kemper) on a wild ride down the road to matrimony. Annie's life is a mess. But when she finds out her lifetime best friend is engaged, she simply must serve as Lillian's maid of honor. Though lovelorn and broke, Annie bluffs her way through the expensive and bizarre rituals. from trailers.apple.com

Director: Paul Feig
Cast: Kristen Wiig, Maya Rudolph, Rose Byrne, Wendi Mclendon-Covey, Ellie Kemper, Melissa McCarthy, Chris O'Dowd, Matt Lucas, Jill Clayburgh, Rebel Wilson, Michael Hitchcock
Writers: Kristen Wiig, Annie Mumolo