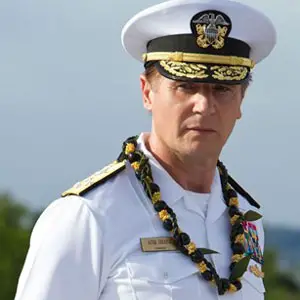 I always liked Liam Neeson as an actor even before he revealed himself to be a middle-aged bad ass in movies like Taken, Unknown, and The Grey.  So while I am not surprised to see him in another action movie, I was surprised when I found out that he was starring in Battleship, which, believe it or not, is based on the Milton Bradley board game. 
How did Neeson find the inspiration to act in a movie based on putting plastic pegs into plastic ships?  According to Neeson, he found it in the script and the filming locations.
Though Neeson speaks positively about how the script initially attracted him to the project, I think he relies a bit heavily on cliches when describing it.  He says, "The foundation stone is the script, and this one was a real page-turner. That's the litmus test. If I'm reading through it and I'm suddenly at page 78 and haven't stopped for a cup of tea or a glass of water, it's got me. I thought this was very gung ho. It's got thrills and spills and very good character development, too." 
I'm sure he was very serious when he said this (as Neeson always seems to be), but I would've loved to have seen the expression on his face when he said that. Read more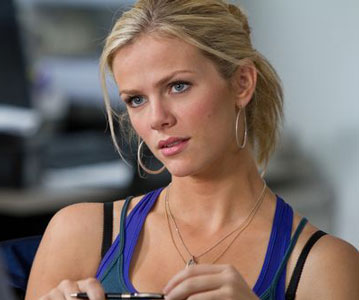 While former Sports Illustrated Swimsuit Issue model, Brooklyn Decker was a natural for the role of a drop-dead gorgeous girlfriend in Just Go With It and in lighter fare like the upcoming What to Expect When You're Expecting, Decker took on a much tougher role in the action movie Battleship. 
In a conversation with Access Hollywood at the American premiere for the movie, Decker admits that during the audition process it seemed unlikely that she would land the role.
She reveals, "[I auditioned] five times.  On the fifth time, I actually met [director] Peter Berg and the whole time they're like, 'You're not tough enough. We don't think you're tough enough to do this role.'"  She continues, "So they kept bringing me back, and I'm like, 'This is torture to keep coming back.'  Then finally the fifth time, Pete made sure that I was tough enough, and he did and I got the role." Read more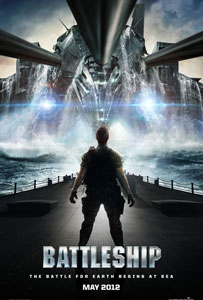 Even though I like what I see, I think you could have called this Transformers 4.
Also, is it me or was there a bit of a spoiler with Liam Neeson's character?
Battleship: Peter Berg (Hancock) produces and directs Battleship, an epic-scaled action-adventure that unfolds across the seas, in the skies and over land as our planet fights for survival against a superior force. Inspired by Hasbro's classic naval combat game, Battleship stars Taylor Kitsch as Lt. Alex Hopper, a Naval officer assigned to the USS John Paul Jones; Brooklyn Decker as Sam Shane, a physical therapist and Hopper's fiancee; Alexander Skarsgard as Hopper's older brother, Stone, Commanding Officer of the USS Sampson; Rihanna as Petty Officer Raikes, Hopper's crewmate and a weapons specialist on the USS John Paul Jones; and international superstar Liam Neeson as Hopper and Stone's superior (and Sam's father), Admiral Shane. courtesy of trailers.apple.com
Director: Peter Berg
Cast: Taylor Kitsch, Brooklyn Decker, Alexander Skarsgard, Rihanna, Asano Tadanobu, Liam Neeson
In theaters: May 18th, 2012 
Read more
Battleship: Peter Berg (Hancock) produces and directs Battleship, an epic action-adventure that unfolds across the seas, in the skies and over land as our planet fights for survival against a superior force. Based on Hasbro's classic naval combat game.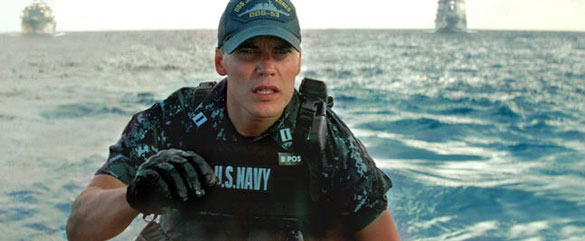 Director: Peter Berg
Cast: Taylor Kitsch, Brooklyn Decker, Alexander Skarsgard, Rihanna, Liam Neeson
In Theaters: May 18th, 2012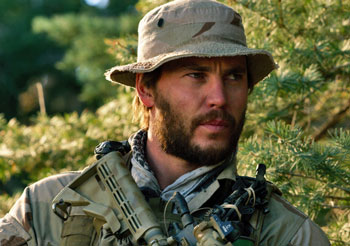 Taylor Kitsch will forever be known as Tim Riggins in the beloved TV series Friday Night Lights, but he has a big year ahead of him with two important films Lone Survivor and The Normal Heart.
Lone Survivor follows four Navy SEALS who do their best to stay alive while on a mission in Afghanistan. Kitsch co-stars with Emile Hirsch, Mark Wahlberg and Ben Foster. The actors found the shoot to be an emotional experience. It was even tough to watch the final cut.
The 32-year-old star said, "I broke down three times. You just hold all this energy in as an actor, and I didn't truly let it go until then. Knowing all the families and getting to be a part of it and tell the story … yeah, it fuckin' crushed me. That's what takes you out of your head when you're watching yourself." Read more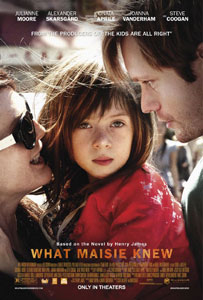 What Maisie Knew is a horrible title for a movie about families and what, ultimately, a family actually is.
Going into the film, I had no idea what the film was about but going from the title, I expected something about a murder and how a child witnessed it.
(Yes, I know this is a modern re-telling of a Henry James story. It's still a horrible title).
Boy was I wrong but in a pleasantly surprised way. And that's thanks to an incredible performance by Onata Aprile as Maisie.
Directed by Scott McGehee and David Siegel, Maisie (Aprile) is the child of two of the most self-centered people in the world. Played by Steve Coogan and Julianne Moore, they definitely win the prize for 'Year's Worst Parents.' In a constant state or arguments, Moore's aging rock star of a mom Susanna, finally decides enough is enough, and kicks him out. This sets off a custody battle where, eventually, Coogan's Beale wins, taking with him Maisie and the family nanny, Margo (Joanna Vanderham).
Both parents quickly marry; Beale woos the nanny with travel and her love of Maisie and Susanna to a local bartender, Lincoln (Alexander Skarsgard). Susanna's reasoning for the quickie marriage? "I married him for you," she tells Maisie. So he can watch her during the day. Which is a perfect reason to get married. Read more
Hamish Linklater starred for five seasons on the CBS comedy "The New Adventures of Old Christine," playing the brother of Julia-Louis Dreyfus's title character. On the big screen, he recently co-starred with Liam Neeson and Alexander Skarsgård in Peter Berg's 2012 action adventure "Battleship."
An accomplished stage actor, Linklater most recently starred opposite Alan Rickman in the Broadway play "Seminar," marking his Broadway debut. In 2011, he won an Obie Award for his performance off-Broadway in "The School for Lies." He earned a Drama Desk Award nomination in 2010 for his work in the Public Theatre's Shakespeare in the Park production of "Twelfth Night." Earlier this year, he made his playwriting debut with "Vandal," which just premiered off-Broadway.
Born in the heart of the Berkshire Mountains of Massachusetts, Linklater began acting at the age of eight as part of an acting troupe called Shakespeare & Company, founded by his mother, Columbia University drama professor and noted vocal coach Kristin Linklater. After attending Amherst College, he left school to pursue his career. Read more
It's that time of year where everyone and their alcoholic uncle are giving you their list of the best and worst films of 2012. So, we here at Daily Actor are jumping in, minus our drunk uncle.

The Top 10 Films of the 2012
1) Zero Dark Thirty
You've know doubt heard all of the hype on this film that stars Jessica Chastain and Jason Clarke, and guess what? It lives up to it and then some. The film, about the hunt for Osama Bin Laden, proves once again that director Katheryn Bigelow is a true force. Definitely a must see!
2) Argo
This has been out for a while now and if you haven't seen it yet, my question is: Why not? In a story where most of us know the ending, Director Ben Affleck manages to ramps up the suspense and forces you to sit on the edge of your seat.
3) Killing Them Softly
Starring Brad Pitt, Richard Jenkins, James Gandolfini and a handful of wonderful character actors, this film tanked at the box office. I can see why: most scenes involved just 2 people in a room talking… and talking… and talking. Boredom for some, but for those us who cherish actors and their craft, you will love it. Watch this and get schooled.
4) Hello I Must Be Going
Anytime Melanie Lynskey has a starring role in a film, that's a good thing. Director Todd Louiso's story of a divorced woman who is forced to move back in with her parents and then starts a relationship with the young son of her fathers business partner is funny, touching and a showcase for Lynskey.
5) Starlet
The film stars Dree Hemingway (yes, of that Hemingway family) as Jane, an up-and-coming porn star who forms an unlikely friendship with the elderly Sadie (80-year-old newcomer Besedka Johnson). Director Sean Baker knocks it out of the park with this small, intimate (very intimate) film.  Read more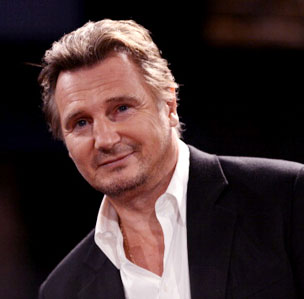 Inside the Actors Studio and its host, James Lipton, welcomes Oscar-nominated actor and Taken 2 star Liam Neeson to its stage tomorrow night (October 2nd).
In the show, Lipton asks Neeson about his roles in Schindler's List, The Dark Knight Rises and Kinsey. I'm assuming they won't talk about the cinematic trash pile, Battleship.
Neeson also shares details ranging from his always-changing accents to his romances with famous leading ladies. Read more
Actor/comedian Billy Connolly doesn't strike me as the type of person who parrot out generic answers to questions about his latest projects (as opposed to, say, Liam Neeson talking about the "character development" in Battleship).  My notion appears to be correct, because in an interview with New York magazine he openly admits that he isn't a fan of J.R.R. Tolkien's writing even though he is appearing in The Hobbit movie series in the key role as the dwarf lord Dain Ironfoot.
But not only does Connolly confess his dislike for Tolkien's writing, he even says he generally dislikes people who are fans of Middle-Earth.  He says, "I've never read The Hobbit. Never.  Never read Lord of the Rings.  I could never read Tolkien. I always found him unreadable … I didn't read [the books], and I normally don't like people who have! The people who love it, they're kind of scary. They talk all this gobbledygook and they think of it as the Holy Grail."  Read more