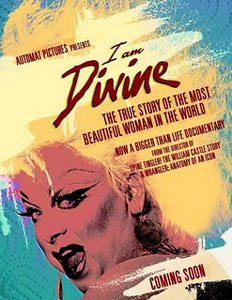 Growing up in Maryland and in the shadow of Baltimore, as an actor, I couldn't help but love
John Waters
and
Divine
.
By being true to themselves and never compromising, they both became extremely successful doing what they loved on their own terms and in their own backyard. They made films – Multiple Maniacs, Female Trouble and Pink Flamingos – that my parents, heck every parent, was disgusted by.
I loved everything about them.
And I loved everything about the absolutely wonderful new documentary, I Am Divine, which just premiered at SXSW. The doc tells the story of Harris Glenn Milstead, better known as Divine, from his time as a Baltimore schoolboy to meeting Waters and his rise to stardom.
Director Jeffrey Schwarz interviewed the family, friends and the Waters' Dreamland troupe (Mink Stole, Casting Director Pat Moran among others) to not only bring Divine's story but the story of underground cinema in the 70′s and the rise of gay culture in the mainstream (thanks to Divine, of course).
Stories are told about his generosity – particularly with money he didn't have – and how, as a young man, he once passed a lie detector test after a run-in with the cops that will just make you love the guy even more.
He worked hard and Divine's rise to fame didn't begin and end with Waters. He starred in hit off-Broadway shows and had a big recording career, topping the charts with several of his records. "He did techno music before anybody did," John Waters says in the film.
Weight was always a problem in his life and as he became more famous, it was escalating rapidly. The stress of not knowing when his next acting job was coming, circling the world as a disco act all lead him to eat.
After the huge success of Hairspray, he wanted to change things up. Truth be told, Divine was a character and Milstead was desperately trying to parlay that into working in TV and Film as a man. He saw himself as a character actor and was eager to take that next step in his career.
Finally, when he did get that chance, it would never happen. Divine died the morning he was to report on set for FOX's hit show, Married with Children. Playing a man.
I remember the day he died. It was sad then and it's still sad.
Schwarz's doc is a tribute to Divine, his work and his life and it shouldn't be missed.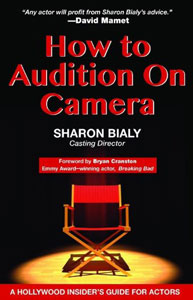 Written by Dan Franko
Just before the SAG Awards, I watched a SAG Foundation live-stream with several casting directors. One of them was Sharon Bialy, C.D. for Breaking Bad and The Walking Dead. I really enjoyed the tips and answers she was giving, in response to the questions, so when she mentioned that she'd written a book – How To Audition on Camera - I downloaded it right away.
The book is only available as a digital download. You can find it on pretty much any e-book platform.
How many times, as actors, have we wished that we could get an hour with a casting director, to pick their brain about what they look for, their pet peeves, and the tips they would offer. That's exactly what this book is. It feels like a conversation over coffee…or a private coaching session.
Some of the tips are simple, common sense things, such as "do the work." Rehearse and practice your audition piece as much as you can so you know it inside-out and be prepared and on time without excuses or exceptions. We all know that…but the personal insight from her perspective really underlines the point. Read more
One of my all-time favorite shows is HBO's The Wire, David Simon's grim and gritty look at inner city Baltimore and Sonja Sohn, who played Detective Kima Greggs, was an integral part of that show.
Since The Wire ended, she's popped up on Brothers and Sisters, The Good Wife, was a series regular on ABC's Body of Proof was recently in a crucial role on USA's Burn Notice as Olivia Riley. Before I went on holiday break, I did a conference call with Sonja about her role on Burn Notice and she also talked about what draws her to certain roles and her advice to actors.
Check it out below! Read more
Full casting has been announced and rehearsals have begun for the upcoming national tour of Flashdance – The Musical, the stage adaptation of the 1983 hit film of the same name.

Joining the previously announced Broadway stars Emily Padgett as Alex, Matthew Hydzik as Nick and Rachelle Rak as Tess are Kelly Felthous as Gloria, DeQuina Moore as Kiki, Jo Ann Cunningham as Hannah, David R. Gordon as Jimmy, Matthew Henerson as Harry and Christian Whelan in the role of C.C. Read more
Two of my favorite actors, Paul Rudd and Michael Shannon, are teaming up for the Broadway show, Grace.
The show, also starring Ed Asner and Kate Arrington, follows a wide-eyed young couple (Rudd & Arrington) as they start a new life in sunny, promise-filled Florida, with big plans to open a chain of Gospel motels. An agitated neighbor (Shannon) and a caustic exterminator (Asner) complete the eclectic foursome as destinies collide in this intensely entertaining and suspenseful journey to the edge of your seat. Read more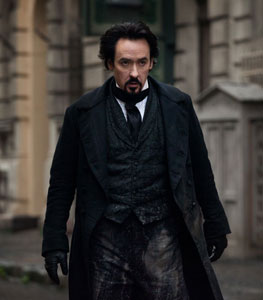 The Raven, James McTeigue's fictionalized account of the last days of Edgar Allen Poe's life, is a complete snooze-fest.
Starring John Cusack as the doomed writer, Luke Evans, Alice Eve, Brendan Gleeson and Oliver Jackson-Cohen, the film has Poe and Detective Emmit Fields (Evans) pursuing a serial killer who is mirroring the murders Poe has written in his previous stories. From the Pit and the Pendelum and The Tell-Tale Heartand, Poe's gruesome mind has spawned a groupie all too willing make them come to life. When the killer makes Poe's love (Alice Eve) his next target, the two do everything they can not to make her the next victim.
The look of the film is pretty great, the costumes and sets are all circa 1849 but unfortunately, that's where it stops and that's where the main problem of the film starts. The entire cast – minus Evans and Gleeson – feel and sounds like they stepped off the streets of 2012. They came to set, put on some costumes and went to work. This is supposed to be set in 1849 and the entire cast sounds like you or I would today. Yes, even Cusack. What the hell were they thinking? Evans and Gleeson at times seem like they are in another film – the right film – in the way they carry themselves, their mannierisms, the way they sound and act. You know, like they're in 1849 Baltimore. Read more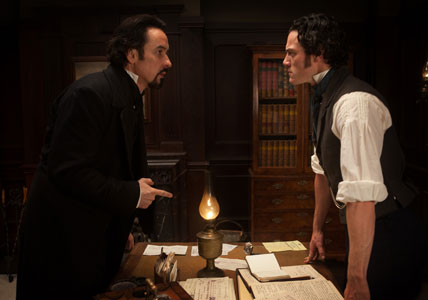 Here's a clip of the upcoming
John Cusack
film,
The Raven
. Cusack plays Edgar Allen Poe who joins forces with a Baltimore detective to hunt down a serial killer who's using Poe's own works as the basis in a string of brutal murders.
I haven't heard much about the film yet but ill definitely check it out.
The film, which comes out April 27th, also stars Alice Eve and Brendan Gleeson. Read more
As a former English literature teacher, I can tell you that no author's work interested my students as much as Edgar Allan Poe.  Whether it was his dark prose, his scandalous life, or even just the fact that Baltimore's NFL team was named after his most famous poem, almost every student I ever had found something to like about Poe.  Needless to say, Poe remains an iconic figure over 160 years after his death.
So not only does John Cusack have the pressure of playing the famous writer in the upcoming mystery film The Raven, but he had to deal with the difficultly of coping with Poe's notoriously turbulent mental state.  Or, as Cusack puts it in an interview with The Huffington Post, Poe "was so self-destructive, he'd burn any bridge he ever built.  He was at war with the entire world."
Cusack understands how important it is when playing a famous individual to find something in yourself in the character.  He explains, "You have to see yourself in these great people if they represent the shadow part of you." Read more
John Lithgow's roots are in the theater. In 1973, he won a Tony Award three weeks after his Broadway debut, in David Storey's The Changing Room. Since then, he has appeared on Broadway 19 more times, earning another Tony, three more Tony nominations, four Drama Desk Awards, and induction into the Theatre Hall of Fame. Ensuing stage performances have included major roles in My Fat Friend, Trelawney of the "Wells," Comedians, Anna Christie, Bedroom Farce, Beyond Therapy, M. Butterfly, The Front Page, Retreat from Moscow, All My Sons, the Off-Broadway premieres of Mrs. Farnsworth and Mr. and Mrs. Fitch, and the musicals Sweet Smell of Success (his second Tony), and Dirty Rotten Scoundrels.
In 2007 he was one of the very few American actors ever invited to join The Royal Shakespeare Company, playing 'Malvolio' in Twelfth Night at Stratford-upon-Avon. In 2008 he devised his own one-man show Stories by Heart for The Lincoln Center Theater Company, and has been touring it around the country ever since, including a triumphant six-week run at The Mark Taper Forum in Los Angeles.
In the early 1980's Lithgow began to make a major mark in films. At that time, he was nominated for Oscars in back-to-back years, for The World According to Garp and Terms of Endearment. In the years before and after, he has appeared in over 30 films. Notable among them have been All That Jazz, Blow Out, Twilight Zone: the Movie, Footloose, 2010, Buckaroo Banzai, Harry and the Hendersons, Memphis Belle, Raising Cain, Ricochet, Cliffhanger, Orange County, Shrek, Kinsey, and a flashy cameo in Dreamgirls. This summer, Lithgow was seen on the big screen in Rise of the Planet of the Apes, Fox's prequel to Planet of the Apes. Read more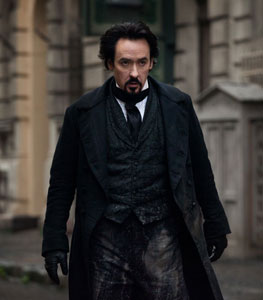 The Raven: In this gritty thriller, Edgar Allan Poe (John Cusack, Being John Malkovich) joins forces with a young Baltimore detective (Luke Evans, Immortals) to hunt down a mad serial killer who's using Poe's own works as the basis in a string of brutal murders.
When a mother and daughter are found brutally murdered in 19th century Baltimore, Detective Emmett Fields (Luke Evans) makes a startling discovery: the crime resembles a fictional murder described in gory detail in the local newspaper—part of a collection of stories penned by struggling writer and social pariah Edgar Allan Poe. But even as Poe is questioned by police, another grisly murder occurs, also inspired by a popular Poe story.
Realizing a serial killer is on the loose using Poe's writings as the backdrop for his bloody rampage, Fields enlists the author's help in stopping the attacks. But when it appears someone close to Poe may become the murderer's next victim, the stakes become even higher and the inventor of the detective story calls on his own powers of deduction to try to solve the case before it's too late.
Director: James McTeigue
Cast: John Cusack, Luke Evans, Alice Eve, Brendan Gleeson, Oliver Jackson-Cohen
In Theaters: March 9th, 2012
Read more