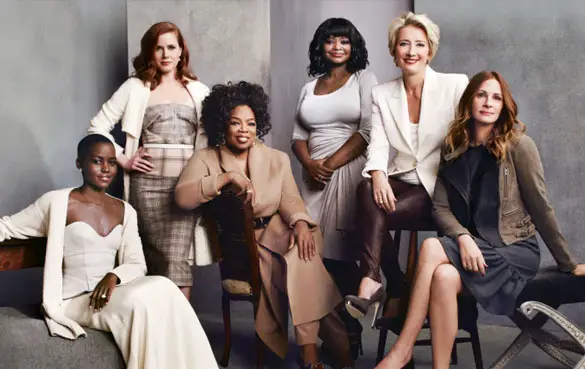 The Hollywood Reporter has another wonderful roundtable video and this time, it's with the actresses of the moment: Julia Roberts (August: Osage County), Emma Thompson (Saving Mr. Banks), Oprah Winfrey (Lee Daniels' The Butler), Octavia Spencer (Fruitvale Station), Amy Adams (American Hustle) and Lupita Nyong'o (12 Years a Slave).  Read more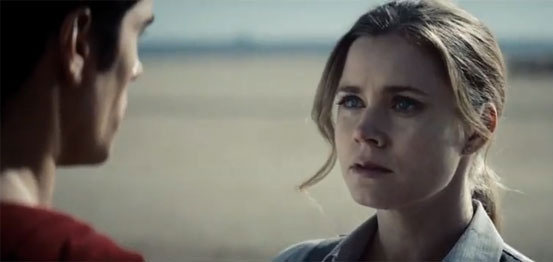 Amy Adams is the first to admit that she's pretty lucky.  This past Academy Awards saw her fourth Oscar nomination (for The Master.)
"It feels good.  I always say it beats the alternative: you know, not working, no one caring what you're doing," she said in an interview with Vanity Fair.  "I went through plenty of that period as well and I'm sure there will be another period of that in my future, as it happens to most actors at some point."
But for now, Adams seems to be on a successful streak.  With her last part in The Master, Adams worked with Philip Seymour Hoffman for the third time (after Charlie Wilson's War and Doubt.)  "There are certain actors you work with and something happens when you're working them.  I've worked with great actors where this hasn't happened, and I've worked with great actors where this has," she admitted.  "I think it's just the chemistry between two people where the work becomes very intimate.  I can't speak for Phil's experience with me, but this is how I felt with him.  And I felt it first on Doubt when we were doing a scene and it just felt real; it felt like it was actually happening.  You almost stop acting, and it's like you're living this moment with another actor.  It's a very strange thing.  And it doesn't happen all the time, so to have that experience with an actor and then get to work with them again—it was so easy to create an intimacy or a history with Philip, having worked with him before.  It's a beautiful thing when you're able to surrender in that way with another actor." Read more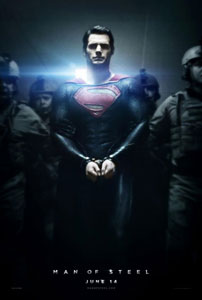 Synopsis: Next summer, "Man of Steel" is coming to the big screen. The film is from director Zack Snyder and producers Charles Roven, Christopher Nolan, Emma Thomas and Deborah Snyder. The screenplay was written by David S. Goyer from a story by Goyer & Nolan, based upon Superman characters created by Jerry Siegel & Joe Shuster and published by DC Comics.
Director: Zack Snyder
Starring: Henry Cavill, Amy Adams, Michael Shannon, Kevin Costner, Diane Lane, Laurence Fishburne
In Theaters: June 14th  Read more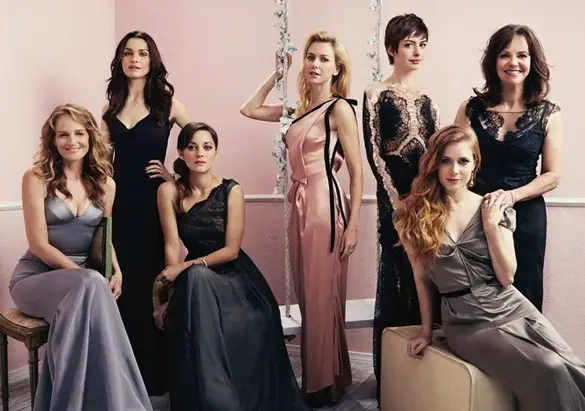 One of my very favorite things that The Hollywood Reporter does are the annual actor roundtables. They get a group of actors, ask them questions and just let them go to town. Some of the answers are smart, some serious and some are just downright funny but all are incredibly entertaining.
In this hour long, uncensored video, THR got Anne Hathaway, Amy Adams, Sally Field, Naomi Watts, Rachel Weisz, Helen Hunt and Marion Cotillard to talk in-depth about their careers and it's absolutely wonderful.
Amy Adams mentions that she thought about quitting acting, Naomi Watts says she operates out of fear and Helen Hunt talks about her nude scenes in The Sessions.
This is well worth your time!  Read more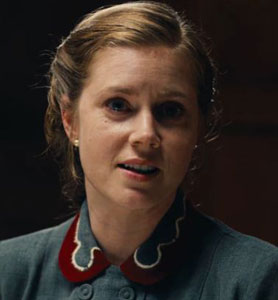 In her career, Amy Adams takes on completely varied roles, jumping between comedy (Julie and Julia) and drama easily.  Her newest role in Paul Thomas Anderson's The Master required Adams to color in her own back story as the wife of a Scientology-like religious leader.
"I tend to try to fill in the blanks as much as possible for myself," Adams said in an interview with NPR.  "One of the things that I really thought about was a long time ago, I read a book called The Feminine Mystique.  In The Feminine Mystique she talked a lot about women's roles in World War II and sort of how that translated post-World War II.  Their roles were a little less traditional than they'd been before, and then when the men came back, they sort of went into the background again.  And I saw my character as somebody who was very focused on education, was very educated, very smart, but given the climate, felt like she was more powerful behind a man than in front of a man." Read more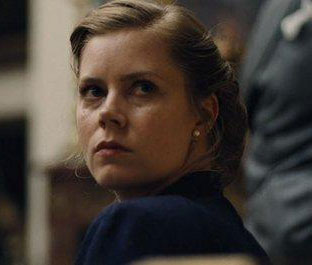 The three-time Oscar nominated Amy Adams is so beautiful that if she wanted to she could have made an entire career out of starring as the ditzy, pretty face lead in cheesy romantic comedies.  Thank goodness she didn't, because along with cute family films like Enchanted and The Muppets, Adams has starred in heavy dramas like Doubt, The Fighter, and perhaps the most challenging role of her career, The Master. 
Adams spoke to the Los Angeles Times about why she has appeared in such varied roles and what she hopes for in the future of her career.
Adams admits that picking roles is all about the challenge for her.  She says, "I like to try different things to challenge myself and see where I feel comfortable. I do love doing drama, because I really like being able to explore deeper depths of the human psyche. Not that you can't do that in comedy. I wouldn't say I like drama more than comedy." Read more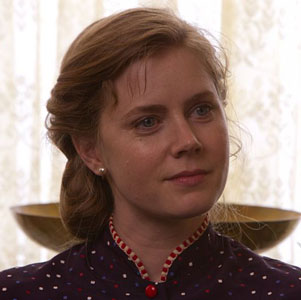 I've always been impressed by Amy Adams because there aren't many actresses who can star is cheery family films (Enchanted, The Muppets) and heavy dramas (Doubt, The Fighter) and be apt at both.  For example, in September alone she stars in two very different films, the father-daughter comedy/drama Trouble with the Curve and the controversial drama The Master written and directed by visionary Paul Thomas Anderson. 
In The Master, Adams plays Mary Sue Dodd, the wife of Philip Seymour Hoffman's Lancaster Dodd, a charismatic man who creates his own religious movement.  Adams spoke to New York about shooting the film and why Dodd is the scariest character she's ever played. Read more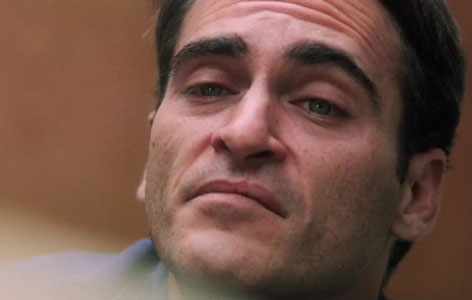 Paul Thomas Anderson can film a bunny frolicking in a wheat field for two hours and I would happily be the first one in the theater to watch it. Needless to say, I'm looking forward to this.
The Master: A 1950s-set drama centered on the relationship between a charismatic intellectual (Philip Seymour Hoffman) who launches a faith-based organization following World War II. A drifter (Joaquin Phoenix) becomes his right-hand man but as the faith begins to gain a fervent following, the drifter finds himself questioning the belief system and his mentor.
Cast: Philip Seymour Hoffman, Joaquin Phoenix, Amy Adams, Laura Dern
Writer/Director: Paul Thomas Anderson
In Theaters: October 12th  Read more
The New York Mets aren't the only New York institution celebrating its fiftieth anniversary in 2012.  The annual free Shakespeare in the Park performance series is also celebrating its golden anniversary at Central Park's Delacorte Theatre.
As in most years, two productions will be featured: one, of course, by Shakespeare (this year its As You Like It), which will be directed by Daniel Sullivan and star Lily Rabe as Rosalind, David Furr as Orlando and Stephen Spinella as Jaques and will feature original music by Steve Martin. Rabe and Sullivan previously worked together during the 2010 series on The Merchant of Venice.  As You Like It will start in previews on June 5 and run through June 30.
The second will be a production of Stephen Sondheim's Into the Woods and will star Amy Adams as the Baker's Wife and will be directed by Timothy Sheader and Liam Steel.  Sheader and Steel previously directed a London production of the show in 2010.  It begins previews on July 23 and ends on August 25. Read more
You're going to see The Muppets this weekend, right?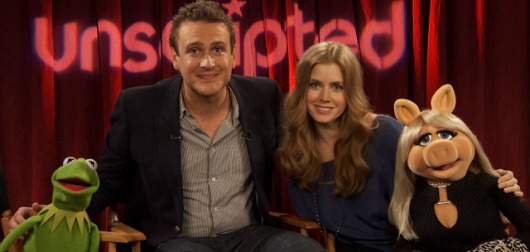 The movie had me smiling from start to finish. That's not to say that I didn't have some problems with it, mainly: Not Enough Miss Piggy! Other than that one complaint, it's great to have the fuzzy, felt gang back. They sing, they dance and Fozzie wears fart shoes. What more could you ask for?
Courtesy of Moviefone, we have the stars of the new movie, Kermit, Miss Piggy, Jason Segel and Amy Adams answering questions from fans and themselves. Some of the questions and answers take on an odd sexual undertone and while funny, I can't vision my beloved Piggy that way. Just can't do it.
In the videos, Miss Piggy does her dead-on impressions of Fozzie and Animal, Jason and Kermit talk about a wild night in Mexico and Amy and Piggy talk who their favorite movie star is.
Check them out below!  Read more