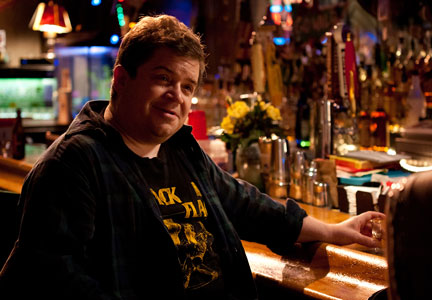 For years Patton Oswalt was one of those "Hey, look, it's that guy!" actors.  You know, the type that you're familiar with because he or she has a unique look and has appeared in various small roles, but never had any leading roles that would make them more recognizable.  However, Oswalt has gone from that to being a well-known actor, especially after dramatic turns in dark comedies like Big Fan and Young Adult.  In an interview with Variety, Oswalt speaks about how he transitioned from comedian to professional actor, why he began seeing and acting coach, and, perhaps the most newsworthy, that he auditioned for a role in 12 Years a Slave.
While Oswalt had thought about acting and had some bit parts, he never considered it seriously until he started appearing regularly on King of Queens.  Working in that atmosphere taught he a lot, and he says, "I learned so much from watching others work out scenes and will forever thank the show for not firing me in those early seasons when I was such a horrible actor" (he even got away with remaining completely motionless during the opening scene of an episode). Read more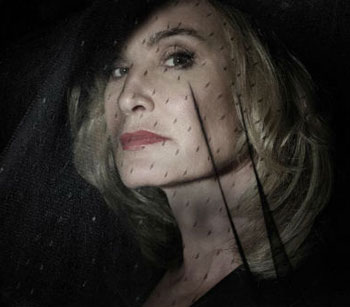 For Jessica Lange fans, brace yourself for the news she recently revealed to the Los Angeles Times, she's ready to retire. Don't worry though, it's a five-year plan for the 64-year-old actress.
She shared how she wants to end her successful career.
Lange said, "I am coming to the end of acting. I have a list: another stage production, maybe one or two more movies, one more season of American Horror Story…and then that is it for me. Because I think that's enough. I want to go out with a bang …or should I say, a scare?"
Her work on FX's American Horror Story has been a wonderful bonus to a career that has been prolific with two Oscar-winning turns in Blue Sky and Tootsie. Even with those Oscars on her mantel, working on  Ryan Murphy's horror anthology has been incredibly rewarding for her. Read more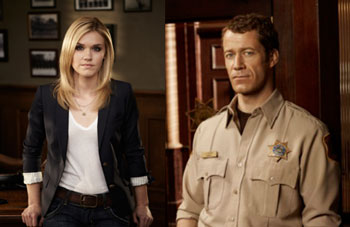 The SyFy Channel's Haven is off to a great start for its 4th season and stars Emily Rose and Colin Ferguson said in a recent conference call that we haven't even begun to see the craziness.
The interview is a tad long but if you're a fan of the show, you'll love it. Even if you're not, they delve into questions about their careers, acting, working in sci-fi and tons more.
Haven airs Fridays at 10:00 p.m. on Syfy. Read more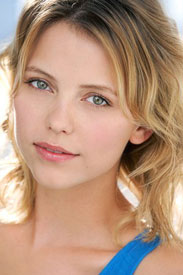 In The Secret Lives of Dorks, Riley Voelkel plays Carrie, a cheerleader who is actually… a good person!
The film is a throwback to those early 80's teen comedies where the nerdy Peyton (Gaelan Connell) is in deep teen-love with Carrie, the hot cheerleader. But, in a fun twist, Carrie plays matchmaker and sets out to help Peyton hook up with fellow dork Samantha (Vanessa Marano).
The film marked Riley's first starring role and she's terrific. It's no wonder why she was cast in a small role in the pilot of Aaron Sorkin's hit HBO show, The Newsroom. She was so good, Sorkin brought her back for the first season finale which then lead to her being a regular on season two.
She's smart, funny and you'll definitely enjoy this interview where we chat about her audition for Secret Lives, working on The Newsroom, an absolutely nightmare audition(!) and her advice to young actors.
The Secret Lives of Dorks is in theaters now or on VOD (click here to watch it)  Read more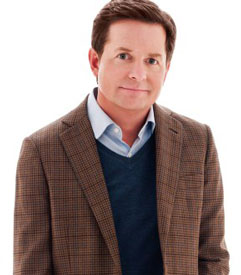 Considering that Michael J. Fox began to scale back his acting roles after revealing that he had Parkinson's disease in 1998, one would expect that the disease — which causes involuntary movement — would have had major detrimental effects on his acting.  However, in an interview with Rolling Stone Fox reveals that he believes that his disease has actually made him a better actor, which is one of the reasons why he is returning to weekly television with The Michael J. Fox Show.
Fox explains, "I had a certain fluidity to my movements and rhythm of speech and a physicality that I had depended on.  It served me really well, but when that was taken away, I found that there was other stuff that I could use. That hesitation, that Parkinsonian affect, is an opportunity to just pause in a moment and collect as a character and respond to what's happening and just gave me this kind of gravitas. It really gave me a new view of things." Read more
Since she was a little girl, Lake Bell has been obsessed with voice acting.  Her new movie, In a World, focuses on the voice-over industry.  She not only stars in the film, but also directed it.
"Your voice is such a massive tool when you are acting.  Obviously, your body and your voice are what depict a character, so it's one half of the mechanism," she said in an interview with Yahoo! News.  "It's inherently very important to me as an actor.  The sexy baby vocal virus that's pandemic, that's infecting a generation of young women.  I think really affects women and actresses trying to get jobs.  If there was more self-awareness with their voices, perhaps women wouldn't pigeonhole themselves into sounding less than." Read more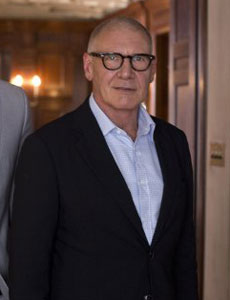 Harrison Ford has come a long way from Indiana Jones and Han Solo.  He's currently appearing in the thriller, Paranoia, which is a far cry from his famous action heroes of the past.
"This was a character that I hadn't played before and I enjoy working," he said in an interview with Yahoo! News.  "I'm not good at sitting still.  For me it's the intellectual exercise.  The real fun comes in solving problems—massaging a line into shape, making the rhythm of a scene work, getting the right blocking so it feels natural and easy.  When I don't get to do it, I feel kind of edgy."
When choosing roles, Ford omits any outside influences and just trusts the material.  "I participate in things because I have an emotional recognition in the scenes that I'm reading about that's beyond subject and is about human behavior." Read more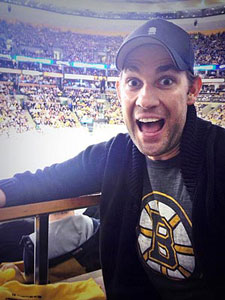 It's incredibly hard for actors on a long-running television series to find success in other roles — mainly because audiences want to keep seeing them as the character that the actor became famous for in the first place.  As a result, it's likely John Krasinski will have a difficult time being seen as anyone else as the affable Jim from The Office for the next few years… at least!  Yahoo! News spoke with Krasinski about his upcoming work and whether his decision to move into behind-the-scenes roles means we've seen the last of him on camera.
Krasinski's first post-Office releases were a small role in the revival of Arrested Development and voiceover work for the Disney/Pixar movie Monsters University.  Krasinski points out that he enjoyed both, saying, "It was fun to do both those roles but they were small, fun roles … For me it was just supporting two things I love so much.  I think Arrested Development is one of the best shows ever on television, so I was just honored to be a part of that in any way. And it is exactly the same with Monsters University. Not only am I a fan, but my nieces and nephews are bigger fans than I am, so it is the first time in my career that I reached hero status in their eyes." Read more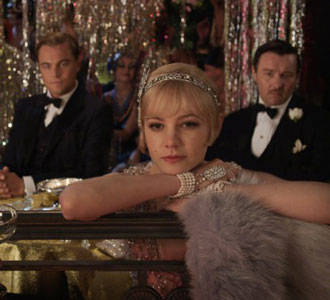 One of the greatest achievements in Carey Mulligan's career (perhaps even more than being nominated for an Oscar for An Education) was when she landed the part of Daisy Buchanan in Baz Luhrmann's adaptation of The Great Gatsby.
Mulligan recalls the waiting period after auditioning in an interview with Vogue, saying, "I was trying to be cool, but oh, it was horrible.  It was terrifying, the suspense.  I was winding down on shooting Drive, so I wasn't working that much, just waiting around for the phone to ring and for me to be disappointed."
But after ruling out big names like Keira Knightley, Blake Lively, and Natalie Portman, among many others, Mulligan won the part.  She heard the good news while attending the CFDA/Vogue Fashion Fund Awards.  "[I was] sobbing," she remembered.  "Everybody was like, what is wrong with her?" Read more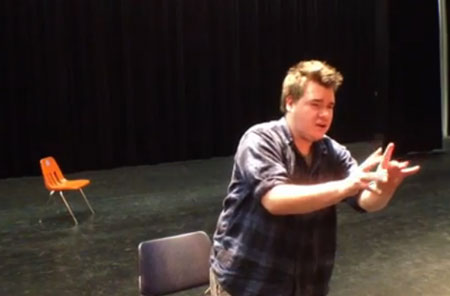 Joey Kadera is a senior and aspiring actor at J.L. Mann High School in Greenville, South Carolina.  He has already won several awards, including first place in a South Carolina International Thespian Society competition.  He will also represent South Carolina at June's National Thespian Society Festival in Nebraska.  It is an impressive list of an accomplishments for any nineteen year-old actor, especially one who only began acting two years ago with a small part in a performance of The Nutcracker.
But what makes his accomplishments even more impressive is that Kadera had to learn acting in a much different way than most actors.  That's because Kadera is deaf, which also renders him unable to speak on stage. Read more