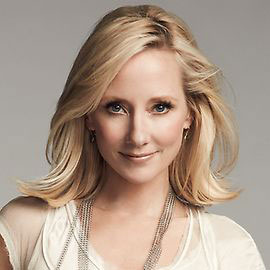 After almost choking to death on a sandwich, Anne Heche's Beth Harper claims she can talk to God in the new NBC comedy, Save Me. When she's revived, Beth thinks she can see the Big Guy and starts to make amends to everyone she's every shut out of her life… and it's a lot of people.
Also starring Madison Davenport (Shameless) as her horrified daughter, Michael Landes as her skeptical husband and Alexandra Breckenridge (American Horror Story) as her husband's ex-mistress, Beth eventually starts to win people over with her new optimistic views on life.
In this interview, Heche talks about her love of physical comedy, trying to quit acting when she was younger and how we all get "messages" from God.
Save Me airs on Thursdays at 8pm on NBC Read more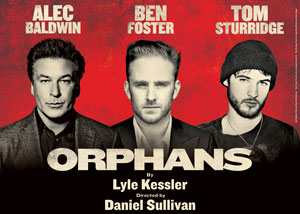 Holy crap, I didn't see this one coming.
The producers of the Tony Award-nominated play ORPHANS  have announced that the Broadway production will play its final performance on Sunday, May 19th.
The show has received several accolades including Tony Nominations for Best Leading Actor Tom Sturridge and Best Revival of a Play. Additionally Sturridge has been nominated for an Outer Critics Circle Award and a Drama League Award. Alec Baldwin has been nominated for a Drama League Award and the production was also nominated for Outstanding Revival of a Play by the Outer Critics Circle. Read more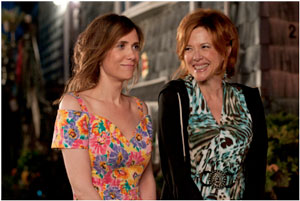 Girl Most Likely: Kristen Wiig stars as Imogene, a failed New York playwright awkwardly navigating the transition from Next Big Thing to Last Year's News. After both her career and relationship hit the skids, she's forced to make the humiliating move back home to New Jersey with her eccentric mother and younger brother (Annette Bening and Christopher Fitzgerald). Adding further insult to injury, there's a strange man sleeping in her old bedroom (Darren Criss) and an even stranger man sleeping in her mother's bed (Matt Dillon). Through it all, Imogene eventually realizes that as part of her rebuilding process she must finally come to love and accept both her family and her Jersey roots if she's ever going to be stable enough to get the hell away from them.
Directed by Shari Springer Berman and Robert Pulcini
Starring Kristen Wiig, Matt Dillon, Darren Criss, Annette Bening and Natasha Lyonne Read more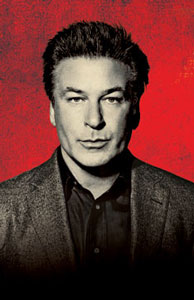 Reviews haven't made it out yet on Broadway's Orphans, the Lyle Kessler play that has unfortunately become most notable for the behind-the-scenes squabbles that led to the ouster of Shia LaBeouf from one of the lead roles, but star Alec Baldwin is still doing all he can to promote it.  He addressed his preference for the stage in an interview with The Hollywood Reporter, what he thinks his career would have been like had he moved to Los Angeles, and, of course, the backstage drama between him and LaBeouf.
Baldwin, who was born and raised on Long Island, has lived most of his life in New York City.  However, despite his success in Manhattan he confesses that he thinks he could have been a bigger success had he relocated to Los Angeles.  He explains, "I probably would have been much smarter if I settled out there. I just think it's easier. You're more available; you see people. There's more surface area for you to connect. My agent once said something funny: 'It's not that people think they want to work with you or don't want to work. The problem is when they don't think of you at all.'" Read more
Mary-Louise Parker will star in Manhattan Theatre Club's world premiere of The Snow Geese.
Directed by Tony Award winner Daniel Sullivan, the strictly limited 11-week engagement will begin previews Tuesday, October 1st and open October 24th, on Broadway at MTC's Samuel J. Friedman Theatre (261 West 47th Street).
Parker returns to the Friedman stage where she previously starred in Craig Lucas' Reckless for which she received a 2004 Tony Award nomination. It also reunites Parker with Sullivan, who directed her in David Auburn's Proof, for which both Parker and Sullivan received Tony Awards for their work.
The show marks the second collaboration between MTC, MCC, and playwright Sharr White. This winter, MTC produced the acclaimed Broadway premiere of White's play The Other Place, which had its world premiere at MCC Theater in 2011. Read more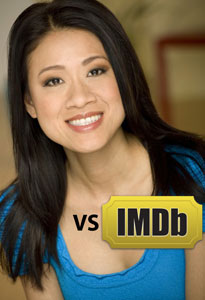 In the lengthy battle between Huong "Junie" Hoang and IMDb over the actress' claims that IMDb's illegal revelation of her true age hurt her career, the jury decided the verdict in favor of IMDb after a trial that lasted just two days.
In comments to The New York Post, Hoang said, "We're devastated.  But I believed the issues were worth fighting for."  She has insisted that she has lost work because of the revelation of her true age (41 — but prior to the trial Hoang attempted to claim that she was seven years younger on her IMDb profile).  She added, "I definitely learned that age is a determining factor."
One thing to keep in mind that because an earlier ruling tossed out Hoang's claims of age discrimination (the judge's reasoning being that IMDb cannot be held responsible for any discrimination done by casting directors or others in Hollywood), so the trial only focused on whether or not IMDb misused her credit card information in violation of its own user agreement in order to post her birth date.  However, Hoang's lawyers were not able to prove that IMDb got her birth date from her credit information, nor could they dispute IMDb's claims that it got her birthday from a third-party site, PrivateEye.com. Read more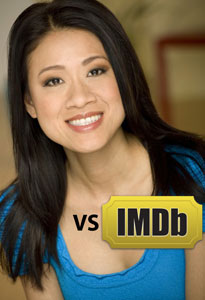 The actress suing IMDb for posting her actual birth date on its site, Huong Hoang (who has also been credited as Junie Hoang), took the stand to speak about the long process she went through to try to get IMDb to remove her age from its website.  Parts of her case were dismissed a year ago, but she has been able to proceed on the grounds of whether or not IMDb took her age from her credit card information without her permission and thus not only breached her IMDbPro contract (by the site violating its own privacy policy) but also violated consumer protection laws. 
Because the judge tossed out Hoang's claims of age discrimination before the trial (the judge ruled that IMDb cannot be held responsible for any age discrimination in the entertainment industry), Hoang's lawyer Derek Newman is unable to use the term "age discrimination" during the trial.  However, Newman still argued that personal information — such as posting the actual age of a much younger-looking actress — can hurt one's career. Read more
Podcast: Play in new window | Download (Duration: 11:09 — 7.7MB)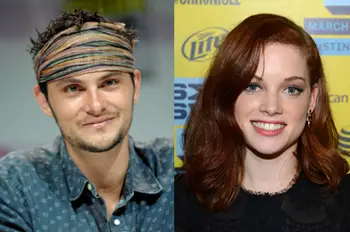 Here's another of our SXSW Evil Dead interviews, this time with stars Jane Levy and Shiloh Fernandez.
Evil Dead, directed by Fede Alvarez and produced by Sam Raimi and Bruce Campbell, is pretty damn good and you'll definitely have a fun time. A lot of that is because of Jane and our friend here at Daily Actor, Shiloh. If you're familiar with Jane from ABC's Suburgatory, she's a little different here. I don't think she'll scare the Holy Hell out of you on that show. And as usual, Shiloh is great. He plays a guy who's got tons of flaws and is basically forced to be the hero of the movie.
In the interview, we talk about the most challenging part of filming, taking on a cult classic and why, a lot of the time, Shiloh had to act opposite a tennis ball.
For the full interview, click the audio link above or download it from iTunes 
Evil Dead comes out this Friday! Read more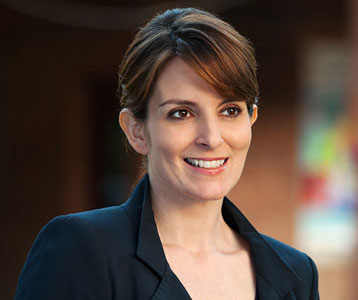 Tina Fey created, executive-produced, starred, and served as head writer on NBC's 30 Rock for seven years. The critically acclaimed comedy won the Emmy Award for Outstanding Comedy Series for three years in a row (2007-2009). Her portrayal of Liz Lemon on the show has earned Ms. Fey an Emmy Award, two Golden Globe Awards, three Screen Actors Guild Awards, and a People's Choice Award. In 2009, 30 Rock was nominated for 22 Emmy Awards, the most ever for any comedy series in a single season.
Additional honors for 30 Rock that Ms. Fey has shared with her colleagues from the show include the Golden Globe Award for Best Television Series [Comedy or Musical], the Screen Actors Guild Award for Outstanding Performance by an Ensemble in a Comedy Series, two Writers Guild Awards, and two Producers Guild Awards.
Ms. Fey has extended her partnership with 30 Rock producers NBC Universal Television for another three years to create, write, and produce television series and programs for NBC.
Prior to creating 30 Rock, she was for nine years head writer and cast member on NBC's Saturday Night Live, memorably co-anchoring the "Weekend Update" segment. Her writing on the show earned her an Emmy Award and two Writers Guild Awards, and Ms. Fey won an Emmy Award for a subsequent (2008) guest appearance. Read more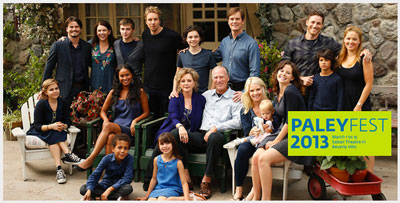 One thing was clear from the PaleyFest event on Thursday night—the cast of Parenthood is definitely on board for a fifth season.  But the series' fate is in the hands of NBC, who has yet to renew the acclaimed (but noted ratings-challenged) show.
Paleyfest is a night where television fans can gather to celebrate some of the best shows on TV.  The panel at the Saban Theater in Beverly Hills was a full one—with show-runner Jason Katims (Friday Night Lights) on hand with pretty much all of the cast, including fan favorites Dax Shephard, Peter Krause, Lauren Graham, and Monica Potter.
The theme of the night was how emotional the show can be—moderator Michael Ausiello noted that the series has become somewhat famous for its tearjerker quality.  After airing an especially moving episode, "I Have Something I Need to Tell You," from earlier this season, most of the audience in the theater was plucking Kleenex from boxes being offered by ushers.  The storyline featured in the episode is about Kristina's bout with breast cancer. Read more