I'm on vacation this week in lovely Key West, Florida so I'm not able to write up any full-on reviews this week. But, I wanted to write-up a bit about these movies opening this weekend. Some are fantastic and some… aren't.

Podcast: Play in new window | Download (Duration: 23:36 — 16.3MB)
Twilight: Breaking Dawn Part 2 opens in theaters this weekend, and by all accounts, this film is the best of the bunch.
I talked with Maggie Grace and Mia Maestro, who star in the film as part of the Denali Clan, and they both told me that they can't wait for the fans to see it. "It's a much more grownup film," Maggie told me. "It stands out from the others in terms of theme. It's more about community and the community banding together."
They also talked about much they loved working with Director Bill Condon. "He's a fantastic actor's director," Maggie told me.  With Mia adding that "he even added a special surprise at the end for fans. It's a really moving gesture that he gave all the actors and all the fans and he gave to the saga."
I really enjoyed talking to these two; they were so warm and nice. We talked about Twilight, working with Michael Sheen and those hand-painted contacts they had to wear during filming. We also talked about acting; Maggie tells a great story about watching Liam Neeson on Inside the Actors Studio and we end the interview with a one of the best conversations I've had about auditioning.
Check it out below and don't forget to catch Twilight: Breaking Dawn Part 2! 
For the full interview, click the audio link above or download it from iTunes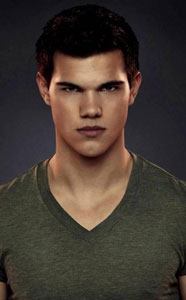 As Twilight fans are preparing themselves for the last installment, Breaking Dawn: Part 2, Taylor Lautner, who stars as werewolf Jacob Black, is also trying to cope with the end of the franchise.
"It'll be tough to say goodbye to spending time with people that I love," Lautner said in an interview with Yahoo! News.  "We've grown so close over the past few years.  Our relationships will go on past this but to not have that excuse to spend day after day together while filming or promoting will be different."
Lautner faced one of his biggest obstacles with the role in this particular film—where the audience learns that Jacob has a special connection to Bella and Edward's daughter.  "It was a challenge, and it is so complicated, but really nobody understands it more than Stephenie Meyer who created it," he said.   "I was picking her brain all day long about it.  She basically told me over and over again, 'Taylor, stop trying to over think it, stop trying to take it different places…It's a lifelong bond between two people, that's it.'  In the movie, [Renesmee, the daughter] is 10 years old, it's much more of a protector relationship right now, and of course the relationship will grow more but we don't explore that, but it was important for me to keep it simple." Read more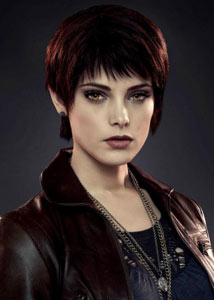 Ashley Greene should be used to fame by now, after starring as Alice Cullen in the Twilight series.  But the 25-year-old still has to find ways to get past the oppressive Hollywood system.
"I got [to my casting], and there were cameras all around me," she told Nylon.  "Everyone's so obsessed with celebrity, I think more than ever before.  It's the instant gratification of it—the tabloids and the Internet and the camera phones.  We're just so infatuated with it that basically everyone is a stalker.  I was like, 'Just let me do my damn job!'"
It was hard initially for Greene to get into the hardships of any of her characters.  "Growing up, I didn't have a hard life," she said.  "Luckily, people are not the greatest in LA, so once I got here and my heart was broken and people stabbed me in the back, I could use that to feel vulnerable." Read more
Here's the full panel (minus the first 7 minutes of the film they showed us) of the Twilight: Breaking Dawn Part 2 panel at this years Comic-Con. 

My girlfriend got up at the crack of dawn and got in line with some friends and I weaseled my way into the massive Hall H line at around 10. Yeah, I was that guy.
The whole cast, including Robert Pattinson, Kristen Stewart, Taylor Lautner and Ashley Greene, was in attendance and even though I'm not the biggest fan of the series, the panel was pretty enjoyable.
Check it out below! Read more
Although Robert Pattinson has gained international fame with his portrayal of vampire Edward Cullen in the Twilight franchise, the 26-year-old says he is more than ready to put the part behind him. 
In an interview with ShortList, Pattinson admits that "playing the same part for a while, you just run out of ideas.  You feel kind of useless, you don't know what to do anymore."
The fifth and final film, Breaking Dawn: Part Two, will be released in November, and it seems like that end date can't come soon enough for the British actor.  Read more
Podcast: Play in new window | Download (Duration: 15:04 — 10.4MB)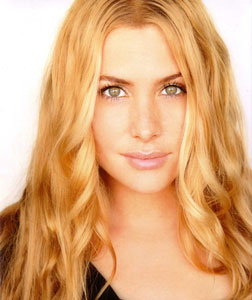 Casey LaBow plays Kate, a member of the Denali clan of Vampires in The Twilight Saga: Breaking Dawn 1 & 2. She's only seen briefly in Part 1 but in the upcoming sequel, you won't miss her. Her character not only romances Lee Pace's Garret but, more importantly, helps teach Bella how to use her new-found powers. Even though she said she wasn't allowed to tell me too much about the next film, she did say that she thinks the fans will be "really happy."
Casey went to the American Academy of Dramatic Arts West, a place that she loved: "The best therapy" ever, she said. Right after graduation she landed an agent, a pilot for NBC and now, is in one of the most beloved film series ever.
Last year, I saw Casey in the film A Year in the Mooring at SXSW. The film, which also stars Josh Lucas, has been renamed Hideaway and when it's released in May, I highly recommend you try and catch it.
I talked to Casey about working on Breaking Dawn, how she got her part, working with the cast and one particularly bad audition.
Twilight: Breaking Dawn Part 1 will be released on DVD and Blu-Ray tonight at midnight.
Follow Casey on Twitter!
For the full interview, click the audio link above or download it from iTunes  Read more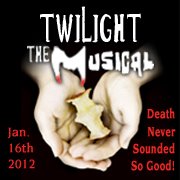 Every action has an opposite reaction.  When something like Twilight becomes a pop culture phenomenon it is bound to cause a backlash.  And with such a backlash often comes parody. 
So if you'll be in the New York City area on January 16 you have the rare opportunity to see a concert reading performance of Twilight: The Musical, a parody of the best-selling (and much maligned) book series and the high-grossing (and even more maligned) movie franchise. 
To make it even better, the show is for a good cause — and no, I don't mean making fun of Twilight, though many would agree that alone is a great cause.  All net proceeds from the performance will benefit Blessings in a Backpack, a children's hunger charity.  Read more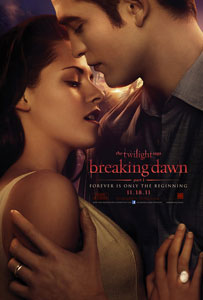 The Twilight Saga: Breaking Dawn – Part 1: Bella and Edward, plus those they love, must deal with the chain of consequences brought on by a marriage, honeymoon, and the tumultuous birth of a child… which brings an unforeseen and shocking development for Jacob Black.
Director: Bill Condon
Cast: Robert Pattinson, Kristen Stewart, Taylor Lautner, Kellan Lutz, Ashley Greene, Nikki Reed, Peter Facinelli, Jackson Rathbone, Elizabeth Reaser
In Theaters: November 18th, 2011
Shiloh Fernandez may have missed out on playing Edward in  "Twlight," but Amanda Seyfried said she is quite pleased to have him as her love interest in "Red Riding Hood," opening this Friday.
"I'm kind of glad he didn't get it, because then he wouldn't have done this movie," she says of her 26-year-old co-star. "I knew when he came in, I knew he was Peter, for me. I had to fight really hard for him. Catherine and I fought for him and then Leo (DiCaprio) backed us up," Seyfried says.
Fernandez laughs when asked about losing out on the part of Edward. "I would've [done] far, far worse, and luckily, I had the opportunity to work with Catherine down the road and this character just suits me," he said of his role as Peter, the wood cutter. "This was just the right thing for me."
To read more, go to: yahoo