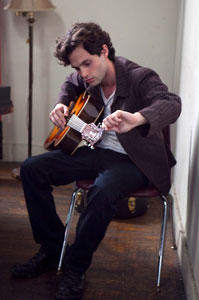 Penn Badgley is more than ready to leave behind his days as a CW heartthrob on Gossip Girls.  With his new role as legendary singer Jeff Buckley in Greetings from Tim Buckley, Badgley is already earning critics' attention for his portrayal.
"For me, this is a beautiful step forward," he said in an interview with Movieline.  "Gossip Girl has given me everything that I have now.  It gave me the opportunity to live in New York and to be in a position to get this role.  It also put me in New York City so I could meet Zoe [Kravitz, his girlfriend and rock star Lenny Kravitz's daughter.]  And it's put me in a place where I haven't had to do a bunch of other shit just to make money.  I'm super grateful for it, but this movie has come at the right time to take a step forward.  I have been working in television for 13 years now, and you know, I'm just done with it.  I have nothing against television, but I'm done." Read more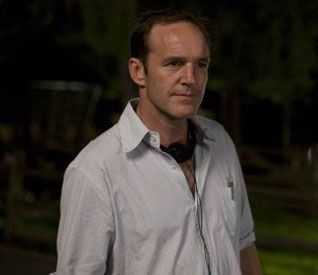 Clark Gregg took time out from his schedule of appearing in all of the Marvel Cinematic Universe movies to film Trust Me, a movie he wrote, directed, and starred in about Howard, a luckless Hollywood agent for child actors who seems to finally have hit his stroke of luck with a young actress.  Though the Marvel films have made Gregg a fan favorite, Gregg took some time during the Tribeca Film Festival to speak with The Huffington Post about how his personal experiences with being rejected from roles helped him create Trust Me.
Gregg points out that despite not being much like Howard, he felt connected to the character — and knew no one else would think of him to play that type of role.  He explains, "I've met people like this. When I read it back, one of the things I thought was, 'God, this is now something I feel tremendously connected to, this character.' I wasn't going to play him, but I thought, 'No one is ever going to write anything like this for me.' I also felt that anyone who is in Hollywood long enough, you go through some period of kind of feeling like that untouchable loser who can't get a break."  Read more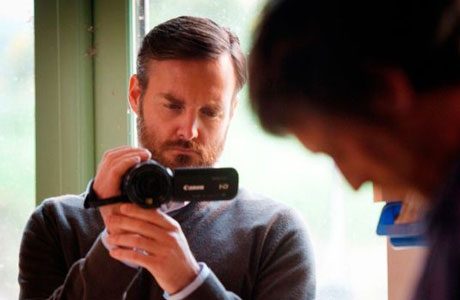 Will Forte is best known for his comedy skills, after spending eight years on Saturday Night Live.  He delighted audiences with his impressions of President George W. Bush and his characters like MacGruber.  So it's not surprising that even he was apprehensive about taking on a dramatic role, in the new independent film Run & Jump.
"I was certainly nervous about it," he admitted in an interview with The Hollywood Reporter.  "I'm a neurotic person anyway, and this was just such a new experience.  I was pretty terrified at first.  I'm used to being broad characters, so it was tricky trying to find the right level and I don't have that, I have never done a dramatic role before." Read more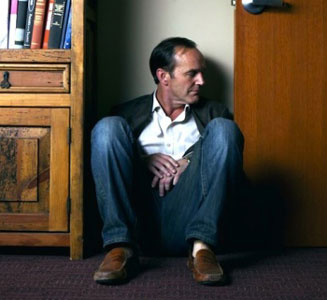 It's definitely an adjustment to go from shooting a huge blockbuster movie to an independent film.  Just ask Clark Gregg who has appeared in films like Iron Man and The Avengers, and is now starring in the dark comedy, Trust Me.
"If you're used to having a giant trailer from your trips to the Marvel Universe, [indie film] can be jarring," Gregg admitted in an interview with The Hollywood Reporter.  "But, so much of the most interesting work, some of the most interesting writing—[this is the] place where you can afford to take risks, because as things have gotten more expensive and blockbuster-oriented, those are carefully thought out by the marketing teams.
"The marketing teams are involved in the early script meetings.  For better or worse, however people receive this movie, this is the movie I wanted to make.  The limitations came from budget and logistics, they didn't come from people saying, 'You can't talk about that, you can't try to do a movie that takes these chances with tone.'" Read more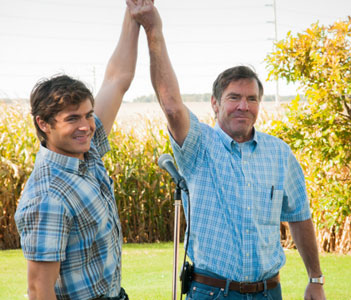 So let me get this straight — Zac Efron, that guy who was in all those High School Musical movies and 17 Again, has spent the last several years starring in indie films?  Okay, I actually knew that already, but it's still pretty surprising considering he probably still had five or so years left of milking teen heartthrob movies but instead chose to do more under the radar projects like Liberal Arts, The Paperboy, and At Any Price.  The latter co-stars Dennis Quaid and premiered at the Tribeca Film Festival.
When asked on the red carpet by the Huffington Post why he has gravitated toward independent films, Efron answered, "I don't know.  I've been doing a lot of interviews with Dennis and his words of wisdom are sort of just fresh in my mind. Dennis says the only role he sort of had for himself in this career is to do as many different types of movies as possible and never stop stretching or trying something new, particularly roles that challenge you. And working with great directors.  That's really all I want to do." Read more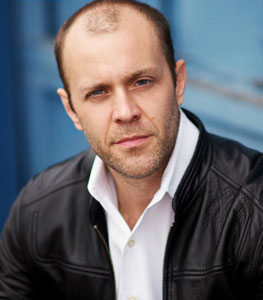 Written by Douglas Taurel
Through my experience of working on low budget and independent films for the past 15 years, I have learned that are a few crucial and important rules that can help you survive the jungle of what is called the independent film world or better known as Guerrilla Film making.
Working on independent films where the budgets are small, grueling sets and conditions in extreme cold and heat for little and no pay, it's easy to get lost. The important thing to always remember and tell yourself that you are doing it because you have a deep passion for learning and moving your career forward! Read more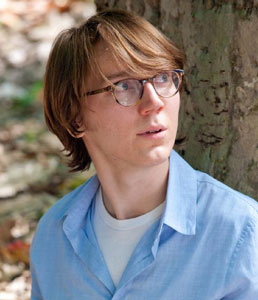 Paul Dano is currently in the midst of a long period of wildly varied, challenging, intriguing work.
Dano most recently received acclaim for his performance as an aspiring rock star and young father in So Yong Kim's For Ellen, which Tribeca Films will release on September 5, following the world premiere at the 2012 Sundance Film Festival. Dano served as an executive producer.
September 28 marks the release of Looper (TriStar Pictures), Rian Johnson's sci-fi thriller that features Dano in a pivotal appearance alongside Joseph Gordon-Levitt. This spring, Dano starred opposite Robert De Niro in Being Flynn (Focus Features), Paul Weitz's adaptation of Nick Flynn's celebrated memoir Another Bullshit Night in Suck City. Read more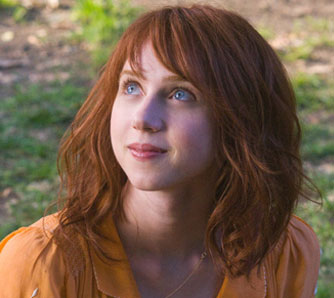 Ruby Sparks is the first screenplay written by Zoe Kazan. An acclaimed theater actress and 2005 graduate of Yale University, Zoe made her New York stage debut in 2006 in the Off-Broadway revival of The Prime of Miss Jean Brodie opposite Cynthia Nixon. She continued to shine on stage in 2007, starring in Jonathan Marc Sherman's Things We Want, directed by Ethan Hawke, and Playwrights Horizons' production of 100 Saints You Should Know, for which she received a Drama Desk Award nomination for Outstanding Featured Actress in a Play, as well as the Lucille Lortel Award nomination for Outstanding Featured Actress.
In January 2008, Zoe made her Broadway debut opposite S. Epatha Merkerson in a revival of William Inge's Come Back, Little Sheba. Following this role, Zoe was named the recipient of the 2008 Clarence Derwent Award, honoring "the most promising female and male performers on the New York metropolitan scene." Read more
Chris Messina can most recently be seen starring in Lee Kirk's directorial debut, The Giant Mechanical Man, opposite Jenna Fischer, who also produced the film. He also co-wrote and starred in the upcoming Fairhaven, opposite Sarah Paulson. Both films premiered at the 2012 Tribeca Film Fesival to rave reviews.
Messina can currently be seen onscreen in Aaron Sorkin's The Newsroom which premiered June 24th on HBO, opposite Jeff Daniels; and Damages premiering July 20th on Direct TV, opposite Glenn Close and Rose Byrne. He also recently wrapped production on The Mindy Project.
On the silver screen, he can be found in the comedy Celeste and Jesse Forever, opposite Rashida Jones, Elijah Wood and Emma Roberts; and the thriller Argo, opposite director Ben Affleck, Bryan Cranston, and John Goodman out October 12th. Read more
Malin Akerman was named one of Variety's "10 Actors to Watch" in 2007, and the Swedish-Canadian actress has since become known for her sharp comedic timing and cover-girl good looks, while also wowing audiences with her touching dramatic performances.  She recently wrapped production on Simon West's actioner Stolen, starring alongside Nicolas Cage and Danny Huston.
At the 2011 Tribeca Film Festival, Akerman shared the screen with Ryan Philippe and Taylor Kitsch in Steven Silver's film The Bang Bang Club.  The drama premiered at the 2010 Toronto International Film Festival and is based on the true-life experiences of four combat photographers capturing the final days of South African apartheid. Read more