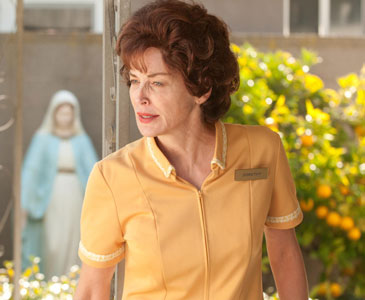 Sharon Stone has done a brave thing for an actress—she's made herself look older for a film role.  In the new biopic, Lovelace, Stone portrays Linda Lovelace's aged mother.
"We had pictures of Dorothy Boreman, so we lent ourselves to not trying to duplicate her but trying to capture the essence of her," she said in an interview with IndieWire.  "It didn't take hours to do it, it was just creating a sketch of her. 
"We stippled my face.  Stipple is the kind of stuff that's like a thin Elmer's Glue.  You pull the skin like this and then you put it and then you release the skin.  It creates this sort of wrinkling sensation.  And then they put this sort of water color on to make it.  It's just amazing.  It was good, I mean it didn't take long but it was great.  And because I'm skinny it's easier to use the body in this way to create fatigue." Read more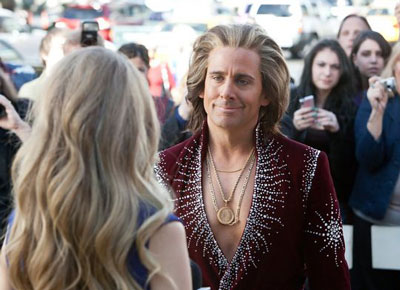 Though The Incredible Burt Wonderstone hasn't received the best pre-release reviews, it seems most people are happy just to see star Steve Carell doing a full-out comedy again after several turns as a dour man having a mid-life crisis.  In a lengthy interview with Time magazine, Carell elaborates on his performance in Burt Wonderstone, working with co-star Jim Carrey, and how he shifted his mindset for his upcoming dramatic turn in Foxcatcher… and then right back to comedy for Anchorman 2.
Though Carell was inspired by Vegas-style magicians, he explains that his character wasn't based on a single particular trickster.  He says, "It was more of an aesthetic thing. I was really just trying to get the sense of the showmanship and the performance quality that these guys have. There are different styles. There are more comedic-based magicians, there are close-up, sleight-of-hand magicians, there are big-prop magicians, there are shows ranging from incredibly spectacular to intimate. You kind of pick and choose, and you try to emulate different aspects of each of them. What I was doing was a conglomeration of a bunch of different things I observed." Read more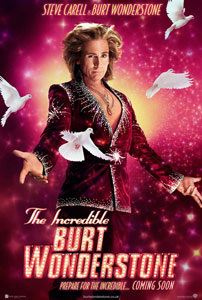 Though I like Steve Carell from his roles in Anchorman, The 40 Year Old Virgin, and, of course, The Office, I really don't think any of his recent films have really shown him at his comedic best.  However, from the looks of The Incredible Burt Wonderstone we may have another Carell winner coming soon.  The comedian spoke to Collider about the movie during filming, mainly speaking about how he varies his performances in multiple takes and the importance of casting the movie right.
Like other comedians, Carell tries to have fun when he goes through multiple takes of a scene by giving a varied performance in each.  He explains, "It's nice to be able to try different things with each take and to find things that work and don't work. You never know. You never know until you put it in front of an audience. But it's nice to have options when you're shooting it. You try to look at it, even incrementally, performance-wise and you try things that might be a little more broad or a little more grounded. Once they're editing and finding the exact tone of the movie, you have those options." Read more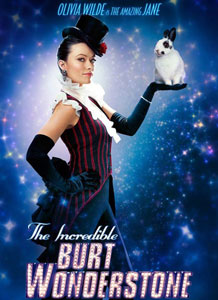 Olivia Wilde lived out multiple dreams of hers while working on The Incredible Burt Wonderstone.  She was thrilled to become part of the cast as Steve Carrell's magician's assistant.
"I read the script a while ago and really loved it.  I did go after it—I was really interested," she said in an interview with Collider.com.  "Not only because of the cast, which is obviously extraordinary, and contains many of my idols, and not only because Don Scardino [the director] was involved—I'm a huge 30 Rock fan.  I just think he's a master of tone.  I thought it was a really great role for me.  It was something I hadn't done before.  There was a certain challenge to it for me as well.
"I went after it, I auditioned, I was up against some real heavy hitters and I was totally shocked when I got the role, because it's a comedic role and I was going up against some real comedians.  I sort of thought I didn't have a chance in hell, but it was so fun to just audition for it; I just thought I'd go for it and take a chance.  Then to get to read with Steve Carrell was really amazing.  One of the best auditioning experiences I've ever had." Read more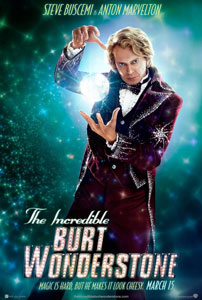 Steve Buscemi is one of my favorite actors, mostly because he's so versatile.  He can be cold and calculating, like in Fargo or as Nucky Thompson in HBO's Boardwalk Empire, and he can be quirky, like in Ghost World or The Big Lebowski.  But I'm looking forward to seeing a more comedic Buscemi — the kind who makes cameos in all of Adam Sandler's movies — as Anton Marvelton, the partner to Steve Carell's titular magician in The Incredible Burt Wonderstone.  Buscemi spoke to Collider about tackling a lead comedic role and his experience with improv.
As for whether he finds it more difficult to shoot a comedy or a drama, Buscemi points out that the rules of shooting a comedy are less strict.  He says, "The preparation is the same. But I'd say on this it's just a bit looser, and there's room for improv. Whereas on, say, Boardwalk, we really stick to the script. Not that we're not sticking to the script on this, there's just more room for improvisation." Read more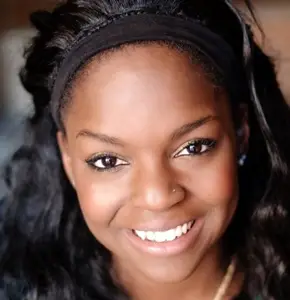 Samantha Marie Ware is earning rave reviews for her role as Nabulungi in the touring company of the hit musical Book of Mormon, now playing in Los Angeles.
Ware joined the production after performing the role for six weeks on Broadway this past spring and she said that she was happy to be able to workshop the role with the show's creators Matt Stone and Trey Parker.
"I was really playing Nabulungi as too grown up," Ware told The Los Angeles Times.  "Matt really helped me to find my inner innocence."
Ware's character sings one of the show's most touching songs, "Sal Tlay Ka Siti," towards the end of the first act and she old the paper that she is "on stage by myself and I'm very vulnerable. It's just me and the audience and it can feel like they are judging me.  So it took me a while to feel comfortable enough with myself to just tell the story to them because that's what they are there for." Read more
Alicia Silverstone has just joined the cast of The Performers. The show, about two high friends who re-connect at the Adult Film Awards in Las Vegas, also stars Henry Winkler, Cheyenne Jackson and Ari Graynor and will be directed by Evan Cabnet.
Silverstone will play the girlfriend of one of the friends.
She made her Broadway debut in 2002 in The Graduate opposite Jason Biggs and Kathleen Turner and followed that in 2010 with Time Stands opposite Laura Linney.
The show will begin previews Oct. 23 at the Longacre Theatre.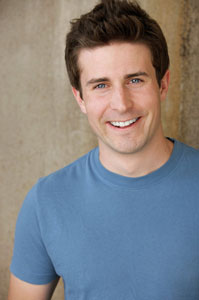 I recently had the chance to see Nerve, an independent film about a character with social anxiety starring Tyler Langdon.  I had never seen Langdon act before, but I was really impressed by his performance in the movie as Josh Biggs.  I was happy to hear that after starring in Nerve and receiving a Hollywood Discovery Award at the Hollywood Film Festival, Langdon is set to appear in the upcoming New Line Cinema comedy The Incredible Burt Wonderstone as the teenage version of star Steve Carell's character. 
This is by far the most visible role for Langdon, and I reached out to see what he could say about how he transitioned from a lead role in an independent film to a supporting role in a big-budget Hollywood movie.  In particular, he elaborates on how he managed to make that leap from indie film festivals to multiplexes.
You've obviously been a working actor for quite some time, but one of your most high profile roles to date is the role of Josh Biggs in Nerve.  How did you get that part?
I originally heard about the role through LA Casting, believe it or not. From what the director, J.R. Sawyers, tells me, I was one of only a few people in the original audition for Josh who played it exactly as he had imagined. He brought me back in for a callback a week or so later and then offered me the part shortly after that. Read more
Ray Winstone's  most memorable film credits include Scum, Quadrophenia, Sexy Beast and Nil by Mouth, for which he won a British Independent Film Award for Best Performance by a British Actor in an Independent Film and was nominated for a BAFTA.
He has worked with some of the most distinguished directors in the industry, including Anthony Minghella (in Cold Mountain and Breaking and Entering), Martin Scorsese (in The Departed and Hugo), Robert Zemeckis (in Beowulf) and Steven Spielberg (in Indiana Jones and the Kingdom of the Crystal Skull).
Winstone's television credits include the award-winning Henry VIII and Vincent (Granada/ITV), the latter for which he won an International Emmy Award for Best Performance by an Actor. His recent credits include the three-part BBC drama Great Expectations, as the character Abel Magwitch, and The Sweeney, as the character Jack Regan. He also starred in Elfie Hopkins for his production company, Size 9 Productions; the film is scheduled for release later this year. Read more
Holy crap this looks great. Awesome cast, Ruben Fleischer directing and it's about gangsters? What's not to like?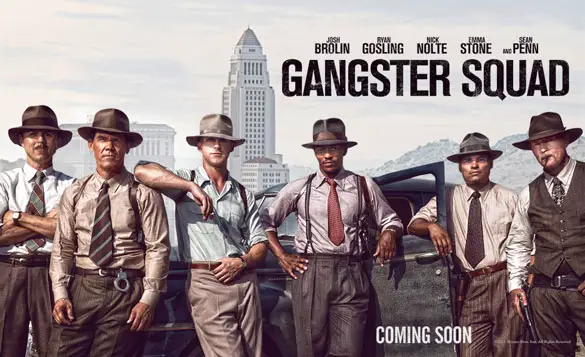 Gangster Squad: Los Angeles, 1949. Ruthless, Brooklyn-born mob king Mickey Cohen (Sean Penn) runs the show in this town, reaping the ill-gotten gains from the drugs, the guns, the prostitutes and–if he has his way–every wire bet placed west of Chicago. And he does it all with the protection of not only his own paid goons, but also the police and the politicians who are under his control. It's enough to intimidate even the bravest, street-hardened cop…except, perhaps, for the small, secret crew of LAPD outsiders led by Sgt. John O'Mara (Josh Brolin) and Jerry Wooters (Ryan Gosling), who come together to try to tear Cohen's world apart. "Gangster Squad" is a colorful retelling of events surrounding the LAPD's efforts to take back their nascent city from one of the most dangerous mafia bosses of all time.
Director: Ruben Fleischer
Cast: Josh Brolin, Ryan Gosling, Nick Nolte, Robert Patrick, Michael Peña, Giovanni Ribisi, Anthony Mackie, Emma Stone, Sean Penn
Writers: Will Beall
In Theaters: Coming Soon  Read more