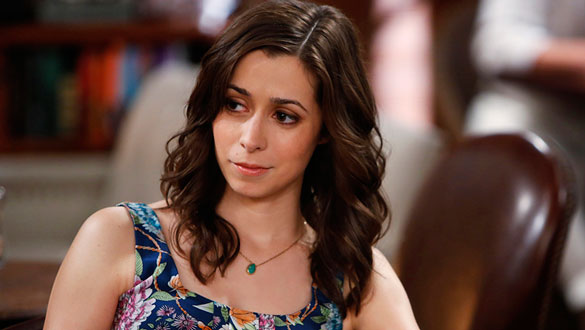 Cristin Milioti might be the envy of every young actress in the entertainment industry right now. Her body of work in the last few years includes a  part in The Wolf of Wall Street, a role on 30 Rock, a turn on Broadway in Once and now the elusive mother in CBS' How I Met Your Mother.
In a recent episode of the sitcom, Milioti talked about playing the song "La Vie On Rose" on the ukulele and how that came about. Read more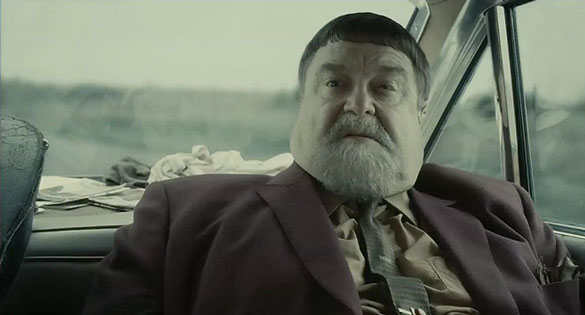 It's hard to imagine John Goodman having a better year after doing stellar work in 2012′s Argo and Flight. However, he might have topped it with his onscreen turn as Roland Turner in Joel and Ethan Coen's Inside Llewyn Davis.
Since this is his sixth collaboration with the filmmakers, he definitely has a feel for their intrinsic style. Read more
Podcast: Play in new window | Download (Duration: 16:22 — 11.3MB)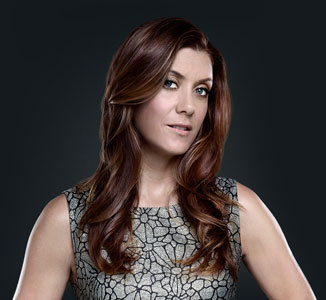 Kate Walsh has been familiar to TV audiences for years with her role as Dr. Addison Montgomery on both Grey's Anatomy and Private Practice. She's worked with showrunner Shonda Rhimes long enough to understand her rhythms and word preferences. When she stepped into Neil LaBute's world for DIRECTV's new 10-episode series Full Circle, she had a new language to learn.
Daily Actor interviewed Walsh about how LaBute's script felt to her.
"Neil's writing is so specific and it's so good that you want to really respect it verbatim…for me, it was just memorizing, memorizing, memorizing. I grabbed, you know, my boyfriend, his son, everybody that would sit down and go over lines with me," said the former ABC star.
For the full interview, click the audio link above or download it from iTunes  Read more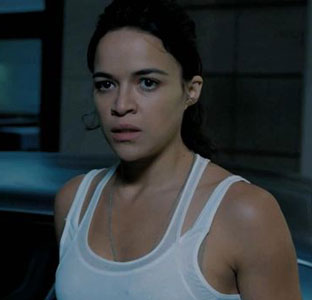 Michelle Rodriguez has no problem speaking out about the lack of good roles for women in Hollywood.
"The drive behind the majority of female characters is, 'Let's have the girl let the bad guys in.' Or, 'Let's give the lead guy something to save,'" she said in an interview with The Los Angeles Times.  "It's typical of Hollywood decisions that don't work anymore.  You can be kickass and a sexy woman.  You can't just write the female off with wackness.  It's hard for a woman in this business.  I always have to redevelop the script for my character to be involved.  It sucks!" Read more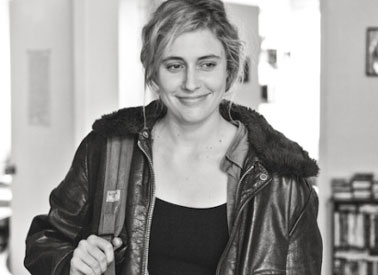 It seems like Greta Gerwig has been promoting Frances Ha forever — it premiered back in September 2012 at the Telluride Film Festival and finally is being released to theaters later this month — but everywhere Gerwig and co-writer/director Noah Baumbach have gone with the film they've been welcomed with rave reviews.  In an interview with Time, Gerwig talks about co-writing the film and how her earliest years acting in "mumblecore" films prepared her for her current work.
Gerwig has written or co-written a few of the films she has starred in, including Frances Ha.  When asked what it's like to write her own scripts, she says, "It's hard to think about yourself playing it, if you're trying to write more than one part, so I kind of didn't think about playing it [while writing]. I actually thought maybe I didn't want to play the part for a while, because I was scared. Also, I wanted it to be clear that I co-wrote it. And I thought if I acted in it, maybe people would think I was improvising it or something, and got a writing credit just as a token. But my agents were, like, 'That's insane. That's a totally weird way to go about things.'" Read more
Getting to make a movie centered around cars was a dream come true for Dax Shepard, star of the new film Hit and Run.
"I did not have a stunt double even one time in this movie, which was one of the reasons I made it in the first place," Shepard told Examiner.com.  "I wanted to go have fun and do the stunts I had seen in movies as a kid.  My main inspiration was showing off in my cars.  I got to do all of that.  And those days were just unbelievable.  We sometimes had 14 hours of straight driving, going through four sets of tires in a single afternoon.  That is about as good as it gets for me.  That is nirvana."
Shepard also stars alongside his fiancée, actress Kristen Bell—an experience that the actor really enjoyed.  "We have a long history—4 years at that point—of working with one another on auditions, giving each other notes and being constructively critical of one another," he said.  "That did not seem to trigger any insecurities so we knew going in that we were able to have those conversations with each other without getting in a fight." Read more
Comic-Con: Sons of Anarchy's Theo Rossi, Ryan Hurst and Kim Coates stopped by the press room at Comic-Con to chat about the show and upcoming season of FX's hot show, which premieres September 11th.
All three love the show, what they do and who they play and you can tell that in the video below. That's what makes the show so great I think, every actor on the show believes in what they are doing and man, does it show on-screen.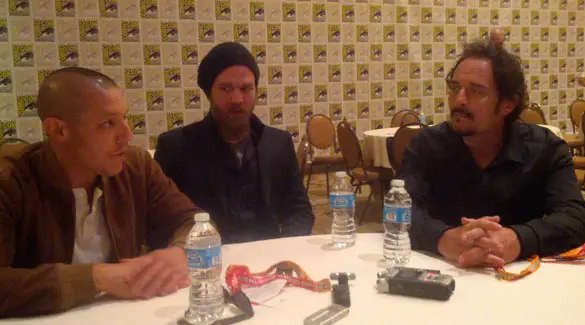 All three are accomplished actors: Theo Rossi studied acting at the Lee Strasberg Theater Institute in New York has appeared in TV shows Bones, Lost, Without a Trace, Veronica Mars, NYPD Blue, CSI: Miami, Lie to Me and has recurred on  Grey's Anatomy and Terminator: The Sarah Connor Chronicles. Kim Coates started his career in 1991 and hasn't stopped working since. On Broadway (A Streetcar Named Desire), TV (CSI, Entourage) and over 40 films (Black Hawk Down, Pearl Harbor). Ryan Hurst might be best known for starring in Remember the Titans opposite Denzel Washington but he's also appeared in Steven Spielberg's Saving Private Ryan, the Coen Brothers' The Ladykillers with Tom Hanks, We Were Soldiers with Mel Gibson and has even done voice work on Disney's Rango with Johnny Depp. 
In the interview, the guys chat about their characters, what the upcoming season will bring, Kurt Sutter and his vision and the what the next couple of seasons could bring.
Check it out below! Read more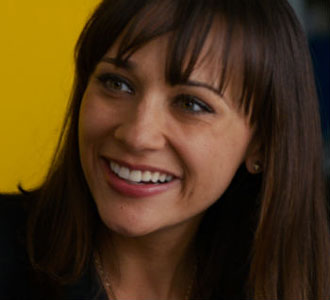 Parks and Recreation star Rashida Jones is talking to just about everyone about her new film, Celeste and Jesse Forever.  Of course, one of the main reasons why Jones is so excited about this film is that it is the first movie she has co-written the script for (with her co-star Will McCormack). 
The Wall Street Journal caught up with Jones on the New York red carpet premiere of Celeste and Jesse Forever and she spoke about writing and the response to the film so far.
According to Jones, her experience as an actress helped her as a writer.  She explained, "I think you get really sensitive to dialogue and we read so many scripts. Sometimes the scripts were incredible and you can't believe the poetry of it and then sometimes you wonder if anybody ever read it out loud. We were conscious to try and write dialogue that sounded the way people talked. That is really important to us as actors." Read more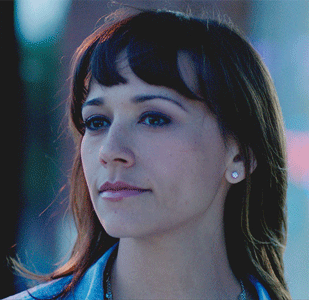 It's becoming increasingly common for actors to write their own film scripts, particularly for smaller, independent projects that actors do in between the big-budget studio films.  Add Rashida Jones to the list, as the former The Office star co-wrote Celeste and Jesse Forever with fellow actor Will McCormack, and the pair also star in the film alongside Andy Samberg.  Jones spoke to the Huffington Post about writing the film, the challenges associated with performing a character after creating her, and whether funnyman Samberg was able to handle the film's serious elements.
Jones admits that writing the script was difficult.  She explains, "We had to kind of dig deep, because we felt like that was the only way we were going to make it feel honest and real. Especially because Will and I have never written before. If we were gonna do something and people were gonna take notice, we had to say something that felt somewhat unique. That had to come from real experience." Read more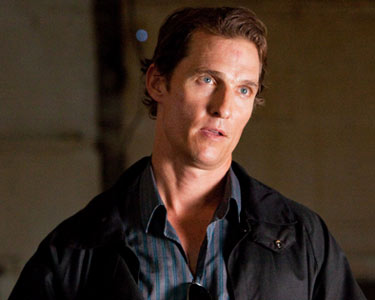 Those that know me well know that my all-time most hated movie is The Wedding Planner.  I was stuck seeing that movie on two separate dates before I learned it's perfectly acceptable to tell a girl "no, I'd prefer not to see a Jennifer Lopez movie."  As much as I dislike the movie, I hold no ire toward Lopez's co-star Matthew McConaughey, although I never thought much of him as an actor because of his tendency to star in romantic comedies and awful action movies (though he is awesome in Dazed & Confused, one of my favorite films).
But in 2012 I have been nothing but impressed by McConaughey in films like Bernie and Killer Joe, which comes after a successful 2011 for the actor and a break from acting from 2009-2010.  Read more